It's the last day of March, so its time for the third canvas print! This one is of a dinghy from West Mersea sitting in the sunshine on the famous 'Mersea Mud'. Called 'Dinghy in the Sun', it is, like the first two, in a limited edition of six only, £25.00 post free to any UK mainland address. Check out the Canvas Prints page on the menu bar for full details.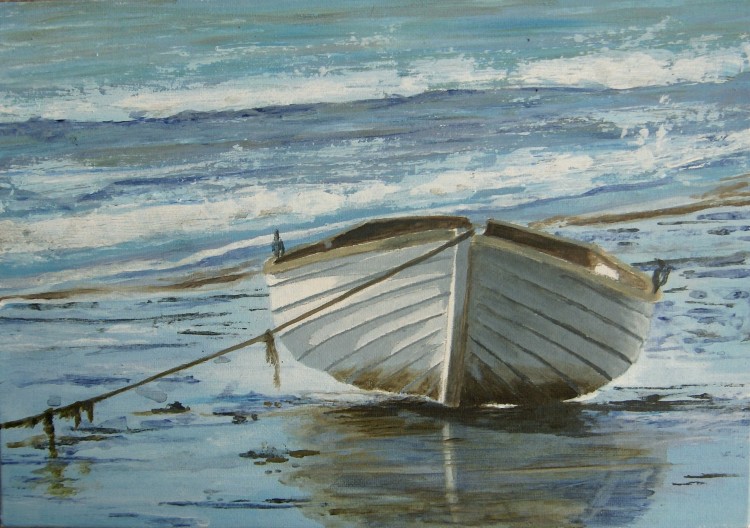 There are still copies of the first two canvas prints available. Again, go the Canvas Prints page, and you will see the images. Remember there will only be six copies of each available, so if you are thinking about one, don't hang about for too long! 🙂
---
A new painting on the website this afternoon – this is the third in the 'From my __  Garden' series. This one shows a selection of narcissi, tall to tiny, and two dusky dark Lenten Hellebores.
The two mugs have exactly the same coloured deep blue glaze, but in every other respect couldn't be more different. The right hand mug is a standard mass manufactured one, but the one on the left is one of a pair of hand thrown mugs. They were given to me by a little girl called Elena who was in my class many years ago when I was a primary school teacher. Her family were moving away, I think to Wales, and so she was leaving the school, and these mugs were a leaving present, made by her mother who was a potter.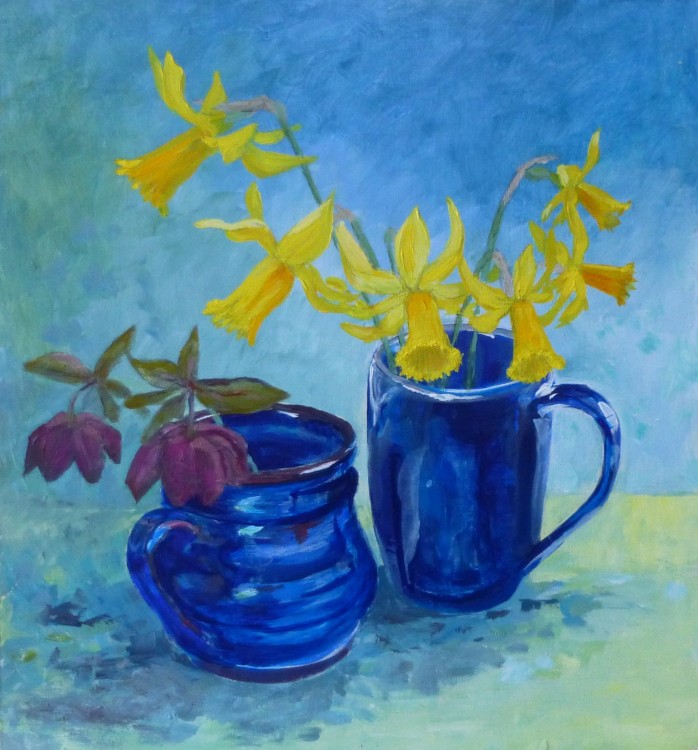 This painting has turned out very differently from the February garden painting, with much stronger colours, but I think that is going to be one of the characteristics of this series; as the months change so the 'mood' of the flowers will change, too.
I'm already eyeing up my Magnolia Stellata 'Leonard Messel' (I think that is it's correct name!) as it has just begun to open its beautiful pink petals in the last three days, and I think it will be the star of the show next month!
---
Just a quick note to let you know that the Geedon Gallery's Spring Exhibition started this weekend, and will be open daily from 11.00am – 5.30pm, until 12th April. None of my work this time (I will be showing in their Autumn Exhibition again this year), but lots of interesting work, including ceramics, glass, jewellery, linocuts, wood turning, and sculpture, as well as a host of paintings in all media. The Gallery is at Jaggers, Fingringhoe, Colchester, CO5 7DN, and is always well worth a visit – I'm looking forward to going next weekend!
I've made a start, today, on framing the paintings I shall be putting into the Lexden Arts Festival. I've just put 'Afternoon Light, West Mersea' into its frame – looking good!
It's a very damp and drizzly Sunday here, but I hope you've all enjoyed the weekend – almost April! 🙂
---
This week I've fitted in some more visits to artists who will be exhibiting with us at the Lexden Arts Festival (www.lexdenartsfestival.org.uk)
On Tuesday afternoon I drove up to East Bergholt, in Suffolk,  to the red brick cottage which is the home of Penny Bhadresa and her husband. Penny creates the most beautiful colourful lino cut prints, sometimes also incorporating chine colle in her technique, which means including elements of collage in the print.
We sat in her cosy sitting room with a cup of tea and chocolate chip cookies, while she told me about her work. Having studied history at university she initially went into museum work, and it was only later that she began working on her art, initially by herself.  Her husband told me that when she decided to study art at college, she had already accumulated such an impressive portfolio that she was allowed to skip the Foundation and first years. His teaching career gave her the security to make a complete switch in her own career.
Her prints include East Anglian scenes, those inspired by visits to Italy, wildlife – herons, hares, and fish – and flowers. One of the prints we are having at the show was created by Penny for the Benjamin Britten centenary, and includes images of Snape Maltings, the river with its sailing barge, the curlews ('Curlew River'), and Barbara Hepworth's sculpture from the grounds of the Maltings – all woven together in one bright image.
Penny pointed out to me that her prints are rarely rectangular, but are often curved organic shapes, with sweeping curved lines within them. She works in a little workshop in her garden, and I photographed her in there, beside the rack with drying prints, and holding 'To the coral beaches', a print of the Isle of Skye.
I really enjoyed my visit to Penny and was delighted to be given a selection of her cards as I was leaving! To see images of her work go to www.pennybhadresa.co.uk
The following morning I headed off to the home of Jean Constantine at Thurston, near Bury St Edmunds. Jean creates lovely images using hand made felt mounted onto panels. Her work is usually inspired by the animals and birds found in the Suffolk countryside. I was particularly taken by one of the pheasants!
Jean told me she had studied art initially in Ipswich, followed by a BA  in textiles at West Surrey College of Art and Design. (By a strange coincidence, one of her tutors in Ipswich, Glynn Thomas RE, is also exhibiting with us at the Lexden Arts Festival this year!) She buys fleeces which she cards and dyes to create the colours she needs, and layers of the wool fibres are built up together with inlaid yarns and pre-felted shapes, and then hardened by pressing and rolling. In this way the colours mingle to form a solid mass of texture. Jean adds embroidery as a final embellishment to emphasise and enhance the details of the image, and the felt is then mounted onto board ready to be displayed.
Jean also works in a garden studio. She told me that over the years she had used all manner of different sheds, but had this 'dream studio' built when she and her husband moved to their present home. It has the advantage of two rooms, so that she can keep the dry and wet stages of her work separate. I photographed Jean in the 'dry' room where she was working on some Sussex Ewes – which will be coming to Lexden!
I'm really looking forward to hanging all of the beautiful work that she will be bringing us. Like Penny, Jean is also a member of the Suffolk Craft Society, and by visiting their website www.suffolkcraftsociety.org.uk and following the links to makers, and then textiles, you will be able to see some images of her work – two colourful cockerels!
Friday again tomorrow! – the weeks are flying by. Hope you all have a happy weekend 🙂
---
I am continuing my visits to artists who will be exhibiting at this year's Lexden Arts Festival, and yesterday Graham and I drove up to the very pretty small mid-Suffolk town of Debenham. The jeweller, Mike Carpenter, owns a small gallery next to his house in the High Street called Spiral Gallery (46 High Street).
The gallery is packed with jewellery – not just Mike's, but by other jewellers whose work he admires – and also textiles, ceramics, paintings and cards. It was buzzing with activity as different customers came in to browse, discuss commissions and collect work. We had a look round until Mike was free, and I particularly liked the quirky work by Jill Stewart.
Behind the gallery space Mike has his office and studio workshop, which is full of interesting tools and work in various stages of completion. It was good to see Mike again, as we got to know him last year when he exhibited with us for the first time, and we quickly talked through all the details for this year's exhibition.  I'm really looking forward to seeing the work he brings us at the end of April – I know it will be beautiful!
To get an idea of Mike's work go to his website www.spiralgallery.co.uk
Don't forget you can see all the events at this year's Lexden Arts Festival, as well as the other artists who will be exhibiting, by going to www.lexdenartsfestival.org.uk Tickets for the evening events and the textile workshops will be going on sale on 1st April, which is not that long now!
Friday tomorrow – enjoy your weekend 🙂
---
So, Friday night saw the Private View of the Opening exhibition at the Sentinel Gallery in Wivenhoe. It was SO CROWDED that when I arrived there were people waiting outside to get in, and once I did  get in moving  was very difficult! I know quite a number of the artists who are showing, but the only one I saw was Elizabeth Morris, who is showing 5 or 6 of her beautiful etchings. I was delighted when Julia, one of my former colleagues from the school where I used to teach, bought Liz's 'Evening Moorings'.
A bit later I bumped into Chas Crocker from Woodprojects in the throng – Chas showed with us at the Lexden Arts Festival last year. If anyone else was there whom I knew, I couldn't see them in the crowds, and I soon decided that it was much better to come back and look at the work on another – quieter! – day.
So on Saturday afternoon I went back for another viewing, taking Graham with me this time. It was still busy, but we were able to see everything, and really enjoyed looking at the work. I loved the long narrow textile pieces by Annie Bielecka – I'm so glad that she is showing with the Lexden Arts Festival this year! We were also very taken with the photographs of David Morris and Wendy Thomas, and with Tracey Saunders' watercolours. There were some beautiful painted wildfowl, fish and hares on driftwood which I think were by Meriel Ensom, and I loved the ceramics of Sara Paynter – in fact I bought myself one of her intricately decorated mugs, which has instantly become my favourite coffee mug!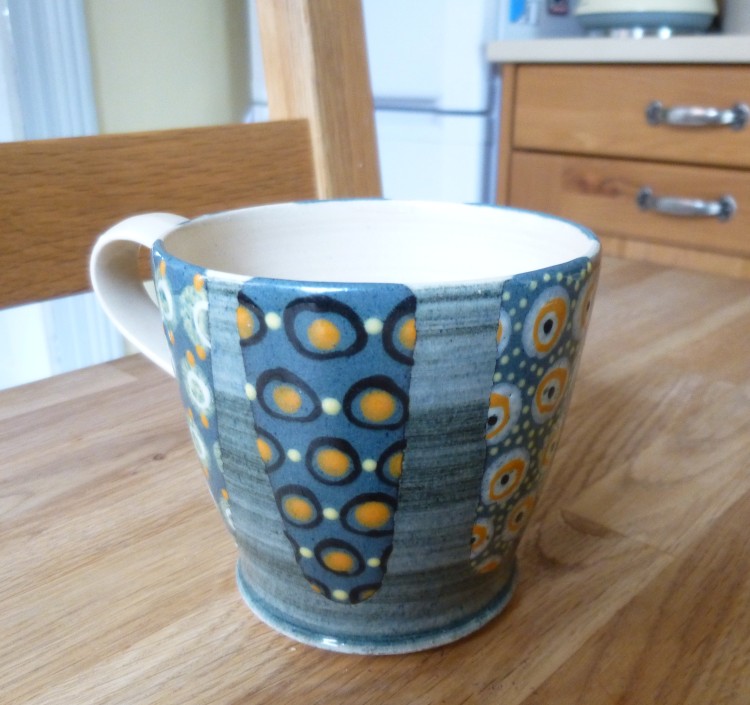 If you live in the Colchester area do make the time to go down to Wivenhoe and have a look – the gallery is open Wednesday – Sunday, 10.00am-5.00pm until 18th April.
Hope your week is getting off to a good start! LOTS to do this week, mostly in preparation for the Festival – it's getting very close now!! 🙂
---
My latest dinghy painting, just finished this afternoon, I've called 'Dinghy with Oars' – I'm running out of Dinghy titles! Jacqueline, at the Geedon Gallery,  said to me a little while ago, that I should have started with 'Essex Dinghy I', 'Essex Dinghy II', and so on. If I had I think I would now be up to Essex Dinghy XVIII, by now! Unfortunately, though, I started giving them names in the beginning, so I've got to keep thinking them up yet more names . . . .
Tomorrow I will hear how one of my other dinghies has fared in the Royal Academy Summer Exhibition first round of selection. If it gets through I need to get it framed quickly, to take it up to the RA at the end of March, as the second round is a 'real' viewing – the first round is only digital. I'm keeping everything crossed!
I took all those paintings that will be exhibited in the Lexden Arts Festival to the framers on Monday, and I'm especially looking forward to seeing what 'From my February garden' looks like, as I've had it framed in a new way. It will be in a white box frame, with glass, mounted on white board, with a kind of foam board behind it, so the general effect is that the painting appears to be floating between the backboard and the glass. It might be really effective, or it might be an expensive mistake! We shall see . . .  I've just made a start on my next garden painting, 'From my March garden', which will feature narcissi and hellebores. We've been having such wonderful spring weather here, really sunny and warm since last Saturday, that everything in the garden is coming on with remarkable speed.
Friday tomorrow! – enjoy the weekend 🙂
---
Yesterday I made the first of my visits to the artists who will be exhibiting in this year's Lexden Arts Festival (2nd – 9th May). I drove out to Leavenheath to visit the studio workshop of Cathy Allen, a lampwork bead maker and silversmith. Over a very welcome cup of coffee, Cathy showed me all the fascinating tools she uses for her work: various different flame torches, a kiln, rods of beautiful coloured glass, strands of fine metal, a gadget rather like a pasta rolling machine for adding texture to silver . . . an enormous variety of different tools and materials.
Cathy's beautiful lampwork glass bead necklaces, bracelets and ear-rings are made in all colours of glass, from muted, natural colours, to really vivid shades. I was given protective glasses to wear, to protect my eyes from the intense light from the torch flame, and then Cathy showed me how each bead is made individually on a stick coated in a 'bead release' substance, with molten glass being twisted around in the glowing hot flame. Decoration can then be added to the bead when the shape is complete –  Cathy showed me beads that had a trail of silver around them, or tiny spirals.  Once it is complete and decorated each bead then has to be held at temperature in the kiln, for a number of hours, before it is very slowly cooled to prevent it cracking. Cathy cleans out the threading hole, where vestiges of the release substance remain, and usually then etches the surface by immersion in an etching solution to give the bead a beautiful matt finish.
Cathy will be showing her lampwork bead jewellery at the Festival, but she also makes silver jewellery – I saw some beautiful hare brooches and pendants, and patterned and oxidised silver ear-rings! To have a preview of her work, check out her website www.paintboxcrafts.co.uk . To see more of the artists who will be exhibiting at the Lexden Arts Festival go to www.lexdenartsfestival.org.uk
---
Just finished 'From my February garden', as the light was really good this afternoon, so I thought I'd get it up on the website gallery straight away! Especially as it is now March, so I'm a bit late with this one.
Primroses and a winter flowering viola in a tiny jam-jar – the sort that comes with a cream tea full of strawberry jam. And snowdrops in a miniature brandy bottle, whose contents went into the Christmas cake a few years ago, I think!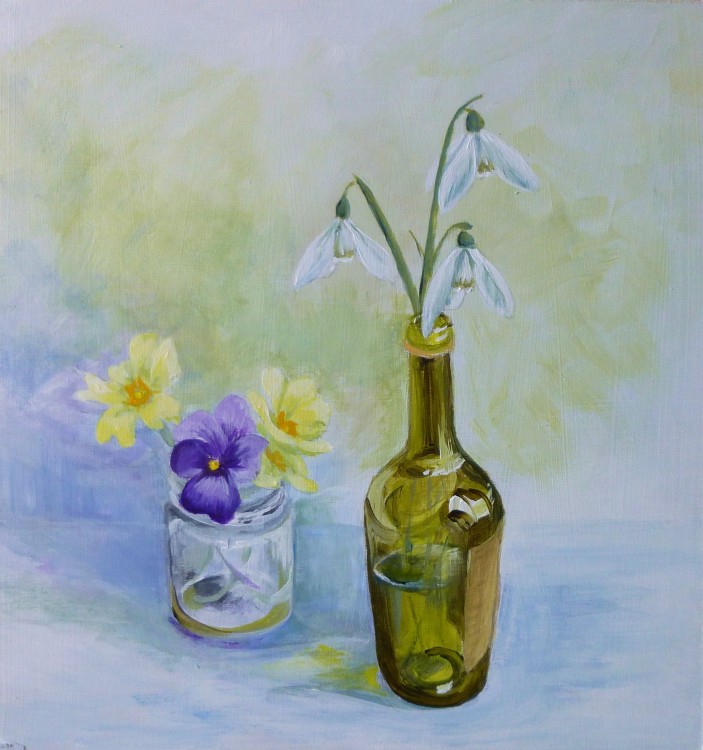 ---
A new painting has just gone up on the website – this is the one I blogged about last week. The painting shows the 'Ramparts' near Stanway Green so I've called it 'Near Stanway Green'.  I've added quite a lot of oil pastel over the acrylic – rather unusual for me! All the details are on the 2015 gallery page.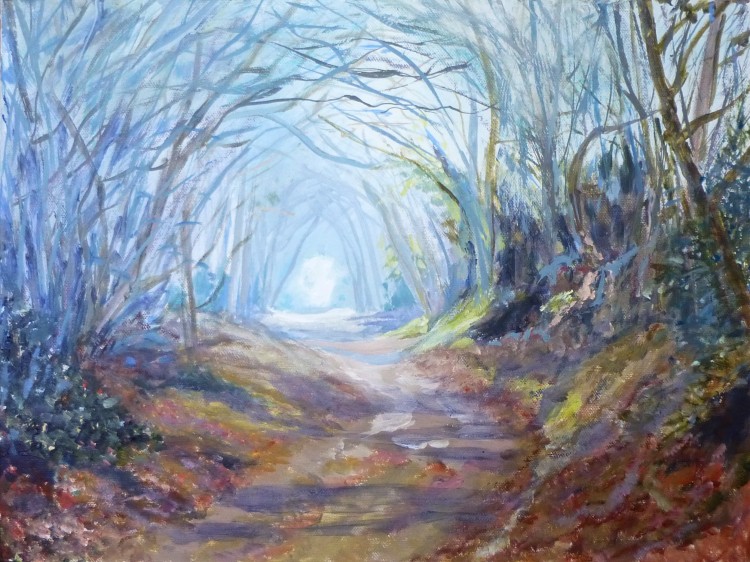 I've also almost finished the second in my 'From my garden' series, which is, of course, going to be 'From my February garden'. It just needs a bit of balancing between the background and the left side of the painting – all will be revealed in a couple of days!
Hope your week has got off to a good start. 🙂