So – here it is, the last of the 'From my Garden' series! It had to be holly, really, and it's in a little white jug that I bought at Snape Maltings in November.
This has been a really fun series to paint during 2015. I've enjoyed the challenge of still life painting, not something I usually do, and it has been good to be a little experimental with media on this very small scale. Looking back through the year I feel I have improved a bit as well, which is a bonus! It has been interesting to really pay attention to what is in the garden at different times of the year, too, which has made me think I need to focus on getting more autumnal flowers and colour for next year, so I shall be getting dahlias for sure!
The twelve little images will go to make up a 2017 'From my Garden' calendar, which I shall launch at my 2016 Open Studios. Two of the actual little paintings have already sold, but some of the others will also be at the Naze Tower Gallery next summer (More about this very soon!)
Number twelve of the Canvas Prints is also up today as it is the last day of the month – Poppy on the Blackwater. All the details on the Canvas Prints page.
So it only remains for me to wish you a very happy New Year. I hope 2016 is filled with exciting times, and peaceful times, and lots of joy and creativity for all of us. 🙂
And I'm really excited to share my plans for the New Year with you, starting tomorrow!
---
So, yesterday was the shortest day, and I believe the official time of the solstice was something like 4.49am this morning.
My sister came for the day yesterday, so I didn't really notice how dark it seemed in the afternoon, but later, after she had gone home on the train and I had washed up, I popped out to take a photo before the light finally went.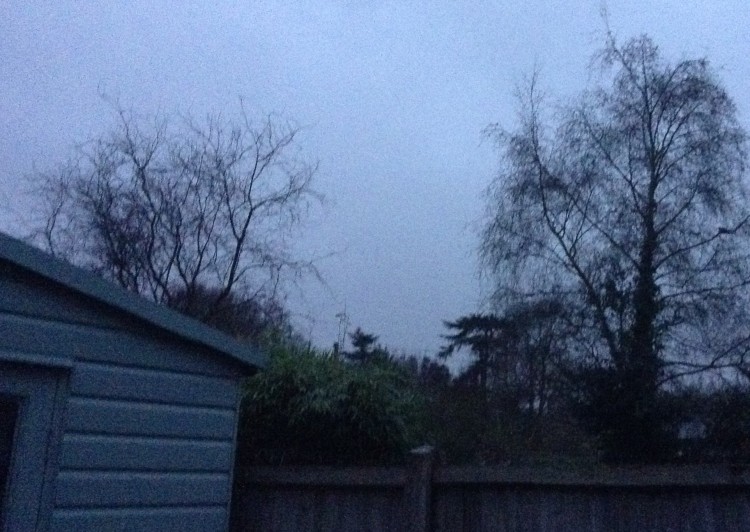 Not much of a sunset, more just a gradual fading . . .
This morning I captured the dawn . . .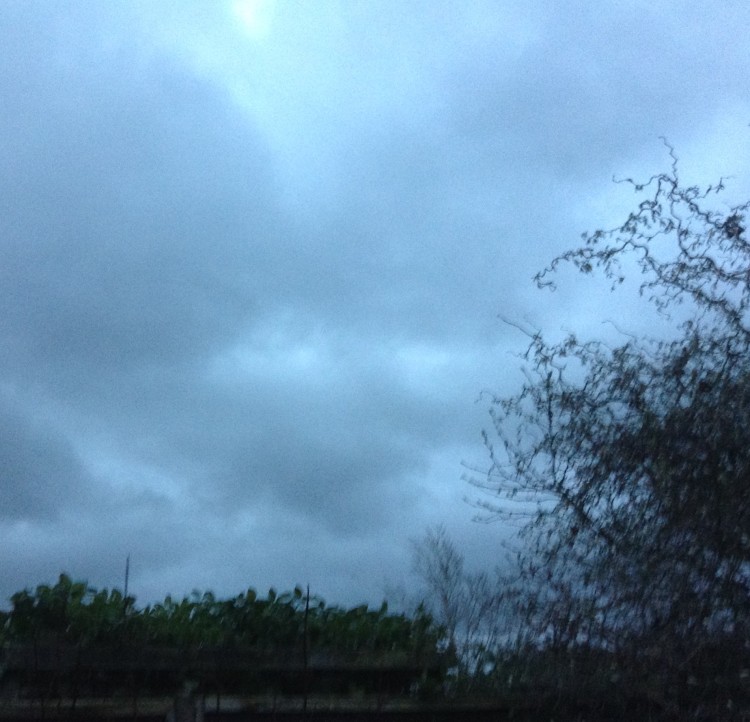 . . . which was not much different!
I read a lovely piece about the winter solstice written by Richard King on the Caught by the River website – www.caughtbytheriver.net – just before Christmas in 2013.  (Incidentally, this is a great site, with interesting daily posts, many about the natural world- well worth having a look every few days.)
He writes, 'In Wales the shortest day is known as Cam Ceiliog . . . translated roughly means the length of a cockerel's footstep. It describes the distance by which we can see the daylight start to extend as we walk away from the winter 's depths. From this moment, every day grows a little and the light returns, by the length of a cockerel's footstep. . . . In the weeks ahead, if you find yourself sloughing through the back end of winter, and its tendency to immovable gloom – pace yourself. Cam Ceiliog has marked us a path. The daylight is coming. One step at a time.'
Wishing you all a very happy and peaceful Christmas:)
---
Yesterday I decided – 12 days before Christmas – that it was the day for our annual Christmas Tree buying trip.
When I fold down the back seats of my Land Rover there is a huge space in the back. Covered up with a very thick strong brown plastic sheet (a bit like a tarpaulin, actually, with brass bound eyelet holes in the edges!) that my Dad always used in the back of his car, there was plenty of space for a 6 foot tree for Graham and a smallish potted tree for me – and a large bunch of mistletoe.
Here is my tree, just brought inside.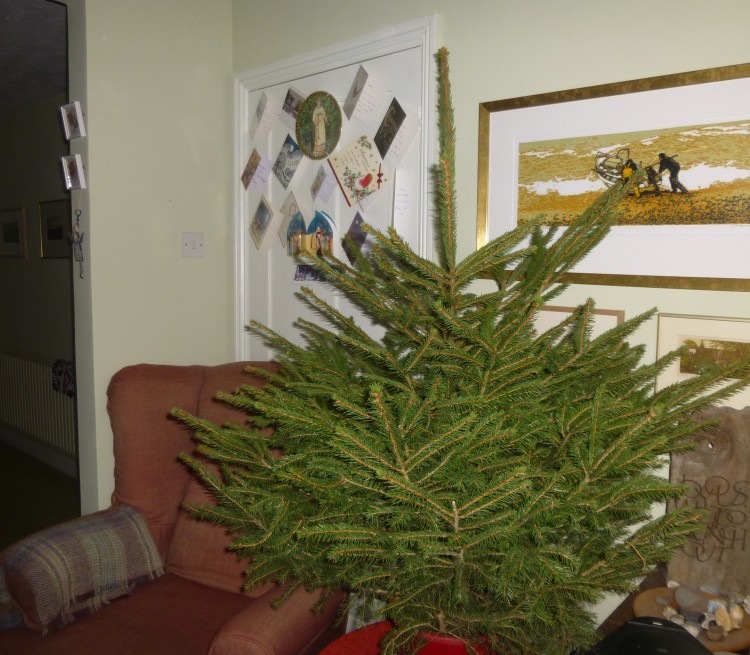 And the lights still work! A miracle! And I had a lovely time decorating it, listening to Psalmody and the Parley of Instruments CD, 'Nativity: Christmas music from Georgian England'. And this is what it looks like now.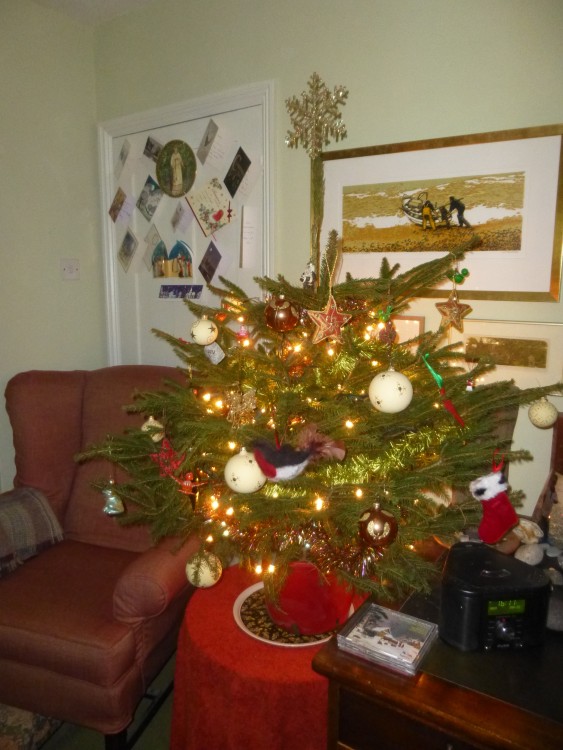 Lots of shopping and delivering of Christmas cards today. Then I started my next dinghy this afternoon – this one will be 'Poppy on the Blackwater II' – a lovely Christmas-sy red! 🙂
---
Last Friday evening Graham and I went to the Private View of James Dodds' exhibition, 'Wood to Water', at the Firstsite gallery in Colchester.
The most spectacular painting is a 20 foot long Colchester Smack, but there were also some interesting paintings of the interior structure of various traditional boats, lots of large lino prints, and some intriguing carvings made from the roof panels of James' grandfather's old beach hut from Brightlingsea.
THE most spectacular thing to me, though, was the real Colchester Smack that was 'moored' just outside the entrance to the gallery, eerily lit with violet blue floodlights. She is the 'Hyacinth' . . . . . .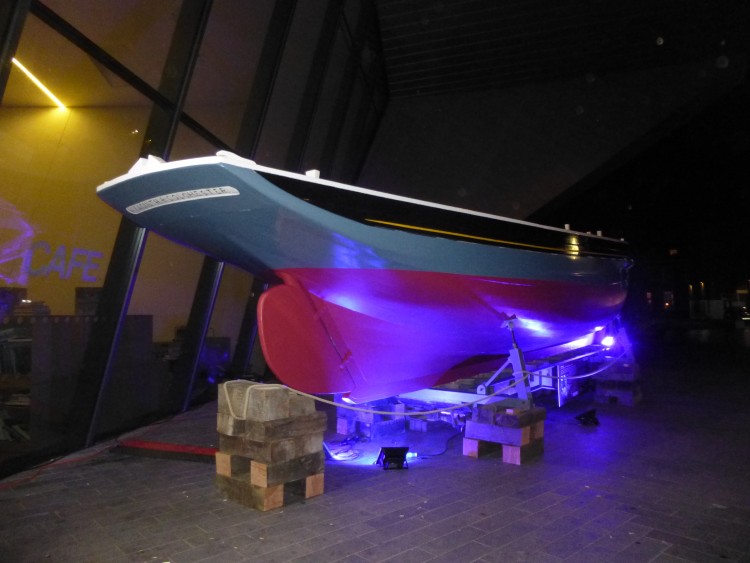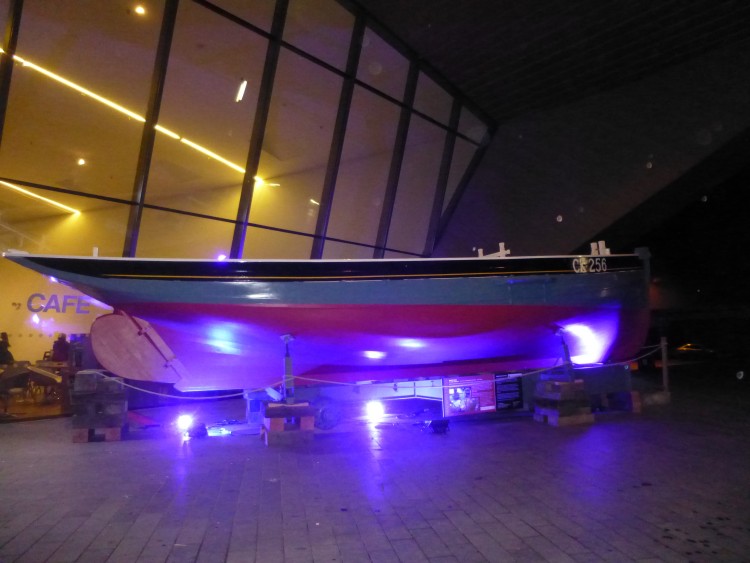 . . . . . and although she appears small, dwarfed by the enormous angled frontage of the gallery, when some people strayed into my shot to give a bit of proportion, you can see how big she actually is!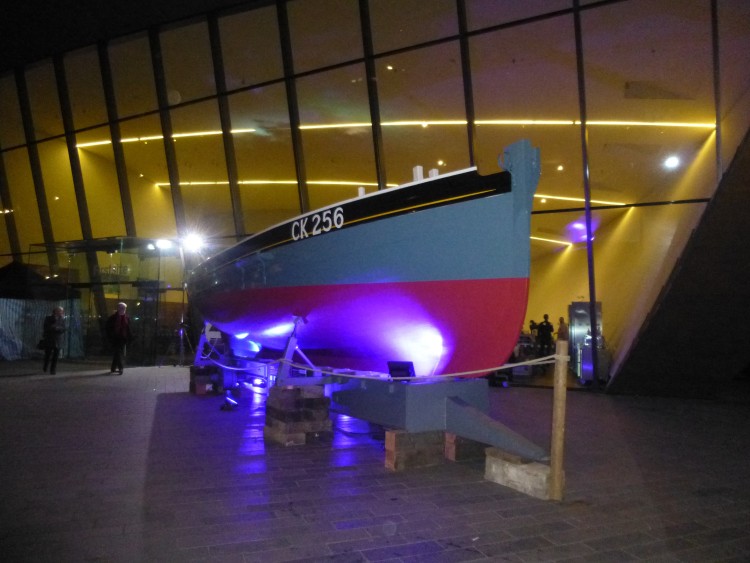 The show is on until 14th February, open Monday to Sunday 10am – 5pm.
I am definitely going back in daylight to do some drawings of the Hyacinth of Colchester!
Hope your week has got off to a good start. 🙂
Christmas tree photos tomorrow!
---
I just finished painting this dinghy earlier today! Dinghy on the Falling Tide is a little West Mersea dinghy that I've painted a couple of times before on different days and from different angles! It features in 'Dinghy in the Shallows', and 'Dinghy on the Red Buoy'. I like the classic blue and white, the wide clinker build, and the way it is always so covered with mud!
I think this will be one of the paintings that I enter for the Sentinel Select exhibition, which will take place in March. All the details, as usual, on the Gallery 2015 page.
And I've just realised that in no time at all I shall have to ask my very clever webmaster, John Wheal, to make me a 2016 gallery page!
It's been a very dark and windy day here, with some rain in the wind – I was visiting an old friend this afternoon and the wind was roaring through the oak trees in her garden. BUT only nine more days till the winter solstice, when little by little, the days will start to get longer . . . . . .
Hope you're having a good weekend, whatever you are doing. 🙂
---
So, as promised yesterday, here is the next Peddars Way painting. Some of you may be thinking, 'Hang on, hasn't there been a Peddars Way IV already??' Well, yes, there was – Hornbeam – but I decided that painting didn't really work, and wasn't up to being in the series. Consequently, I re-numbered the last one, 'Harpley Dams', as the new number three, and this one is the new number four.
The dictionary says 'portal' means a doorway, or gateway, so I called this painting Portal because we had been walking through a section of the path with tall trees and hedges on both sides, and at this point we came out into a more open stretch, where we could see into the distance – it seemed like a kind of doorway. It was quite near the southern end of the part of the Peddars Way known as Procession Lane.
There is one more Peddars Way painting to come, which will be called 'Sunset', and will be quite different from anything I've painted before . . . .  . !
I got started on my next dinghy painting this afternoon – 'Dinghy on the Falling Tide' – another West Mersea dinghy. Lots to do! 🙂
---
I've been working hard in my studio the last couple of days, and have just about finished the next Peddars Way painting, which I hope to get up on the website tomorrow. I just need to have a final look at it in daylight tomorrow to make sure! These short winter afternoons mean I often end up painting by electric light – although there are some compensations, like the beautiful sunset above!
I was really pleased with how the ARTSTUFF stall went on Saturday – I sold a heap of greetings cards, packs of Christmas cards, a jute bag and a canvas print – and several people said they were sorry I didn't have any calendars this year! I kept having to explain that I HAD had calendars, but had sold out by November. Which makes me realise that next year I need to make a lot more calendars.
I heard some very good news last Friday, concerning next year, and I've also been planning a really interesting new year-long painting project to do throughout 2016 which I'm very excited about. (But I'm not sharing my New Year plans until January, so you'll have to wait till then to hear about them!)
Then, on Sunday I had an email via my website which resulted in the sale of 'Waiting for the Tide II' to a couple who saw my work earlier in the year at the Sentinel Gallery.
I bought the first Christmas present today, and posted the first batch of Christmas cards – the time is flying by . . . . . Hope you are all enjoying a happy December 🙂
---
Sorry to be late publishing this canvas print – the eleventh in the series, which should have been posted on November 30th, but the problems I'm having at present with my laptop prevented me posting anything!
This was a dinghy I found in the harbour at St Ives in Cornwall when I was there last year. I loved the colour of the reflections and the contrast between wall the lovely turquoise-y blues and the warm browns, with those shots of yellow!All the details are exactly the same as for the other canvas prints – there is a limited edition of six copies, and one has actually already sold, so only five available.
I'm hoping to get my laptop problems solved very soon, so I shall be back posting regularly in a day or two I hope! In the meantime I'm working hard on my next Peddars Way painting, and have just started another dinghy!
Hope your week gets off to a good start! 🙂