After the BIG storms on Friday night the temperature dropped dramatically. And so, yesterday I had a BIG painting day, and managed to get this one finished.
This is the sixth painting in my Four Seasons on the Stour series. (So good to be in a cool studio again! And so good to have a stay-wet palette which stays wet!)
Next up will be a second dinghy to go with Blackwater Dinghy on the Flowing Tide, Fingringhoe Wick: April and Fingringhoe Wick: October to the Geedon Gallery in October. It will be one of those that I found at Heybridge basin last time I was over there.
Hope you are enjoying your weekend! 🙂
---
Making slow progress with Stratford St Mary: Early Summer. From mid morning it has been too hot to paint in my studio. Too hot for me, and too hot for the paint, which dries up on the supposed-to-be 'stay wet palette' while it is uncovered.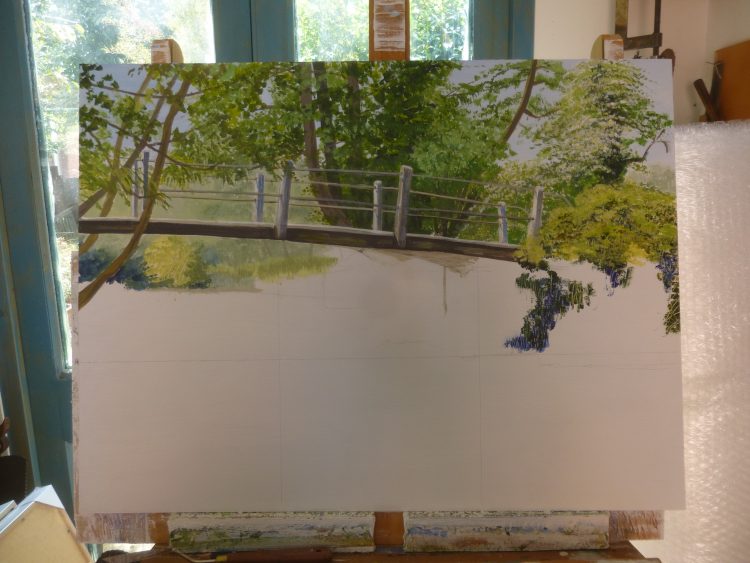 The agapanthus are still flourishing in the garden . . .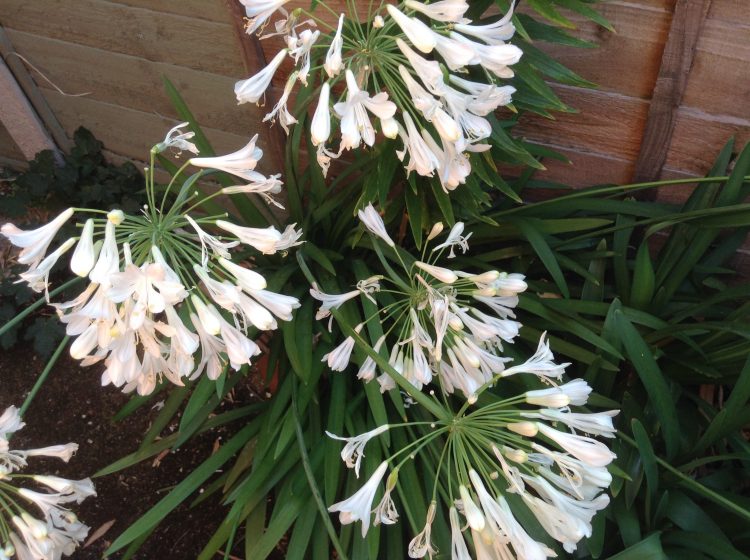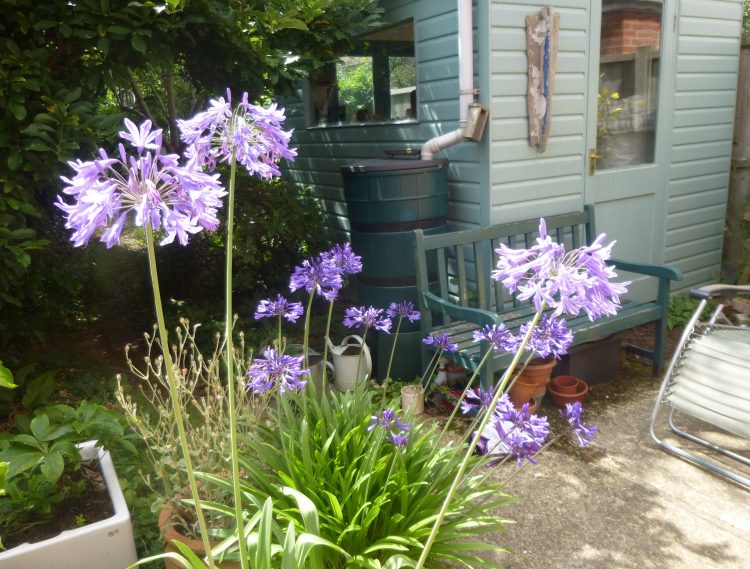 and the fuschias and tomato plants are doing well – because I keep watering them – but everything else in the garden, along with me, and I guess everyone else in the East of England, is just longing for RAIN!! Which is forecast for tonight – along with cooler temperatures over the weekend! Phew!
Friday again! Enjoy your weekend – keep cool! 🙂
---
Haylett's Private View on Saturday for Essex Creeks and Estuaries – very hot but very successful too!
I arrived about five minutes after they opened, and already three of my paintings had sold! Landlines 5: Channels – the second in this series to sell –  and Wrabness: Winter and Cattawade: Winter from the Four Seasons on the Stour series. So a really good start to the exhibition. It was lovely that some of the friends that I had invited were able to make it, too, and it was good to see exhibiting artists Liz Morris and Barbara Peirson again. Liz seemed to have quite a few red dots on her etchings, especially the one that featured on the cover of the PV invitation –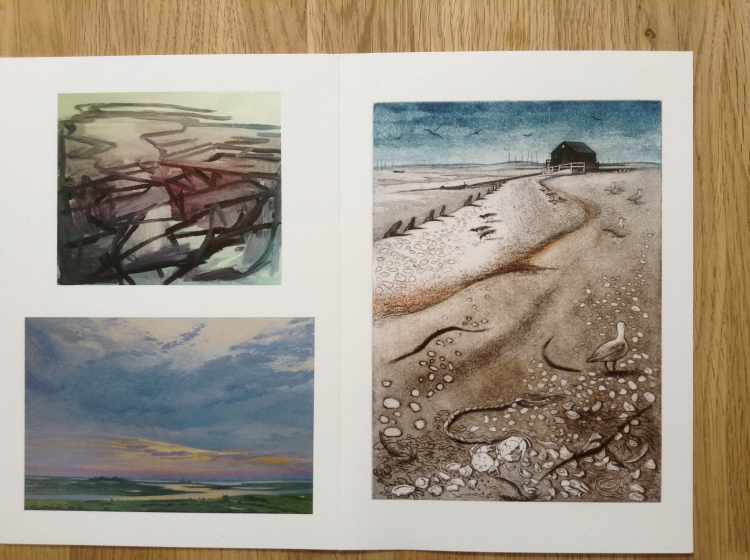 There it is, on the right. Printmakers are at such an advantage being able to sell multiple copies of their work!! Ken Rickwood, who came over to see the show, suggested that I had some giclée prints made of my paintings. That needs some thought . . .
In my Studio: I've been making a start on Stratford St Mary: Early Summer.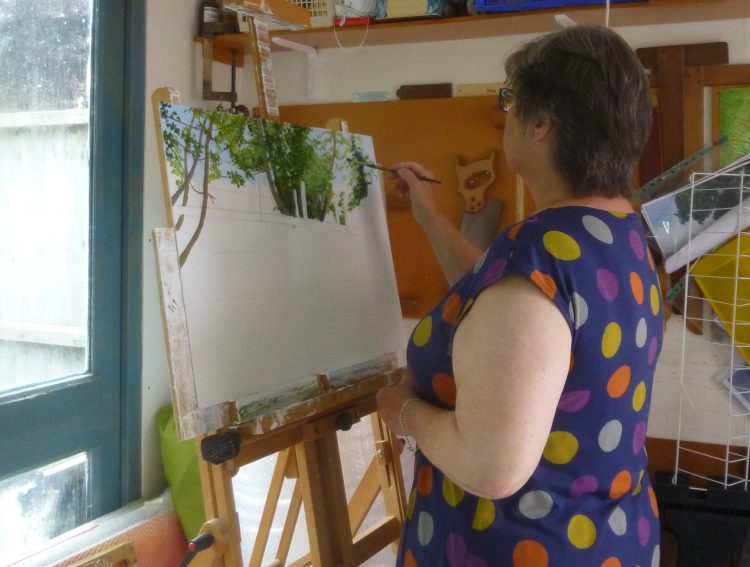 And working my way through 5 domestic Faculties that came in the post last week – with (of course!) the help of two little assistants which I introduced on Instagram the other day, and now introduce to you. They have been helping with writing the faculties for over 20 years. This is Bear True Allegiance – TA for short – and the Official Seal! (Their names require a little bit of consideration . . . I am, after all, writing out legal documents . . . !)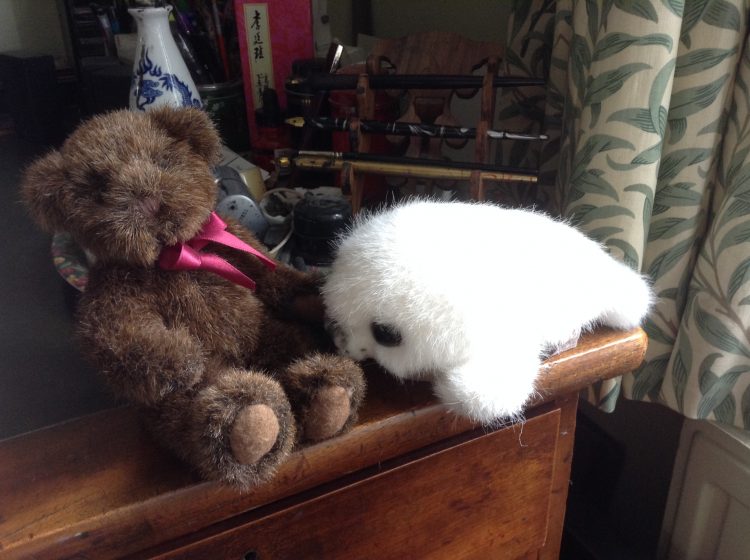 And on that note, I think it's now lunchtime. Hope your week has got off to a good start. Keep cool! 🙂
Incidentally, if you'd like to follow me on Instagram, there is a link on the home page of my website.
---
Just finished this morning!
This view is of the lane leading to Hillhouse wood in West Bergholt. I had actually walked down the hill past the wood entrance, down to the fields in the valley. Walking back I was struck by this view looking up the lane. Hillhouse wood is on the right of the picture.
Next up in the studio: I want to get started on my Stratford St Mary river Stour painting. I started priming up the board last night!
Two exhibitions: The group called 'Four Printmakers' – who are my friends Anne Townshend and Miranda Chapman, plus Julie Orpen and Georgie Finn, have an exhibition on at present at the Quay Gallery at Snape Maltings.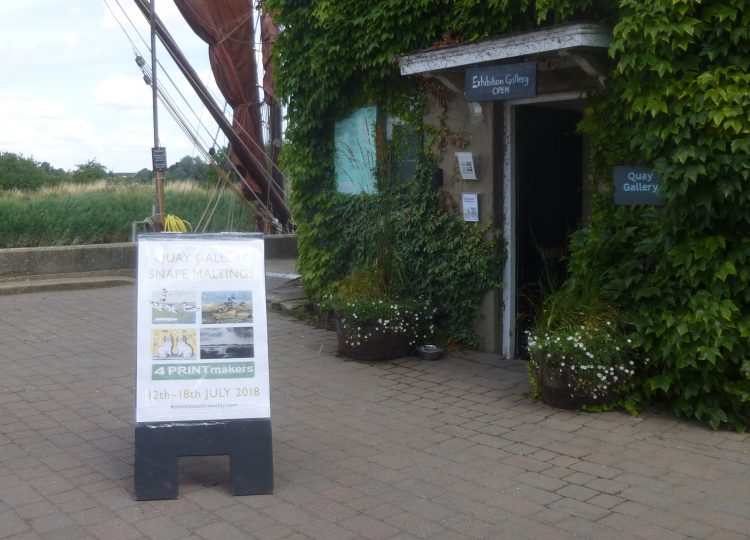 Graham and I went up there to visit them today. It is a great venue, right beside the river,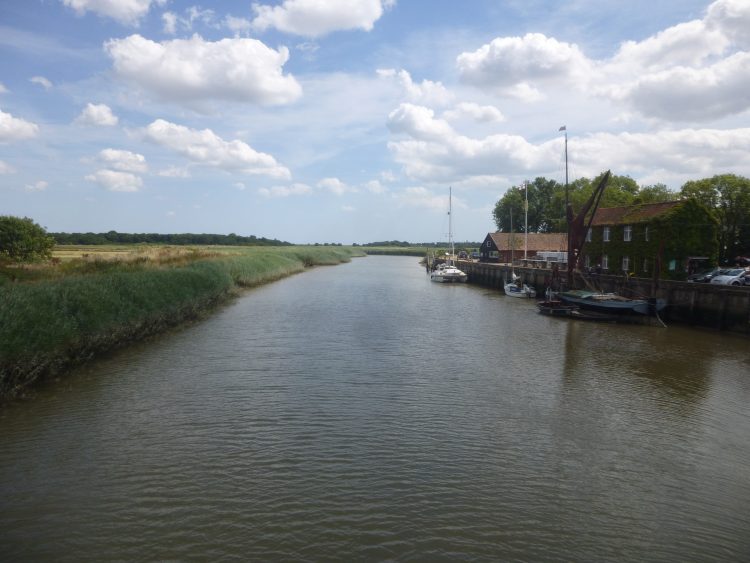 and a lovely light and airy space. Their work, which is very varied, looks great displayed on the walls, and there are lots of cards and unframed work to buy, too. Tomorrow is their last day – just time to pop in if you are in the area, and well worth a look.
From Snape we went up to the Peter Pears Gallery in Aldeburgh, for the Annual Suffolk Craft Society exhibition. We saw lots of great work – including pieces by our friends, Caroline Sullivan, Alison Dane, Cathy Allen, Penny Bhadresa and Dennis Hales. They have all shown at Lexden Arts Festival in the past. The first three exhibited this year at the All Saints Arts Festival in Maldon, too, and Dennis Hales will be exhibiting at Art Space in Woodbridge with Naomi Brangwyn and me, and two other artists in October this year. This show is on until late August, and, again, is very well worth a look.
In between the two exhibitions we had a nice lunch at the Crown at Snape, and I had a particularly pretty risotto . . .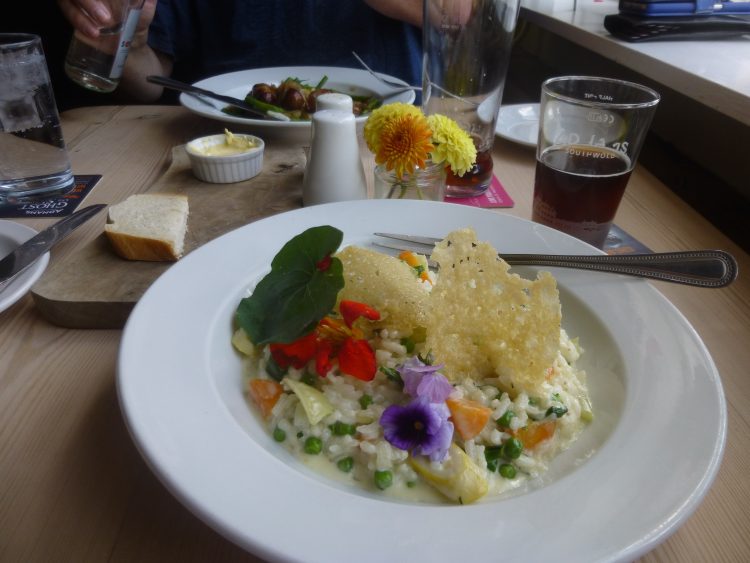 Hope your week is going well! 🙂
---
It was very hot this morning, but it seemed like a good day to do my next visit to the River Stour.
I'm a bit behind with this project. I've still got my late Spring painting to do, which will be of Stratford St Mary, but the most important thing is to keep doing the visits, getting the drawings and photos, at the right time. And now it is quite definitely summer – in fact the summer is flying by! –  so I need to prepare for some summer paintings.
First I went to Higham. Studying the footpath map before I went it seemed unlikely that I was going to be able to get down to the banks of the Stour, but Higham is at the confluence of the Stour and the Brett, so it seemed quite important to include this stretch. The Brett is the first significant tributary.
After a bit of wandering about I found the right footpath – a metal kissing gate off the track by the church, which led into a field. There was a clear track down the field edge, and no fierce cows to be seen. So I set off. A short walk brought me up to the banks of the River Brett, with the Stour valley laid out on the other side of the river. The willow trees marking the course of the bigger river.
The Stour valley is very pretty, along this stretch, don't you think?
Just as I came up to the bank there was a loud plop! – and circles spread out in the water. I'd love to know which riverbank animal jumped in!
I did some drawing and took a few photos, and then it was on to my next stop. This was Boxted Mill. Not originally on my list of visits, but it seemed a likely kind of place on the map.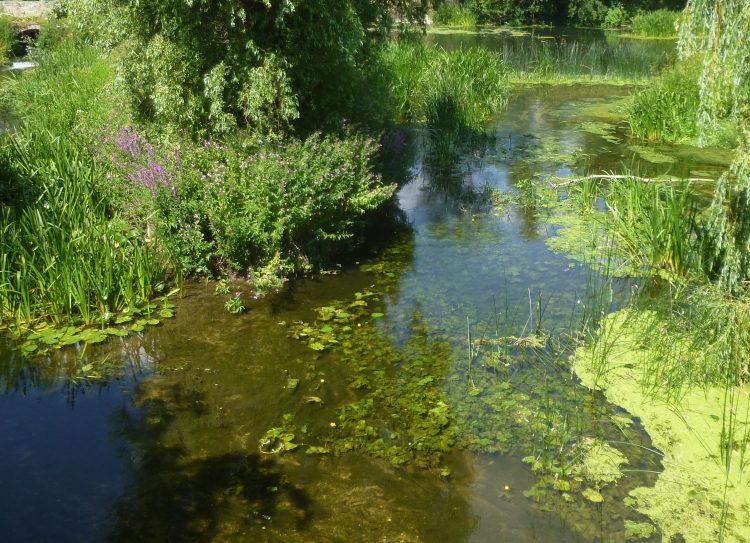 The river is wide here, and the weir, which I presume fed the mill race, is still in place. The roar of the water flowing down stream was audible as soon as I got near the bridge. Hm, yes, the bridge . . .  It's very narrow, and on a nasty bend with a T-junction straight afterwards, so rather a tricky place to stand.
My next Stour visit, which I plan to do in about another week, is Nayland. And I have my eye on that lovely bridge by the Anchor pub.
We actually have clouds here this afternoon, and the weather forecast for Colchester predicted a thunderstorm. Rain! I hope it comes . . .  🙂
---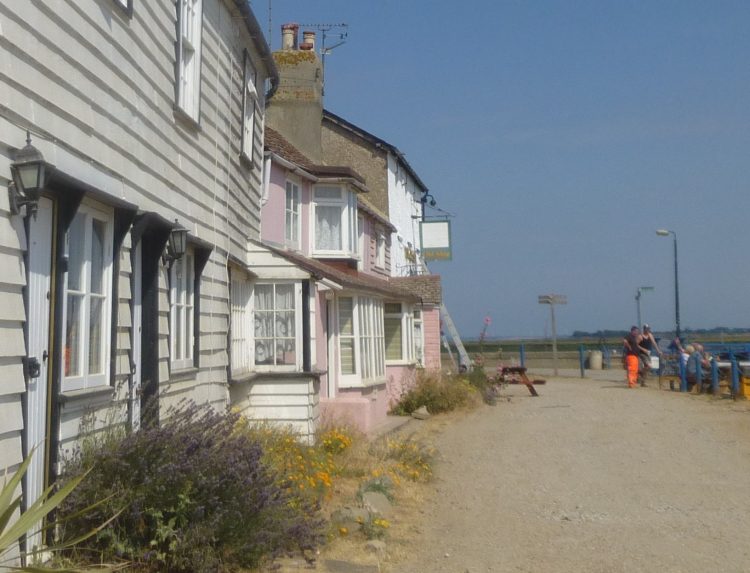 Heybridge Basin in the sunshine yesterday afternoon. I stopped off there after delivering my seven paintings to the Haylett's Gallery. There were yellow waterlilies flowering amongst the house boats by the lock gates. And when I walked along the river I found two really good paintable dinghies!
All the greens!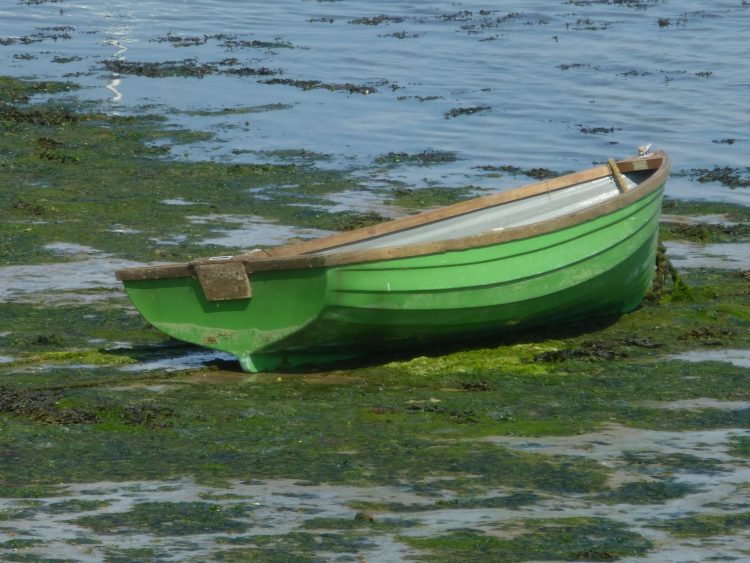 and all the whites!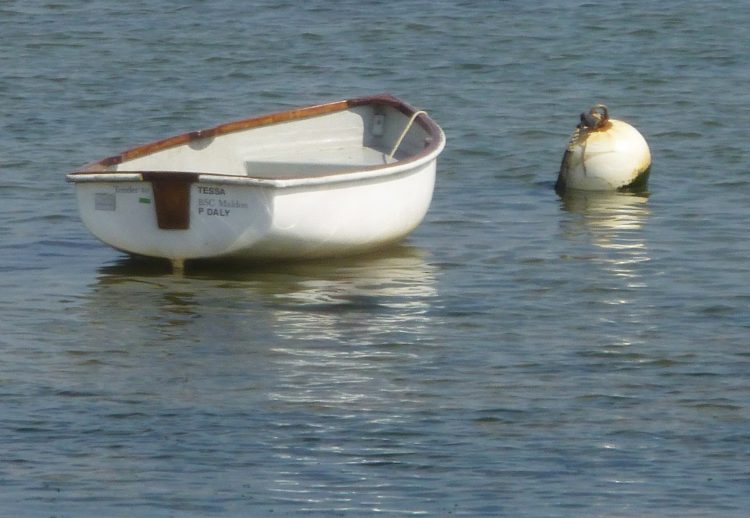 What I'd planned to do this morning got cancelled, so I had a bonus of a morning painting in my sunny studio –
before going down to St Leonard's church this afternoon to help set up for tomorrow's Fete. My ARTSTUFF stall is by the path leading up from Lexden Road on the North side of the church. Do come and say hi if you're in the area. We are open from 11.00am to 2.30pm. Just hoping it's not going to be quite so hot – but the weather forecast does not promise to fulfil my hopes . . . .
Have a great weekend, whatever you're doing. Keep cool! 🙂
---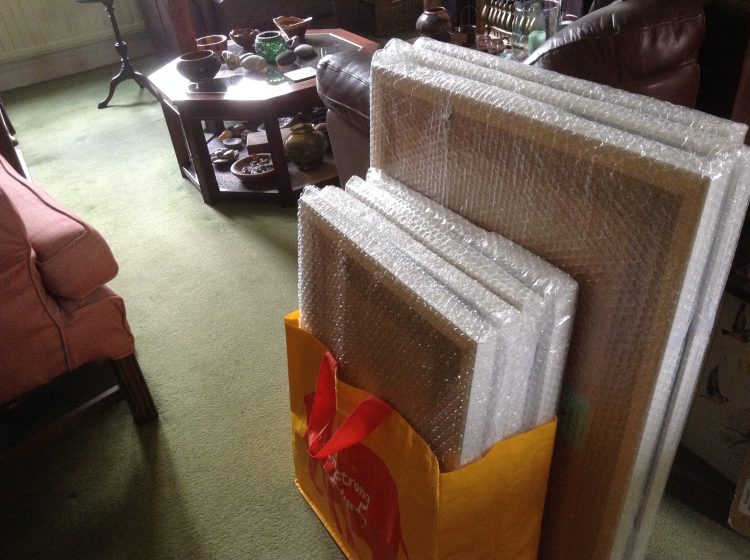 All wrapped up, and ready to go off to the Haylett's Gallery tomorrow!
There have been one or two changes to my original planned list. The two bluebell paintings are not, now, going to be in the show.They really don't fit with the Essex Creeks and Estuaries theme! And I'm taking Dedham: Spring instead. The plus side of this is that I will now have the bluebell wood paintings to add to my list for our Artspace exhibition in Woodbridge in the autumn – which is a bonus!
In the studio: making some progress  with Landlines: Lane . . .
and so glad it's a bit cooler today!
Hope your week is going well! 🙂
---
I am delighted to have been invited to take part in this summer's exhibition at the Haylett's Gallery in Maldon. Sally Patrick has chosen the theme of Essex Creeks and Estuaries. This is a lovely one for me bearing in mind the subjects of my painting projects this year and last!
The Private View invitations arrived a few days ago. I was thrilled to see one of my paintings chosen to go on the back! One of Liz Morris' lovely etchings is on the front, with a painting of Simon Carter's on the back above mine.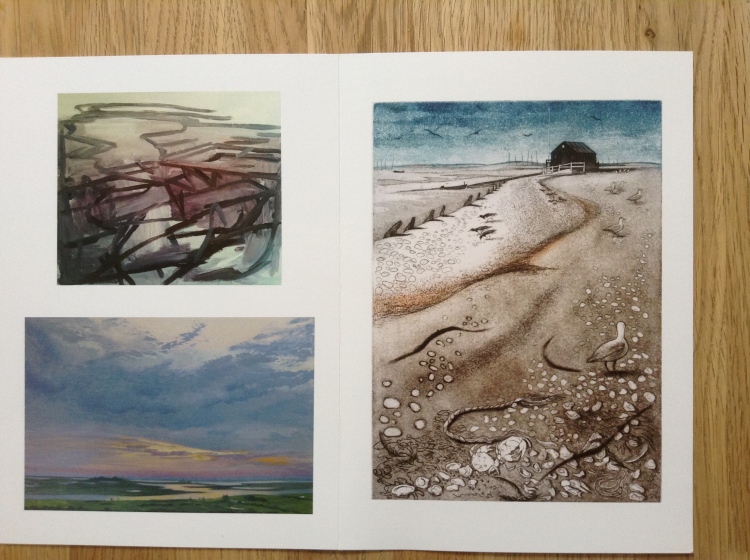 I have eight paintings in the exhibition in total. I was pleased to see some other artists whom I already know will also be taking part. Elizabeth Morris, Barbara Peirson and Glynn Thomas have all shown at our Arts Festival in past years.
Here are all the details.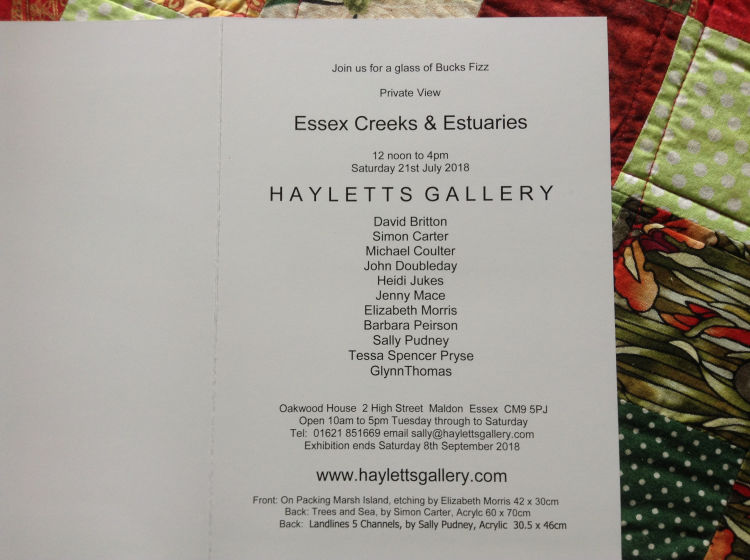 The show is on right through the summer from 21st July until 8th September, so lots of time to visit – but note that the gallery is closed on Mondays.
Do come along to the Private View if you are in the area. I will be there the whole time and it would be lovely to see you. 🙂
---
It seems an absolute age since I got any painting done. First the Festival, and its aftermath, then my week away, then framing all the work for the Haylett's gallery, then clearing out the spare room and then having a friend to stay for a week . . . .
It was so good to get in there this afternoon and make a start on Landlines 7: Lane . . .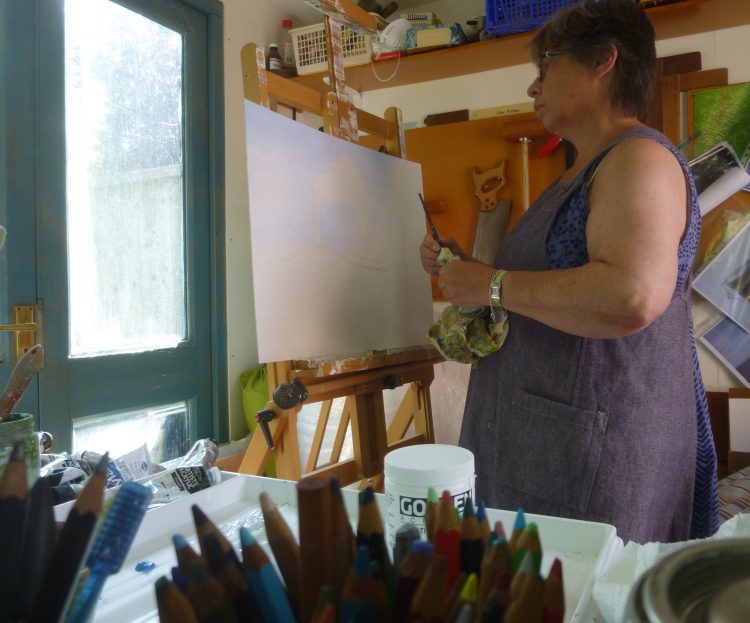 Although I did have a good time last week. Despite the heat (VERY hot!!!) my friend from North Wales and I packed in quite a bit. We had a visit to RHS Hyde Hall . . .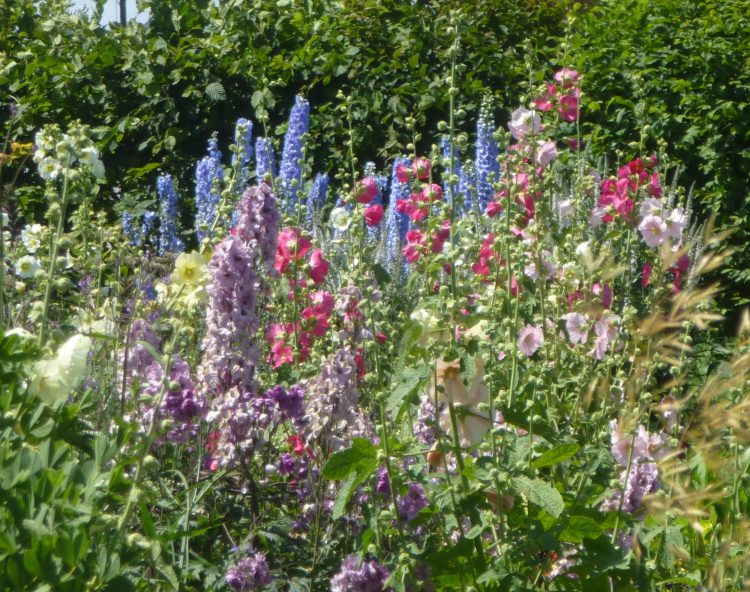 . . . and Flatford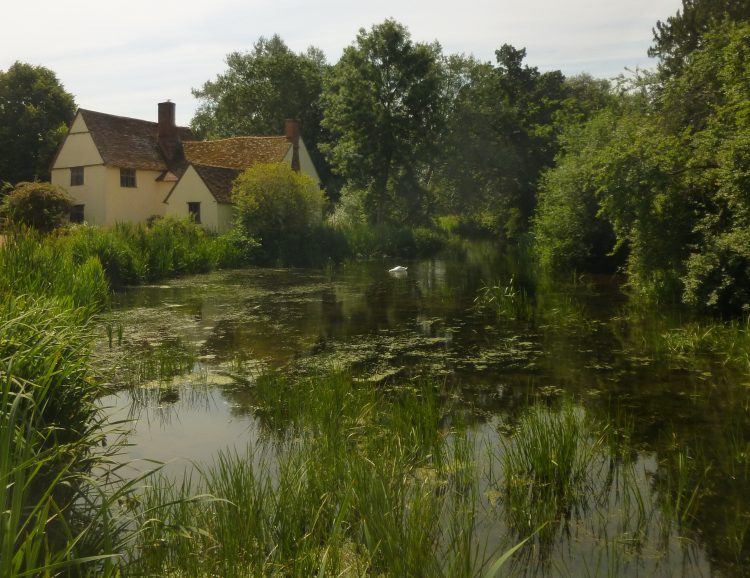 which looked so different in its lush midsummer greens from when I painted it in March. From Flatford we went to Castle House at Dedham and looked round the Munnings and the River exhibition, and the rest of the house as well.
On Thursday we had a run down to my seaside outpost to see Graham. This is the evening light on the sea . . .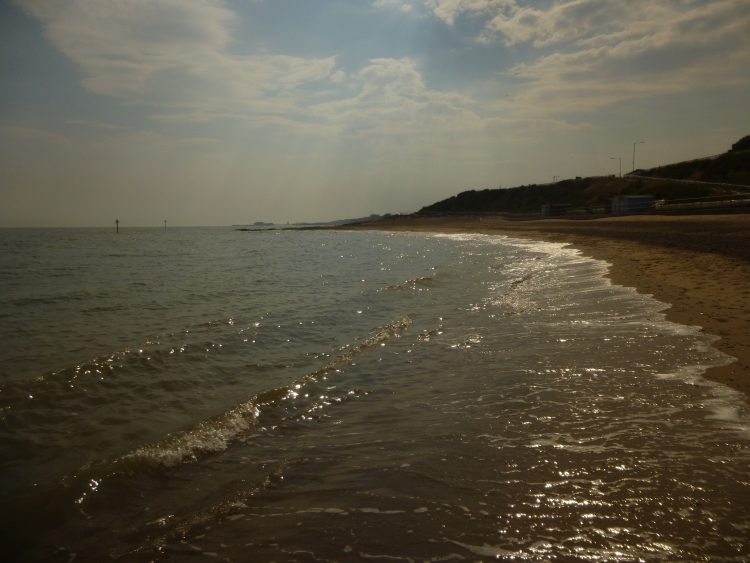 and a cooling paddle.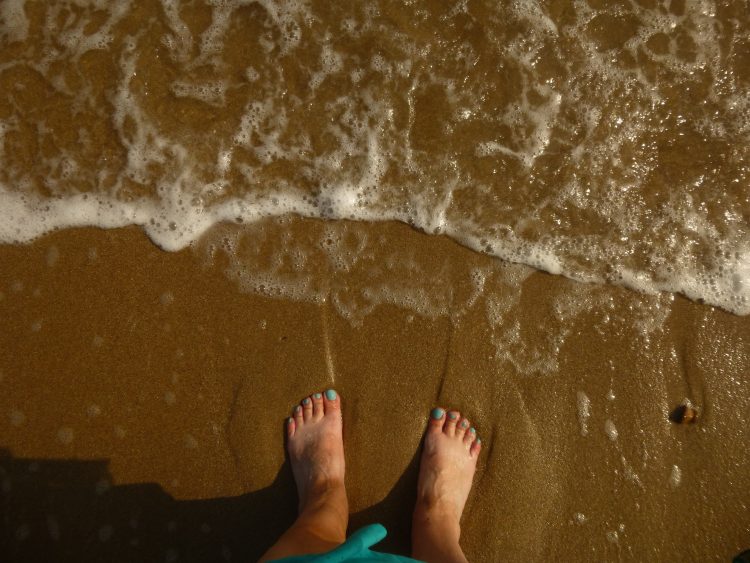 And here are Graham and me with our friend, Martin.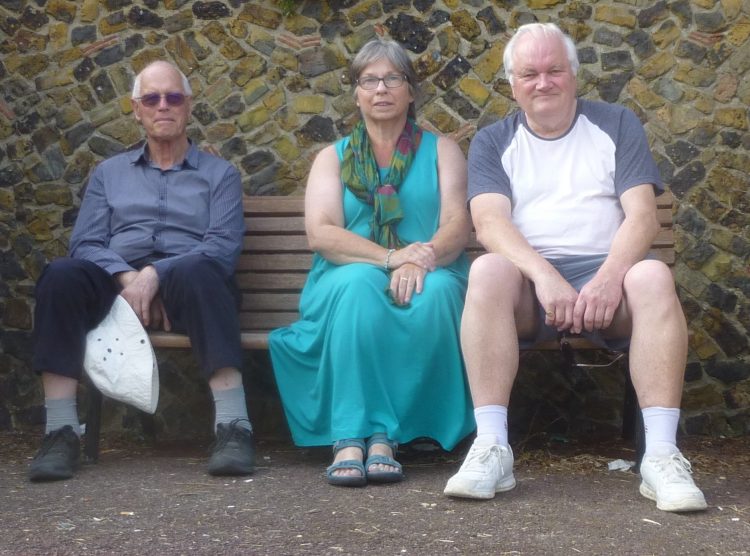 But now it's back to work again!
This week I will be delivering eight paintings to the Haylett's Gallery for their exhibition Essex Creeks and Estuaries. More about this tomorrow.
ARTSTUFF stall: Next Saturday I have one of my usual stalls at St Leonard's Summer Fete in Lexden. This is on from 11.00am – 2.30pm – all the usual traditional stalls and games and refreshments, plus a Uke band, a brass band and a bouncy castle. I shall be selling lots of cards, postcards, little notebooks, plus my Essex Wood and Fingringhoe Wick books – and there may be a few other items! Do pop in and say hi if you are in the area.
. . . And in the studio: After Landlines 7: Lane, next up will be the next in my Four Seasons on the Stour series, which will be Stratford St Mary: Early Summer, and then two dinghies for the Geedon Gallery. I've also got to visit my next two Stour places, which are Higham and Nayland – hoping for some days when it is a little bit cooler. And not quite so dry and dusty would be good, too!
Hope the week gets off to a good start for you – keep cool! 🙂