Here I am, in my very sunny studio yesterday (what fantastic weather we are having for February!!) finishing off The Ridgeway X.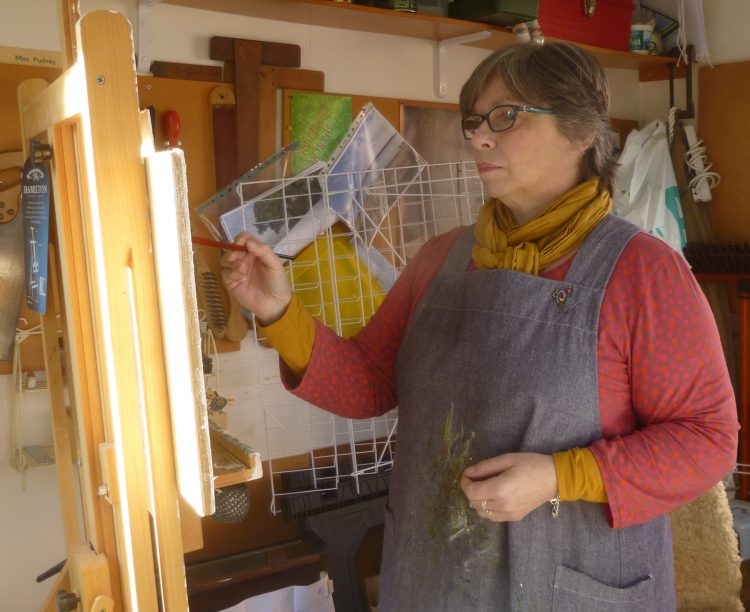 And here is the finished painting.
SO different from the preceding nine Ridgeway paintings! At this point the track runs alongside the prehistoric earth work called Grim's Ditch. The ditch is on the left of the picture. No-one seems to know the purpose of this massive earth work, as it doesn't seem to have had a defensive role. But there it is, anyway, and the Ridgeway runs along beside it for about four miles, through woodland. It was a very hot day when I walked this section, and I was glad of the shade. And it was along this section that I had the luck to find three Red Kite feathers. You can read all about it in the archive – check out June 2018.
Some gadding about was done this week in the beautiful sunshine. On Wednesday with Graham to Southwold.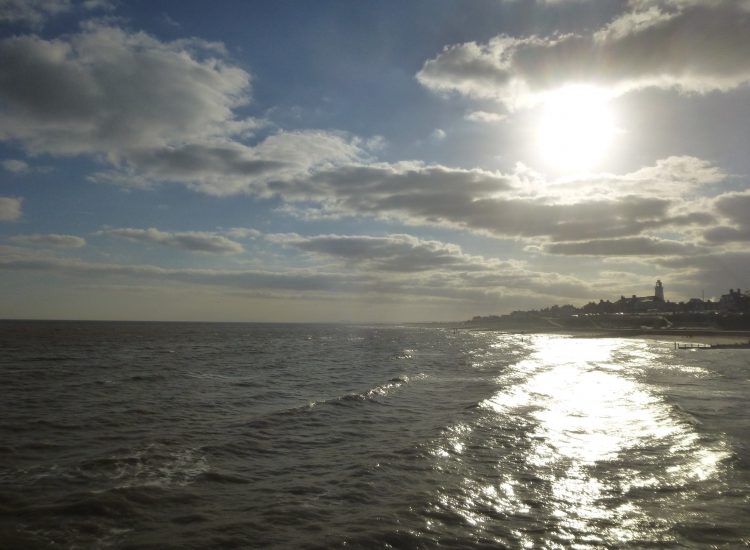 We went principally to check out a couple of galleries I am thinking of approaching to see if they might show my work. But we also had a lovely walk out to the end of the pier, found a great place for coffee and afternoon tea, and a different place for a very nice lunch, and I bought a beautiful tunic from Seasalt – so it was a thoroughly good day!
On Thursday I went with a friend to Beth Chatto's gardens, just on the other side of Colchester from me. I don't think I've ever been so early in the year. The snowdrops were spectacular –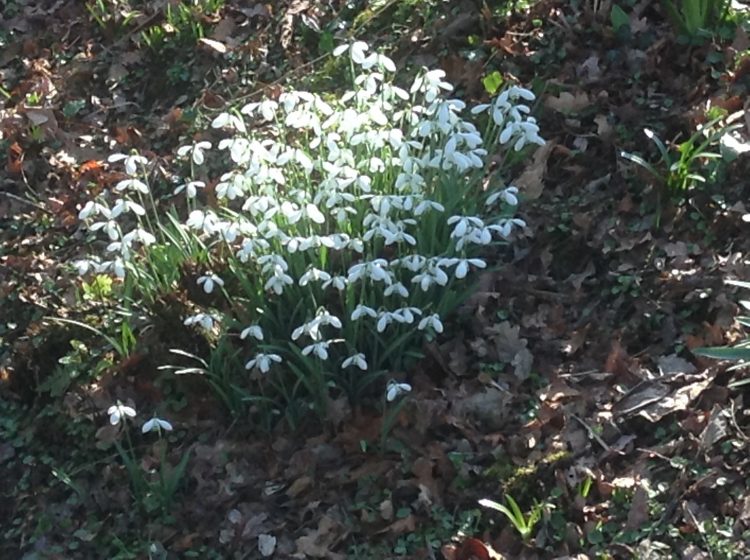 in great drifts below the trees, and there were lakes of pale mauve crocuses humming with bees!
My hellebores in my own garden are really lovely too!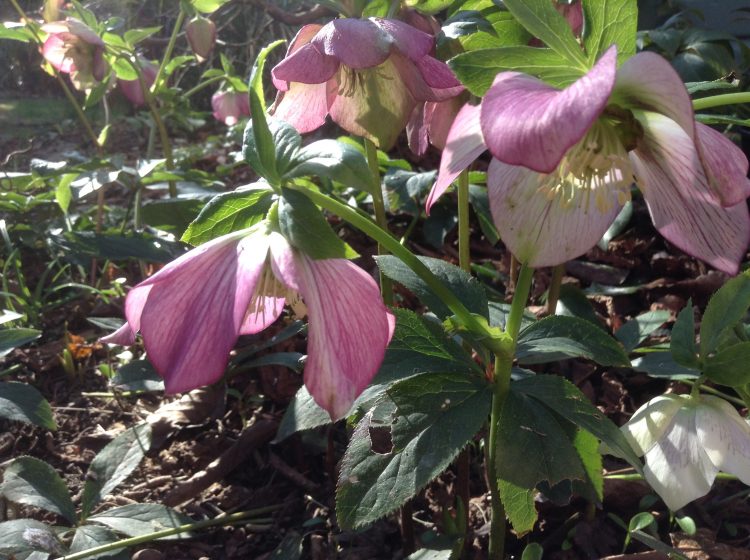 Limited Edition Prints: You may remember that this was one of the things on my 2019 goals list? Well, I got onto it this month, and Dan at Point Graphics in Maldon is in the process of printing my first batch to go in my shop. But I had a one off done for the owner of the red dinghy Poppy – although he hasn't seen it yet, so although I know he is interested he may not want to buy it! Here it is, sitting on my piano, mounted and in its presentation cellophane bag.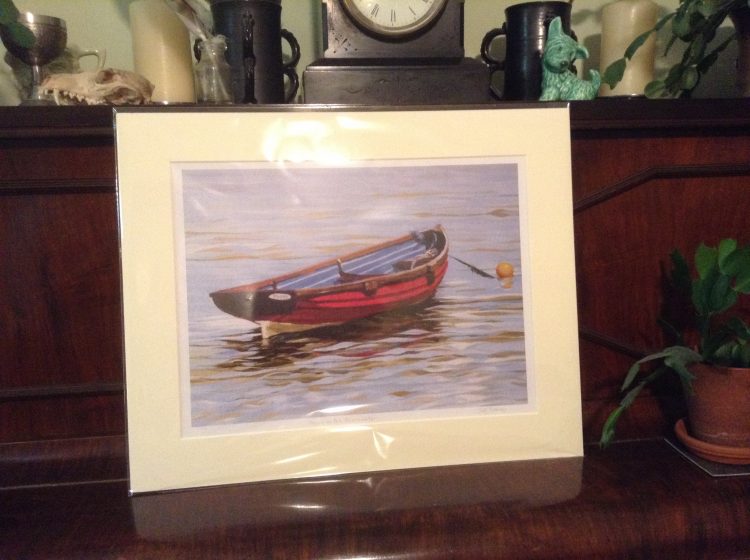 I am really pleased with how it has turned out, and am looking forward to seeing the new ones soon.
In my Studio: well, first I have a Faculty to do, and a church Remembrance Book to update, but then the next one on my easel will be the end of the Ridgeway, one of two paintings which I have planned of Ivinghoe Beacon.
Hope you're having a good weekend and enjoying the sunshine! 🙂
---
On the Ridgeway, looking west, back towards Sparsholt Firs – this one was just finished this morning!
Prints: Yes, I'm making some progress on these! I ordered mounts and backboards, with presentation cellophane bags to fit, from Cotswold Mounts, which came on Tuesday – all very satisfactory. And I've also bought a blind embossing dye from Stamps Direct Ltd in Norwich – this is so cool!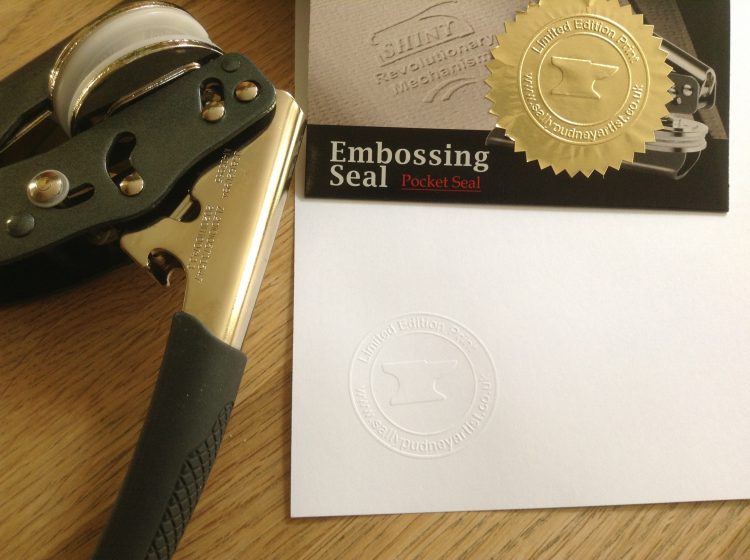 The top says 'Limited Edition Print' and the bottom has my website, with my anvil logo in the centre.
And yesterday I went down to Maldon to see Dan at Point Graphics, and discuss having the first few prints done. It's all happening! February seems like a good month to get new ventures set up. I'm planning on some new cards very soon, too . . .
Happy Valentines Day! – hope your week is going well! 🙂
---
This is the latest in my series of paintings of this ancient trackway.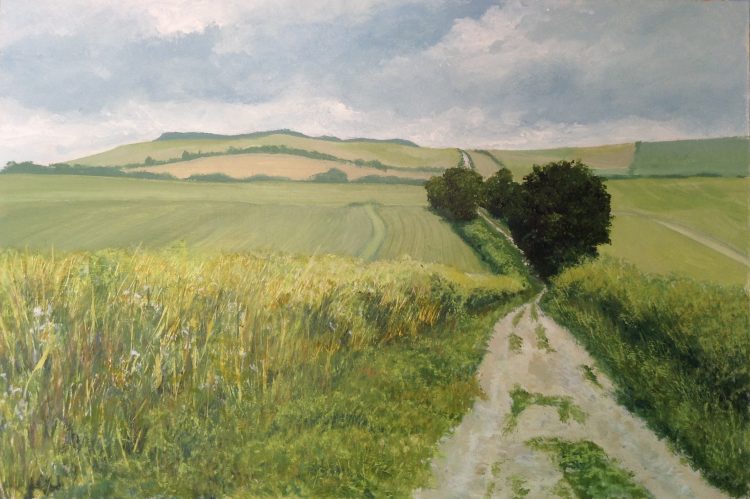 This view shows the track walking roughly eastwards, coming up to the White Horse Hill at Uffington. It was a lovely section to walk, with far reaching views – and I remember it was very windy!
Here I am painting it in my studio –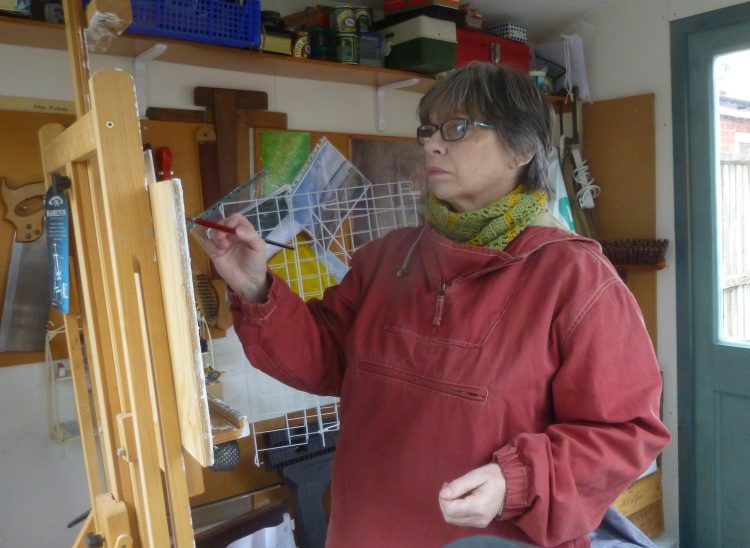 on another very windy – and wet and cold! – day. It was chilly in my studio despite having the heater on for half an hour before I started to warm the place up . . . . which is why I am so wrapped up.
And this is a 'part way through' shot, just for interest.
This morning I delivered Flatford: Early Spring I to its new home. The buyer had it re-framed in a narrow black frame, which, although I was initially dubious, really suited it.
Hope you enjoy your weekend! 🙂
---
Graham and I had a good day in London yesterday looking at pictures.
Firstly, to Canada House just off Trafalgar Square, where some of Barbara Rae's exhibition The Northwest Passage can still be viewed until 16th February.  The colours she uses to paint the Arctic Circle are just stunning, and I would have liked to have seen the whole show which finished in January. But better to see some than none!
Having become inspired by the voyages of her namesake Dr John Rae, who explored the Canadian Arctic in the 1830s Barbara Rae made four trips beginning in 2015 following the route of the Northwest Passage from Greenland, through Baffin Bay to Cambridge Bay in Nunavut, Canada. There is an accompanying book Barbara Rae: The Northwest Passage, which is available online from the Royal Academy Shop.
Here are a few of my favourites which we saw.
Leaving Canada House we walked the short distance to the Mall Galleries to see the Pastel Society's 120th annual exhibition.  We were both amazed at the quality of the work, and the incredibly fine photo-realism that could be achieved with pastels, especially in some of the portraits. The term 'pastel' seems to be used fairly loosely to include pencils and graphite, charcoal, oil pastels, soft pastels and conte.
I was particularly taken with some of the landscape work. These were my favourites:
This exhibition is on until 16th February, from 10am – 5pm, closing at 3pm on the final day. If you are visiting London it is well worth a look.
In my studio: I've just finished The Ridgeway VIII, which I will post about tomorrow!
Friday again tomorrow, and we are a quarter of the way through February – things are looking good! 🙂