As I wrapped up the Ridgeway series a little sooner than I expected, I have also started On the Edge: The North Sea Project a little sooner than I expected! I had been wondering where – down the length of the Suffolk and Essex coastline between Southwold and Southend – to make a start. But it seemed logical to start with the beach that I walk so often with Graham. Sometimes we walk towards Clacton, but more often towards Holland-on-Sea. So here is my first North Sea painting.
For my next one I think I might go to Shingle Street but I need some really interesting clouds for that venue so I shall have to wait for just the right day.
Newsletters: My first email newsletter is scheduled to go out on 31st March, so still time to sign up if you are interested. The sign up box is on the Home Page. The emails are sent using Mailchimp so it is secure and easy for you to unsubscribe if you wish to at any time.
The weather here has been wonderful for the last few days – driving back from singing in Maldon yesterday morning I noticed that the hedges are veiled with new green, the blackthorn is out in billowing white clouds, and the countryside is waking up for Spring. Hope you are able to enjoy the sunshine! 🙂
---
The last in my series of Ridgeway paintings, finished this morning!
This is Ivinghoe Beacon, the end of the Ridgeway, so a fitting end for the series. I enjoyed the walks in 2016 and 2018 enormously and I've enjoyed doing all the paintings, too – but I'm very ready to move onto something different now!
I have a couple of paintings I want to do of Wittenham Clumps next, which will go into the Landlines series, and also there will be a couple of new dinghies from Heybridge Basin in the pipeline soon. But mostly I want to get started with my 'On the Edge: The North Sea Project'. I need to think carefully about what size boards I'm going to use and where on the coast I'm going to start  . . .
Friday again! Yay! Graham and I are singing for a wedding in Maldon tomorrow – poor bride, with this stormy weather! Hope you have something nice planned for the weekend – don't get blown away! 🙂
---
New in my website shop today is the second of my limited edition prints, this one of Higham – the River Brett and the Stour Valley: Summer.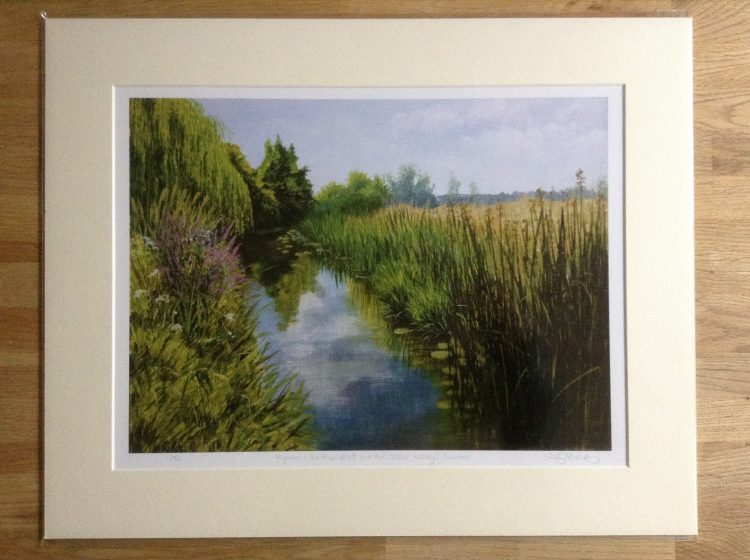 I am really pleased with how this has turned out, and I'm looking forward to getting some more paintings turned into prints in the next few months. Just click on Shop in the menu bar to see all the details. If you live in the Colchester area and would rather buy something from the shop directly from me, do just drop me an email – sally@sallypudneyartist.co.uk
Newsletter:  You may have noticed some changes to my home page in the last few days. I've had a sign-up box added so that you can leave me your email and receive monthly newsletters from me. These will be sent out using Mailchimp, so it is very secure and you can opt-out at any time if you wish. Newsletters will include details of exhibitions I'm involved with, invitations to Private Views, information about new merchandise I'm producing, and special offers just for subscribers. Later in the year it will also include information about the Anglian Arts Project, a new venture for Graham and me this year. I won't bombard you with emails – I intend to send you them only when I have something to tell you, which will be once a month at the most!
You may have also noticed that the Facebook link on my home page has vanished! I haven't used Facebook for several months now, so no point in having it there. I do use Instagram almost daily, though, and you can click through to view my Instagram page even if you do not use Instagram yourself. At present I am almost half way through the #MarchMeetTheMaker challenge, which has led to some longer quite detailed posts about everything to do with my painting.
Hope you are surviving the gales! Batten everything down and stay safe! 🙂
---
Just finished this morning – this is the last but one of the Ridgeway series.
This is the view approaching Ivinghoe Beacon. I was actually on the Icknield Way at this point, walking up from the car park. This equally ancient track and National Trail joins with the Ridgeway for its ascent up Ivinghoe Beacon, where the Ridgeway ends. I liked the braided multiple tracks in the chalk ascending the hill, and the way the path dips and winds on its approach.
New in the shop this week is Stratford St Mary – Early Summer as a limited edition print.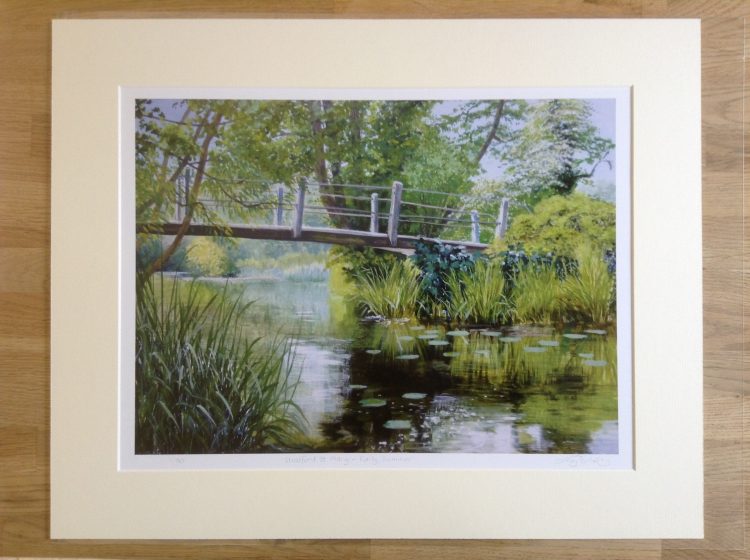 I am delighted with how this has turned out! The mount is a slightly textured antique white measuring 50cm wide by 40cm high. I've just placed an order with my wonderful printers, Point Graphics in Maldon, for some identically sized prints of Higham – the River Brett and the Stour Valley: Summer. Both are in a limited edition of 50 prints, with a cost of £45.00, which includes packing and postage to any UK address. At present only this one is up in the shop, but I expect Higham will be joining it next week!
In my Studio: The last of the Ridgeway series will be next up on my easel! And then I am really looking forward to getting started with my new project On the Edge: the North Sea Project. Although I will be hoping for better weather than this when I start, as today is cold, dull and drizzly!
Hope your week is going well. Spring is just around the corner! 🙂
---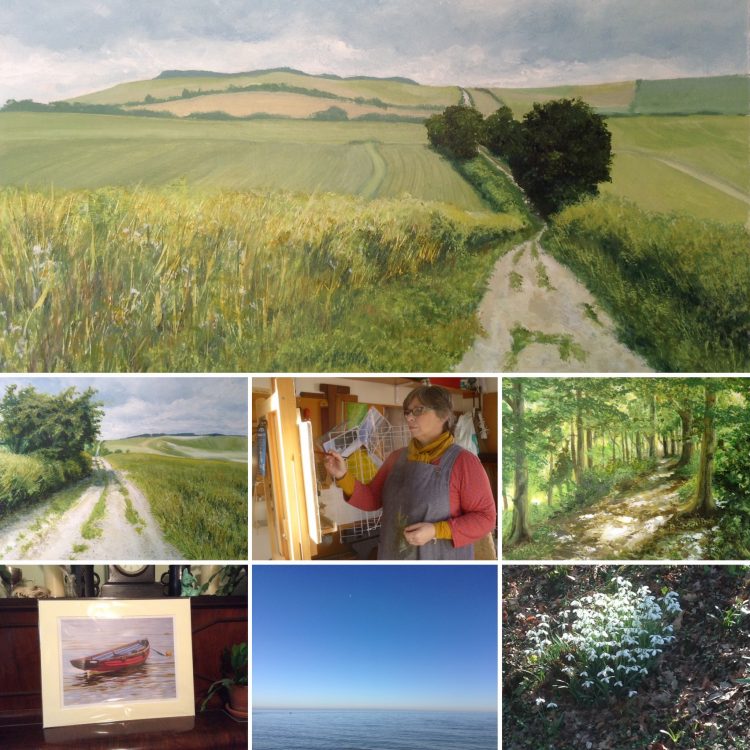 February was a busy month, but I have made good progress on several of my art plans!
I am well on track to finish my Ridgeway series of paintings by the end of March as I only have two more to go now.
My latest book, Four Seasons on the Stour, is now for sale in my online shop.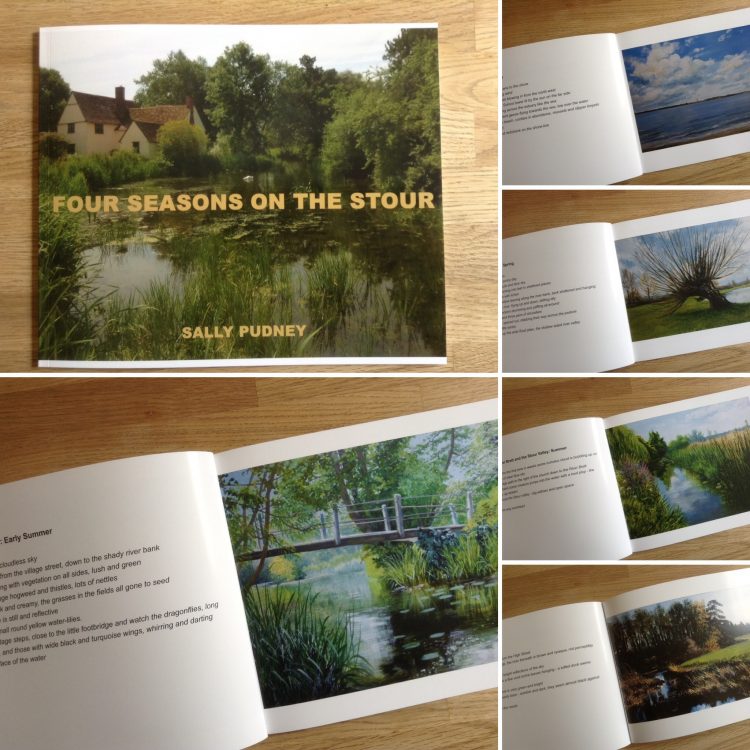 I am so pleased with the way these have turned out! They are considerably bigger than my two previous books, which gives really good clear images of the paintings. They cost £20.00 which includes packing and postage to any UK address. Just click on SHOP in the menu above and scroll down. If you don't live in the UK and would like a copy drop me an email – sally@sallypudneyartist.co.uk
I've also got my new prints organised and the first of these will be going into the shop very soon  – check it out in the next few days!
I've been to visit several new galleries in the last couple of weeks – the latest was in beautiful Saffron Walden –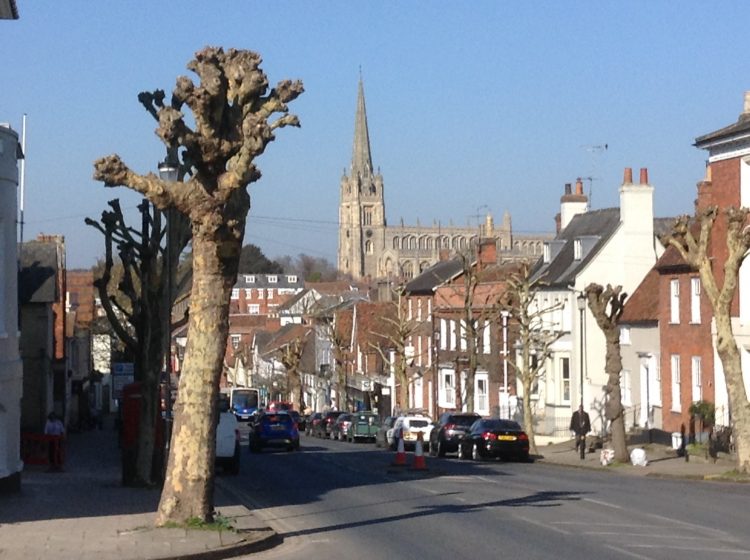 which I visited with a friend last Wednesday. I don't know whether anything will come of these visits yet, of course.
Those of you on Instagram may be interested to know that I'm doing the #MarchMeetTheMaker2019 challenge which is organised by Joanne Hawker. Today's prompt was 'How you started' and I posted some really old paintings from 2005 when I first started playing around with acrylic paint  . . .
Hope you are enjoying your weekend – and Happy March! 🙂