Just finished today – this is of the Round Hill at Wittenham Clumps in Oxfordshire, climbed, walked round, drawn and photographed last year. It was on the Summer Solstice, and was the day I also climbed Ivinghoe Beacon and got to the end of The Ridgeway.
It was interesting how certain routes up this smooth grassy hill had become established, and the grass beaten down and kept short by the pressure of feet. I believe geographers call these 'paths of desire'. Various grassy plants had gone to seed in the longer growing areas, and made patches of grey-ish and lighter green colours. I also liked the way that from this angle it is only the treetops which are visible against the clouds – it makes it obvious how steep it is!
Paul Nash, early 20th Century artist, was fascinated by Wittenham Clumps all his life, and he drew and painted them repeatedly.  Two of his most famous paintings – and two of my favourites –  show them in the distance – Landscape of the Vernal Equinox  –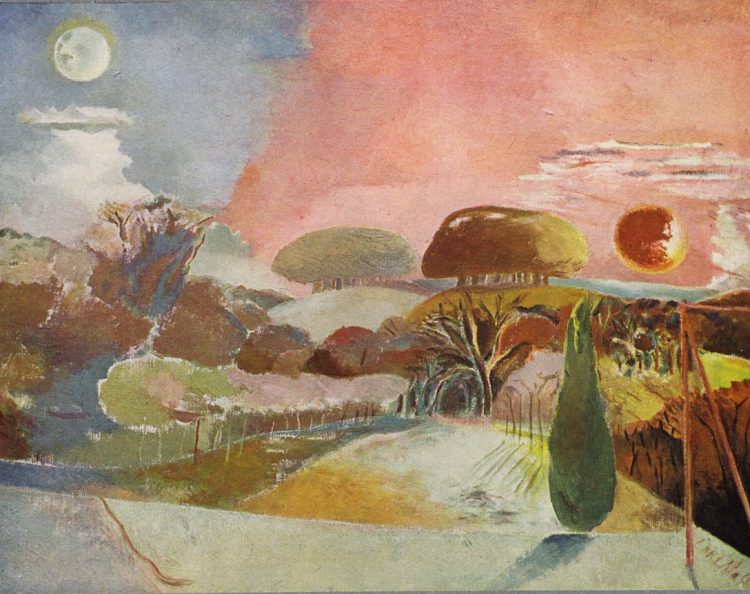 and  this one –
 Artspace, Woodbridge: In case you are in the Woodbridge area in the next few weeks, I just wanted to flag up an exhibition which you might find of interest. The 4PRINTmakers are showing at Artspace in Woodbridge from 16th to 22nd May. You may remember that I co-organised an exhibition there last Autumn – it is a lovely gallery space in a central area in The Thoroughfare. Amongst the group are two artist whom we had showing at the All Saints Arts Festival in Maldon, Anne Townshend and Miranda Chapman. Anne makes lino prints and Miranda makes etchings. Do go and have a look if you get the chance – I know it will be a good show – and there are lots of lovely places to have coffee and cake, or lunch, in Woodbridge, besides lovely walks by the river Deben.
Very cold and grey here today – I'm just waiting for the Spring to come back . . .  Hope you've enjoyed your weekend whatever the weather! 🙂
---
I hope you all had a happy and peaceful Easter.
I finished my latest painting before Easter and put it up on the Gallery page – and then got a nasty virus and didn't get a chance to mention it!
This is a view from the seawall at the far end of the Naze at Walton, looking inland. I made the drawing in the Autumn, but recently did this walk again and remembered that I'd never got round to painting it! I liked the way the sweeping lines of the marsh ditch, the various coloured vegetation and the seawall itself all swirled around and made such a pleasing pattern. I may do a Spring picture of this from my walk a couple of weeks ago, as although the structure was obviously the same, the colours and vegetation were completely different. This is the latest in my occasional series, Landlines – paintings of anything natural or man-made which makes lines in the landscape.
On the Tuesday before Easter – just before I got ill! – Graham and I went up to London to the Mall Galleries to see the Royal Watercolour Society's exhibition, which was excellent. We have yet to see an exhibition at these galleries which has fallen below our (very high!) expectations! Although the show has finished now, I thought I would mention some of my favourites so that you could google the artists if they interest you.
I think my very favourites were these two paintings by Gary Cook.
Here are some of my other favourites amongst the small pictures. Apologies for the rather wonky photos, and the reflections in some of them! (The large paintings are almost impossible to photograph and do any justice to them – so I didn't try.)
I follow Gary Cook on Instagram where you can find him @cookthepainter if you like his work.
In my Studio: I'm just starting a painting of Wittenham Clumps, which I explored on the summer solstice last year. It was during my week walking The Ridgeway, but of course it didn't really fit in with that series, so it's actually going in the Landlines series. You'll see why when I've finished!
I've just chosen a new type of frame for my On the Edge series. Nothing drastically different, but I just felt like a bit of an update would be good. It's still white, but matt with a very slightly textured surface and a good profile. I have one frame on order as a tester, so I'll post a photo when I've framed the first painting. I have three visits planned for this project before the end of May – St Osyth, Bradwell and East Mersea – so lots to get on with!
I will be sending out my second email newsletter on 30th April with some exciting news about the Anglian Arts Project. Sign up to receive newsletters at the bottom of my Homepage if you are interested.
The weather has turned chilly here, and today we had the first rain for weeks, which is good news for the garden and the farmers. Friday tomorrow – enjoy your weekend! 🙂
---
New in the shop this morning – the book of my Ridgeway painting project!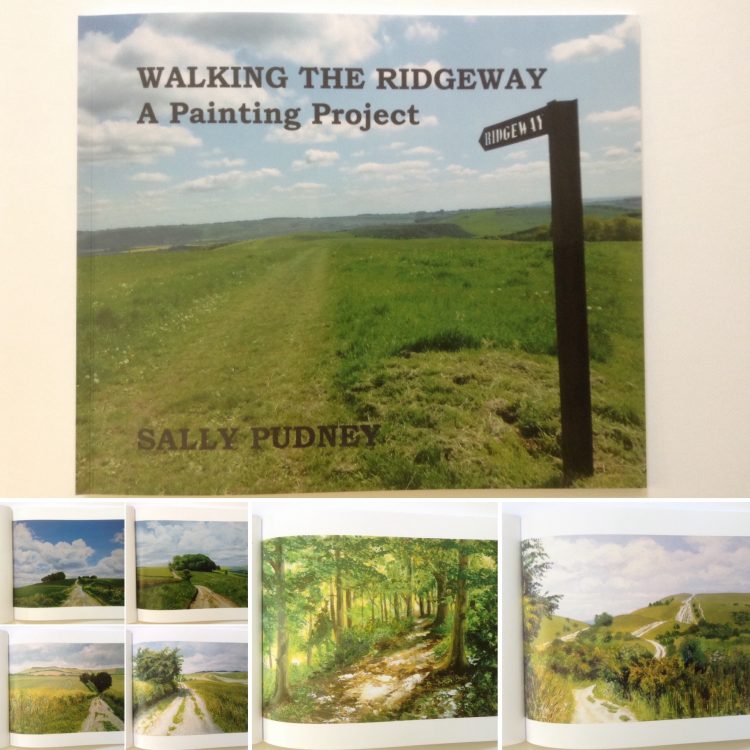 This shows you a few of the pages! Each of my twelve Ridgeway paintings is shown with some notes about things I saw and heard at each location on the facing page. The paintings are shown in geographical order – not the order in which I painted them. That took a bit of working out, and studying the map in my Ridgeway guide book!
There is a short introduction, and a short 'Afterword' – and the final sentence will only make sense to you if you've read Robert Macfarlane's The Old Ways . . .
It's in my web shop now, priced £20.00 which includes packing and postage to any UK mainland address.
In my Studio: I've almost finished the next painting in my On the Edge project, so watch out for that going up on the gallery page in the next few  days. I've also decided to update my framing for this project, and have ordered four samples from Framewerks to choose from. They are all still white, so nothing too drastic – but I just felt a bit of a change of profile might be good. I'm looking forward to seeing them when they come.
It's been a really busy musical weekend here, with Graham performing in a wonderful concert of Gounod's St Cecilia Mass, and other music by Faure and Franck on Saturday night, and both of us performing in excerpts from The Messiah at All Saint's church in Maldon last night. I'm looking forward to a relaxing fun day tomorrow as we're going up to the Mall Galleries to see the Royal Watercolour Society's show.
Hope your week has got off to a good start!  🙂
---
As I mentioned yesterday, this little card pack has just gone into the shop. Two each of my Essex Wood: April and Essex Wood: May cards – four cards in all, with envelopes, blank inside. Ideal for April or May birthdays, or they would make lovely Spring-like Easter cards!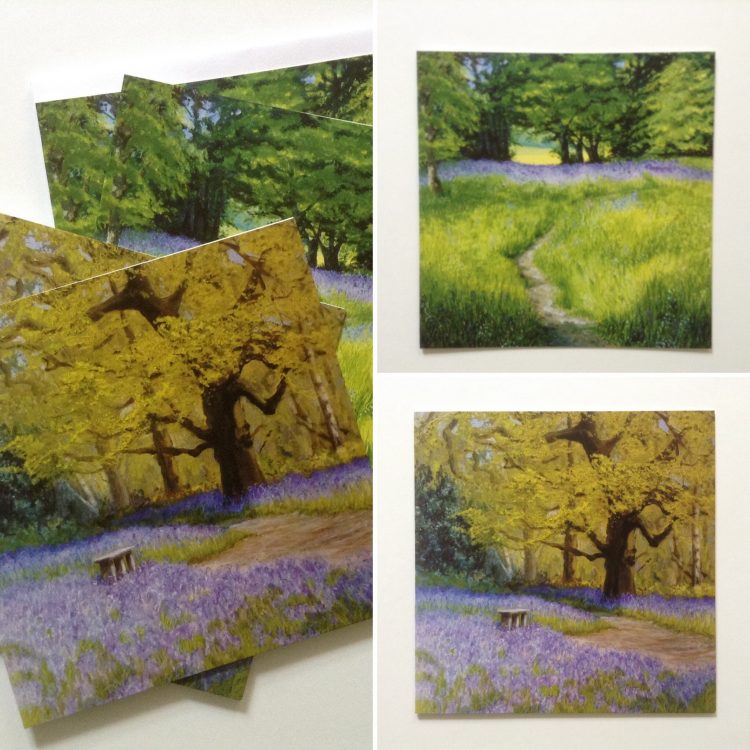 £10.00 for the pack, which includes packing and postage to any UK address. Just click on Shop in the menu bar! 🙂
---
For the last couple of days I've been working on a tiny extra painting of Walton for my On the Edge project.
And this afternoon, after a bit of splashing around with white acrylic ink, I finished it.
It is much smaller than my usual paintings, being only about 25 cm wide and 20 cm high. I have one more Walton painting that I'm thinking of doing, while I'm waiting for some decent weather to go further afield, and this next one does not feature the sea at all . . . !
New Book: Other news – I've just ordered the first batch of copies of my Ridgeway book.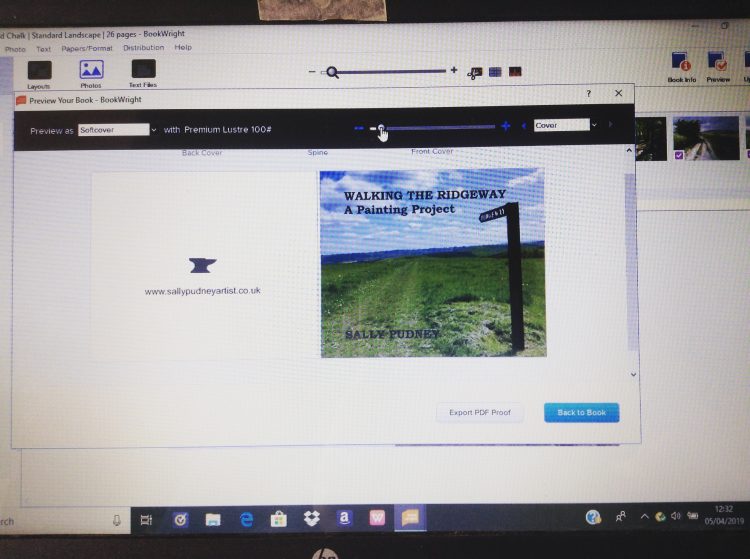 Here is the back and front covers on Bookwright, which is the software for blurb.com, the self publishing company which I use for all my books. I'm hoping they will be here by the end of this week. As soon as they do arrive they will be going into my website shop priced £20.00 including packing and postage to any UK address.  They feature images of all twelve of my Ridgeway paintings, plus notes about what I saw and heard as I walked.
Cards: Do you have April or May birthdays coming up in the family? Or are you just looking for an alternative Easter card? I've put together a little pack of my April and May bluebell wood cards – two cards of each design, with envelopes, blank inside for your own message, for £10.00 including packing and postage to any UK address.  They will be going into the shop tomorrow, so check back if you're interested.
Hope you've enjoyed the weekend! 🙂
---
We had a beautiful day here last Friday – cloudless sky, no wind and really warm. So I abandoned what I had planned to do and, instead, went down to Walton-on-the-Naze, armed with sketchbook, drawing things and camera.
I walked to the very northern end of the Naze, where the low cliffs peter out into sand and mud. It was very quiet and peaceful – one or two dog walkers, and skylarks singing. It was hazy across the water. Coming down through the wooded area, there was great mounds of gorse flowering, and blackthorn blossom thick on the trees.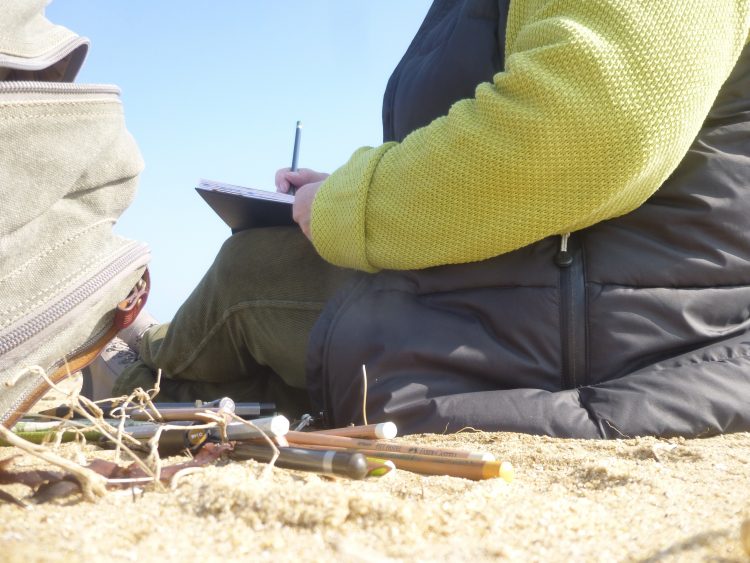 So here I am, sitting on the beach drawing, with all my coloured pencils and pens spread out on the sand.
And this is the resulting painting, just finished this afternoon.
This is the second in my new On the Edge series. Very different from the first one! Where next . . . ?
Newsletter: If you have signed up to my newsletter on my Home page you should have received the first one on Sunday, 31st March. In the next one, around the end of April, I'll be giving some details about the Anglian Arts Project, and a new book. So if you don't have time to check back here, it means you will get news which may interest you dropped straight into your inbox! Why not sign up now – and tell your friends! Easy to unsubscribe if you change your mind.
I don't know what's happened to the lovely Spring weather we had last week – today is cold and wet and windy again. But everything is flowering like mad, and the birds are singing very early in the mornings! Hope you are enjoying the longer evenings! 🙂