When I came back from my March field visit, I brought with me a handful of twigs – alder, willow, blackthorn and elm this month. I popped them into a jam-jar and drew them.
I was reminded that I hadn't shared this with you when I was prepping my email newsletter this morning. It will go out to everyone who has signed up at 7.00am tomorrow.
If you'd like a newsletter dropping into your inbox on the last morning of every month, click on HOME above, scroll down to the bottom of the home page, and you will see a box to add your email address. Then just click subscribe. It's free, and you can unsubscribe anytime you wish!
If you already receive my newsletters, do feel free to forward them to anyone you think may be interested.
Keep well, stay safe!  🙂
---
It is months since I painted anything in my Landlines series, in fact the last one was Grass Paths (Wittenham Clumps) which sold at the Haylett's Gallery last summer! So it was high time I did another . . . . and as soon as I saw the view down the branch line which runs along My Field, I thought what an intriguing painting it would make! And here it is.
This track runs in a cutting along the top of the field, and there is a charming little brick bridge over it on which I was standing to get this view. I like that slight curve in the track as it goes under the farther bridge, off across the fields to  Sudbury, and the blackthorn coming out on the sides of the cutting, and the long shadows across the track.
My next painting will be of St Albright's Church at Stanway, the third in my Essex Churches, series, and rather a special church for my family as I will explain to you when I've done it. It is also a church which two of you lovely blog readers, separately, have inquired whether I was going to paint, so I thought I'd better get on with it!
How are you all getting on in lockdown, I wonder?
It is a long time since my garden has had as much attention as it has received this week! – in wonderful sunshine, though with a chilly wind. I am so grateful to have a garden, and quiet places where I can go out for a walk, and also work I can be getting on with at home. I did resort to ordering some more paint and refills for my stay-wet acrylic palette online from Great Art, as Tindall's is now out of reach, so at least I can still carry on painting.
Of course all the galleries are closed now. I should be a fortnight into my show at the Caxton gallery in Frinton-on-sea by now,  and also have four paintings on view at the Church Street Gallery in Saffron Walden, and five in the Buckenham Gallery. It is a very hard time for them, as for all independent businesses. All the artists with whom I am in contact are still working away at their paintings, and prints, jewellery, felting, potting – all the lovely things they do – so we will all have heaps of stuff to fill the galleries when this difficult time is over and everything gets going again.
Keep safe, and stay well. 🙂
---
Well these strange self-isolating times do offer more time for painting! Here is the latest painting in my 2020 series, Twelve Months in an Essex Field, just finished this morning.
This is at the top of Martins Field – my field! – looking along the track that leads into How Hill field. Through the dense hedge on the left is the railway cutting for the little branch line which runs from Marks Tey to Sudbury.
I hope you are all coping with the social distancing or self isolating, whichever you are doing. Lots of time for painting, and gardening, and sewing, and reading – whatever you like to do. If you are a reading person I've found two podcast which you might enjoy Slightly Foxed podcast and Tea and Tattle podcast. For both, if you just google the name you will get to their website, and then choose which episode to listen to!
Keep well and stay safe.  🙂
---
The Met Office forecast said that today would be another sunny day like we had here yesterday. It didn't actually turn out like that, but I went to The Field anyway, as I'd planned to go.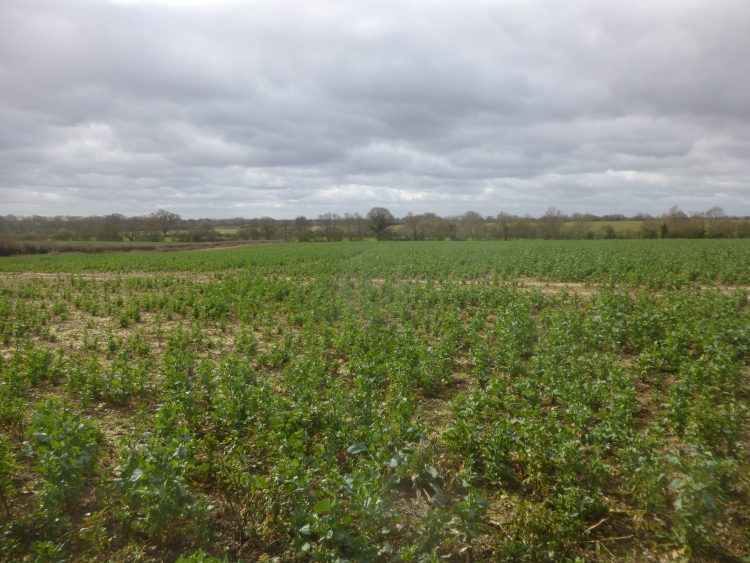 The first thing I noticed was how much the oil seed rape has grown. A lot of the plants must be about 70-80cm tall now, and a few of them are actually flowering!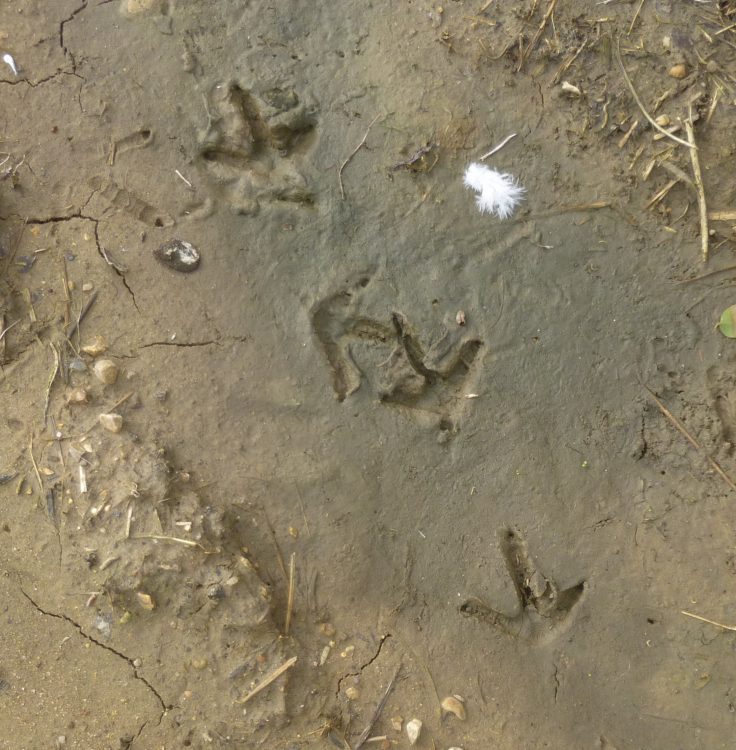 I didn't find any badger prints this month, but I did find these pheasant tracks (above) and a much larger deer track (below) with my boot for comparison. There were lots of the tiny deer hoof marks too, at the bottom the of the field by the river, but these large ones were up at the top near the railway embankment.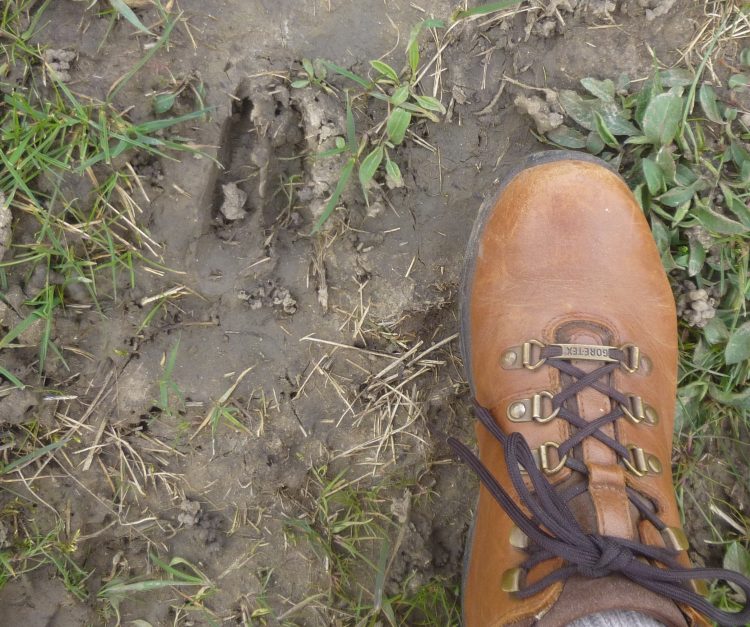 There were many more birds around the field boundaries today, despite the bird scarer thumping out periodically. I saw pheasant, partridge, buzzard, long tailed tit, wood pigeon, rook,  great tit, and yellow hammer, and in addition I heard skylark and  green woodpecker. I haven't seen yellow hammers for years, and yet the hedge on the north west side of the field was hopping with them. They kept flying a bit further ahead of me with their loopy flight, as I walked down the slope.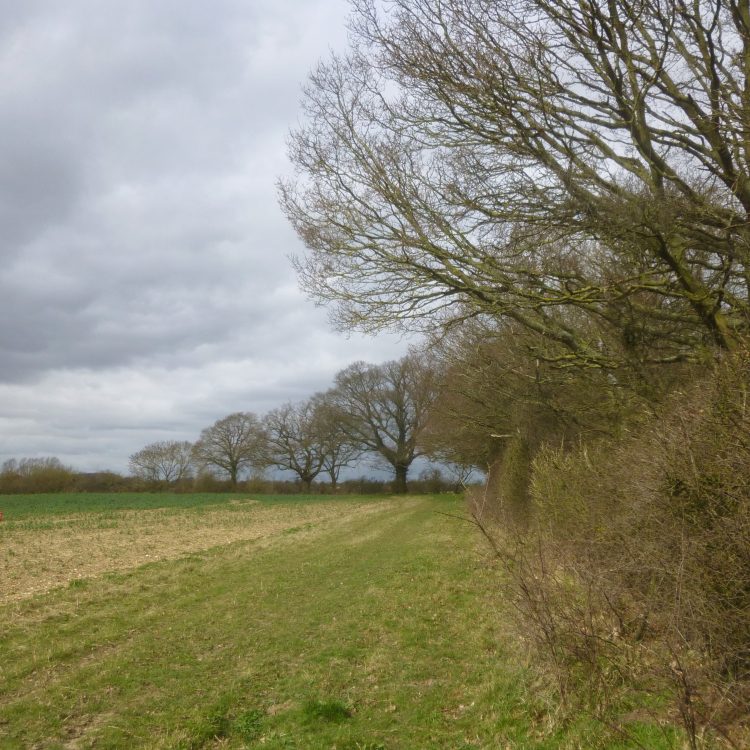 The hazel catkins are brown and almost finished, but the elder and hawthorn are coming into leaf and the blackthorn is in blossom. Under the hedge, along the railway embankment, and in the ditch bordering Walls field there were masses of primroses.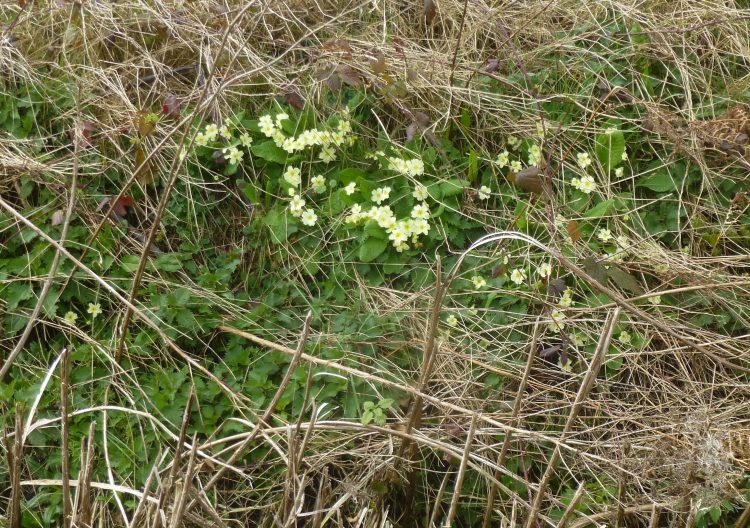 I came across two trees that I couldn't identify at all, so I shall have to get the tree book out! One had huge lumpy reddish-brown buds on very sturdy up-turning twigs – a solidly built tree of about 25 feet high.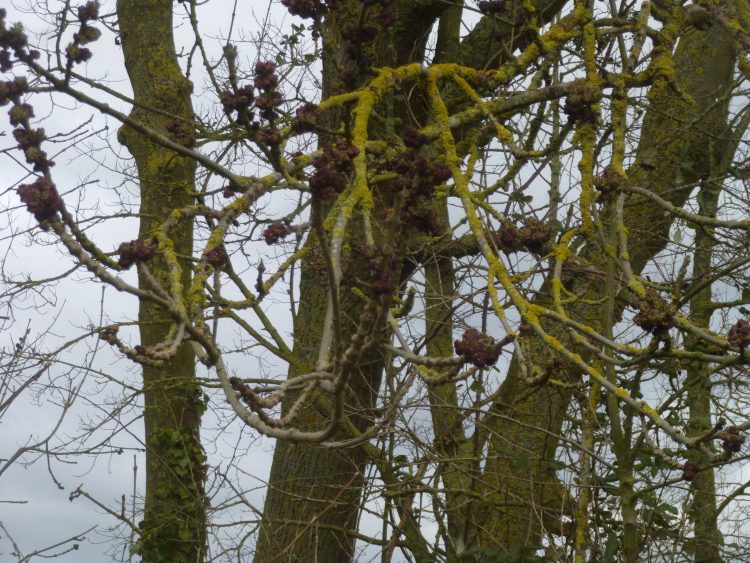 And the other, down near the river, had clusters of oval lime green discs with a reddish mark in the centre, and tiny clusters of red flower buds. The bark was fairly smooth and a slightly yellowish brown, and the unopened buds were narrow, pointed and black. I'm mystified – but hope to track it down!
Anglian Arts Project: If you haven't done so recently, do pop over to the Anglian Arts Page – on the menu bar above – as I am slowly adding the artists who will be exhibiting with us this year. We have nine of the twelve signed up so far, so its going pretty well and I'm delighted with the range of artists we are getting. I can't give you a web link for each of them yet, as I need their written permission to do so, but if you are impatient a quick google search will show you more about them and their work! 🙂
---
Just finished this morning, this is the second painting in my Essex Churches painting project.
I can remember going bell ringing here when I was a teenager – it is a beautiful 15th Century church, the lovely tower with its pinnacles, and the clerestory and double hammer beam roof were built around 1500.
I think my next church painting will be St Albright's at Stanway, as two people have already suggested this one! – but now it is March I'm also watching out for a nice bright day to make my March visit to the Field.
Hope you're enjoying your weekend. 🙂