When I came back from The Field this month I didn't bring my usual handful of twigs. Instead I brought some grass seed heads, and bunch of cow parsley! So my tiny 'jam-jar' drawing this month is of the cow parsley.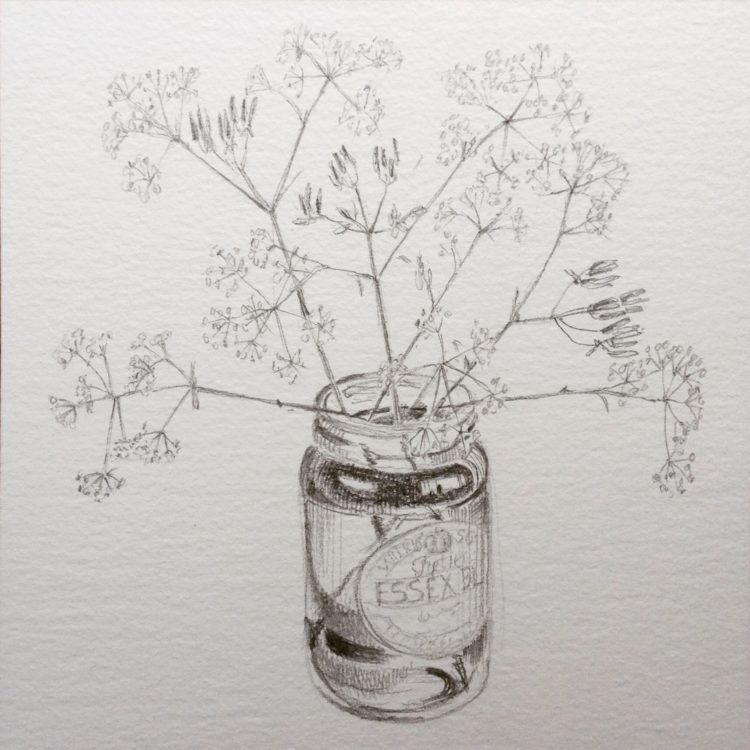 These little 'jam-jar' drawings are only 7 inches square. I have drawn one for each month of the year that I've been to the field, and will continue until December. My plan is to then have the best six made into a set of little greetings cards. I've already decided that the January, March and May drawings will be part of the set. What do you think?
I had also picked up a number of feathers in the field, including this pheasant's feather, which I couldn't resist drawing.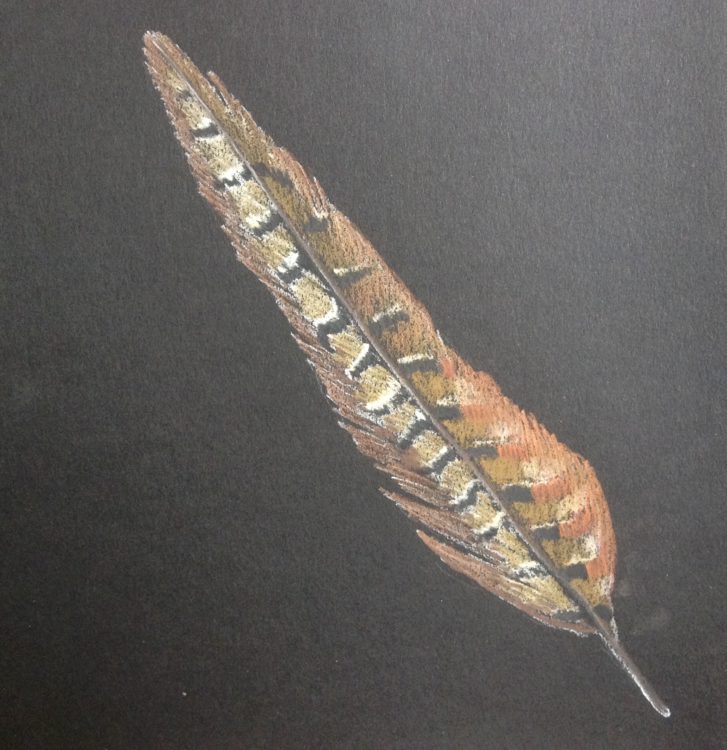 In my studio: I'm working on the next painting in my Essex Churches series, which is of All Saint's at Brightlingsea. And now that we are allowed to go out a bit more I'm thinking about some trips to some of the 'further afield' churches that I have on my list . . . . .
Keep well, stay alert, enjoy the sunshine 🙂
---
Just finished today – this is the May painting of The Field, for my 2020 painting project Twelve Months in an Essex Field.
This is the top of the field, near the railway cutting, looking along the field margin towards Sudbury.  It was a really tricky painting to photograph! The greens are a little warmer than they appear on the screen.
I've been doing a couple of little drawings of findings from the field which I'll post in a couple of days.
Hope you're all well and staying alert!! 🙂
---
This week I visited the field at Aldham that I am documenting monthly in my 2020 painting project.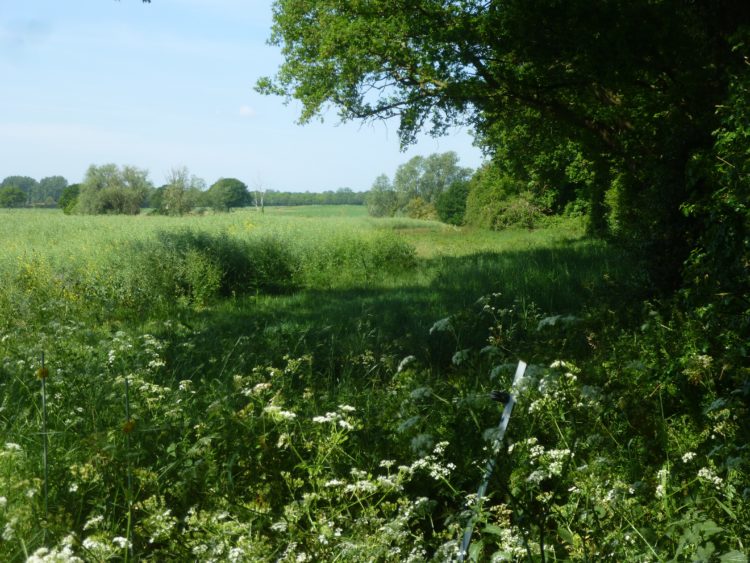 Great changes were in evidence! The oak and ash trees are now in full leaf – when I went in April the oaks were just leafing up, and the ash buds were only beginning to break.
The hawthorn is in flower, in fact some of it is already going over, and the blackthorn blossom, so thick in April, has all gone. And in its place there are tiny sloes already emerging on the blackthorn in the hedges along the top of Walls, How Hill, and 'my field' Martins.
Everything seemed extremely lush and green in spite of the very dry weather we've had for weeks on end. The oil seed rape has virtually finished flowering, there is just a smattering of yellow over the field. The field margins, which last month were sparse and flat, are now growing up thickly, with the footpath clearly visible threading through the plants.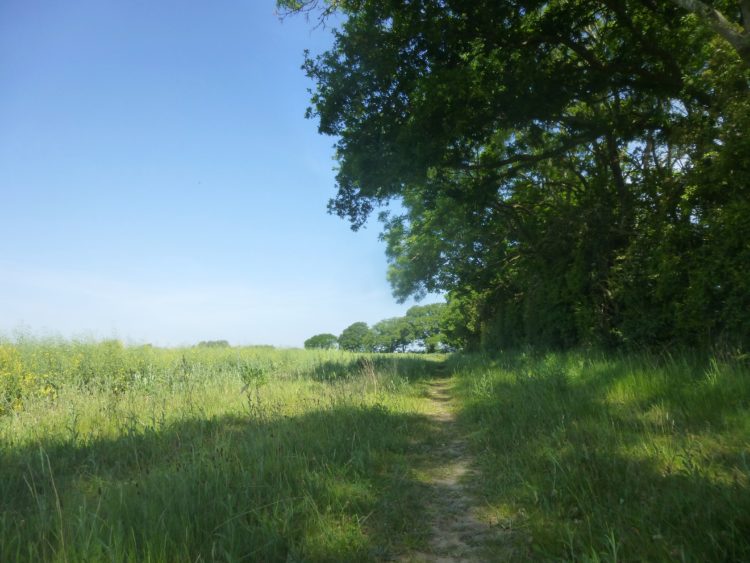 There was a new collection of flowering plants since April, too! Dog roses and field roses in the hedges, bird's foot trefoil, dogwood just coming into flower, White Bryony, and what I think was Wild Radish, although I wasn't certain about the identification there!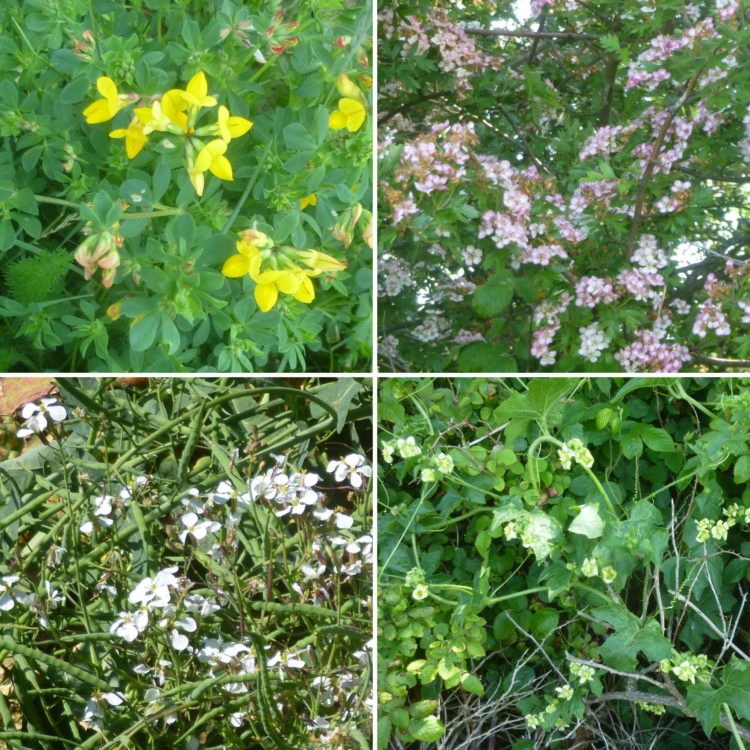 Clockwise from top left – Bird's Foot Trefoil, a particularly pretty pink form of Hawthorn blossom, White Bryony and possibly Wild Radish.
The skylarks were singing continuously, and there was a huge amount of other bird song from the tall trees along the railway cutting. Much of it I couldn't identify, except for the usual suspects of blackbirds, great tit, and chaffinch, but I recorded a few moments on my voice recorder so I hope to be able to identify some more with the help of the RSPB's website!
The ground was rock hard – no possibility of any fresh tracks! But I did spot a 'badger corridor'. If you look carefully at the photo below you can see the long claw marks of the badger's paw prints, and the tunnel through the thick grass beyond the fence.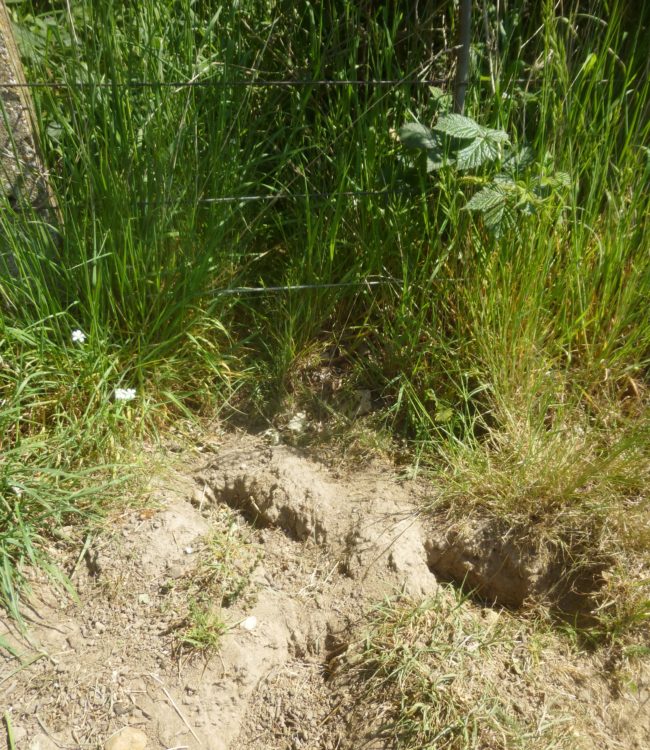 The bottom wire is also polished a little brighter than the top one by rubbing on the thick coat as the badger pushes underneath. This is leading down into the railway cutting where they have their setts.
I didn't bring twigs home this month, but grass seed heads. There seemed so many different ones along the field margin. So I shall be posting my drawing of those in a few days, and also my 'jam-jar' drawing for May is going to be just cow parsley!
Essex Churches: I went to Brightlingsea, as soon as we were given permission to go a little further afield,  to draw the church of All Saints. I was able to sit on the low churchyard wall in the sunshine, wrestling with the very difficult perspective of this complicated building, with all its different levels and decorative stonework and huge buttresses! The massive pale grey flint knapped tower looked very impressive against the cloudless blue sky.  When I've finished my May Field painting, Brightlingsea church will be next.
Open Studios and Anglian Arts Project: I have now definitely cancelled my June Open Studios. Disappointing, but there is no way in my small house that we could socially distance, and I'm sure our lovely visitors would not feel safe to come anyway! We are still hopeful that our Anglian Arts Project exhibition at the Naze Centre in Walton-on-the-Naze will go ahead in September, but that is entirely dependant on whether or not the Essex Wildlife Trust, who own the centre, feel that it is possible to re-open by then. I will let you know as soon as we know, but the decision is really out of our hands. I am thinking ahead now to my end-of-November Open Studios in the hope that that will be a possibility!
Hope you are all still well and coping, as we slowly, slowly come out of lockdown . . . Stay alert! Keep safe! 🙂
---
I finished painting this picture yesterday.
It shows a nature reserve about 20 minutes walk from my house, called Lexden Gathering Grounds. The 'Gathering' refers, not to people, but to water. There are many springs in that area of Lexden, and this is the place where they 'gather'. The land is owned by Anglian Water, and there is a pumping station at the bottom of the wood.
Amazingly, I have only discovered it since we've been in lockdown, and I've been looking around for new places to walk. There are many large beech trees, and very tall pines, and bluebells. I've seen sparrowhawks there and had a lovely long watch of a treecreeper inching up a tree in the mouse-like way that they have. The wood is definitely a good find! The title – Spring Unlocked – came from the thought that we may be locked down, but the natural world is surging ahead unrestricted with the Spring.
How are all you lovely blog readers getting on in lockdown, I wonder? I hope you are all managing and not getting too bored or too sad. I feel very grateful that I can carry on painting, and also for having my garden. I wonder what you are all doing?
On Friday, the VE day Bank Holiday, I put up the bunting which I made for my Summer Open Studio event – which of course will not now happen.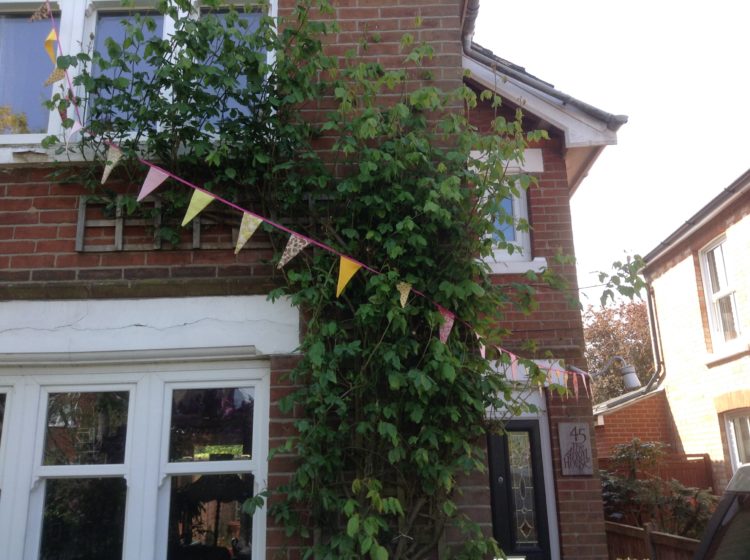 It goes all round my house and out to my studio in the back garden. I'd made 'Winston Churchill's fruit cake' – a recipe from his cook Georgina Landermare which she made at Downing Street and Chartwell which is available on the National Trust website –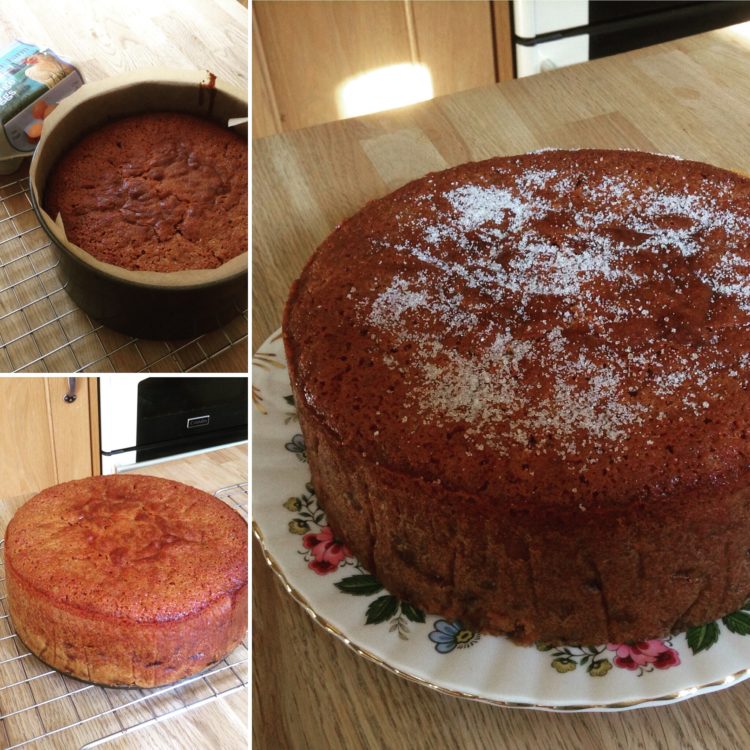 My next door neighbours and I had a mini-street party in our front gardens – carefully social isolating on either side of the fence! – with scones and strawberry jam, tea, cake – and Vera Lynn!
I'm still plugging away at #the100DayProject on Instagram – and thinking that this lockdown period is the only time that it would be possible! I've been experimenting with all sorts of media that I don't usually use, like watercolour, charcoal, pastel pencils and collaged torn paper. When I've finished – on July 15th! – I shall choose a few of the more successful little pictures and have them made up as little greetings cards.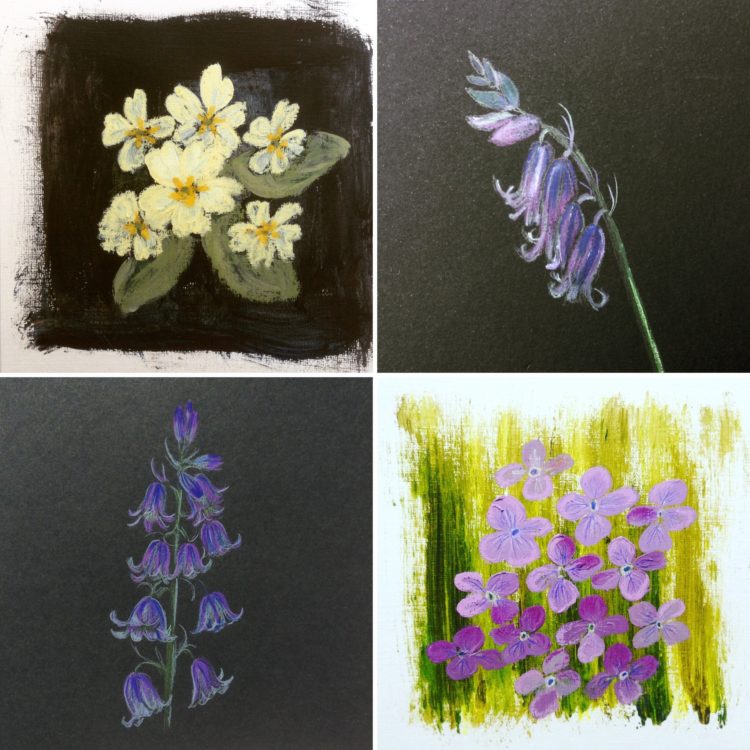 If you use Instagram you can follow me on @sallypudneyartist and see a little picture appear every day!
I have been delighted by the number of people who have signed up for my monthly newsletters, and particularly the number of subscribers who have been emailing me back with suggestions of places to paint, as well as some very kind and appreciative comments on my paintings – thank you all so much!
If you would like to receive a newsletter on the last day of each month you can find the sign-up box at the bottom of the Home page on my website. I will never send more than one email a month, and you can unsubscribe at any time if you are no longer interested.
Stay safe, keep going, keep doing the days! 🙂