This morning I finished the fourth and last in the Woodland Walks quartet of paintings – Woodland Walk: Spring.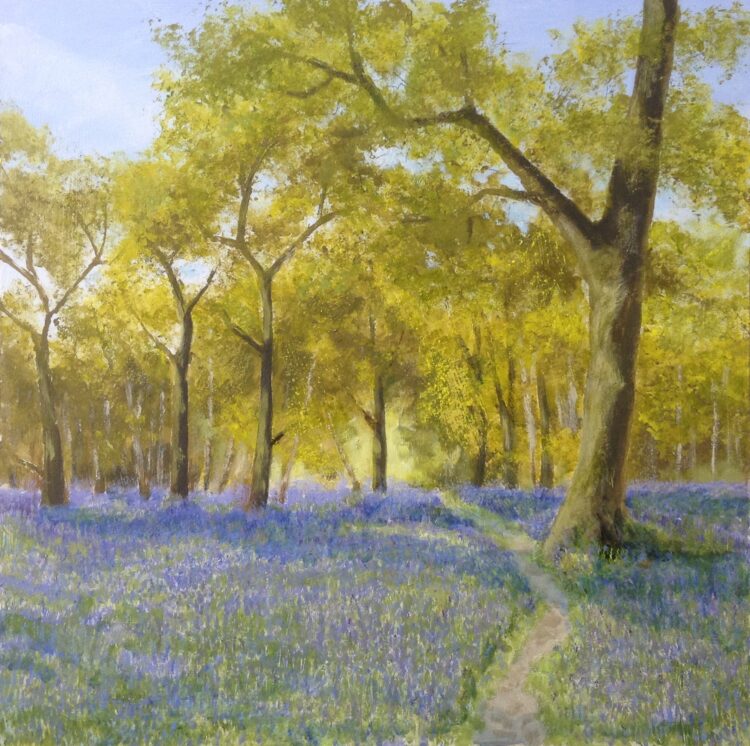 All four paintings are of different woods in the four different seasons of the year. This one, Spring, is Hillhouse Wood at West Bergholt in bluebell time. Summer was in Pit Wood at Copford. Autumn was along the wooded path of Grymes Dyke, one of three  Iron Age ditch and bank defensive structures running between the Roman River and the River Colne on this West side of Colchester. Winter was in Lexden Park woods in the snow.
Here are all four of the Woodland Walk pictures together –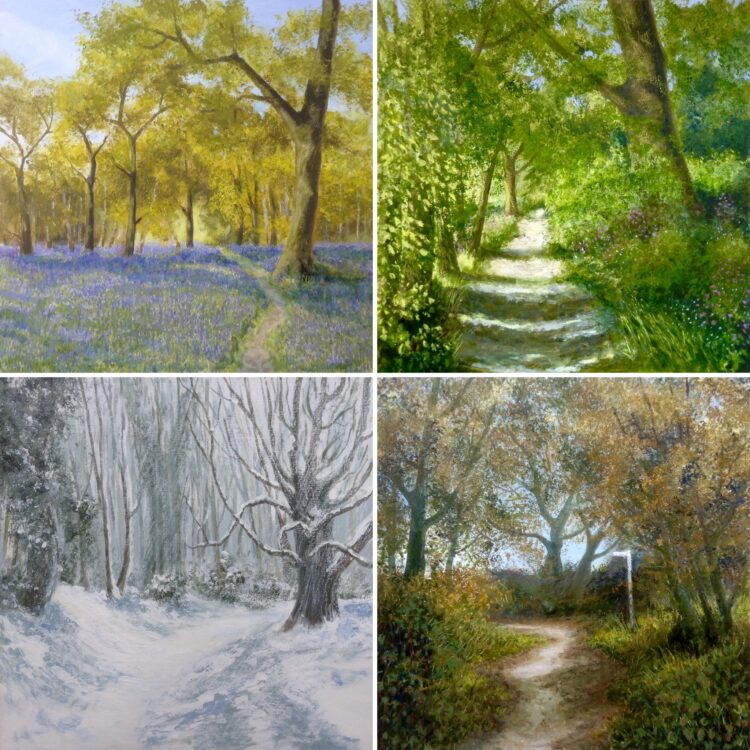 Now that I have finished this group of paintings, and we have reached the second step of our 'roadmap' out of lockdown, I am planning to resume my Abberton Reservoir painting project after Easter.
I have also finished the second of my still life flower paintings – just daffodils this month.
The next one, which I am just about to start is of hellebores, and then it will be the magnolia which has just burst into bloom this week. It is quite hard to keep up with them all! Everything in the garden is racing ahead now, and we have had two days of wonderful sunshine, with another forecast for tomorrow. Hope you are able to enjoy the Spring sunshine where you are! 🙂
---
I recently ordered a pack of square postcards from www.moo.com with images of all the monthly paintings of The Field from my 2020 painting project.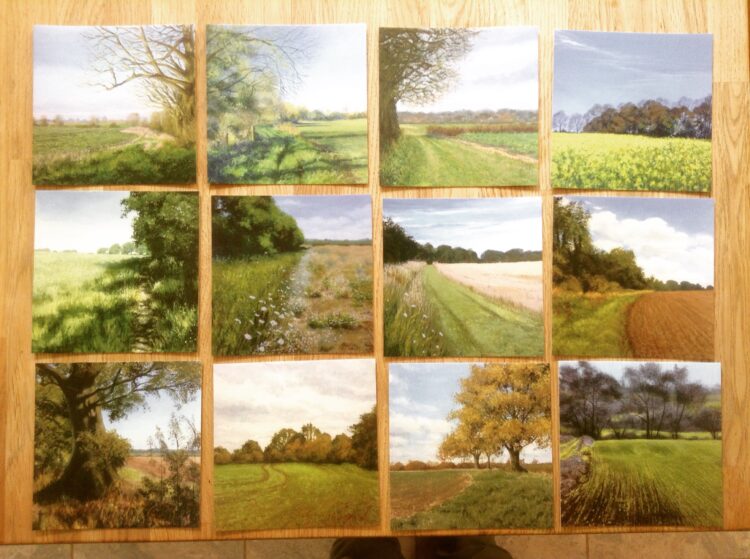 They are 12 cm square, glossy on the front and matt on the back. The reverse just has my anvil logo and website plus the label Twelve Months in an Essex Field. I am very pleased with how they have turned out.
I am thinking of selling them in a January- June pack, and a July to December pack, for around £6.00 a pack. Initially they will be on sale at the exhibition where all the paintings, drawings, books, prints, cards – in fact everything that has arisen from the whole project – will be shown. I am still hopeful that this will take place in the late spring/early summer this year. After this launch the cards, along with the other Essex Field merchandise,  will be in my website shop.
Also from moo.com I ordered a pack of little stickers with the Field pictures on! This was just a bit of fun really – but they are cute, aren't they?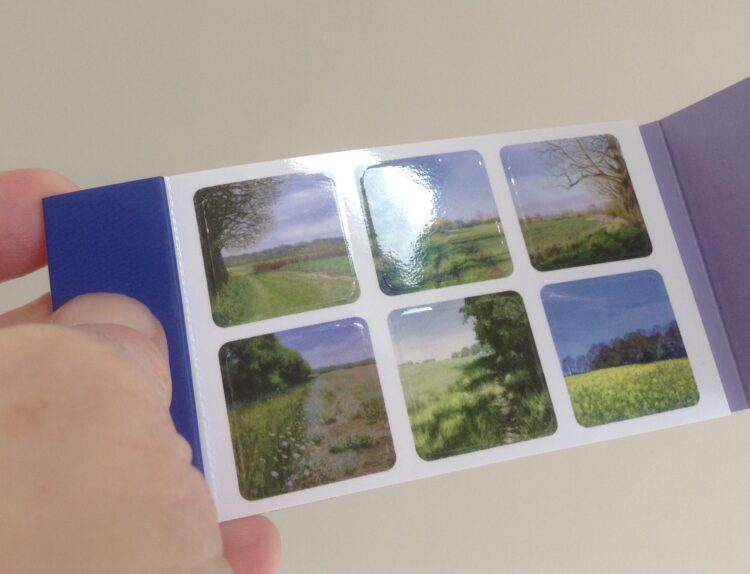 Yesterday was a lovely sunny day here, once the early morning rain had cleared. I went down to the coast to see Graham for the first time since before our current lockdown started. As we both live alone and are in a support bubble together we could have been meeting regularly. However, I felt that as it is 15 miles away and we had been instructed to stay local that wasn't really acceptable. Now that there is a little easing in the situation, though, it seemed the right time.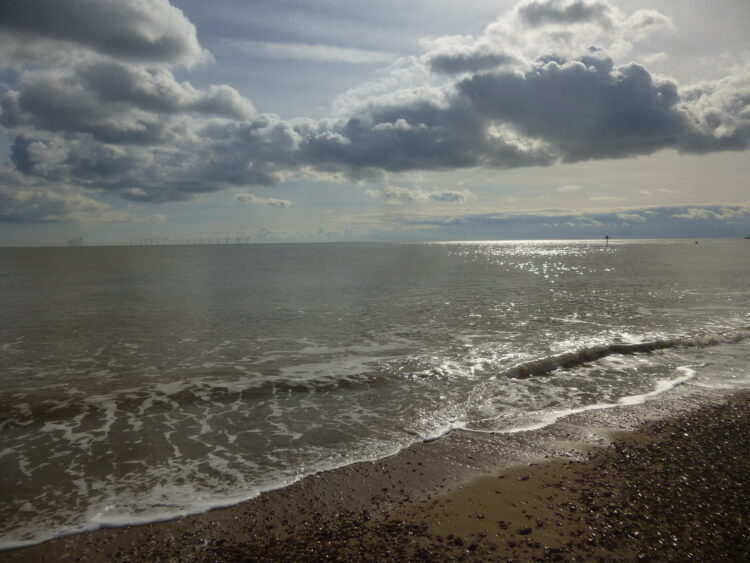 We had a lovely walk on the beach. Lots of dramatic clouds and sunshine! It was actually really warm sitting in the sun!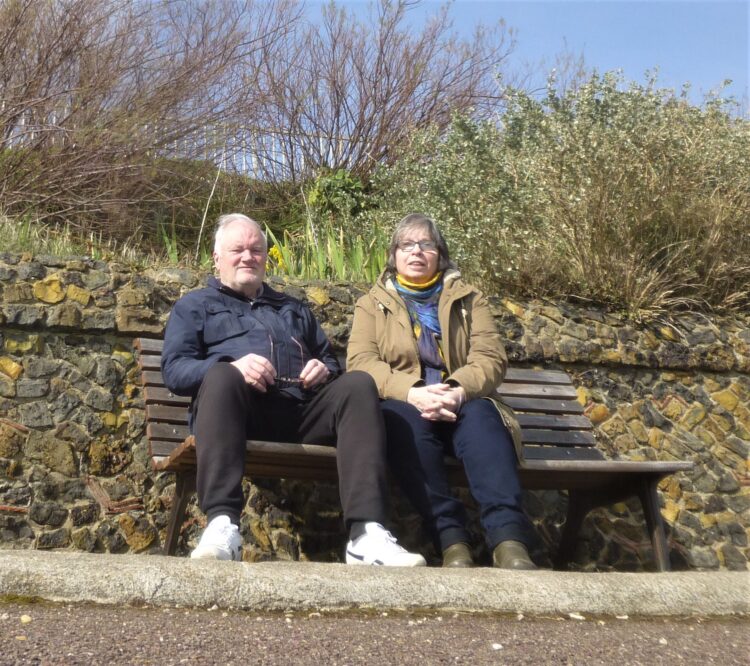 And we spent a lot of the day sorting music for our SATB quartet who will soon be back singing for services at St Mary's Church at Little Bentley and St George's Church at Great Bromley. It is lovely to be planning something again – and on the subject of planning . . .
Anglian Arts Project Exhibition news: we now feel fairly confident to confirm that our 2021 exhibition at the Naze Centre at Walton on the Naze will be able to go ahead in September. It will run from Saturday, 4th – Saturday, 11th September. With the exception of wood-engraver Andy English, all the exhibitors who would have shown in 2020 are happy to show this year. I will be giving you more news and details as the time gets closer. 🙂
---
At the weekend I finished the third painting in my Woodland Walks series. This one is a Summer wood! It is actually Pit Wood at Copford, and is from photos and drawings I did a couple of years ago but did not use at the time.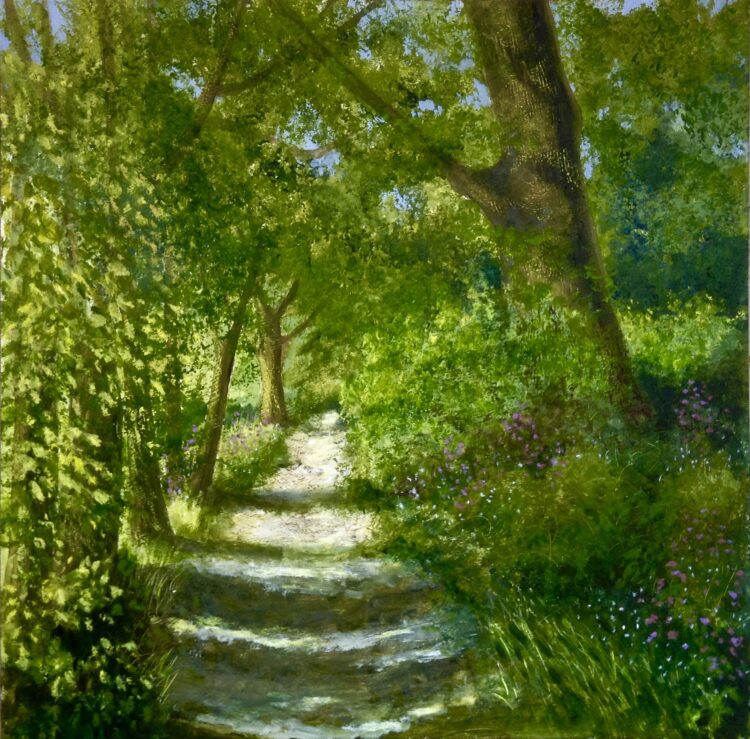 I lived at Copford until I was eight years old, and have clear memories of weekend walks in Pit Woods with my Dad and my sister.
My last painting in this series will be a Spring walk in Hillhouse Wood in bluebell time. Again, it will be from photos and drawings I have done in the past. I am really looking forward to being able to venture further afield for new painting material, and especially to get back to my Abberton Reservoir project. However gov.uk still says that one should only leave home for shopping, medical reasons, education or exercise, so we will all need to wait a while yet!
---
I've completed two new paintings in the last two weeks of February.
I used the photos that I took in the snowy woods as a basis for Winter Walk –
You may remember that I've paused my Abberton Reservoir project until we are allowed to travel a little more freely? While I'm waiting to resume that I am painting a little series of woodland walks. Walking Home was the first, an Autumn walk. This one obviously is a Winter walk. Today I started a Spring woodland walk painting, based on some drawings and photos I took a couple of years ago in Pit Woods at Copford which I never used at the time. And I have a Summer walk picture planned, based on Hillhouse Wood in West Bergholt, again from drawings and photos which I did in 2016 but didn't use. So there will be four seasons of woodland walks, which, as well as being a nice group of paintings I hope, might also make a nice pack of greetings cards.
The second painting I've completed is the first of my Flower Still life pictures. You may remember that this was one of my painting plans for 2021 to paint a flower study at least eight times in the year. This one is of primroses and polyanthus from my garden, and is, of course, Flowers of February.
There have been some beautiful Spring like days here recently.  I've been spending a lot of time in the garden re-organising the area that was wrecked by the excavation of the soak away when my extension was built last year. The big bare area of earth is actually a lovely opportunity to buy some new plants! Yesterday I ordered two new rose bushes. I've already planted one new one, a David Austen rose called Angel of Lichfield. The new ones are both old varieties – Cardinal de Richelieu and Louise Odier. I expect they will be appearing in some of the summer flower paintings!
Hope you are able to enjoy some spring sunshine! 🙂