This morning I made my first 'official' visit to the field at Aldham which is to be the focus of my main 2020 painting project Twelve Months in an Essex Field. If you are new here you can read all the background to this in my last post.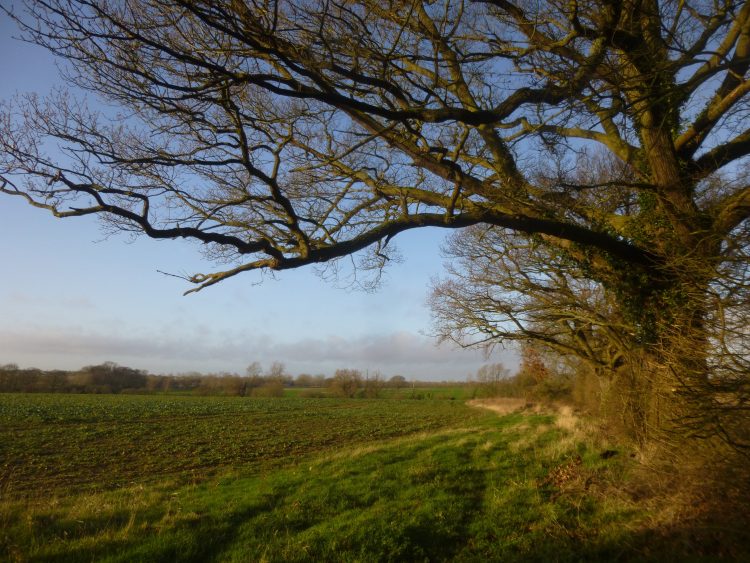 It was a bright sunny morning, with a little cloud on the horizon, but an icy cold wind. And the mud was epic! I can see that I shall be wearing Wellingtons on every visit until May!
The field I am focussing on is called Martins field, but all the fields have names. I walked down the side of Broad field, to the lovely old brick bridge over the branch-line which runs between Marks Tey and Sudbury – only to find that the gate was chained up! But this wasn't going to stop me, so I climbed over, as close to the hinges as I could.
I did some drawing, took some photos, and walked a little way down the field towards the river. Lots of birds were in evidence – I heard a green woodpecker's cackling laugh, the coughing crow of a pheasant, blue-tits twittering, and – much to my surprise – a skylark singing! I saw a redwing, a nuthatch and a beautiful buzzard which was soaring on outstretched straight wings. It glided over the field, circled over the hedge trees, over the next field, and vanished behind the treeline.
Walking the headland along the line of the railway cutting there were lots of knapweed and wild carrot seed heads, and one bush of field rose with brilliant red hips. I walked out of Martins field, and along the edges of How Hill and Walls fields, before crossing the railway line and walking back up the lane between Clamp field and Stable field. This is a better route to the field I've realised – no gate, and a bit less mud! The wind was really strong by now, and the clouds were building up.
It was a very successful visit, and I'm looking forward to making a start on my first painting tomorrow. But I was quite glad to get home and warm, with some hot coffee and the very last piece of Christmas cake! 🙂
---
Yay! A new year, and an exciting new start. I have lots of plans for 2020 which I can't wait to share with you!
My BIG painting project for the year: I'm calling it Twelve Months in an Essex Field. After driving miles in all directions painting the coast of Essex and Suffolk last year, I am doing the exact opposite this year!
I am going to focus on one field at Aldham, only about four miles from where I live. It is called Martins field and is 11.78 hectares of arable land, planted this year with oil seed rape.  Around it are hedges with many mature trees and wide field margins with lots of wild plants and flowers. It is on quite high ground, with far reaching views to Marks Tey and beyond, and it slopes down to the Roman River which forms its southern boundary. The little branch line from Marks Tey to Sudbury forms the northern boundary, and there are badgers' setts in the side of the railway cutting. I am very grateful to Sue D'Anna who introduced me to the farm owners, Adam and Catherine, and I am extremely grateful to them for reacting to my proposal with such enthusiasm, and for being so welcoming and generous.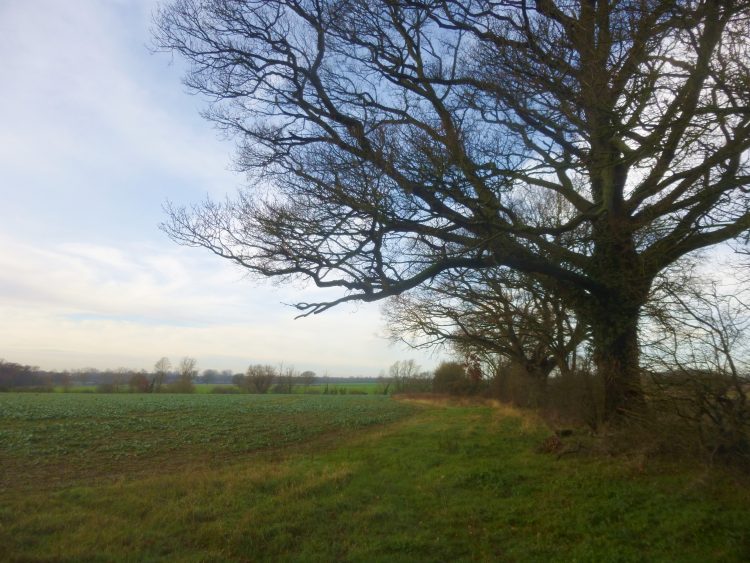 I aim to do one large painting a month, documenting the field changing through the seasons, plus small paintings or drawings focusing in on 'findings' of the month – leaves, seed heads, flowers, feathers, blossom, berries, whatever there happens to be.
Here I am, doing a recce of the field in the week before Christmas.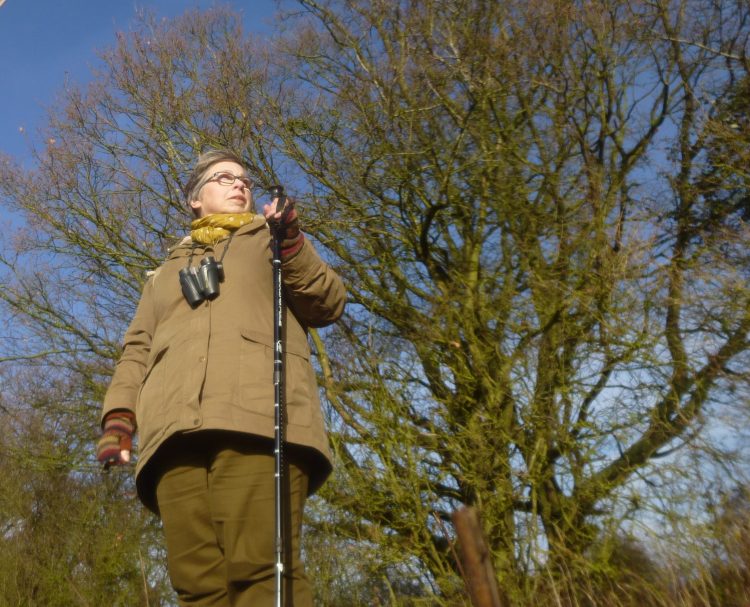 Towers in the Trees: my secondary project – quite simply, painting Essex churches in the distance across the fields . . .  I aim to start with Dedham and Great Bromley, and have had two suggestions from Instagram friends, of Ulting from the other side of the River Chelmer, and Boreham church from a footpath near the river. And just yesterday I was delighted to get a suggestion from one of my newsletter recipients of All Saints church at Brightlingsea. So if you have a view of an Essex Church which you think could make a good painting, do let me know!
Open Studios: Big change here! (Read my reasons in yesterday's post!) I shall be having two Open Studio events in the year which will not be linked to Colchester and Tendring Open Studios.  The first one will be on the 18th, 19th and 20th June – a Thursday, Friday and Saturday, open from 11.00am – 5.00pm each day. The second one will be 26th, 27th, and 28th November, again, a Thursday, Friday and Saturday, open from 10.00am – 4.00pm daily. Put the dates in your new diary!
Anglian Arts Project: In 2020 our exhibition will be held at the Essex Wildlife Trust's Naze Centre at Walton on the Naze. We are hiring their large education room for eight days, from 5th – 12th September, open from 10.30am-4.30pm each day. The big advantages for our visitors will be the EWT's lovely café just a few steps away, and the car park just outside. The room has glass doors in one wall, opening onto a seating area outside, and has room for more exhibitors than we had last year. We have already drawn up a list of exhibitors whom we would like to invite to show with us – a few of our 'regulars' but many new artists and makers too.
I'm looking forward to getting started and sharing with you here, through my newsletter, and on Instagram where you can follow me @sallypudneyartist.
I hope January gets off to a good start for you! 🙂
---
So – the end of 2019, and the end of the decade. A time to look back and look forwards.
It is astonishing to me, looking back, that at the beginning of this decade, in January 2010, I was still teaching part time in a primary school. I had no website. It would be another five years before I started this blog. I had only been painting in acrylic for four years. And I had just exhibited two tiny paintings at the Haylett's Gallery, that was all. Wow! A lot has changed.
Looking back at this year, it has been my most successful painting year so far, by a long way. More galleries, more paintings sold, more turnover, the best Open Studios, and the successful launch of our Anglian Arts Project.
I am extremely grateful to everyone who has supported me, in any way – those of you who have come to Open Studios, private views, and exhibitions; those who have bought cards and calendars, bags and prints, and, of course, paintings; those who have made encouraging comments in emails, on Instagram, and in person. I'm especially grateful to Graham, as without his help I would not be able to hold Open Studios – and the Anglian Arts Project is very much our joint project, and I certainly couldn't begin to do that without him either!
Open Studios was particularly interesting this year, as we asked all our visitors how they heard about it. Only one visitor had got the information from the Colchester and Tendring Open Studios booklet, or website. Everyone else either received my monthly newsletter, or had seen our A-board outside, or I had directly invited them as they had bought from me in the past. The result of this is that I have drastically changed how I'm doing my Open Studio events next year. You'll need to come back here tomorrow to find out what I'm planning!
If you got my newsletter this morning you'll already know about my painting projects for next year. I shall be writing a bit more about them in tomorrow's blog post, and also about the perfect new venue for our Anglian Arts 2020 exhibition. (You can sign up for next month's email newsletter at the bottom of my home page. Don't worry, I only send out one a month, and you can unsubscribe at any time.)
Finally: I wish you all, lovely blog readers, a happy and healthy year in 2020. May it be a year with exciting times and peaceful times, and filled with lots of joy and creativity  🙂