Yay! we're nearly there! Opening tomorrow at the Open Art Space at the Sentinel Gallery in Wivenhoe – the first exhibition of our exciting new venture! Graham and I have been working hard getting everything ready as you can imagine.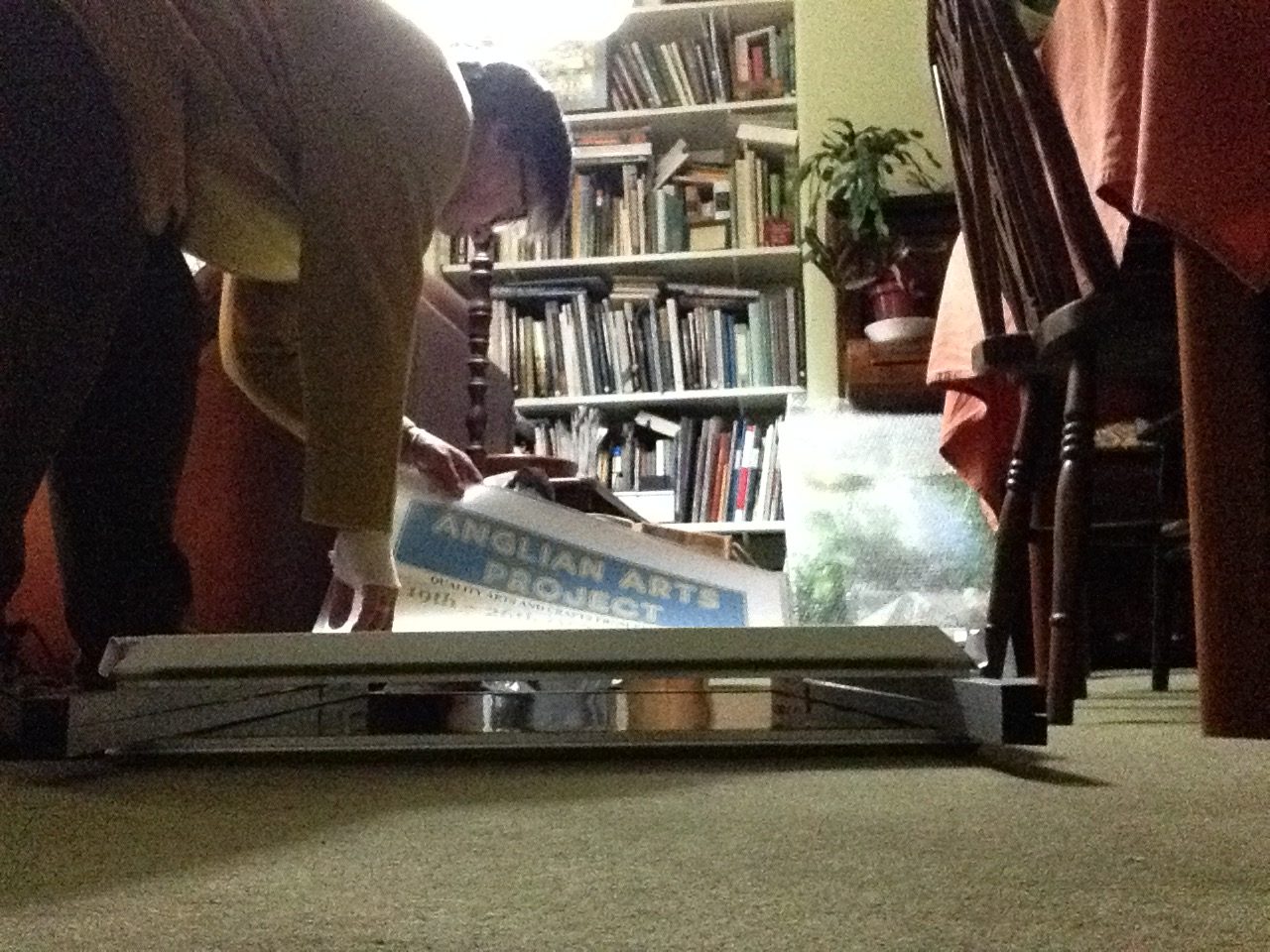 Here I am wrestling the A1 posters into our enormous A frame which will stand outside the gallery.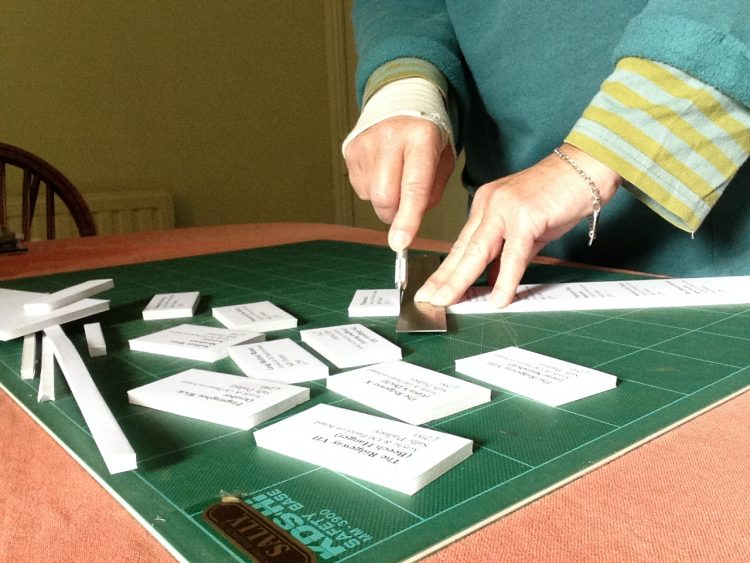 And here I'm cutting up labels for my own paintings.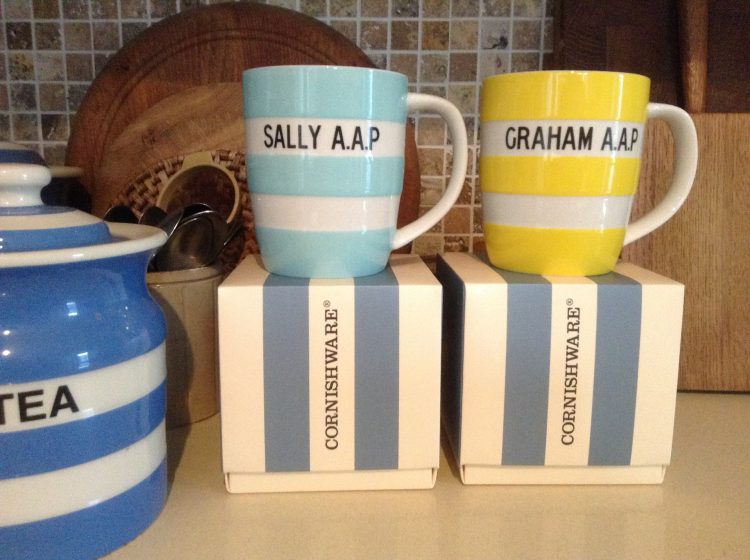 And as a bit of fun, I ordered these lovely mugs from Cornishware, and had them personalised – so we'll be well sorted for our tea-breaks during our exhibition week!
Here is a composite image of work from all eight of the artists who are showing with us . . .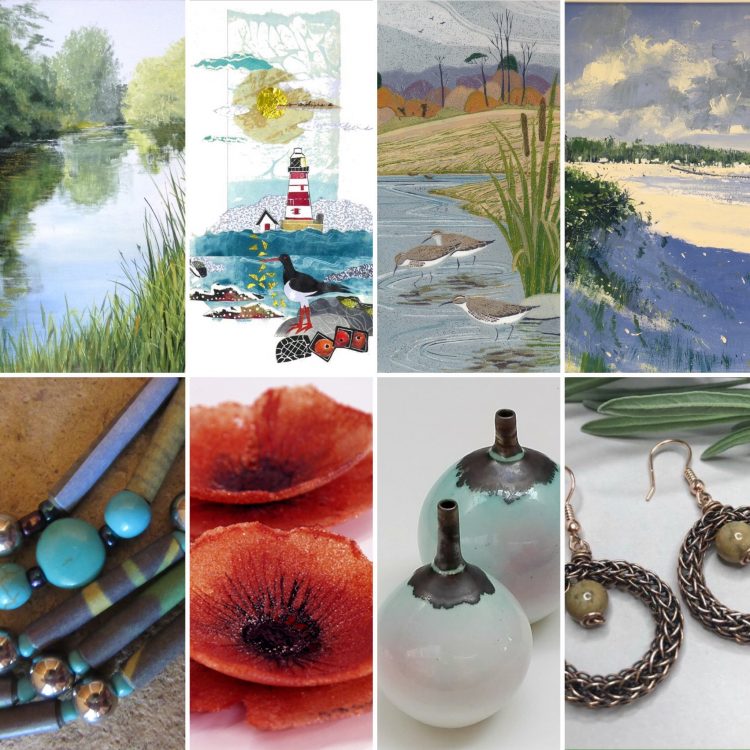 . . .  you can see what a lot of lovely things there will be to look at and buy, for yourself, or as Christmas presents! All the artists are bringing a wide range of work, so that, as well as the more expensive pieces, there will be a good assortment of affordable things as well.
So do come! The address is The Sentinel Gallery, Chapel Road, Wivenhoe, CO7 9DX. There is a free car park just opposite the gallery – as you come down into the old part of Wivenhoe, watch out for the Greyhound pub on your left, and turn into the narrow road on the right opposite the pub. At one end of this narrow road you can turn right into the car park.  The gallery is also at the end of this narrow road, on the left hand side. We are open every day (including Sunday) from 10.30 – 4.30 from 19th – 26th October. There are a number of places to eat in Wivenhoe, and nice walks along beside the river Colne, so why not make a day of it? It would be lovely to welcome you there! 🙂
---
A new painting, started before my Open Studio weekends and finished a couple of days ago!
This is a view of the River Stour at Dedham in September. This river scenery is a seemingly endless source of paintings!
Open Studios: If you have already received my end of September newsletter you will know that this year's two Open Studio weekends were the best yet. I've been taking part in Open Studios for six years now, but this year it was so much better than ever before! And the interesting thing that Graham and I both noticed was that, out of all our lovely visitors, only one came as a result of the Colchester Open Studios booklet and website. All the others came because they had signed up to my newsletter and had read about it there, or had left me their details at a previous exhibition or art festival so I had sent them an invitation. This certainly gave us food for thought, and the result is something a bit different which we are going to try next year . . . .!
Limited Edition Prints: I was particularly pleased that these created so much interest amongst my visitors as they are a new venture for me this year. Some prints are available in my shop – just click on SHOP in the menu bar above – but some people have requested a print of a painting they especially like which I have had done for them as a one off.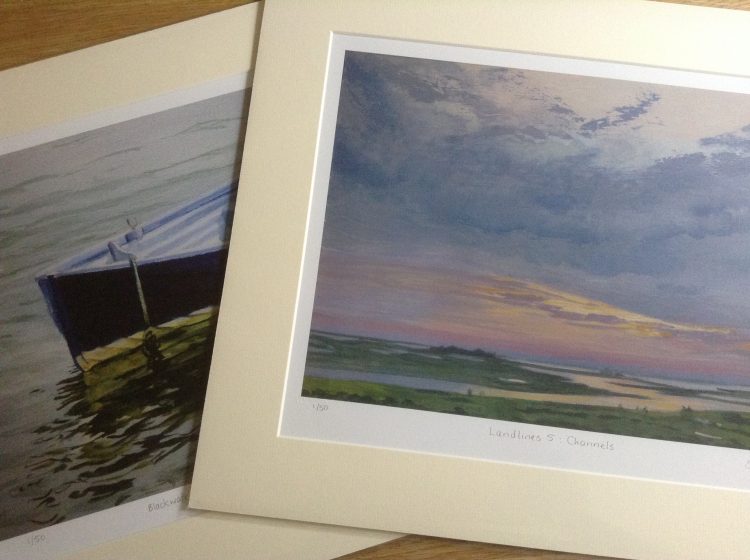 These two prints, of Landlines 5: Channels, and Blackwater Dinghy on the flowing tide were both special orders which have just gone off to their new homes, one for a birthday present. So if you have a particular painting which you would like to purchase as a print, and you are reasonably near Colchester, do get in touch! It only takes about a fortnight to get one printed, mounted and ready either for you to collect or for me to deliver to you. Most paintings will suit the 40cm x 50cm mounts, and will be £60.00. The square Essex Wood paintings as prints fit a 50cm square mount and are £65.00. Both mount sizes fit Ikea frames and would make very nice Christmas presents!
And thinking of Christmas, my Christmas cards and Calendars for 2020 are about to go in my web-shop . . .
Finally, don't forget – if you haven't already done so you can sign up to receive my monthly newsletter by filling in your email address in the box at the bottom of my Home page. (It goes out on the last day of the month. If at any time you decide you are no longer interested you can just click Unsubscribe at the foot of the email.) And you can follow me on Instagram @sallypudneyartist. If you are interested in our upcoming Anglian Arts Project exhibition at the Open Art Space at the Sentinel Gallery in Wivenhoe (19th-26th October) then you might like to look at the dedicated page on this website for information on all the artists, or follow the project on Instagram @anglianarts.
The weather here has suddenly become very cold and windy – really autumnal! Keep warm and enjoy your weekend! 🙂
---
I've been working hard all week setting up for this! Turning my dining room and kitchen into a gallery/shop!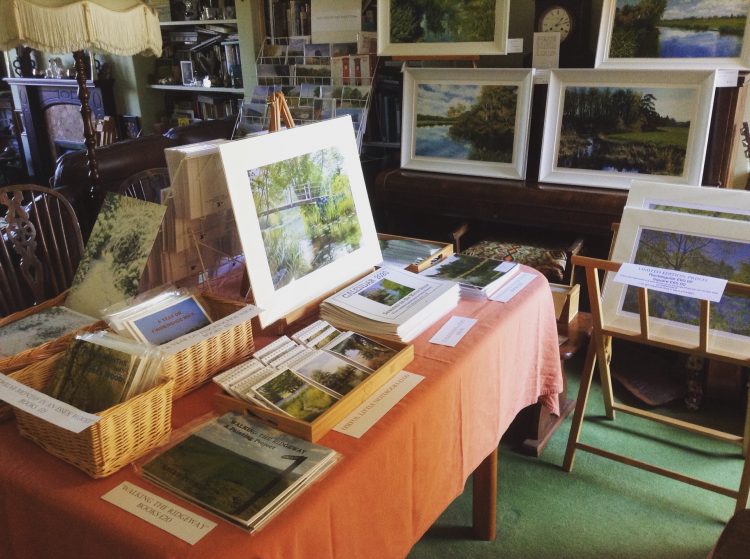 Graham commented that I seem to have far more Stuff this year – and I think he's right!
Twenty one paintings, calendars for 2020, Christmas cards, notebooks, painting project books, postcard packs, limited edition prints, mugs, jute bags . . . there is certainly plenty to look at! And I've been busy today making some bakes to go with your teas and coffees over the weekend! So do call in if you are in the Colchester area. My address and opening times are shown above.
Caxton Books & Gallery: In other news, I now have three paintings in this lovely bookshop and gallery in Connaught Avenue in Frinton on Sea. Thanks to owner, Judith, for the photo below!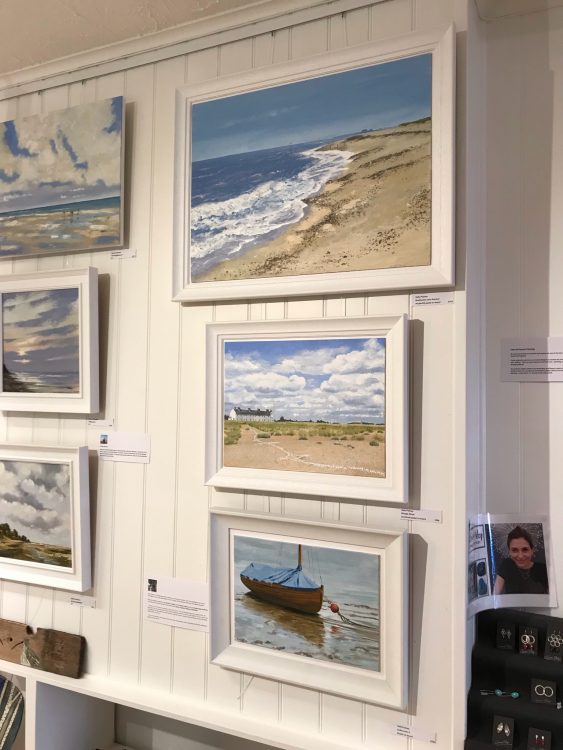 She has asked me to bring in a few more after Open Studios and our Anglian Arts Project exhibitions are over, and then I will have a larger group of paintings exhibited there from mid-March to mid-May next year. Do call in if you are in the Frinton area, or are visiting this lovely part of the Essex coast.
The weather has been wonderful here for the last few days, and is supposed to continue like this tomorrow! Yay! Hope to see some of you over the weekend! 🙂