I went up to Southwold this morning, delivering some more paintings to the Buckenham Galleries in Southwold's High Street.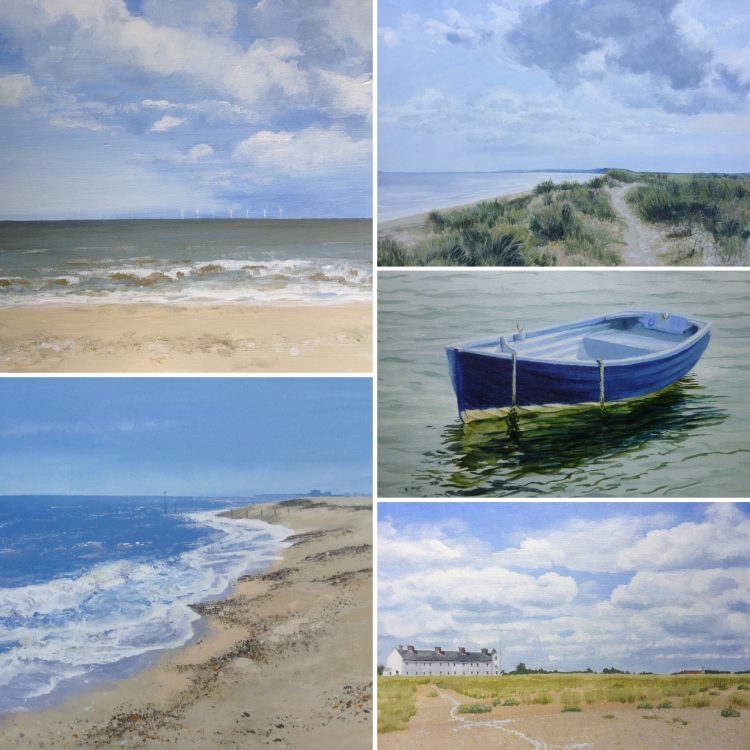 These are the five that I took, clockwise from top left  – Summer by the Sea, Walberswick, Blackwater Dinghy on the Flowing Tide, Shingle Street on the Summer Solstice, and Southwold: Summer. There are also a selection of my unframed prints at the gallery.
It was a really beautiful day in Southwold, today, with a clear blue sky and wonderful sunshine, although the wind was very strong and very cold!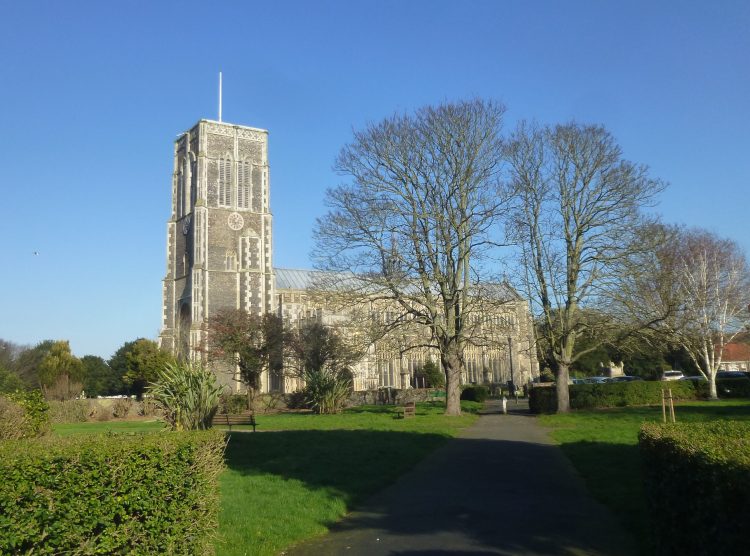 In my studio: I'm working on a painting of Marks Tey church across the fields, for my Towers and Spires series. I hope to get it finished over the weekend.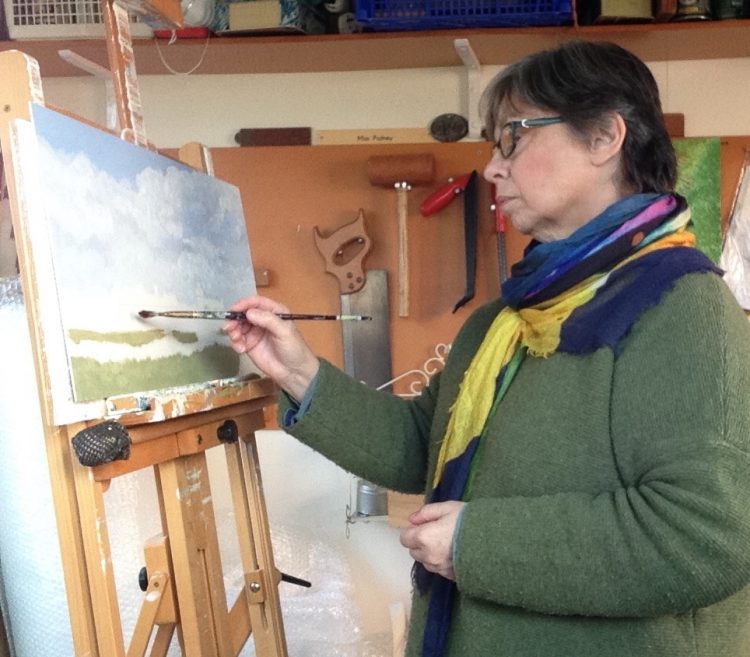 And next week – weather permitting! – I shall be making my February visit to 'My Field'. As well as the main painting I also plan to do some small paintings or drawings of some of the findings in the field, as I did in January. And having typed that I realise I haven't shared those with you! So here they are  . . .
A little graphite drawing on Bockingford watercolour paper of seed heads and twigs I picked up in the field in January, and –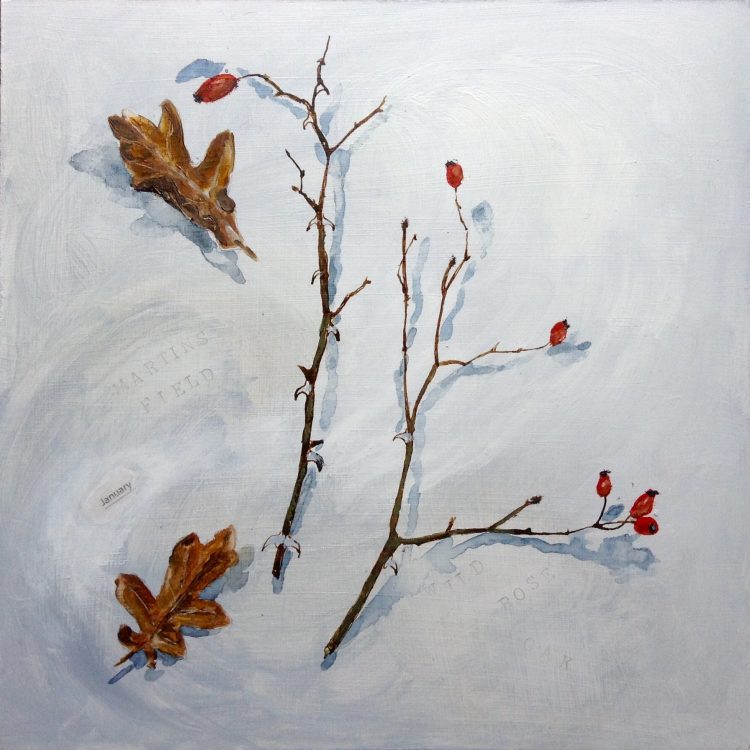 a tiny painting of wild rose hips and fallen oak leaves from the field.
Lastly, I had such a great response to the Beach Bags that I featured in my 'end of January' newsletter – thank you! In case you missed it here's a reminder: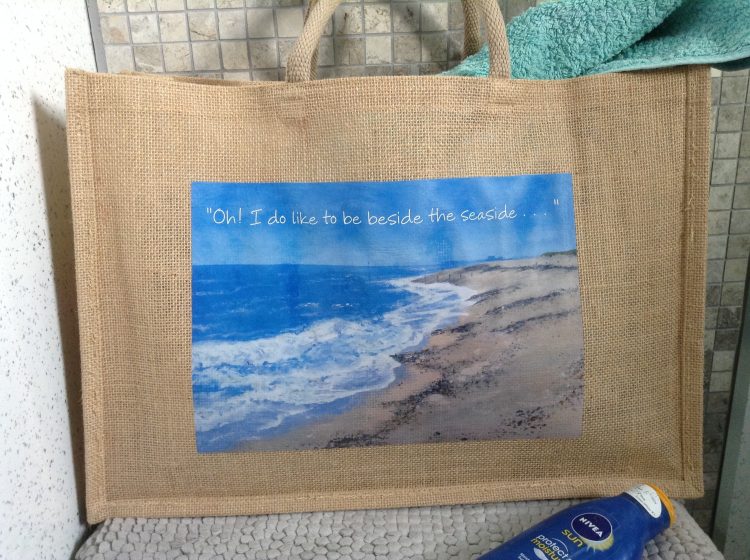 I had a number of emails from people keen to get their hands on one, so I am definitely ordering some more, with different 'seaside' paintings along with different quotes. They will go in my website shop, and also be available at my June Midsummer Open Studio event.  'Teach me to hear mermaids singing . . .'  from a poem by John Donne, seemed a particularly popular quote, which will go on a painting of Summer by the Sea.  I have also thought of using 'Gone to the Beach', 'I must go down to the seas again . . . ', and 'Sand between the Toes'. But if any of you lovely blog readers have any other good seaside-y quotes up your sleeves do let me know. 🙂
Don't forget you can sign up for my monthly newsletter at the bottom of my Home page, for news of paintings, exhibitions, Anglian Arts Project news, new merchandise . . . .
---
Here is the first painting in my new series, depicting Martins Field at Aldham!
I finished it a couple of days ago, but it has been so dark and gloomy here this week, that I was unable to photograph it until this morning.
I'm now planning on a small painting of some of the seed heads I found in the field . . . .
And then when – IF!! – it brightens up a bit, I would like to make a proper start on my Towers and Spires in the Trees series, but at the moment it is misty and drizzly and doesn't tempt me to go out drawing.  I did a small painting of Dedham church tower across the fields in the first few days of January, when I was messing about in my studio waiting for the weather to be suitable for my first field visit, but I wasn't very happy with it so will re-do this later in the Spring.
Anglian Arts Project: Our planning for the 2020 exhibition has come on a long way since the 1st January when I told you all about the new venue. We had an extremely useful visit to The Naze Centre last week, meeting Max, the Assistant Centre Manager, who was very helpful and enthusiastic about our plans. Graham and I are both very impressed by the positive reaction we have received, and especially by the amount of free publicity which our show will be given by the Essex Wildlife Trust. While we were there we were able to measure up the room, getting out tables and working out possible positions for various types of 'stall'. We will be able to comfortably fit twelve artists and makers into the space, six 'hanging' artists – painters and printmakers – and six makers – jewellers, potters, textile artists, etc. I already have thirteen potential exhibitors on my list, and will start contacting them next week. I'm just looking for one more maker . . .
Friday again! – and only one more week of January! Hope you enjoy your weekend 🙂
---
This morning I made my first 'official' visit to the field at Aldham which is to be the focus of my main 2020 painting project Twelve Months in an Essex Field. If you are new here you can read all the background to this in my last post.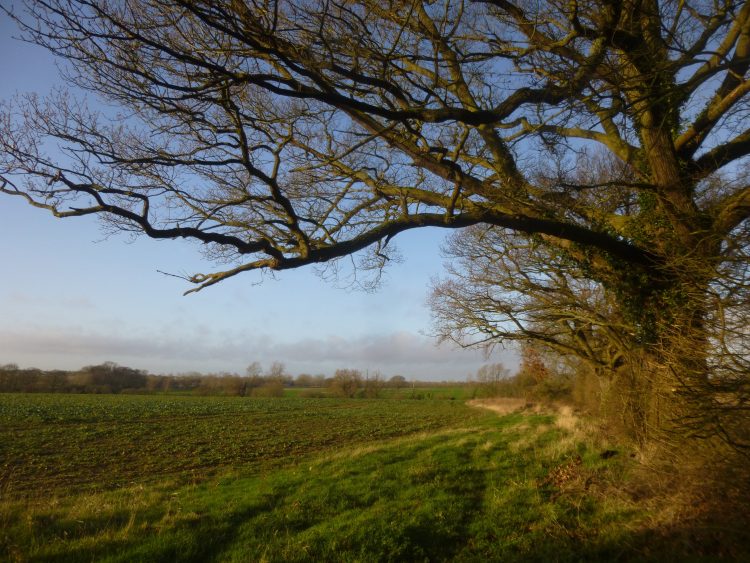 It was a bright sunny morning, with a little cloud on the horizon, but an icy cold wind. And the mud was epic! I can see that I shall be wearing Wellingtons on every visit until May!
The field I am focussing on is called Martins field, but all the fields have names. I walked down the side of Broad field, to the lovely old brick bridge over the branch-line which runs between Marks Tey and Sudbury – only to find that the gate was chained up! But this wasn't going to stop me, so I climbed over, as close to the hinges as I could.
I did some drawing, took some photos, and walked a little way down the field towards the river. Lots of birds were in evidence – I heard a green woodpecker's cackling laugh, the coughing crow of a pheasant, blue-tits twittering, and – much to my surprise – a skylark singing! I saw a redwing, a nuthatch and a beautiful buzzard which was soaring on outstretched straight wings. It glided over the field, circled over the hedge trees, over the next field, and vanished behind the treeline.
Walking the headland along the line of the railway cutting there were lots of knapweed and wild carrot seed heads, and one bush of field rose with brilliant red hips. I walked out of Martins field, and along the edges of How Hill and Walls fields, before crossing the railway line and walking back up the lane between Clamp field and Stable field. This is a better route to the field I've realised – no gate, and a bit less mud! The wind was really strong by now, and the clouds were building up.
It was a very successful visit, and I'm looking forward to making a start on my first painting tomorrow. But I was quite glad to get home and warm, with some hot coffee and the very last piece of Christmas cake! 🙂