The Anglian Arts Project launched in October 2019. The aim of the project is to bring together groups of professional artists and makers from all over East Anglia in a selling exhibition in a venue in Essex or Suffolk. The project is organised by Graham Bell and Sally Pudney who have organised arts festivals and exhibitions  in the Colchester area of North East Essex since 2012.
ANGLIAN ARTS PROJECT EXHIBITION MAY 2022
Our first exhibition of 2022 will take place in St Mary's Church Hall, Church Road, Little Bentley, Essex, CO7 8SE. It will run from Saturday, 14th May to Tuesday, 17th May, and will be open daily from 10.30 – 4.30. There is a free parking area a few yards from the Hall.  Little Bentley is a lovely village in a very rural part of Essex, and the Hall was originally built as a little village school just outside the church.
I am delighted to share the list of painters, printmakers and artist craft makers who will be exhibiting their work with us at Little Bentley in May. They are: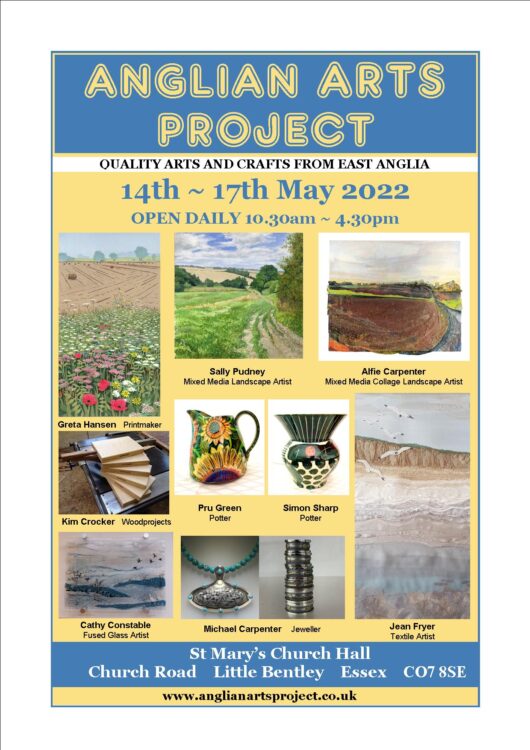 Mike Carpenter – a jeweller (owner of the Spiral Gallery) from Debenham in Suffolk
Pru Green – a potter from Manningtree in Essex
Simon Sharp – a potter
Greta Hansen – an artist printmaker from Stowmarket in Suffolk
Jean Fryer – textile artist from Debach in Suffolk
Kim Crocker – of Woodprojects  from Great Oakley in Essex
Alfie Carpenter – a mixed media landscape artist from Debenham in Suffolk
Cathy Constable – a fused glass artist from Fingringhoe in Essex
Sally Pudney – a mixed media landscape painter from Lexden in Essex
Some of these artists are new to us, not having shown in our exhibitions before. Here is some information about them:
Alfie Carpenter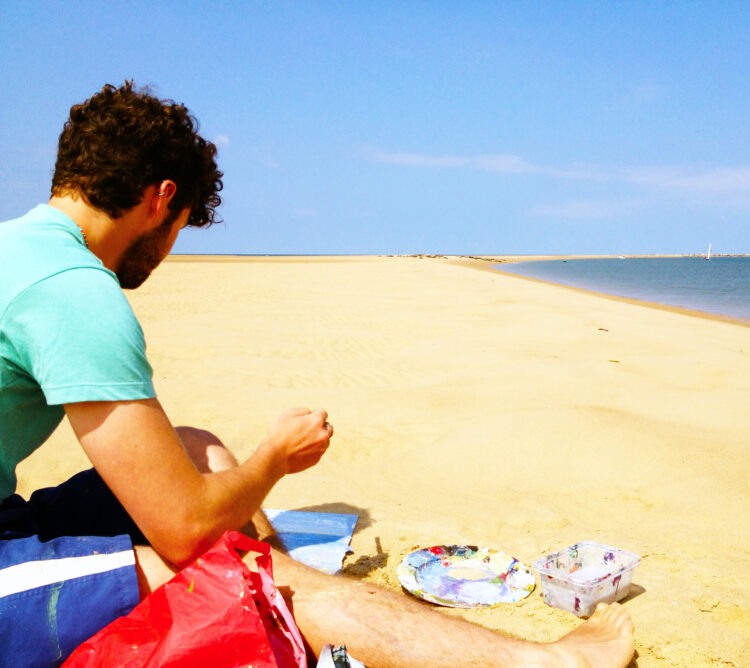 Artist and musician Alfie Carpenter works with paint, paper, voices, sounds and words to create songs and scenes. Based in rural Suffolk and using a mixture of plein air and studio work, Alfie's visual art captures the distinct landscapes of East Anglia through playful and evocative mixed media collage. Having trained as a singer and composer, Alfie writes and performs dream-folk songscapes as well as exhibiting his art across the UK.
Alfie's musical and artistic outpourings are equally atmospheric. Whether the components are shapes, colours and textures, or pitches, words and voices, Alfie assembles music and art to give life to a landscape, vision or emotion.
Using scrap papers, textured surfaces, printed text, fabric and found objects, Alfie's collage technique involves building up layers of collage, washing over the top with acrylic paint and finishing with pencil to achieve a unique interpretation of landscapes. Created en plein air as well as in the studio, Alfie's landscapes aim to capture the sense of a place by emphasising texture, colour and perspective.
Alfie was selected for the Royal Institute of Painters in Water Based Media in 2020 and 2021 and has exhibited in Brick Lane Gallery London, and throughout East Anglia.
For more information about Alfie and his work go to his website here
Below is an image of one of Alfie's collages.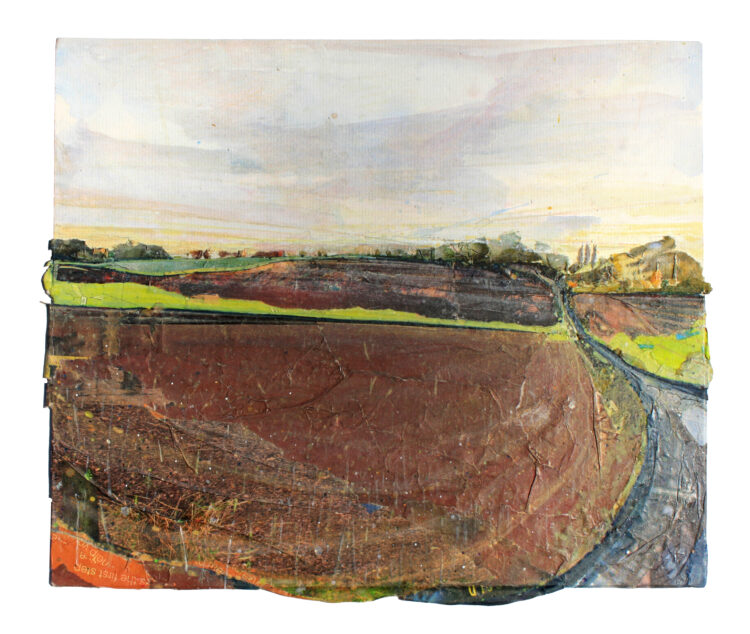 Jean Fryer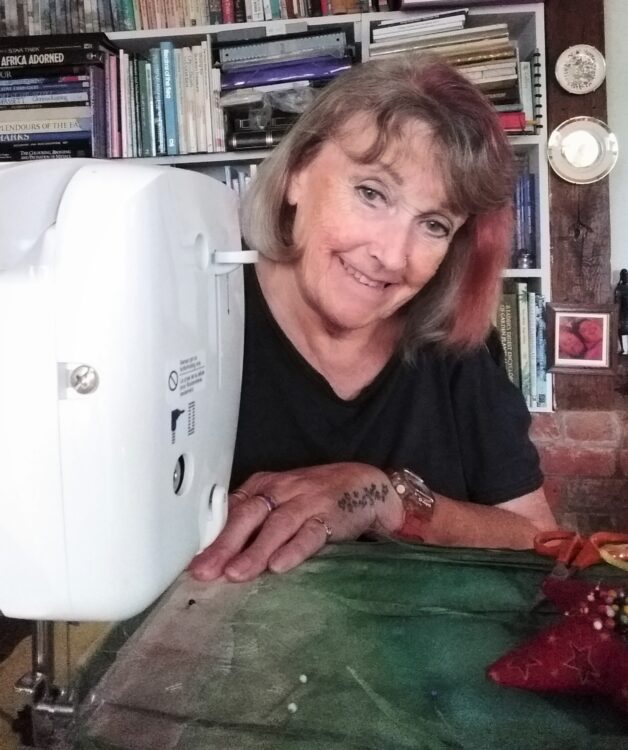 Jean K Fryer is a textile artist with a particular love of the Suffolk countryside and coast.
She makes one-off individually designed framed panels using a variety of fabrics and thread. She likes to work with fine silk chiffons that can be applied in different coloured layers – a little like mixing watercolours together – but she will use whatever fabrics give her the effect that she requires for a particular panel, and she will occasionally digitally print her own fabric in order to get a special effect. The fabrics are held together and embellished with free machining and have textured and 3D areas.
For more information about Jean and her work visit her website here.
Below is an example of Jean's work.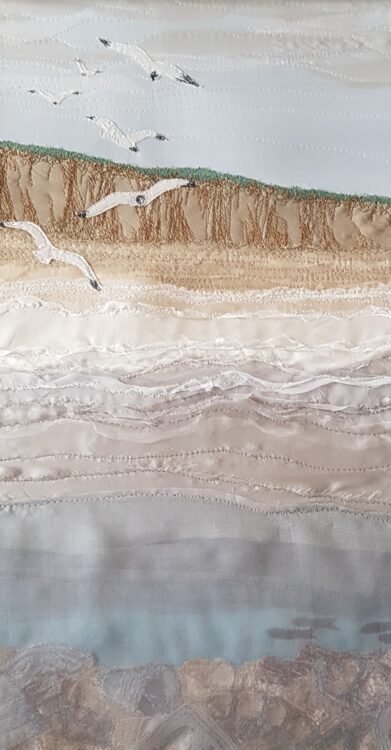 Michael Carpenter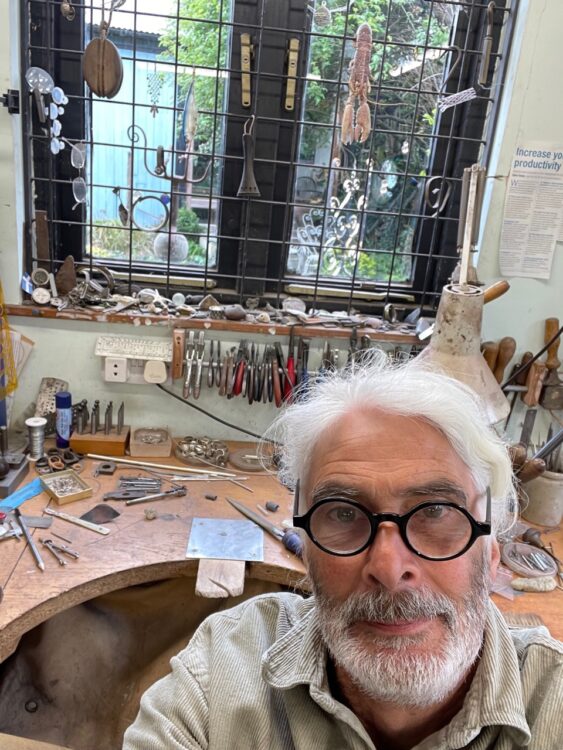 Michael Carpenter has been a jeweller for nearly 50 years. He lives and works in Debenham, Suffolk.
He trained in Birmingham and then worked in London, gaining valuable experience in various fields of jewellery making, from the fashion jewellery market, to high end one-off pieces.
He moved to Suffolk in 1984 and set up his own workshop, creating jewellery collections and selling widely across the UK. He opened Spiral Gallery in Debenham in 2004.
Michael has exhibited at many other venues over the years, including The Goldsmiths Hall, the Barbican, and Leeds City Art Gallery.
For more information about Mike and his work go to his website here
Below are two images of his recent work.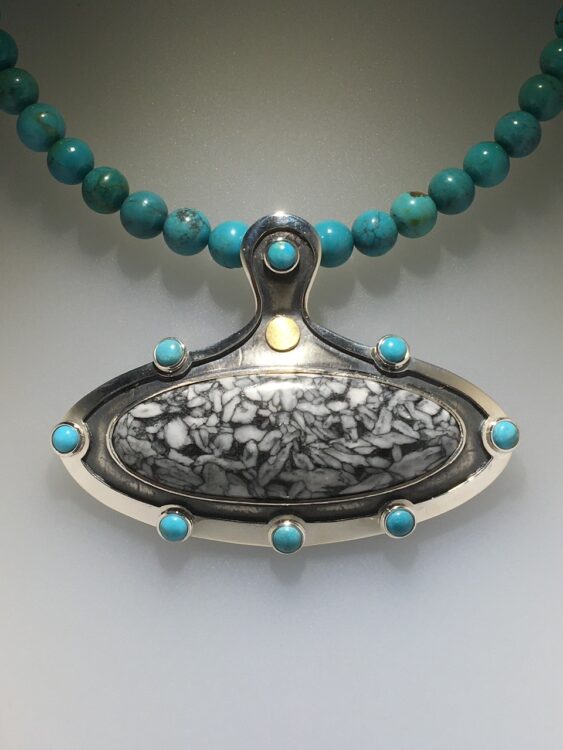 Kim Crocker
Born at Great Oakley, very near Little Bentley, in 1988, Kim grew up in the workshop in which he still works! Together with his father, Chas Crocker, he is part of Woodprojects, a partnership specialising in producing hardwood joinery. They make anything from kitchens and staircases to individually crafted chopping boards. The majority of their work is commissioned.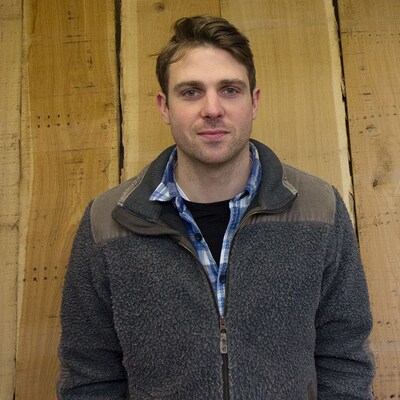 Kim had a two-year stint in Newcastle with Nick James, a furniture designer, and then returned to Woodprojects. His particular interest is in design, which is backed by a real understanding of wood. His work is function led, with a high standard of making and finishing.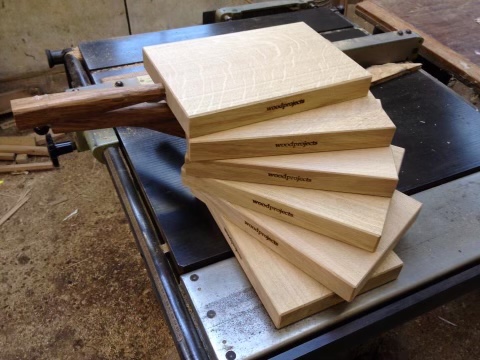 You can find out more about Kim's work and Woodprojects here.
Simon Sharp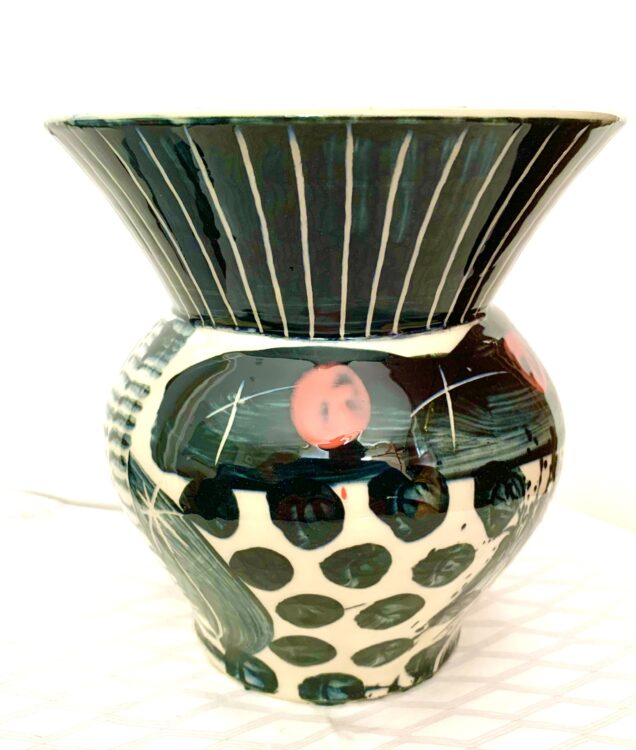 More information about Simon, a potter, will be coming soon.
Pru Green, Greta Hansen, Cathy Constable and Sally Pudney all exhibited work in our 2021 show; please scroll below for information about them.
ANGLIAN ARTS PROJECT EXHIBITION 2021
Our 2021 exhibition will take place in the Essex Wildlife Trust's Naze Centre at Walton-on-the-Naze where we have hired their large Education Room. It will run from Saturday, 4th September to Saturday 11th September and will be open daily from 10.30 – 4.30. There is a large car park just outside, and a cafe run by the Essex Wildlife Trust in the same building. The whole building has disabled access.
We can now confirm our twelve exhibitors will be: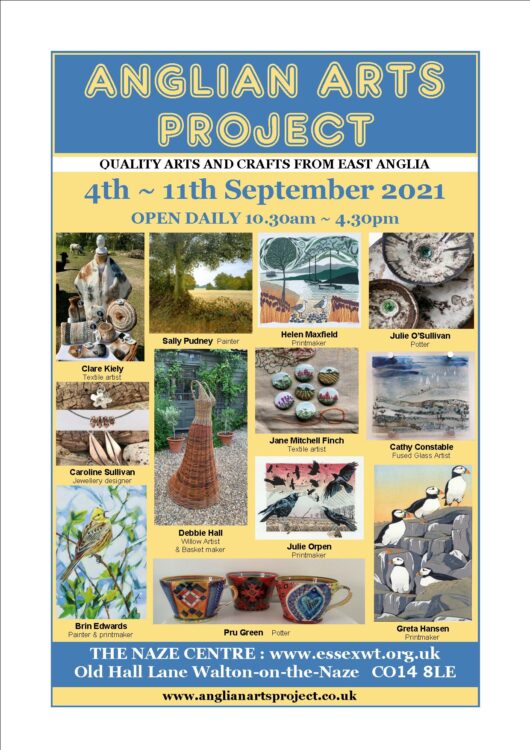 Pru Green, a potter from Kelvedon in Essex
Greta Hansen, a printmaker from Stowmarket in Suffolk
Brin Edwards, a painter and printmaker from Assington in Suffolk
Julie O'Sullivan, a potter from Leigh-on-Sea in Essex
Debbie Hall, a willow artist and basket maker from Shudy Camps in Cambridgeshire
Cathy Constable, a fused glass artist from Fingringhoe in Essex
Caroline Sullivan, a silver and bronze jewellery maker from Martlesham Heath in Suffolk
Clare Kiely, an alpaca textile artist from Great Waldringfield in Suffolk
Helen Maxfield, a printmaker from Needham Market in Suffolk
Julie Orpen, a printmaker from Aldham in Essex
Jane Mitchell-Finch, a textile artist from Brampton in Suffolk
Sally Pudney, a painter from Lexden in Essex
Scroll down to read about some of the new artists and craft makers, whose work we have not shown before,  who will be exhibiting with us at the Naze Centre. 
Brin Edwards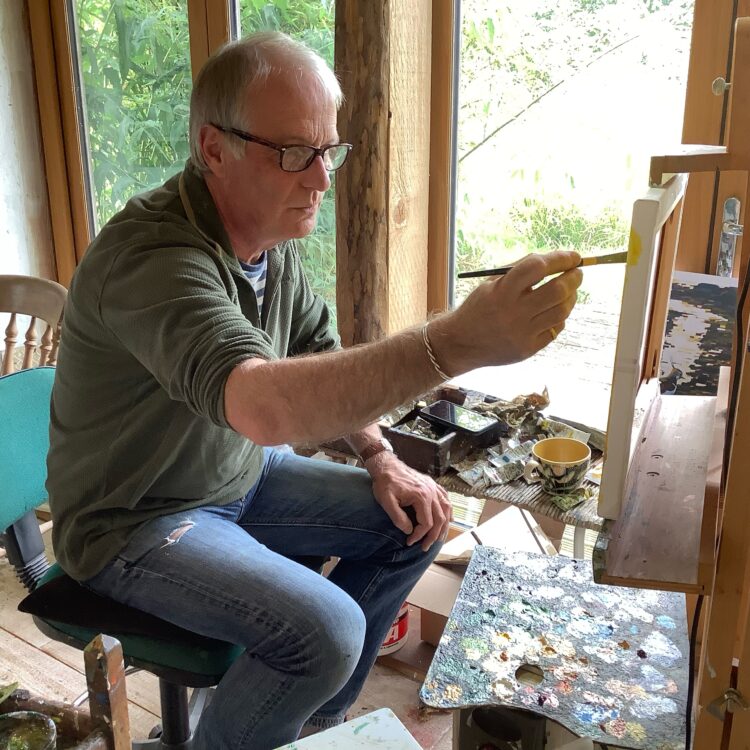 Brin Edwards paints birds in acrylics and oils in an impressionistic style concentrating on light and atmosphere. The bold chunky brush marks aim to create a personal view of the natural world rather than a straight copy. Inspiration comes from visits to the East Anglian coast as well as the fields and woodlands nearer home, and the paintings are the result of direct observation and sketches.
See Brin's work on his website www.brin-edwards.com and follow him on Instagram @brinedwards_art
Debbie Hall
Award winning basket-maker Debbie Hall is based in rural Cambridgeshire, just on the border with Suffolk and Essex, where she lives on 2 acres of beautiful land which is a constant inspiration to her work.
Though she has a diverse artistic background, with a first degree in Fine Art and an MA in Illustration, it is willow that has kept her well and truly captivated over the last 25 years. Fascinated with the cycles of life, and living closely with nature, it gives Debbie great joy to be able to create with colourful organic willow, which she hand shapes with very little intervention of tools. She loves that direct engagement with this most natural and sustainable of materials, much of which she grows, harvests and prepares herself, enabling her to nurture her creations at every stage from bud to basket. The inherent beauty of the material and Debbie's deep connection to it shine through in her exquisite woven baskets, sculpture, and living willow structures.
See Debbie's work on her website www.salixarts.co.uk or follow her on Instagram @salixarts_debbiehall
Cathy Constable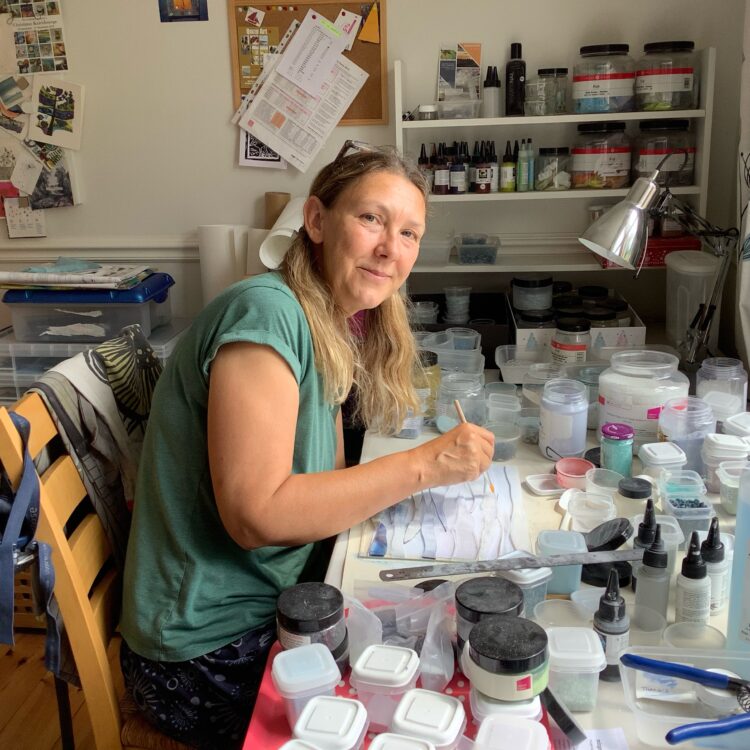 Cathy Constable is a fused glass artist who lives in the little village of Fingringhoe. Situated on the Roman River, close to Mersea Island and the Essex marshlands, Cathy finds the landscape around her endlessly fascinating – and inspiring for her work. She uses fused glass as a vehicle to express the ethereal qualities and feeling of the salt marshes, water channels and mudflats. She finds that the reflective properties of glass can be exploited to evoke the patterns of water and land, and builds up layers of glass, which are fired between 700c and 800c, to emulate the layers in the countryside. Her work includes the use of opaque and iridescent glass, enamels, glass powders and frit, which all add to the complexity of the pieces. She likes to work on the edge of abstraction to reflect a sense of place, and adds small details to give a touch of context, such as a sandpiper or avocet, sailing boats or marshland plants.
See Cathy's work on her website www.cathycoglass.co.uk of follow her on Instagram or Facebook @cathyconstablefusedglass
Julie Orpen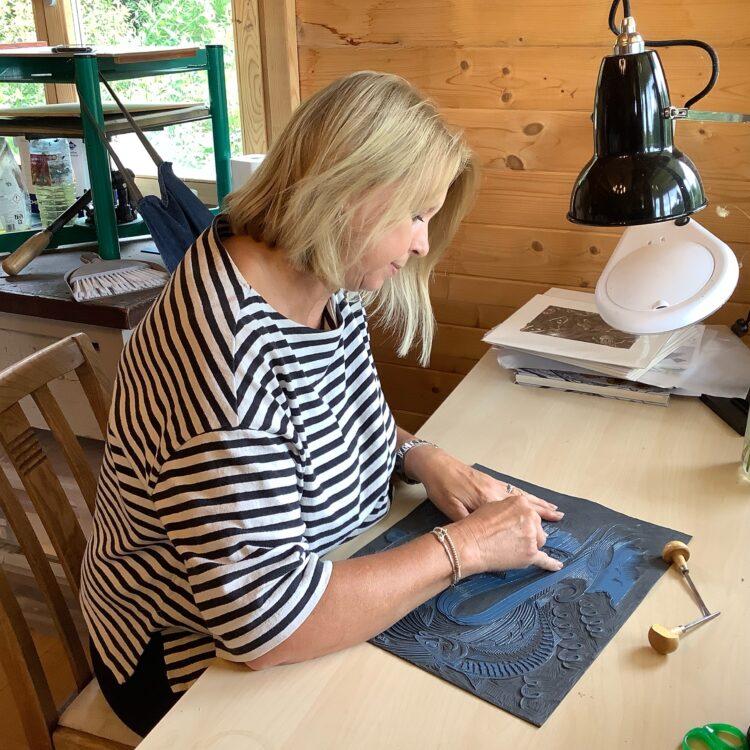 Julie's studies in Graphic Design have influenced how she has developed as a printmaker over the last few years. She works with Lino, producing subtly coloured multi-layered prints and engravings in more intricate detail. Her work is often inspired by the natural world around her, and she has focussed on the different collective nouns for birds and animals in many of her prints.
See Julie's work on Instagram @orpenjulie
Jane Mitchell Finch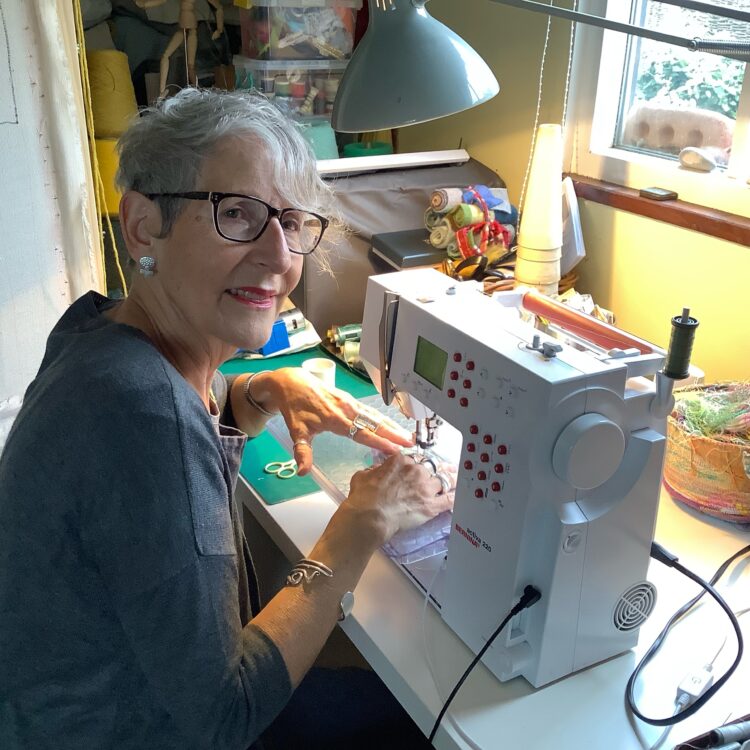 Jane is a free motion embroidered who originally trained as a Graphic Designer. She works from her studio in Brampton, Suffolk, and takes inspiration from the local landscape, the coast and nature. She will always search for the slightly quirky side of life which will be interpreted through stitch. This will take many forms – the use of fabrics to create a collage, a more graphic approach using just a bold black line, or the use of watercolours and threads for a more painterly look. To create these she uses linens, old collected textiles and felt.
See Jane's work on her website at www.mitchell-finch.online or follow her on Instagram @ jane_mitchell_finch
Helen Maxfield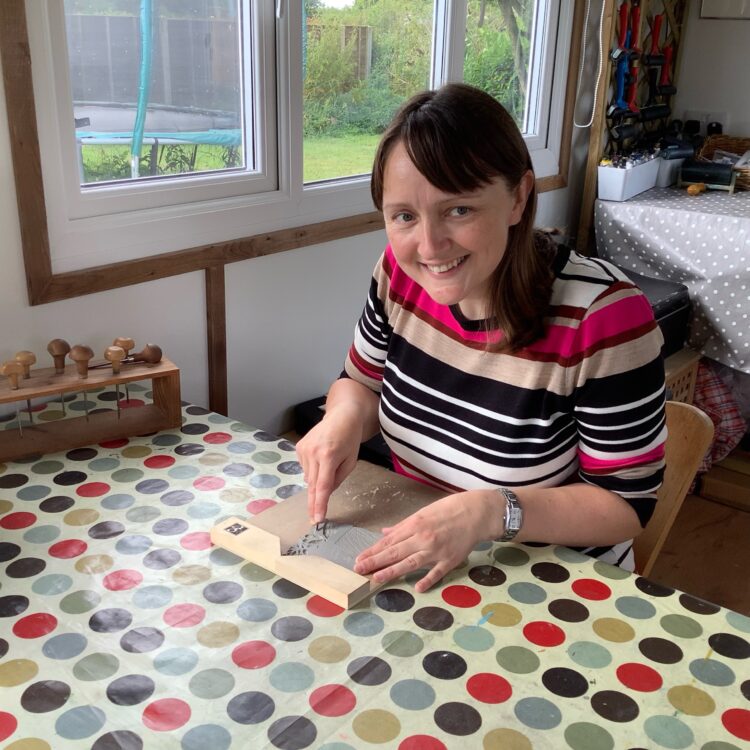 Helen Maxfield creates limited edition handmade linocuts in her studio at the end of her garden. Her designs evolve from observational drawings and photos from trips around the countryside and along the coastline. She looks for textures in the landscape and enjoys devising ways to render them through linocut. Helen uses the 'reduction method', where one piece of lino is used for the entire print and the picture is build up through layers of ink, with more lino being carved away between each layer. Helen aims to make images that celebrate both the beauty of the place and also the natural qualities of linocut.
See Helen's work on her website at www.helenmaxfield.com   and follow her on Instagram @helenmaxfield
Pru Green
Pru is a potter making work using earthenware thrown on the wheel. She decorates the mugs, jugs, bowls and plates that she creates using coloured clay slips which she makes herself, and finishing the design with a scraffito technique to give definition and detail. The work is then 'biscuit' fired in the kiln, before being glazed and given its final firing. Pru makes her colourful, decorative but also utilitarian pieces (they are all dishwasher safe!) in her garden studio in Kelvedon. She derives particular pleasure and satisfaction from the fact that people use her work, developing an everyday connection with it, whether it is a favourite coffee mug, a cereal bowl or a milk jug.
See Pru's work where she is represented on the website of the Church Street Gallery in Saffron Walden www.churchstreetgallery.co.uk and follow her on Instagram @prugreenpottery.
=============================================================================
If you are new here, scroll down to see information about our first exhibition which took place in October 2019. Our 2020 exhibition had to be cancelled due to the Covid 19 pandemic.
_____________________________________________________________________________
The first exhibition was held at the 'Open Art Space' in the Sentinel Gallery in Chapel Road, Wivenhoe.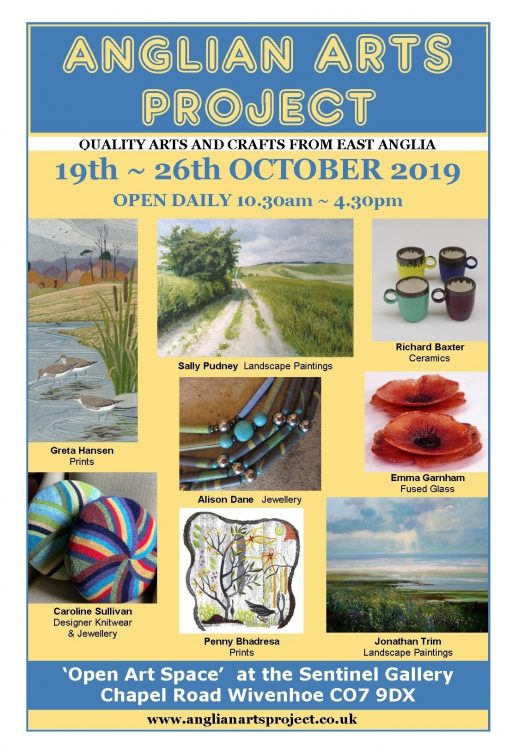 The Exhibitors
Greta Hansen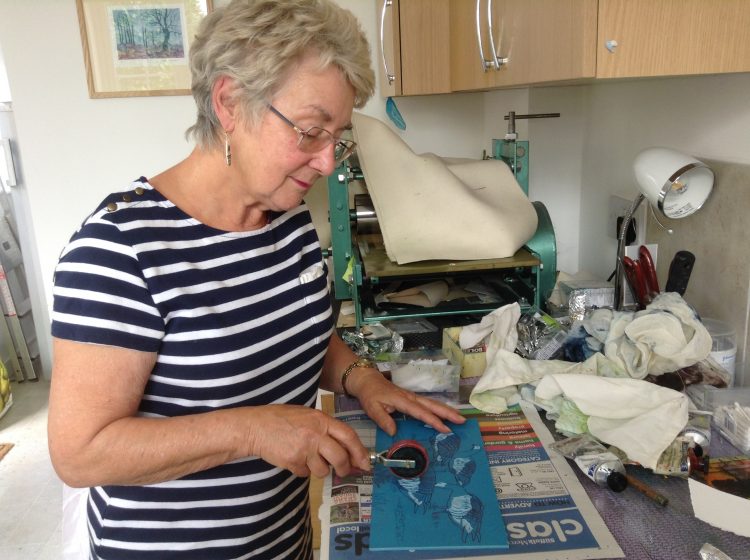 Greta is a printmaker from Stowmarket in Suffolk. She makes limited edition lino prints and collographs. She will be showing framed pieces, plus unframed work and greetings cards with images taken from her prints. The photo above shows her working on a new lino print, and below shows some of her work, both finished and in progress, in a corner of her studio.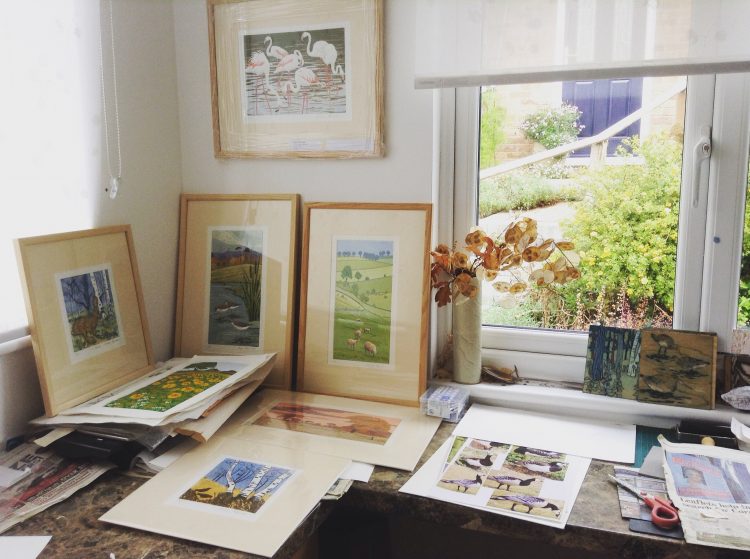 Greta does not have a website but information about her and her work can be found online by going to www.suffolkcraftsociety.org, and following the links though makers and their work, to Printmakers, where you will find Greta's page. She can also be found on Instagram @greta_hansen
Richard Baxter
Richard creates ceramics in Leigh-on-sea in South Essex. He makes fabulous pottery and porcelain artwork featuring striking elegant forms and rich vibrant colours.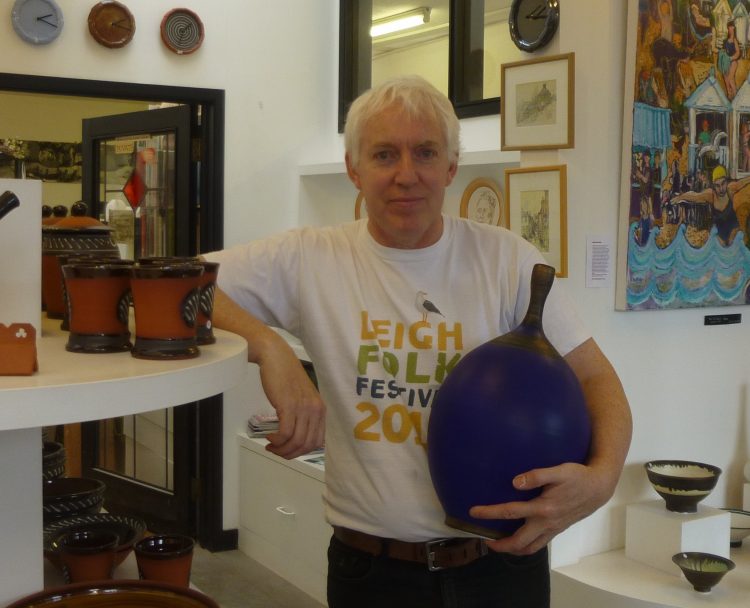 The image above shows him surrounded by his work in his gallery at Old Leigh Studios, and below a close up of two porcelain pieces.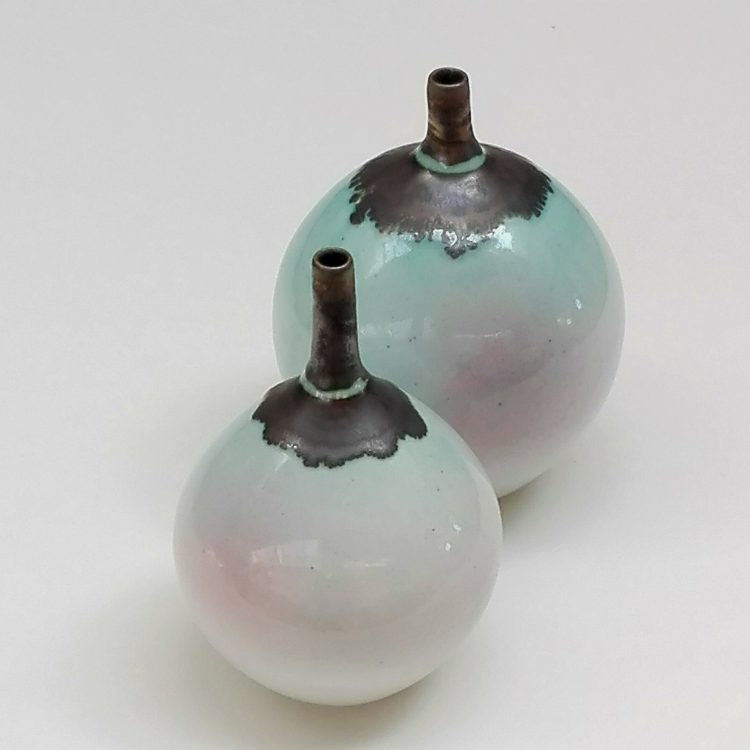 More information can be found about Richard and his work on his website www.richardbaxter.co.uk and on Instagram @richard_baxter_ceramics
Emma Garnham
Emma is a glass artist working in Ipswich. She makes glass sculptures, pictures and jewellery using a variety of techniques involving fusing, using hand modelled plaster moulds, glass frits and powder.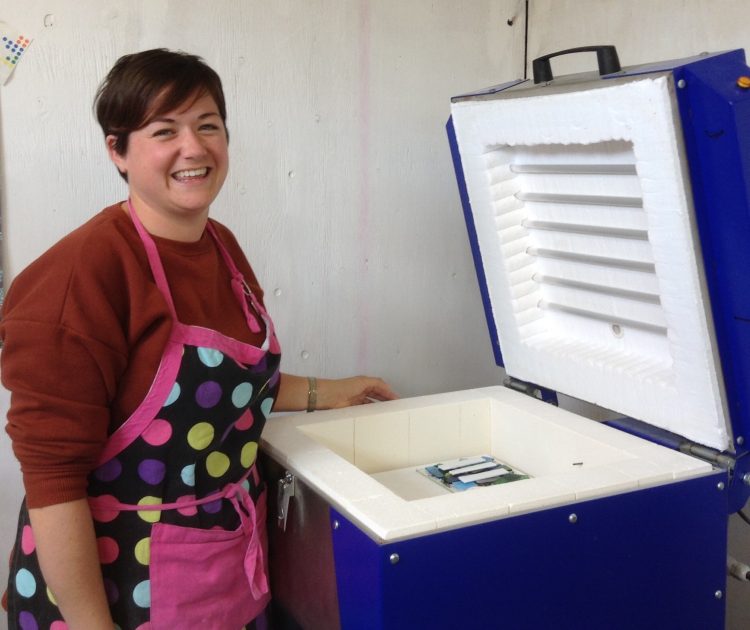 This shows Emma by her kiln in her Westerfield studio, and below is an image of some of her work.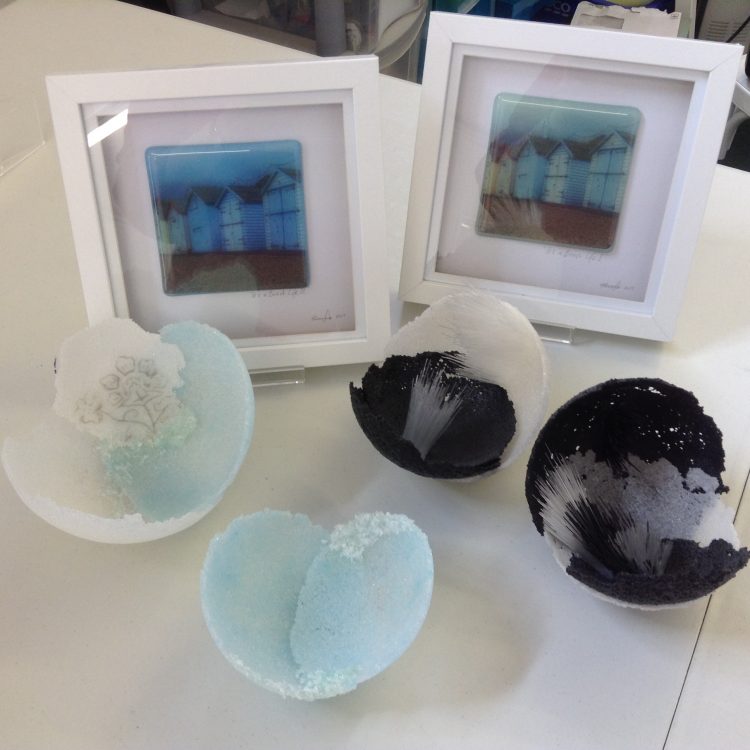 As well as making her own work, Emma also runs glass making courses in her studio, if you'd like to try it out for yourself. Her website is www.garnhamglass.com and you can also follow her on Instagram @garnhamglass.
Alison Dane
Alison is a jewellery maker from Walsham-le-Willows near Bury St Edmunds. She makes jewellery in the garden studio of her nearly-400 year old thatched cottage. She paints and prints colourful papers which are made into beaded necklaces, brooches and ear-rings, using a combination of rolling and manipulating techniques.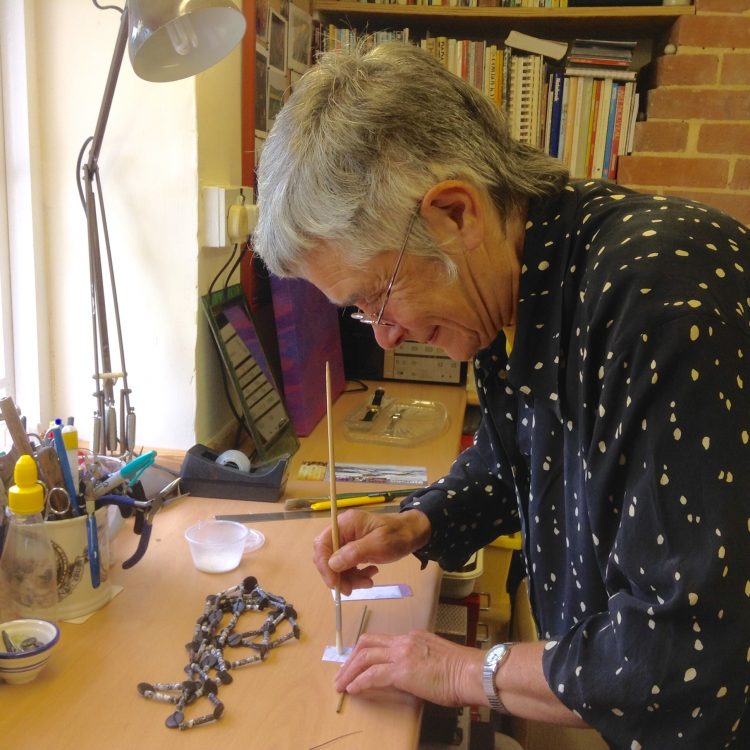 Here Alison is pasting a paper prior to rolling it into a cylindrical bead. The image below shows some of her work in the studio.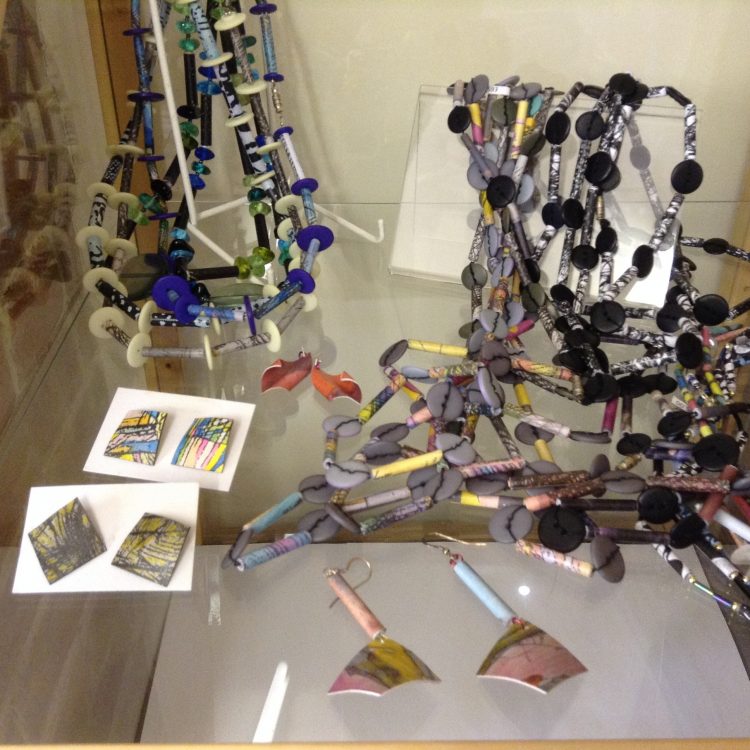 Alison is a member of Suffolk Craft Society and information can be found about her on their website www.suffolkcraftsociety.org following links for members and their work.
Caroline Sullivan
Caroline is knitwear designer and also a maker of sterling silver and bronze jewellery based on 'Viking knit' techniques. She will be showing both types of work at our exhibition. Her knitwear, which she designs using wonderful colour combinations and with meticulous finishing,  will include knitted cushions, neck-warmers, fingerless mitts and hats. Her jewellery which includes semi-precious stones with silver and bronze will feature bracelets, necklaces, rings and ear-rings.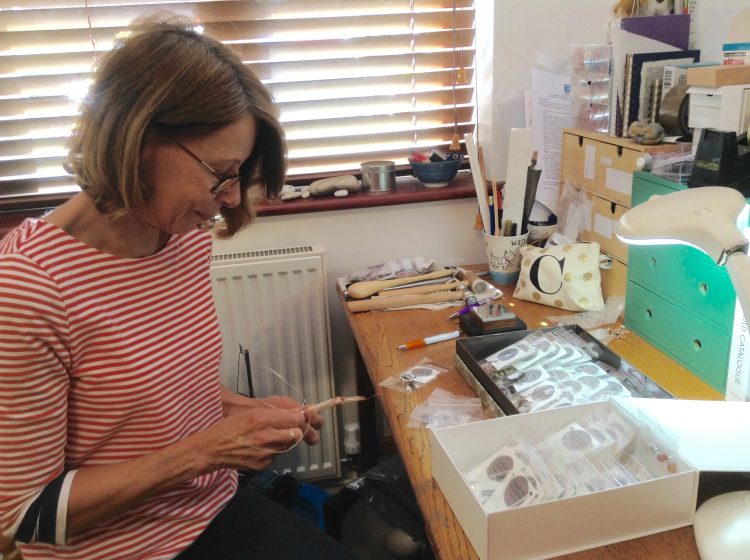 This photo shows Caroline working in her studio, and those below show some items of her jewellery.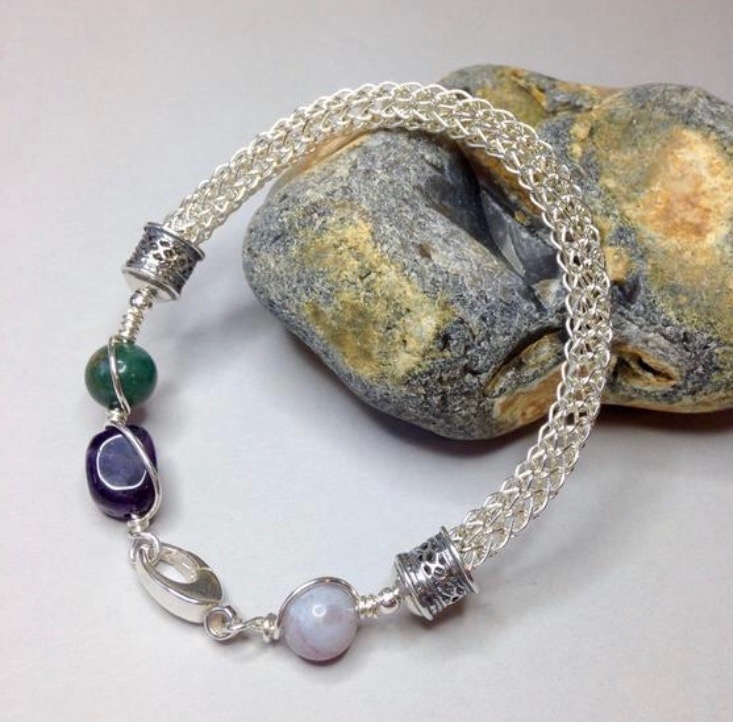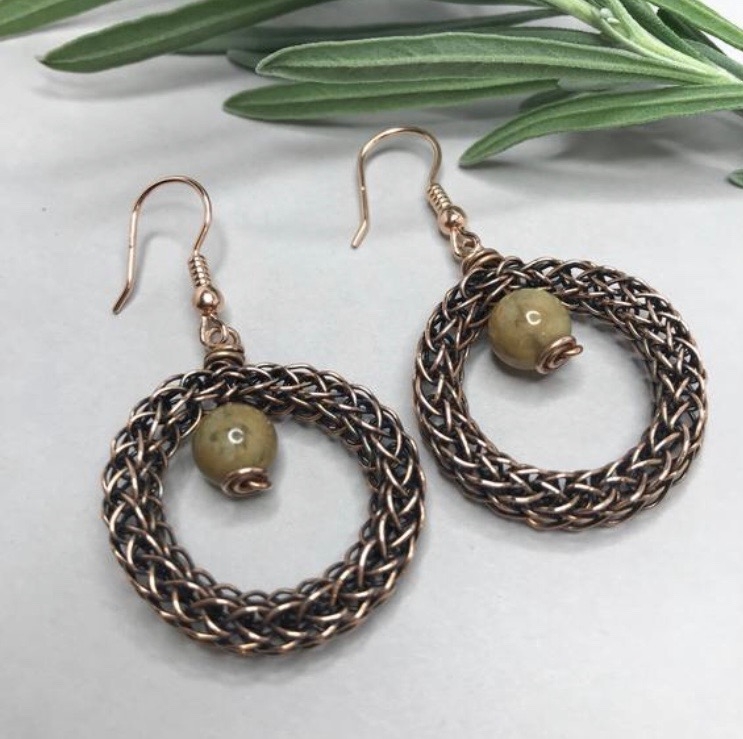 Caroline exhibits her knitwear with the Suffolk Craft Society and has an online presence there – www.suffolkcraftsociety.org and follow the link through 'Makers and their work' to Caroline's page in the textiles section – and also has an etsy shop at www.etsy.com/shop/bycarolinesullivan.  You can also follow her on Instagram @bycarolinesullivan
Jonathan Trim
Jonathan is a landscape painter working in Leigh-on-Sea on the Thames estuary. His mixed media work shows beautiful atmospheric landscapes – landscape has always been the catalyst for his work and he tries to express the distinctive quality of a particular location.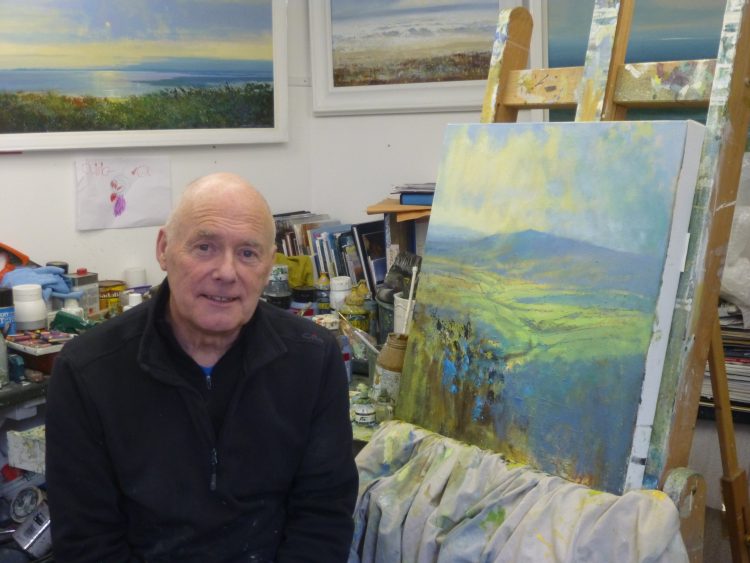 The photo above shows Jonathan in his studio surrounded by his paintings. Below are two examples of his recent work.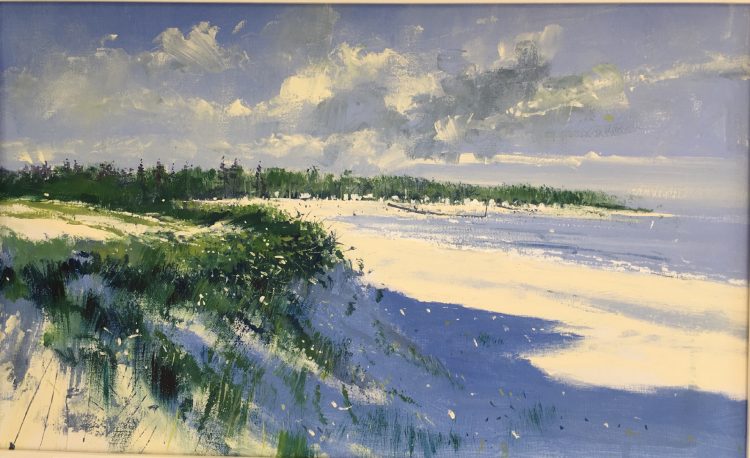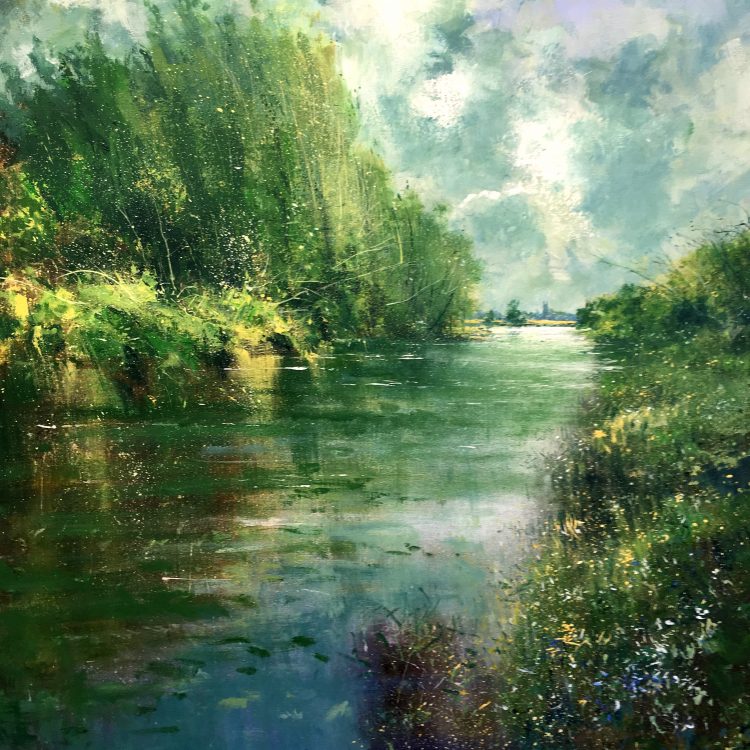 Jonathan will also be selling mounted unframed paintings, unframed limited edition prints and greetings cards. His website is www.jonathantrim.com and you can also follow him on Instagram @jontrim
Penny Bhadresa
Penny Bhadresa is a Suffolk-based artist/printmaker. Emphasising design, colour, texture and line, collage and linocut are her main media. Her inspiration comes principally from nature and landscape.
The photo above shows Penny working on a new collage in her East Bergholt studio.
Penny will be exhibiting framed work. Her greetings' cards, reproduced from her original work, will also be available. Her website addresses are www.pennybhadresa.co.uk and www.pennybhadresacards.co.uk
Below are two examples of her work, Late Morning and Just Landed.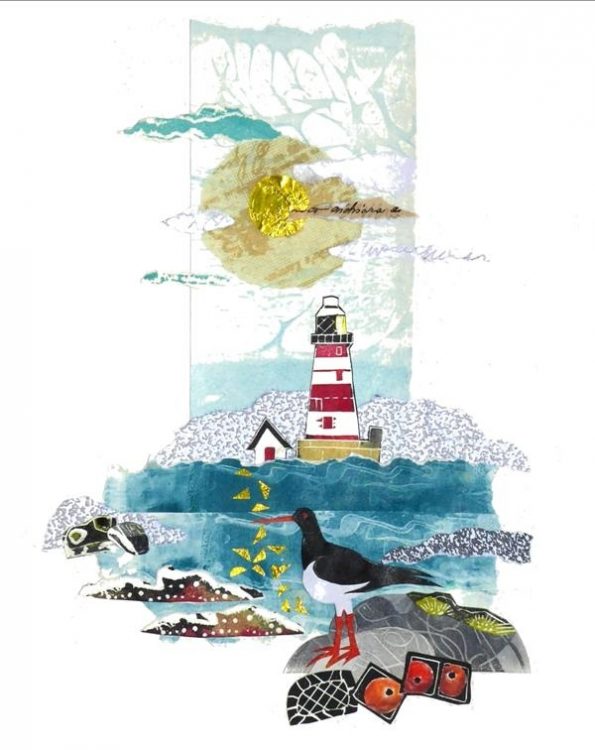 Sally Pudney
Sally Pudney is a landscape painter based in Lexden near Colchester, working in an expressive realistic style. She works in acrylic on board, often with added oil pastel or other media.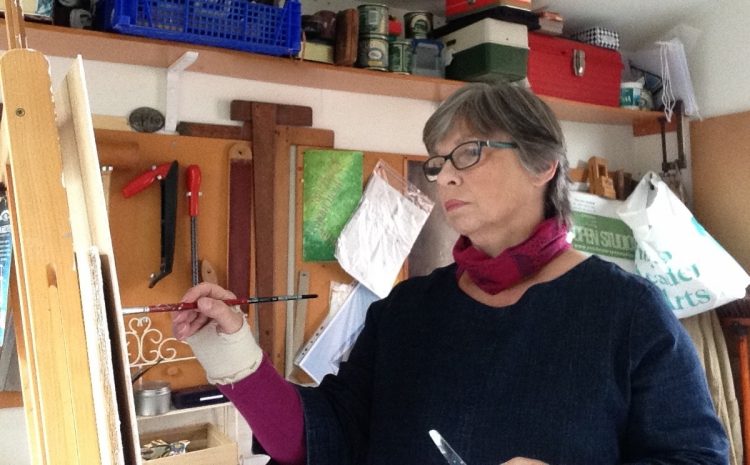 The photo above shows Sally working in her garden studio and below are two examples of recent paintings, Walberswick and Late Summer on the River.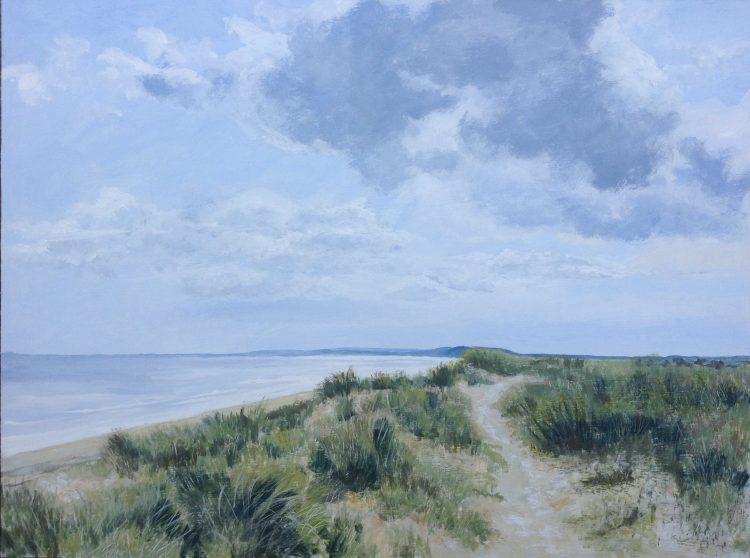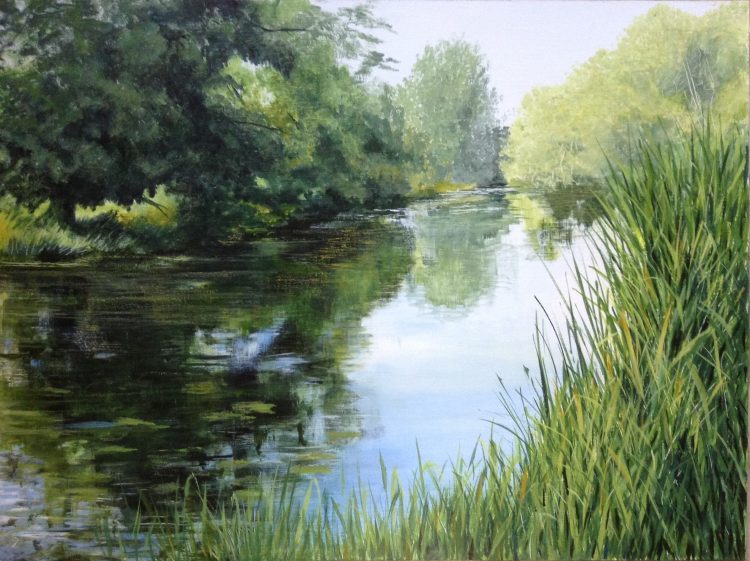 Sally is co-director and organiser of the Anglian Arts Project, along with Graham Bell. This page is hosted on her own website – go to the menu bar above for more information about Sally on her Gallery and Blog pages. You can also follow her on Instagram @sallypudneyartist and the Anglian Arts Project itself @anglianarts