This week – in the nick of time – I finished my November painting of the Field.
This shows the big oak trees in the corner of the field near the little brick railway bridge, and the rye coming up, contrasting with the rough grass and other vegetation along the field margin.
Only one more month to go! I'm already looking forward to assembling all the art work and notes into the book I shall be having printed in January or February next year. AND planning all the other items – greetings cards, coasters, bags, prints – and anything else I dream up! If you have any ideas do let me know! 
On-line Open Studio Week: This will be continuing until next Saturday, 5th December. Half the 2021 Calendars have now gone, and I only have four packs of the Christmas Door Christmas cards left, so if you were thinking of ordering I wouldn't leave it too long!
Hope you are all OK and having a nice weekend – and looking forward to creeping out of lockdown again this week! 🙂
---
Well, lovely blog readers, I've just spent the morning uploading some lovely new items to the Shop page, and the Gallery 2020 page for you!
There are Christmas cards –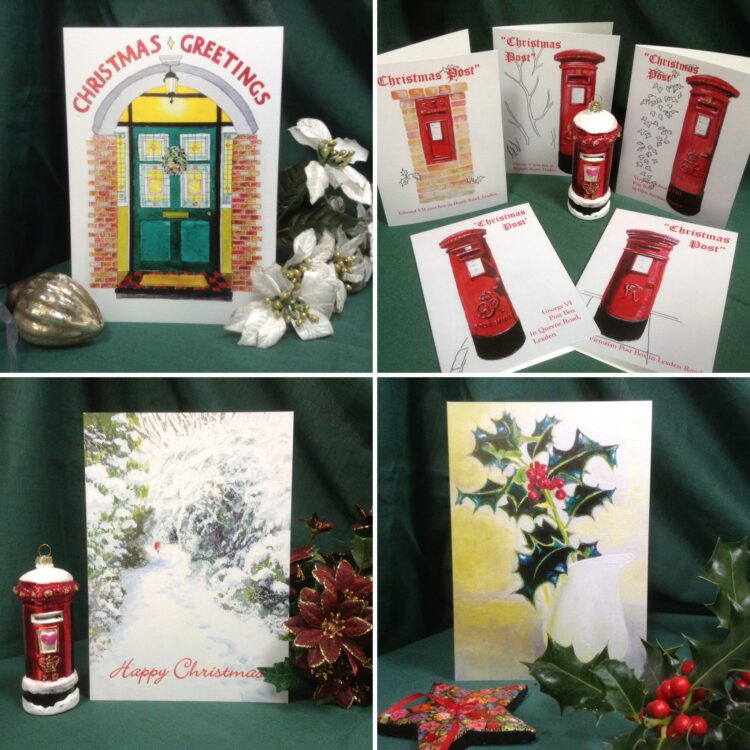 and Calendars for 2021 –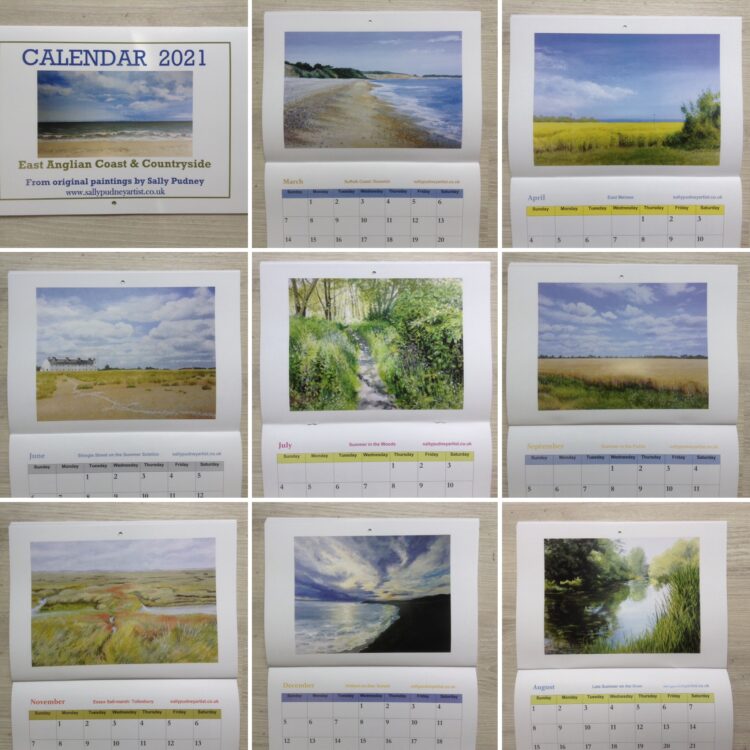 and new mini-prints –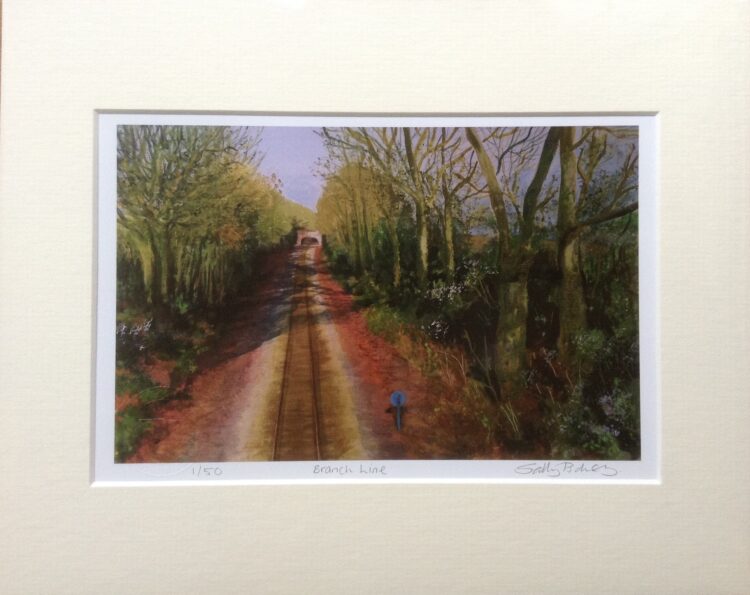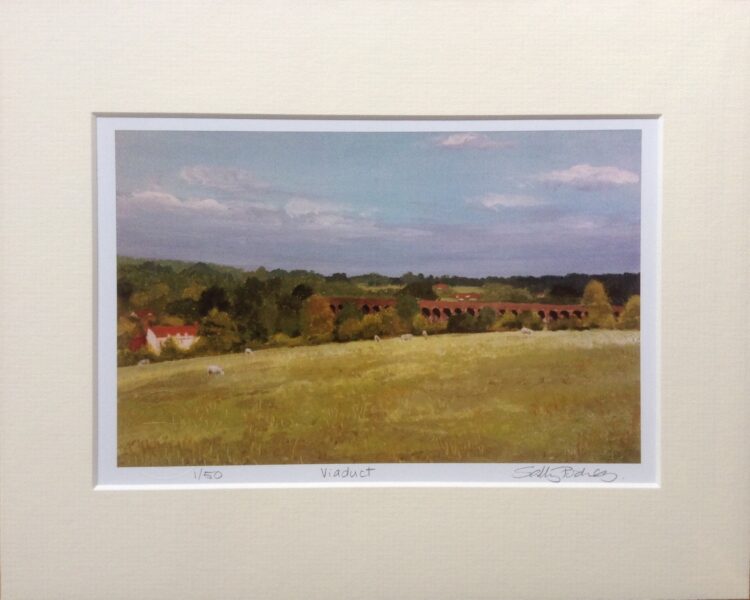 that are especially suitable for your railway enthusiast friends – and are easily post-able and affordable!
Also, my new Autumn card pack –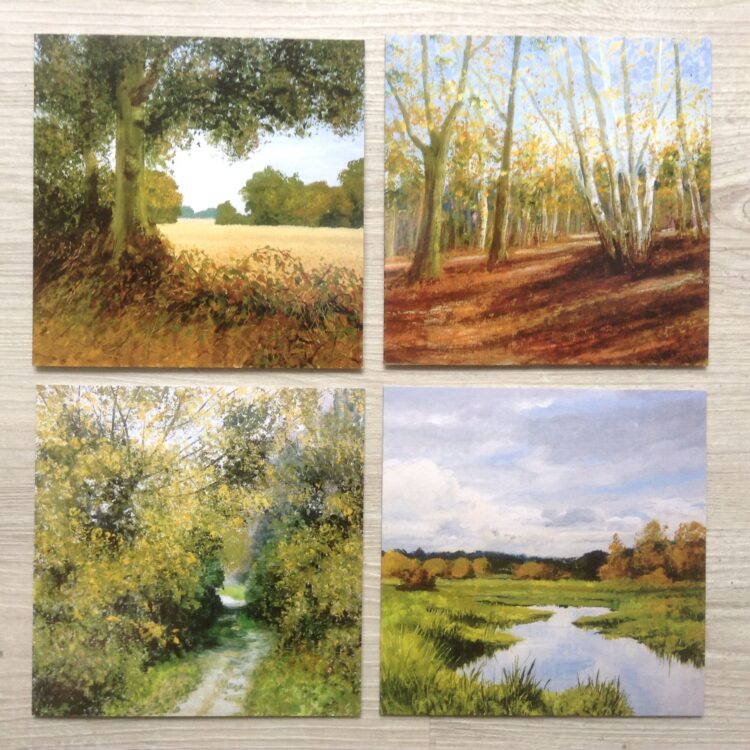 PLUS the four original paintings of these Autumn scenes are in the Gallery 2020 page, at especially low prices . . . . And, of course, there are lots of other card packs in the Shop, as well as jute bags, large and small, and lots more limited edition prints and mini-prints.  Any of the rectangular mini-prints make easily affordable and easily post-able presents – and there are now seven different images to choose from.
I have had a look through the Gallery pages for this year and last, and have reduced the price of some paintings for the next week. Please note that paintings in the Essex Field series will not be for sale until next year.
Also, paintings marked £POA are at present in either the Church Street Gallery or the Buckenham Galleries, and although they are available to buy the purchase would need to be done through the relevant Gallery.
If you have any queries about original paintings or would like to have a socially distanced viewing of one of them on my doorstep, then do email me on sally@sallypudneyartist.co.uk.
I hope you enjoy having a browse through – and maybe find something that you would like! 🙂
---
Following my visit to The Field last week I completed my usual monthly snippings drawing at the weekend.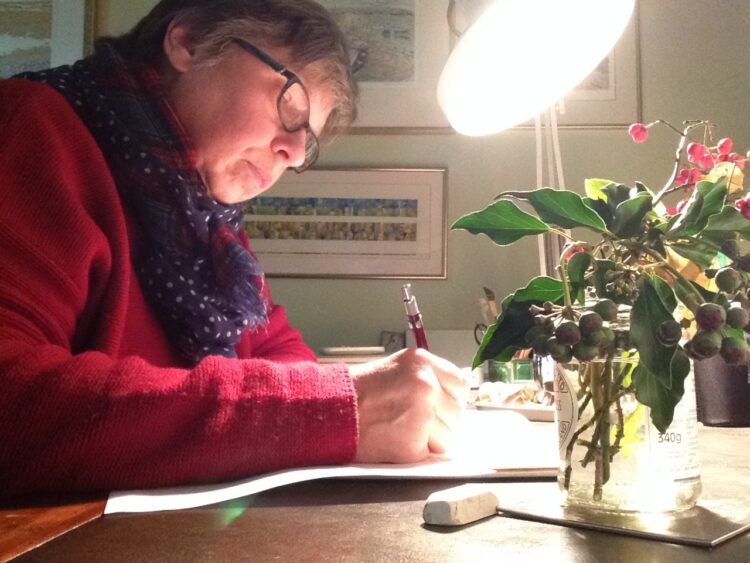 This month I chose the berries of spindle and the berries of ivy, both growing down at the bottom of the field near the Roman River. Spindle berries are extraordinary in colour – shocking pink, with bright orange seeds – but also in shape, being like three little heart shaped cushions squashed together. In their own way ivy berries are also extraordinary, being a sort of '1930s green' with a dark violet brown hexagonal end on a spherical berry. And the berries grow on individual stalks in groups forming a loose hemi-sphere.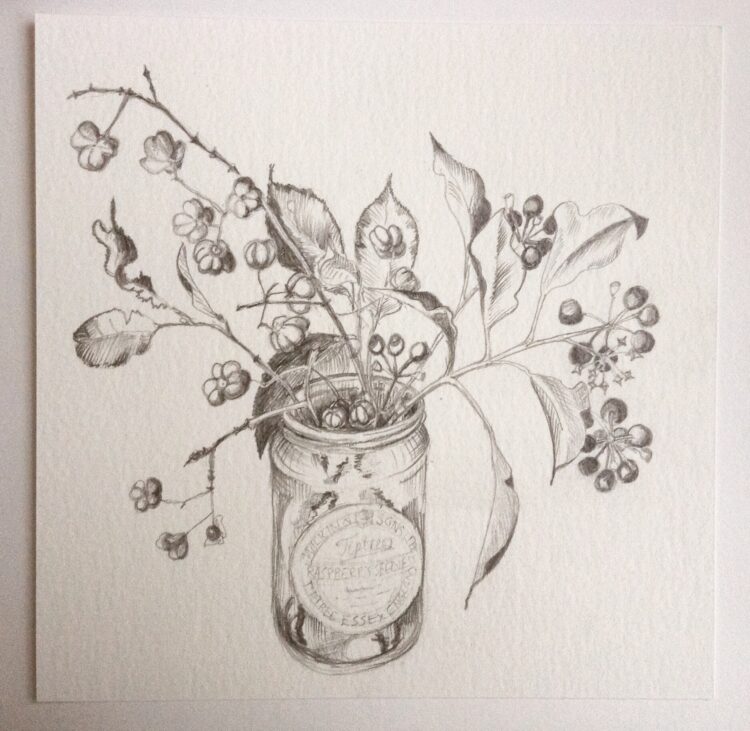 All, as usual in a Wilkin & Sons Ltd, Tiptree jam-jar. This time it was Raspberry Seedless, which could hardly have been less appropriate!
I am busy getting ready for my on-line Open Studio week at the end of the month. I collected two new mini-prints from Point Graphics my printers in Maldon, on Friday, and got some mounted up at the weekend. I am just completing the last of my little Autumn paintings, which, with the other three in the series, will be printed as a new greetings cards pack. The Christmas cards are all ready. The calendars for 2021 are already in the shop. And tomorrow I'm collecting a batch of painting frames from Framewerks, my framers of many years, to get some of my recent paintings framed. Watch out for the extra Open Studios email dropping into your email in-box this coming Sunday.
Hope you're all still doing OK. 🙂