Our Anglian Arts Project Exhibition finished a week ago at the Naze Centre in Walton on the Naze. Thank you to all those who visited us there, to the exhibitors who showed their work with us and the Centre staff who were so welcoming and helpful. It was particularly good to meet some of my newsletter subscribers in person!
It was a lovely venue, and I particularly enjoyed the view along the cliffs from the windows of our exhibition room, and walking on the beach when we finished each day. I even found my first ever fossilised shark's tooth!
Now it's on to the next thing! At present I am completing a commission painting of a very pretty round towered church in South Norfolk, and then I will be continuing with my Essex Paths & Bridleways series. I have been on several long walks recently gathering ideas!
I also have some dates for your diary! On the 2nd, 3rd and 4th December I am doing a Christmas Open Studio event at my house. We will be open from 10.30am – 4.00pm each day. There will be the opportunity to view (and buy!) all my recent paintings, plus my 2022 calendars, Christmas cards, and all sorts of other merchandise arising from my Essex Field project. More details nearer the time.
I've also been giving some thought to plans for next year. Yes, I know it's early to be doing that . . .  We have a provisional booking for an Anglian Arts Project exhibition at a newly opening venue in Woodbridge for a week over the late Spring Bank Holiday at the end of May. I am also working out the details of an entirely different painting project for next year, which will run alongside a more 'usual' one. The 'different' one I'm calling PAINT 7 – that's all I'm going to tell you at the moment . . . .!
I do hope you've been able to enjoy the lovely late summer/early autumn weather we're having at the moment – my favourite season of the year!  🙂
---
It seems a long time since the Barley Barn Summer Exhibition – I've been so busy since then that I'm only just dropping in here now with the update that we raised well over £4000 for St Helena Hospice in Colchester! What a result – we couldn't believe it. We sold over £5000 of art work in four days, and had a steady stream of visitors all the time. Each artist donated 25% of their sales, plus there were profits from the café, a raffle and donations.
For me personally it was very satisfying to see all of my Twelve Months in an Essex Field project work displayed together – the first time I have ever been able to do this with a painting project.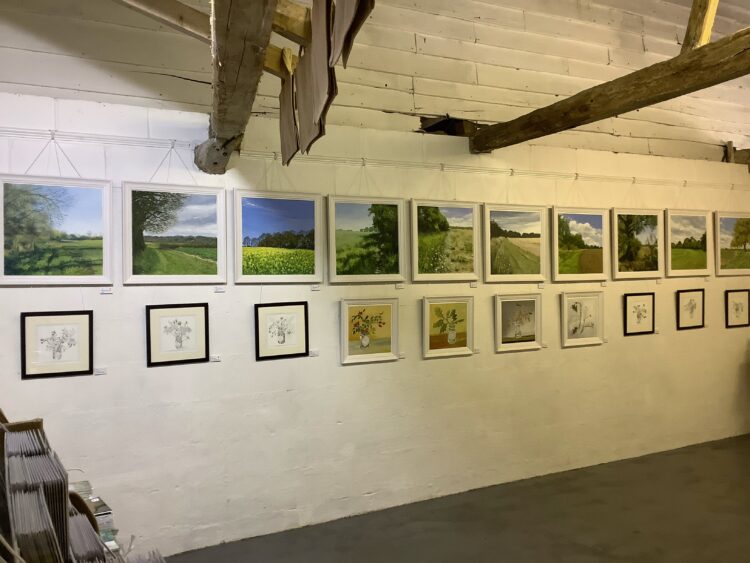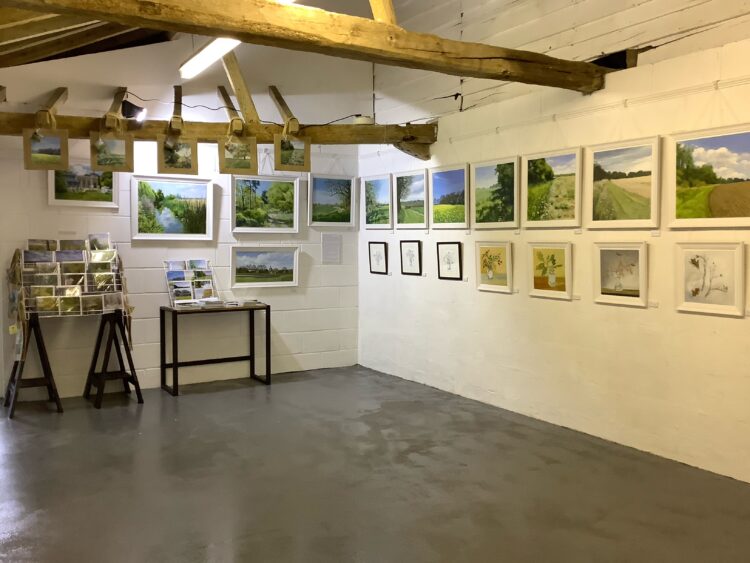 I have now sold six of the large monthly paintings, plus the 'extra' one Before the Rye Harvest. And I was delighted to sell two other paintings in addition to these, plus a lot of prints, coasters, cards, bags – and I only have four copies left of my Essex Field Book! The coasters with the Essex Field paintings on were particularly popular. Both the coasters and the Book are now in my website shop – click on SHOP on the menu bar above.
Now Graham and I are looking ahead to our next exhibition. This is our Anglian Arts Project Show at the Naze Centre at Walton-on-the-Naze in September.
As you can see we have twelve artists exhibiting, including me. Seven of them are 'new' artists that we have not worked with before, which is particularly exciting. Yesterday we started doing our pre-exhibition visits to the artists, going over to Fingringhoe to visit fused glass artist Cathy Constable. Hop over to our Anglian Arts page on the menu bar above to read about Cathy and her work – and keep checking back there as I will be adding information about each artist as I visit them. Next week I am visiting two more of our 'new' artists – Helen Maxfield and Julie Orpen.
Other news: I am still working at my Essex Paths & Bridleways series. A few days ago I added the fifth one to my 2021 Gallery page – this was Bridleway North of Oliver's.
And now I'm working on the sixth painting in the series. This one will be Path through Lexden Gathering Grounds, and here it is on the easel in my studio – this is as far as I've got . . .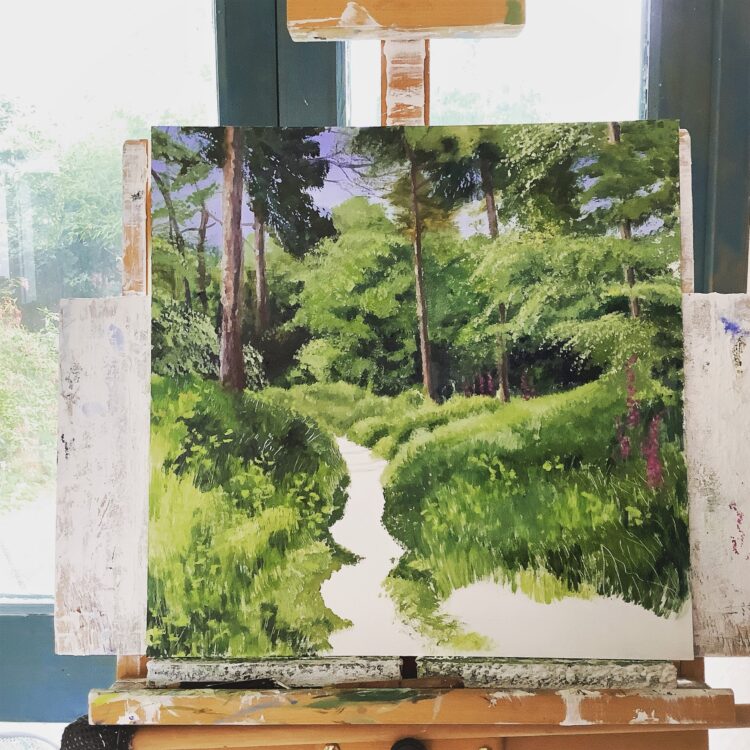 One more session should finish it I think, so I hope to get it done this weekend. The next one will be a farm track at Wormingford . . . I have had lots of positive feedback about this series, so I hope you are enjoying them as much as I am enjoying doing the walks and painting them! 🙂
---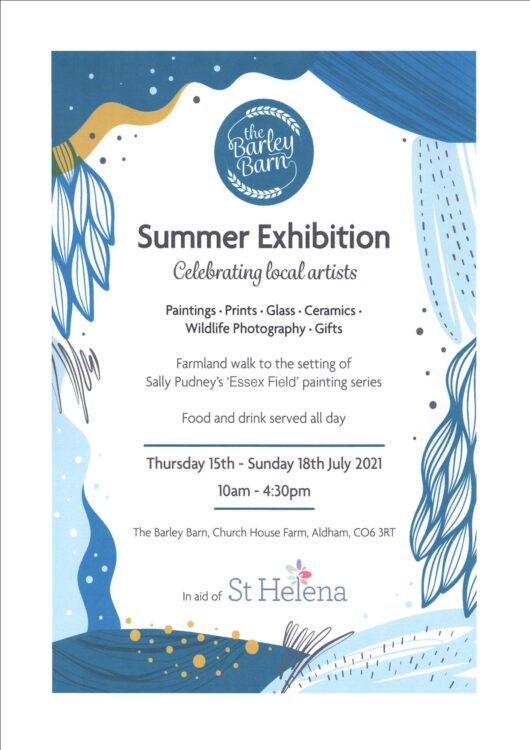 So – here it is!
The poster for the Barley Barn Summer exhibition, designed by Isobel Scott, daughter of Adam and Catherine who own the farm.
We thought it would be safely after 21st June, and all Covid restrictions would have been lifted . . . . but as that is not the case, Catherine has been working hard to ensure that the gallery and café are Covid safe. As far as the gallery is concerned you will need to sanitize your hands before coming in, and wear a face mask. Graham and I will both be wearing visors. Payment – should you choose to make any purchases – can be contactless on my new card reader. We may have to restrict the numbers of people looking round if we get a rush. However, the 'café' barn is huge, and the big  doors will be open to make it a very well ventilated space, so if you did have to wait to visit the gallery you could always have coffee and cake, or lunch, while you were waiting. Or take a walk down to The Field!
The postcode is for the farm only, so if you are using satnav it will take you straight there. Adam is putting up signs on the local roads, too, so watch out for those. Parking will be in the farm yard, in the huge open sided cattle barn. It is only a few steps from the gallery, although there are a couple of steps up.  There is a toilet block just outside the gallery, too.
My house is overflowing with all the things I am preparing for the show. As well as the thirteen large paintings, there are four smaller paintings, and six framed snippings drawings, all of which will be hanging on the walls. I'm also taking about nine other paintings of the local area. In the print browser will be the other six snippings drawings, mounted but unframed, plus limited edition mounted prints of some of the big paintings. There will also be the coasters – some with painting images on, some with snippings drawings images on. Also some jute bags with painting images on. Also greetings cards and postcards. And the book Twelve Months in an Essex Field, which I am particularly proud of!
We are all so excited about this show, and I am so looking forward to seeing some of you again, and talking about my work and the work of the other artists who will also be showing. If you have been following along since Lexden Arts Festival days you will probably remember Anne Townshend and her beautiful lino prints? – I am looking forward to exhibiting with her again. Two of her friends are also showing – Julie Orpen and Georgie Finn. There are other print makers and watercolour painters, and a glass artist and a ceramic artist exhibiting, too – all of whom are friends of Adam and Catherine.
So lots to look at, lots to look forward to! 🙂