The end of August – where did it go?? – so time for the next canvas print up on the website. As before, this is a limited edition of just six, the canvas is mounted onto a sturdy wooden frame, and is ready to hang – or it could be framed, just as you chose.
White dinghy on the mud – this was a dinghy at West Mersea, resting on the mud in the sunshine, just after the tide had gone out. I really enjoyed painting the reflections in the wet mud, and the rusty chain abandoned on the sand in the background.
Happy September! I feel quite ready for autumn now, and all the good things it will bring. 🙂
---
Yes, I know it's August – but my new Christmas cards arrived yesterday from moo.com, and I wanted to share them with you.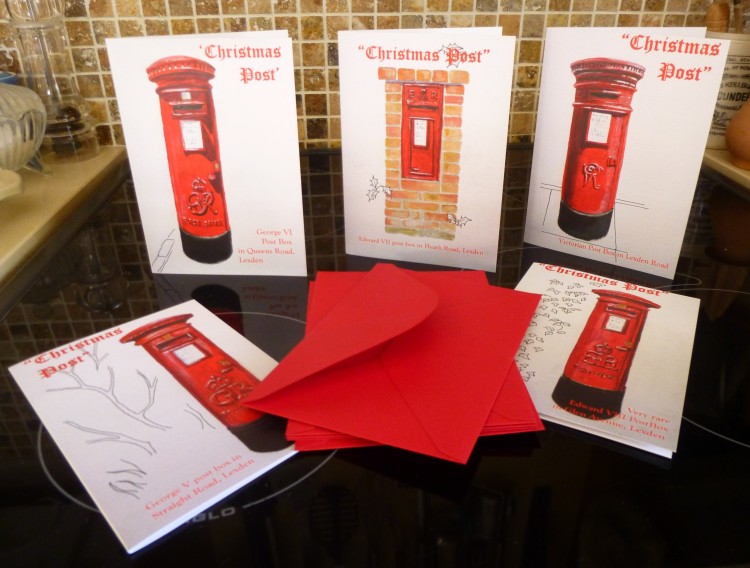 The idea, you may remember, was to paint an example of a post box from the reign of each monarch, finding them all in the roads of Lexden, where I live.
The earliest boxes there are date from the reign of Queen Victoria, when the letter post first began. My Victorian box is from Lexden Road – the main road into Colchester from the west.
My King Edward VII box is from my own road, Heath Road, and is, in fact, contemporary with my house which is also Edwardian.
The next one is King George V, which is on Straight Road, then a very rare King Edward VIII box in Glen Avenue. As he was never crowned – he was the King who abdicated as I'm sure you remember! – there were hardly any post boxes with his cypher, in fact only two in East Anglia.
Lastly there is a King George VI box in Queens Road.
Each of the cards says 'Christmas Post', and then the date and location of the post box in smaller writing. I added the text to photographs of the paintings, and then had them printed by moo.com, and I went for red envelopes as I thought they would be more Christmas-y. I shall be selling them initially in bundles of five, one of each design, at Open Studios, but I shall also have some individual cards for sale.
I've been framing two dinghy paintings for the Geedon Gallery today, as they will need to go over very soon – Poppy on the Blackwater, and Waiting for the Tide.
Friday again tomorrow – where has the week gone! Hope yours has been a good one! 🙂
---
I had to stay in to wait for a parcel today, and as I can't hear the door bell in the studio, that meant stay in the house! So while I was waiting (the parcel didn't come till 3.30pm!)  – AT LAST!!! – I finished piecing the patchwork I started in spring last year . . .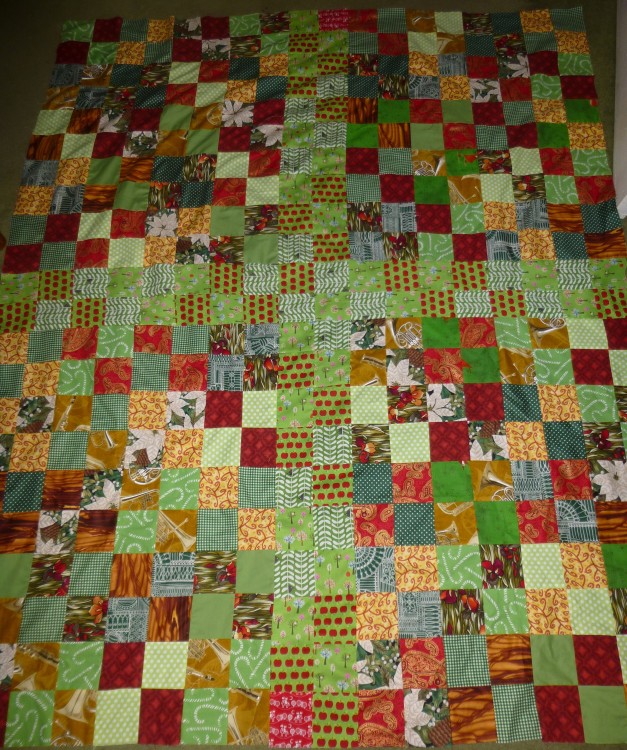 The idea for the pattern and the choice of colours came from Kaffe Fassett's book, 'Glorious Patchwork' – I think he called it 'Rosy Leafy', and the general idea was to have one group of colours which were all leafy and mossy greens, and one group which were rosy, rusty, reds, bricks and ochres. The design is built up using 'four patch' with two matching 8cm squares from each colour group in each big square. For the central cross pattern I used fabrics which appear nowhere else in the design, and I made up a repeating pattern to complete this.
If you look closely it is not very accurate – lots of corners which don't match, lots of squares which are not quite square . . . . . but it's my first attempt and I'm just going with it!
I need to get the batting now, and decide on the colour for the backing fabric and the binding.
Yesterday I designed and printed off the invitations for Open Studios – that's another job ticked off my list. And tomorrow I should get the first batch of my 'Post Box' Christmas cards, from moo.com. I'm really excited to see how they've turned out – I'll post a photo of them tomorrow! 🙂
---
TWO parties this weekend – most unusual for me!!
Elizabeth was celebrating her 50th birthday with a weekend camping at Ivy Farm, at East Mersea. The weather on Saturday, when I went down to join them, was wonderful – really hot (almost too hot) with a cloudless sky, and later a beautiful sunset. They had made the campsite look lovely, and all sorts of celebrations took place, with multiple birthday cakes, and singing and ceremonies.
More celebrating on Sunday, when Christina had a house-warming garden party at her new home in Wivenhoe. It rained! – but we rose above it, and it turned into a conservatory-and-gazebo party, and everyone enjoyed themselves and there was more delicious cake, and I'm sure Christina feels her house is now well warmed!
It's pouring with rain again this morning – in fact it is so dark (and this is 11.15 in the morning) that I almost need the light on!! – but my main job for the morning is designing the invitations for my Open Studios weekend so I'm very glad to have an inside job! The invitation list seems to get longer by the day . . . . .
Lots to do this week! Hope your week has got off to a good start 🙂
---
The latest in the 'From my Garden' series – I can't believe there are only four more months to go . . . .
This one shows the dark blue Agapanthus which I bought from Bodnant Gardens a few years ago when I was visiting my friends in Bangor in North Wales. It has done amazingly well this summer and has had 21 flower stems! I could hardly bear to cut any! – but I put just two into a violet-blue mug by Old Leigh potter Richard Baxter, which I bought when he was exhibiting with us earlier this year at the Lexden Arts Festival. I LOVE the beautiful glazes he uses – they have such a depth of colour, and this one almost matched the colour of the flowers!
I hope you are enjoying seeing these little flower paintings – I wonder which is your favourite so far?
Friday tomorrow – Yay! 🙂
Don't forget the free give away I am running at present  – look for the post titled 'Jute Bags' for all the details. There's just over a week to go! To leave a comment click on the BLUE post title in the box on the right of your screen and a comments box will open under the post. I've had some lovely suggestions so far.
---
Getting some things prepared for Open Studios! I'm taking part on the 26th and 27th September, and I know the time will fly past and it will be the end of September before I know it!
On Sunday I cut each of the rectangles of felt that I'd bought into four right-angle triangles – I'm sure they have a mathematical name but maths was never a strong point . . . . . . Yesterday I sewed all the triangles together, making sure they were all the same way round, to make enough felt bunting to string across the front of my house over the front door. I thought last year that it didn't look sufficiently festive – so this should help!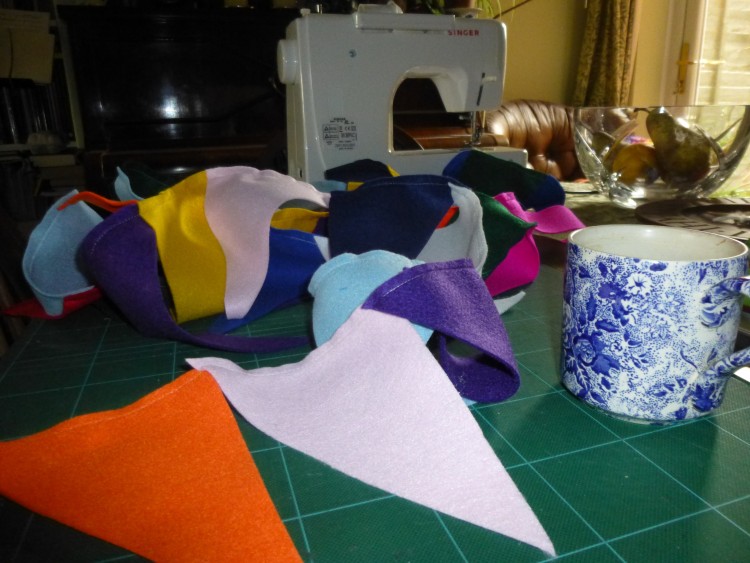 I got the idea for felt bunting from the wonderful Fabric Rehab shop at Dedham, and it is so quick and easy, with no hemming or raw edges to deal with, and the felt comes in lovely bright colours. So that's another job ticked off my list!
It has rained non-stop today, but I've spent a nice afternoon in the kitchen making a big chocolate cake for a friend who is poorly, and the house is smelling wonderful. Everything seems a bit better with cake! 🙂
---
As promised yesterday, here is my new painting, 'Essex Field Path II'
It is of the fields on the west side of the B1058, looking north down into the Stour valley, and the border between Essex and Suffolk. I have painted from this field before, when I did 'Before the Harvest' last year, but this is from a vantage point further down the field, from where you can actually see the white painted footpath sign in the distance. It is also earlier in the year, when the wheat still has that beautiful greenish -gold colour.
Don't forget the free give away -just leave me a comment to say which image you would like printed onto a jute bag before 30th August and one lucky reader will be randomly chosen to receive their bag. To leave a comment click on the BLUE title in the box on the right of your screen, and a comments box will open at the foot of the post. For all the details see the 'Jute Bags' post.
Hope you're having a great weekend. 🙂
---
A day off from writing notarial faculties yesterday – my friend Susan and I had a day 'National Trust-ing' and went down to Ightham Mote, near Sevenoaks in Kent. A beautiful moated house in a steep valley, the oldest parts dating back to the 1300s.
It has such a lovely atmosphere, and despite the terrific thunderstorm in the middle of the day, we very much enjoyed our visit. The house is open from 11.00am daily, with the Café and gardens open from 10.30am – I'd really recommend a visit if you are in the area.
Tomorrow I'm hoping to finish off my latest painting and get it up on the website – I know it will be called 'Essex Field Path II', but it just needs a bit more work on the foreground.
Friday again – Yay! Hope you enjoy the weekend, whatever you have planned. 🙂
---
It's been a busy few days!
Last Friday I had a visit from one of my Yorkshire cousins, Jennifer – a nice reason for making a proper cake as we are now in Bake Off season! – so it was a Victoria sponge filled with homemade raspberry jam.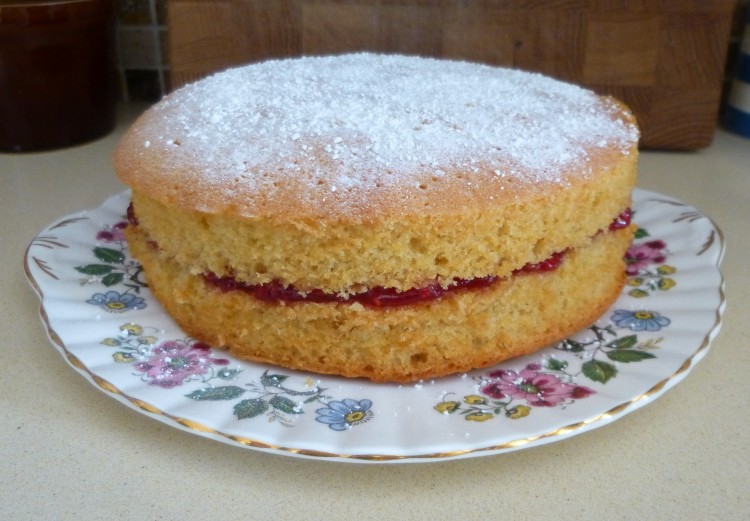 On Saturday I took an old friend, artist Stella Brand, to The Gallery in the Garden at Great Saling. This was a new gallery for me, and I was impressed by the lovely airy space, and the light which comes in from the south facing windows overlooking a huge walled garden.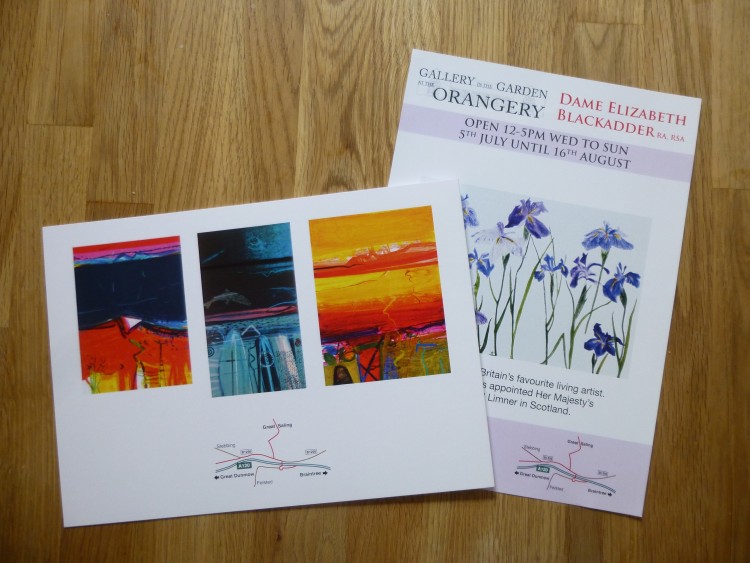 The show was work by Dame Elizabeth Blackadder RA RSA, which runs until 16th August, and this is followed by an exhibition of work by Barbara Rae CBE RA which starts on 23rd August. The Gallery is open from Wednesday to Sunday, 12-5pm. There is a café area at the end of the gallery, with more seating out in the garden, and we had tea and delicious cake – more cake!
Since Sunday I have been busy printing off my calendars ready for Open Studios. I use Staples double sided Brochure and Flyer Paper, which is expensive but it is worth it because there is ABSOLUTELY no show through, and it has a lovely velvety surface. And I set the printer on 'Best Photo' which  means it uses masses of ink, and takes forever to print each sheet, but it gives a very good result. Prompted by requests from people who bought last year's calendars, I have added a sheet at the back stating the title and location of each of the 13 paintings. At the moment the loose sheets are stacking up on the kitchen table, waiting to have their spiral binding.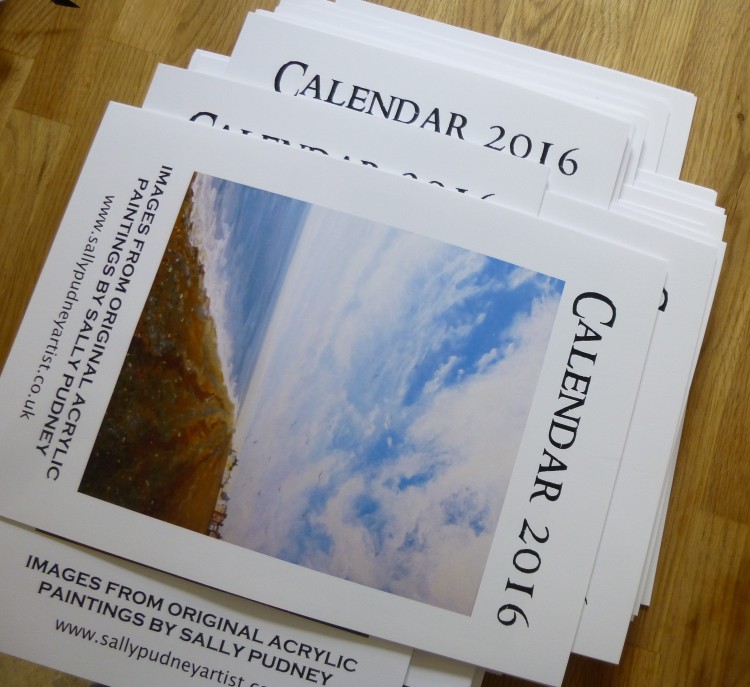 While the printer has been churning away I have been busy completing notarial faculties for the Faculty Office in Westminster – I've finished three so far this week, for Cambridge, Kent and New Zealand! – and painting – I've nearly finished a new landscape which is rather similar to 'Before the Harvest'. It is the same field but it is earlier in the year, when the wheat still has that lovely greenish tinge, and it is from a spot further down the field where the field edge path is more visible and the slope is steeper. Watch this space!
Hope you're having a good week, with lots of good busy-ness! 🙂
---
The Jute bags that I had made for my ARTSTUFF stall were very popular, and I'm planning on getting more of the large size made for my Open Studios weekend at the end of September
The larger bags (right and bottom of the photo) are 47 cm wide, and 32 cm high (excluding the handles) and open out to a depth of 18 cm, so they are  very roomy. They have nice soft woven handles, and an image of one of my paintings printed on one side. They are of course useful for shopping, but would also make great beach bags, or be a useful and inexpensive present.
SO – what I want to know IS, which images would be best to have printed onto them??? This is where you come in!
It can be any 'landscape' orientated painting (wider than it is high) from any of the Gallery pages. Chose which image you would like to see, and leave me a comment with the name of the painting you have chosen. On Sunday, 30th August at 4.00pm BST I will randomly choose a comment, have the winner's chosen design made up, email them for their postal address – and one lucky reader will get their bag in the post.
UK MAINLAND ADDRESSES ONLY (Sorry!)
To leave a comment, click on the BLUE title 'Jute Bags – free give away' in the box on the right hand side of your screen. A comments box will open up at the bottom of this post.
So get browsing and good luck! I will be so interested to see what you choose! 🙂
---
After lunch on Sunday I dived into the mammoth job of clearing out, cleaning and re-ordering my studio!
It was never built as a painting studio, but as a wood-carving workshop, as in the 1990s I was learning to do letter carving in wood. For all sorts of reasons I didn't continue with this, but when I started painting seriously in 2005 I was so lucky to have a ready made studio. I had never really 'sorted' it as a painting studio, though, and all sorts of strange arrangements had crept in. The power socket for the heater, which I use all the time in the winter, was only accessible by a huge stretch across the bench. All the stuff for picture framing was on a shelf I could hardly reach because there was so much other stuff in front of it. Rolls of bubble wrap, for packaging paintings going off to exhibitions, were stuffed in wherever they would fit. There were loads of old picture frames that I would never use, and bits of all sorts that I had kept because they 'might be useful'!Everywhere was muddled and cobwebs had reached epic proportions. Time for some action!
Two and a half days hard work later, and I have a clean, tidy studio, with everything that I use regularly in a place easily to hand. The heater is just inside the door, instead of in the far corner. EVERYTHING has been taken out, ALL the rubbish sorted, and IT IS ALL NOW CLEAN!!!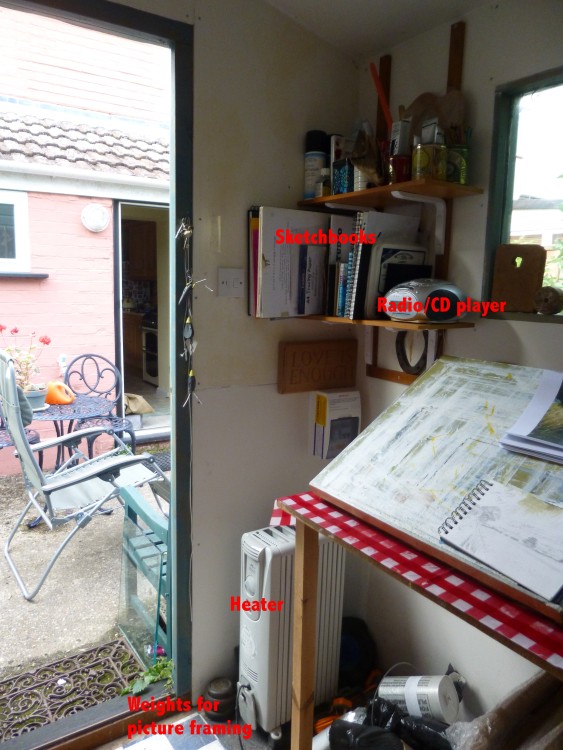 All I've got to do now is go to the tip with all the rubbish!
I will leave you today with a shot of colour to brighten your Wednesday – the agapanthus are now fully out, and here are the two biggest pots of them.
Happy Wednesday! 🙂