Just finished this morning – my tenth painting in my project Twelve Months in an Essex Field.
This is down at the bottom of the field, near the Roman River, and shows the rye coming through, several inches high now. The field maples are showing their autumn colour quite strongly.  The field was also very muddy down at the bottom there – it will be back to wellies and a walking pole next month!
My snippings drawing this month is of hazel twigs, with next Spring's embryo catkins already formed, along with the slender leaves of willow, whose twigs already have next year's buds visible, and field maple with winged seed pods ready to fly in the autumn winds and grow into new trees. The leaves are colouring, twisting and drying ready to fall, but the promise of next Spring is already in evidence.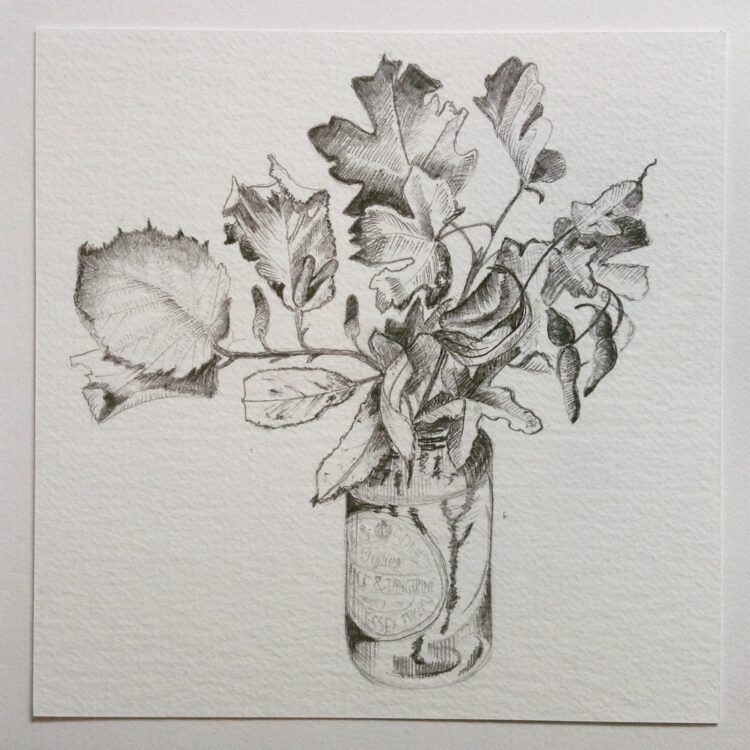 Open Studios: As I mentioned in my last post, Covid restrictions mean that my November Open Studio event will have to be a 'virtual' on-line one again. I will be running an Open Studios week from Saturday, 28th November to Saturday, 5th December. Just prior to this week I will be releasing new Christmas cards, limited edition prints and greetings cards packs in the shop. I will mark everything as either POSTING OR COLLECTION or FOR COLLECTION ONLY as I did in June.
I will be sending out an extra email newsletter on Sunday, 22nd November, with all the details,  so if you are interested make sure you are signed up to receive newsletters.
Go to the Home page of my website, scroll down to the bottom of the page, add your email address in the box and click subscribe. It's as easy as that! I normally send out a newsletter on the last day of each month with information on new paintings, exhibitions, the Anglian Arts Project, new merchandise and plans for the future. You can unsubscribe at any time if you are no longer interested.
Hope you're all ok and coping with whatever Covid restrictions you have where you live! 🙂
---
Last time I went to the field I brought back rosehips and oak twigs, which now feature in two tiny paintings – just 30cm square.
They are both in Wilkin & Sons Ltd of Tiptree jam-jars. The rosehips in Little Scarlet, which seemed appropriate, and the acorns in an Orange & Tangerine marmalade jar!
This morning I went over to my printers, Point Graphics Ltd in Maldon to collect my newly printed calendars for 2021. It is called East Anglian Coast and Countryside. It features paintings from two of my painting series from last year, On the Edge: The North Sea, and Summer . . .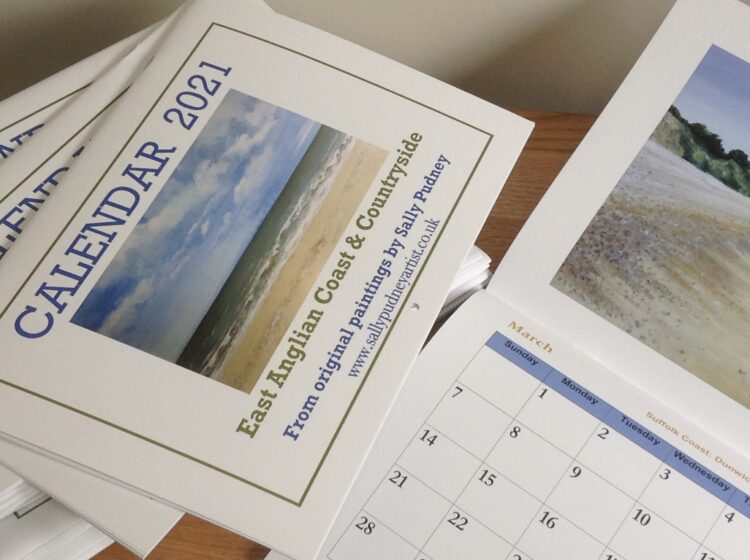 I am delighted with how they have turned out. As always, the colour reproduction is spot on! They will be going in my website shop in the next day or two priced £16.00 which includes free postage and packing to any UK address.
In my Studio: I will be making my October farm visit when the weather brightens up and starting my Essex Field: October painting. In the meantime I am starting an Autumn . . . mini series of small paintings. I think they will be Autumn in the Woods, Autumn in the Field, Autumn in the Orchard and Autumn on the Allotments – but this could change! This is the Autumn equivalent of the Summer . . .  series I did last year, and will also be made into a pack of greetings cards when I have finished all four paintings.
Covid news – bad news – You may have heard that Essex has just been moved to Tier 2 of the Covid restrictions starting from midnight tonight. There is not a tremendous number of cases here at present, but apparently there is concern that the number of cases is rising very rapidly. The main impact of this is that one is not permitted to meet with anyone from another household indoors. This means, of course, that unless the county reverts to Tier 1 very swiftly, which does not seem likely, I will be unable to hold my November Open Studio event, as that involves people coming into my house. I shall organise another online week, as I did in the summer – not the same but the best I can do at present. I really miss not being able to talk to all you lovely visitors, and tell you the stories behind my work.
We must just hope for better times next year. Stay safe and well! 🙂