It is getting very close to the release of the first set of little paintings in my year-long PAINT 7 project. The first 7 paintings will launch on 1st February, for Imbolc and Candlemas.
The Festival of Imbolc marks the beginning of Spring – but of course it is not really Spring yet! It is often described as the quickening of the year – the time when Spring becomes a possibility, a time of new beginnings and rebirth.
In the Christian church at Candlemas we remember the Presentation of Christ in the Temple. The baby Jesus is taken by his parents to the temple, and the very old man, Simeon, recognises who this baby is, and what He will become. Simeon's words, which we sing as the Nunc Dimittis in the service of Evensong, say:
"Mine eyes have seen thy salvation which thou has prepared before the face of all people; a light to lighten the gentiles, and to be the glory of thy people, Israel"
A possibility is perceived, and a new beginning acknowledged.
All the quotations for PAINT 7 are taken from the poems of e e cummings, an American 20th Century poet, renowned for his unconventional use of capitalisation and punctuation. The quotation that I have chosen for Imbolc/Candlemas is:
"now i lay me down to dream of spring"
The colours associated with Imbolc in the Celtic tradition are white, silver and green. I added some warm grey to give more depth, and Pearlescent Tint to give a silvery sheen to some of the colours. These are the paints I used, plus a Caran D'Ache crayon in a pale sludgy green. The Lemon Yellow was just to lighten the Chromium Oxide Green and make it fresher and more Spring-like.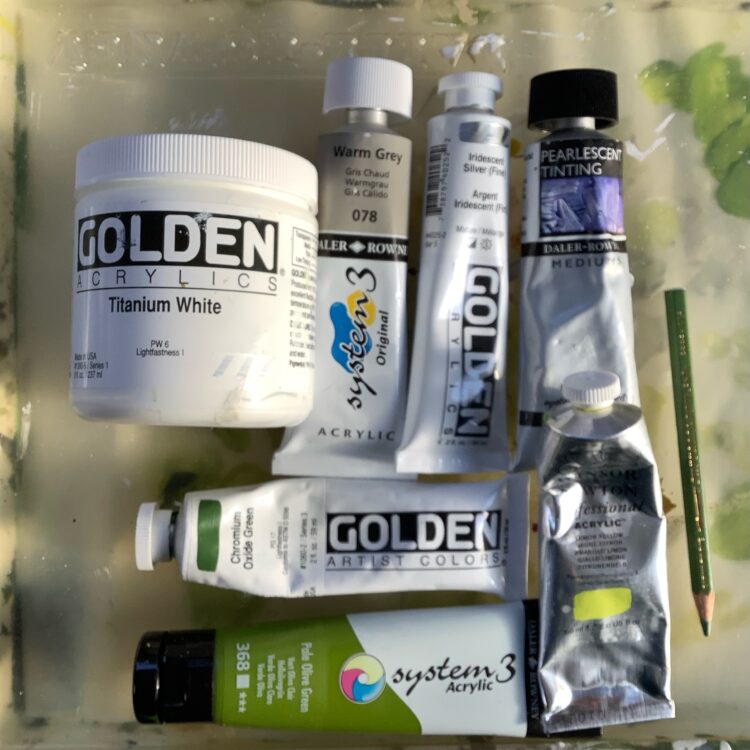 I created a design with the quote, using upper and lower case freely, as the poet himself does. The letters formed a kind of net. The negative spaces between the letters formed potential colour fields into which I could paint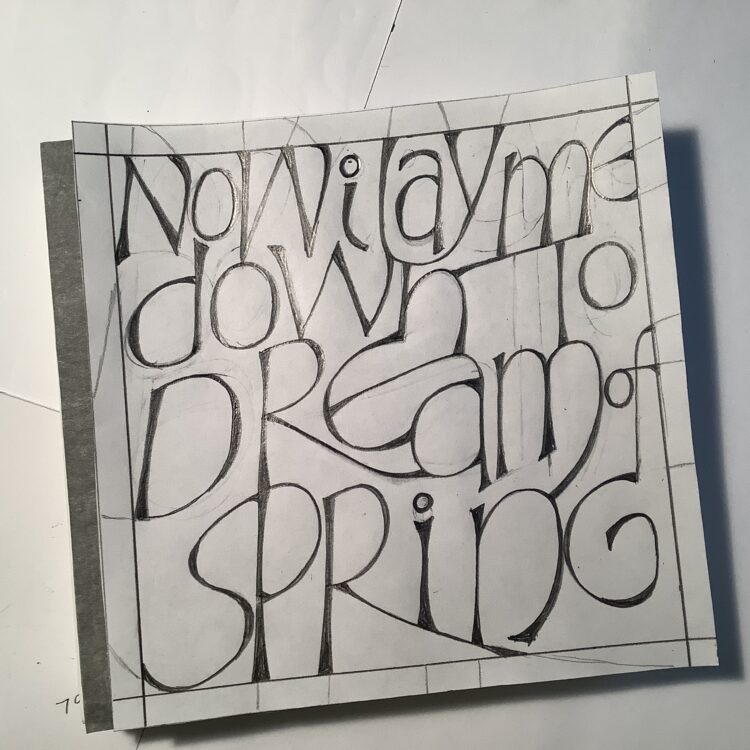 I traced the design down onto seven gesso panels, and started painting in the spaces, making all seven as close to identical as I could.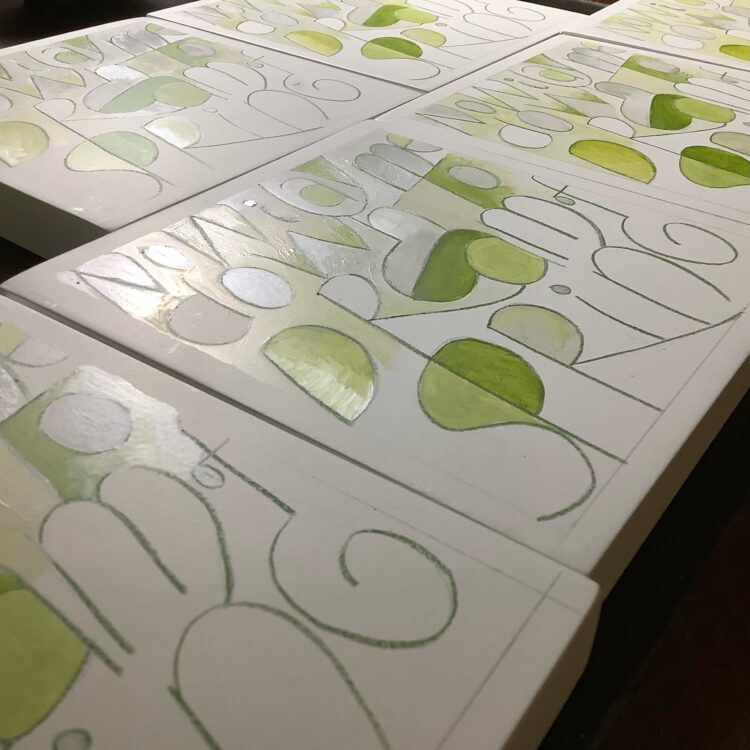 When I had finished painting them all I framed them in simple white wood tray frames.
Here is the result!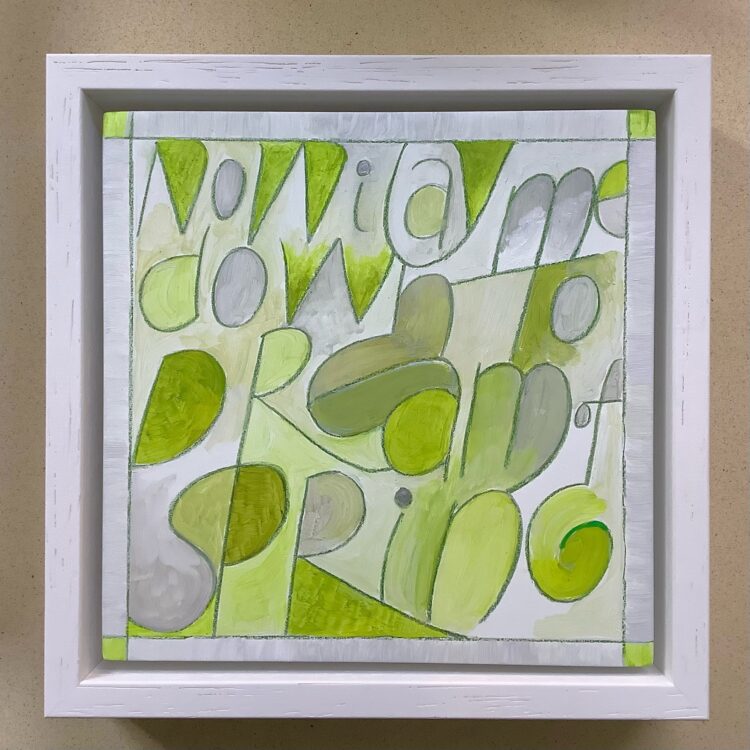 So, here are all the facts!
There are seven near-identical paintings which will be available on the PAINT 7 page (see menu bar above) from 9.00am on 1st February.
They are 15cm (6 inches) square, and in their frames they are 18cm square.
They will be £67.00 each, which includes packing and postage to any UK mainland address.
They each have a label on the back with the number of the edition for that season – e.g. Imbolc 1/7, Imbolc 2/7, etc. and the quotation is written out in full.
They are strung on the back for hanging, although they will also stand on a shelf or a bookcase, a mantlepiece, piano . . . .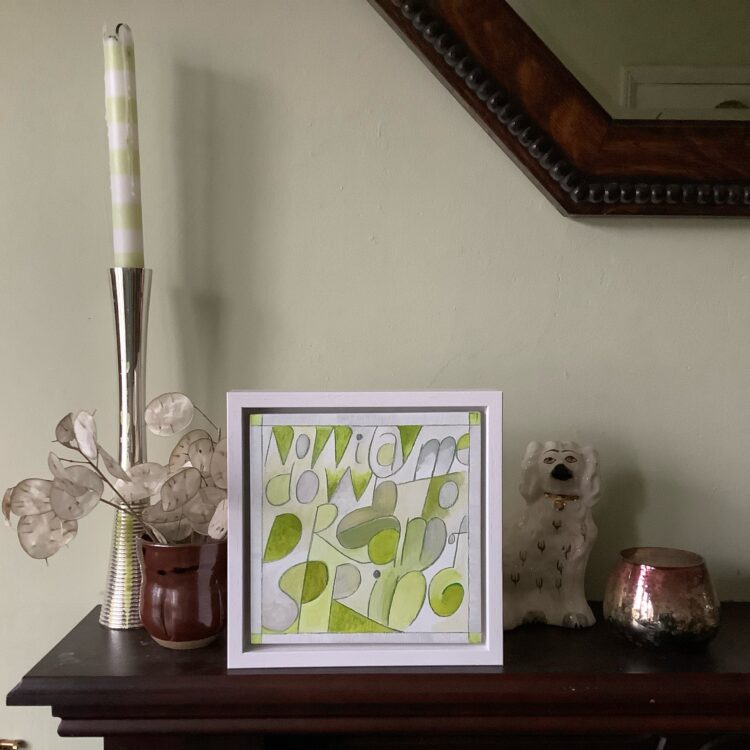 When (if – I am hoping!) all seven have sold I will remove the descriptive text on the PAINT 7 page and replace it with SOLD OUT. Please don't try to buy one if you see this, as it will involve us both in complicated re-payments!
Well, it's something really different, isn't it! – do let me know what you think!:)
---
On a beautiful sunny day last week I decided that it was time to get my new painting project Twelve Months on an Essex Island underway.
The Essex Island is, of course, Mersea Island. I packed up my rucksack with sketchbook, pencils and graphite sticks, camera and binoculars and set off.
I had planned to go right down to the Hard at West Mersea and walk along the sea wall, with views across the Strood to the mainland at Great Wigborough. The Strood, for those who are not local, is the causeway across to the island, which is often covered in water at high tide. I walked right down there, past all the houseboats, and the boat yard, and the oyster sheds. But I found that the road was completely blocked off, even to pedestrians, by Men At Work. I think it might be something to do with flood prevention.
So, Plan B. Down the steps onto the Monkey Beach.
It was the most perfect winter's day. The sky a deep cobalt blue overhead. On the horizon, looking out to Bradwell it was hazy, misty. The sea glittered dazzlingly in the sun. It was so calm that only the smallest rippling waves stirred the surface.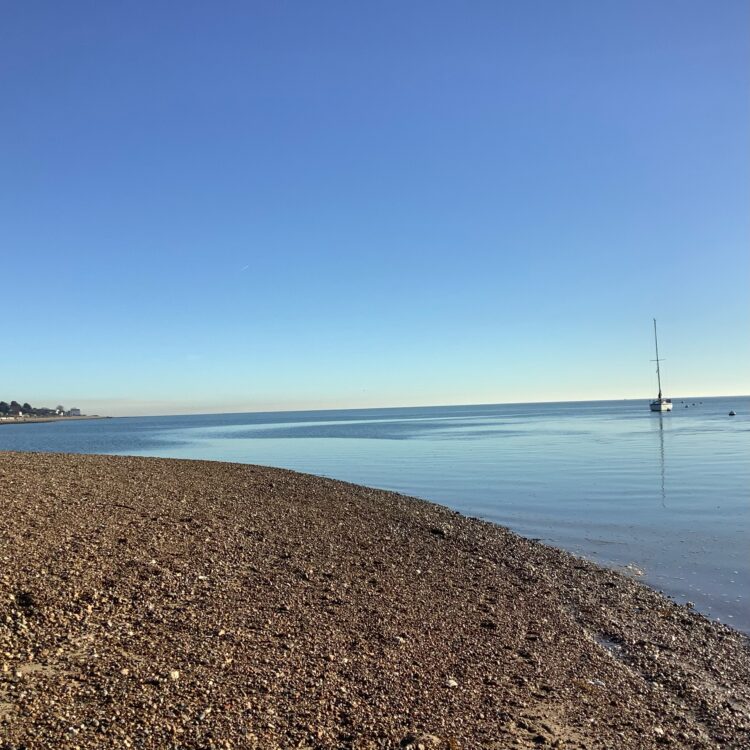 There were a number of smacks and smaller boats at anchor. Far down the Besom Fleet, near the Hard, I could see clouds of gulls, and heard their distant screaming. I think one of the small fishing boats must have been unloading. After a while the gulls began to move up the channel towards where I stood, along with oystercatchers warbling their lovely cry. I saw groups of cormorants flying out to sea, and a group of Brent geese flew in and landed on the water close to the shore. They appeared as dark silhouettes against the brightness. It had been high tide around 8.30 that morning, and the tide was dropping now quite fast leaving the shingle wet and glistening in the sun.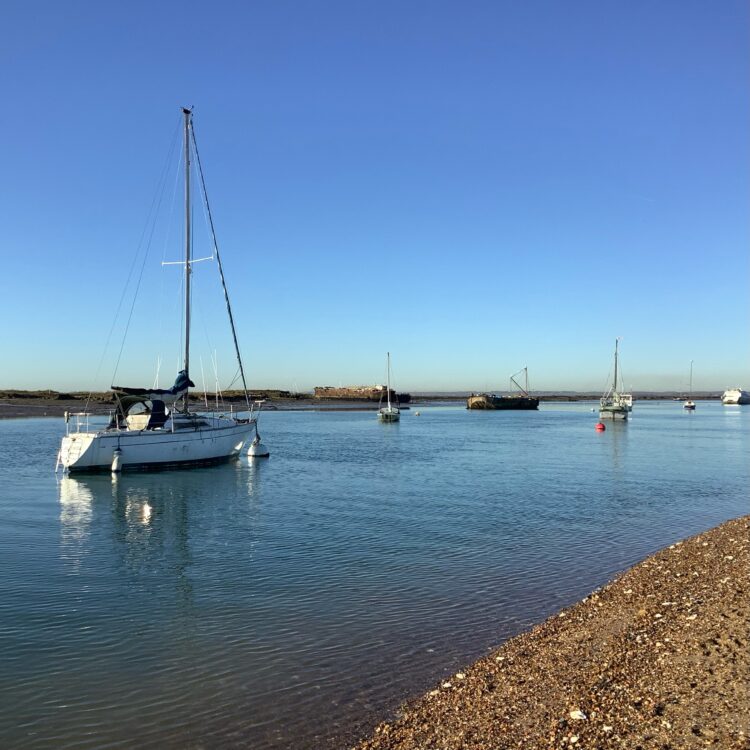 I sat on the remains of the old pill-box on the beach, and did some drawing, and picked up various interesting shells and stones for my Findings drawing for this month.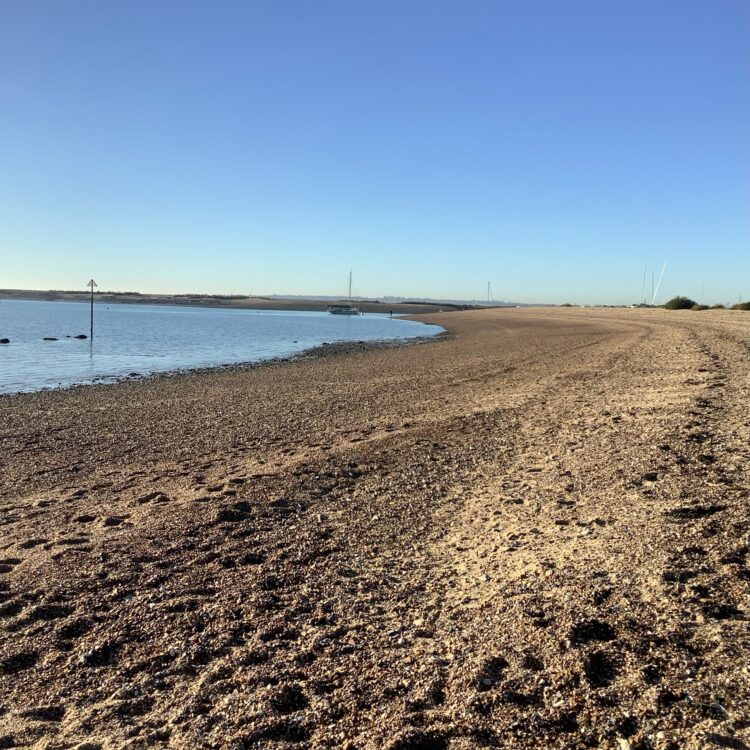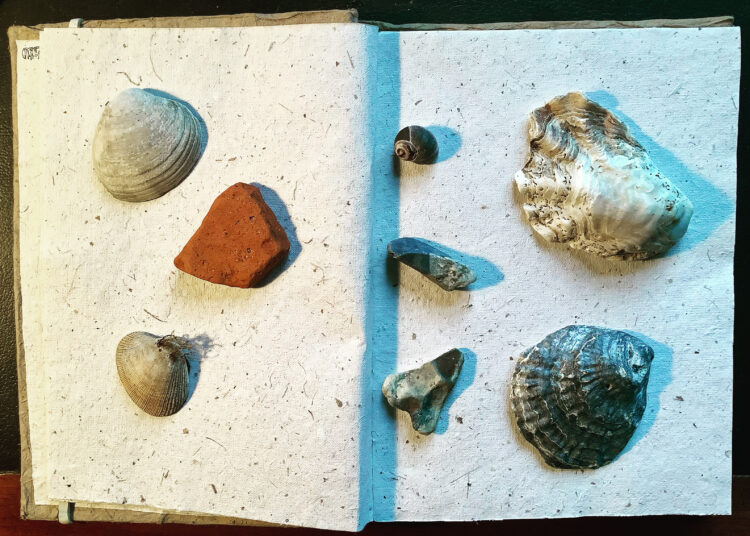 I am looking forward to starting my January painting – I started priming up the board yesterday – and I shall be drawing the shells in the next day of two.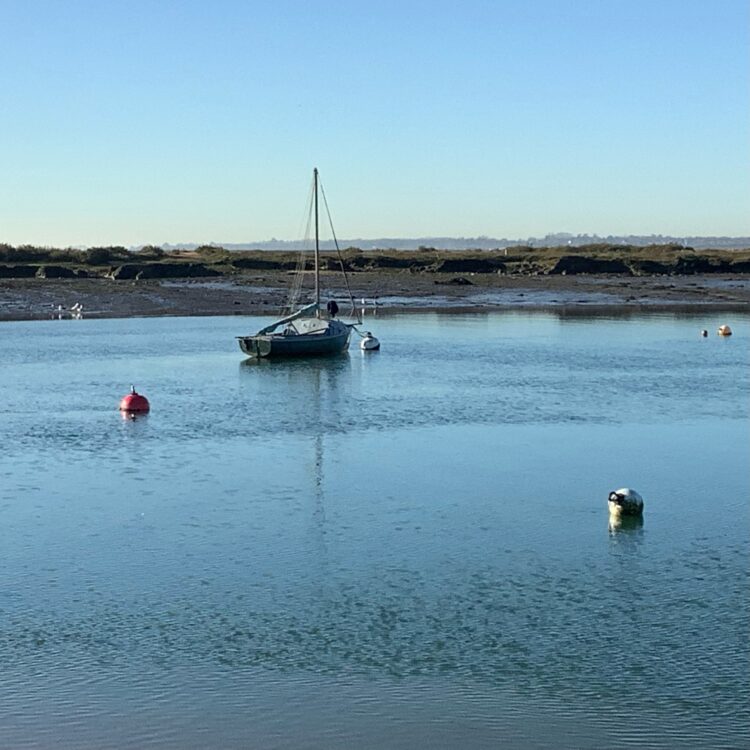 In other news: I have finished painting the first set of my PAINT 7 pictures and will be framing them later today!! 🙂
---
Hello, and Happy New Year!
It is ages since I wrote anything on this blog – two months! – but this is going to change. I intend to use it a lot this coming year, particularly to document one of my new painting projects.
I am going to carry on with my Essex Paths & Bridleways series, but I am also launching two new series. I think 2022 is going to be busy! So, let me tell you about them . . . .
Twelve Months on an Essex Island: If you've been following me for a while you will recognise that this is the third in my Twelve Months projects, following on from the Essex Wood (2016) and the Essex Field (2020). 
The new project will be about Mersea Island, just off the Essex Coast about nine miles from my home. It is connected to the mainland by a causeway, which is sometimes covered at high tide! (I definitely need to buy a tide table . . . ). I will be doing a monthly series of paintings. There is a lot of scope – the beach, the salt marshes, the sea wall, the fields and woods, the churches, the beach huts. I will also be doing another series of drawings, as I did with my Essex Field project. This time, instead of snippings I shall have findings, which I know will include shells and stones from the beach. I will record notes about what I see and hear, and the seasonal changes, and at the end there will be a little self-published book, just as there is for the Essex Wood and the Essex Field. These two previous books are both available to buy on my SHOP page – click on the menu bar above.
PAINT 7: My second painting project is going to be something completely different! I will be launching a series of little 'lettering' paintings . . . .  So what's the back story on this?
As some of you may know, I used to do a lot of calligraphy and painted lettering art. In recent years I have only continued to do very formal work, the calligraphy for the Archbishop of Canterbury's Faculty Office, updating a few church remembrance books, and the odd incumbents' list.
For the last few months I have been mulling over the idea of some kind of work released as a limited edition at specific times of the year. The way that Imogen Ashwin (@theoldshopnorfolk on Instagram) releases her seasonal candles, and Elise Blaha Cripe (@elisejoy on Instagram) has worked through her Make36 project for each month of her 36th year, gave me all sorts of intriguing ideas.
On January 8th I will be 67. I started thinking around this number and I thought that I could make 7 somethings and release them in batches of 7, at 7 times through the year. I went through all sorts of ideas about what the somethings might be.
I wanted them to be quite small (postable), related to the specific times of the year (Festivals?), completely hand made (not one of my merchandise things, like the coasters), and for £67.00 to be a reasonable price.
I remembered a lettering idea which I had used for tiny works a few times, and enjoyed a lot but had not really explored. Here are a couple of examples, both little zig-zag books.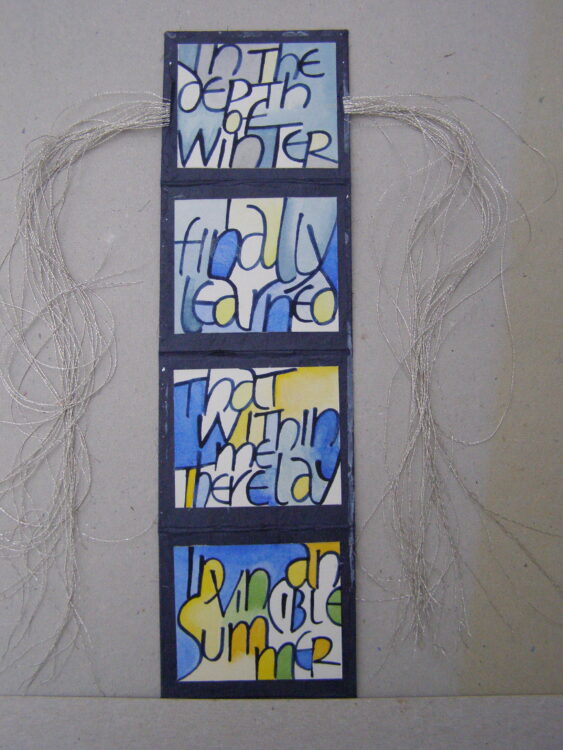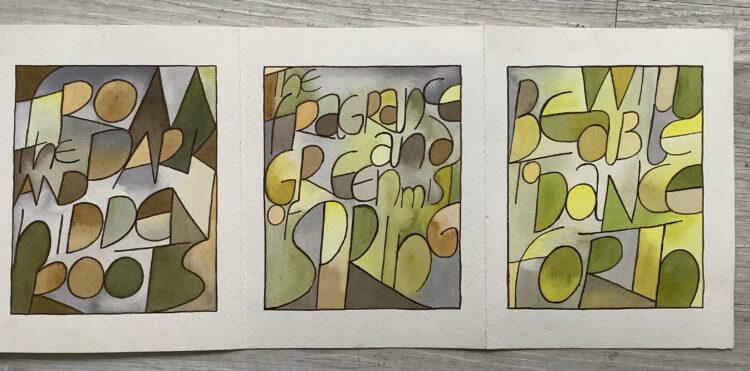 From then on the whole project came together really quickly.
I would use very short quotations from e e cummings
I would make the words into a lettering 'net' on 6 inch square gesso panels
I would paint seven versions of each quote, as near identical as I could
I would frame them in simple white tray frames
I would launch seven of these little paintings at seven times though the year.
The seven times will be:
Candlemas/Imbolc 1st February
Vernal Equinox 21st March
May Day 1st May
Summer Solstice 21st June
Lammas 1st August
Autumn Equinox 21st September
Winter Solstice 21st December
So there will be 7 Imbolc paintings, 7 Spring Equinox paintings, and so on.
The examples in the photos just use watercolour, but i will use acrylic paint, including metallic and iridescent paints, oil pastels, inks, soft pastels, gold leaf . . . .
Each painting will be £67.00 including packing and postage to any UK mainland address.
I will document PAINT 7 on this blog, on my Instagram account @sallypudneyartist with the #sallypaints7, and in my newsletter. I will be sending out an extra PAINT 7 newsletter four days before each launch, so that my lovely subscribers get a first look, and can decide whether or not they are interested.
The paintings will be for sale on a new page here on my website, accessed by clicking PAINT 7 on the menu bar above.
If you are not already a subscriber to my newsletters, and would like to hear about the PAINT 7 releases in good time, plus my regular 'last day of the month' round up of new paintings and exhibitions, click through to the Home page, and add your email in the box at the foot of the page, before clicking Subscribe – it's as easy as that! And you can always unsubscribe if you get bored!
I hope you are as excited to follow along with these new projects as I am to work on them. I'll be popping back here next week to tell you a bit more about the first Candlemas/Imbolc painting.
Stay safe, stay well! 🙂