I have been working away in my studio, whenever that light was good enough! – getting on with the second painting in  my Twelve Months on an Essex Island series!
I finished yesterday morning – here it is!
This is the view back across the Strood to the mainland, and the villages of Great Wigborough and Peldon.
When I started this project last month I decided that not all the paintings would show the estuary or the sea; some should be of the interior of the Island, instead. The series is going to be very varied!
I have also finished my little Findings drawing, this time of two shells and a flint that I picked up on the beach at the bottom of Kingsland Avenue.
This little drawing, in Faber Castell Pitt Pastel pencils on Daler Rowney pastel paper, is just 15cm square, as all the Findings drawings will be. They will all  have a white mount and a simple white wood frame and glass. They can be found on my new Small Paintings and Drawings page, and will be just £68.00 each.
---
The first painting in my new series, Twelve Months on an Essex Island, shows the view across the Besom Fleet channel, looking across to Cobmarsh Island, with the channels of the Mersea Quarters beyond, and possibly Tollesbury in the far distance.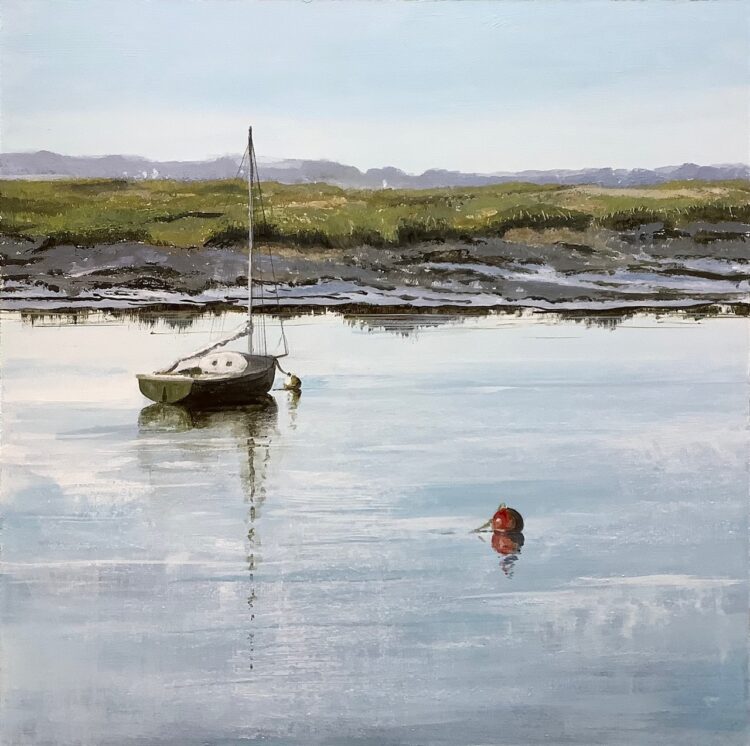 I brought back some shells from the Monkey beach the first of my Findings, and drew them using Pitt Pastel pencils on Daler Rowney pastel paper, in a suitably sandy shade! The Findings are this year's equivalent to the Snippings when I did the Essex Field project.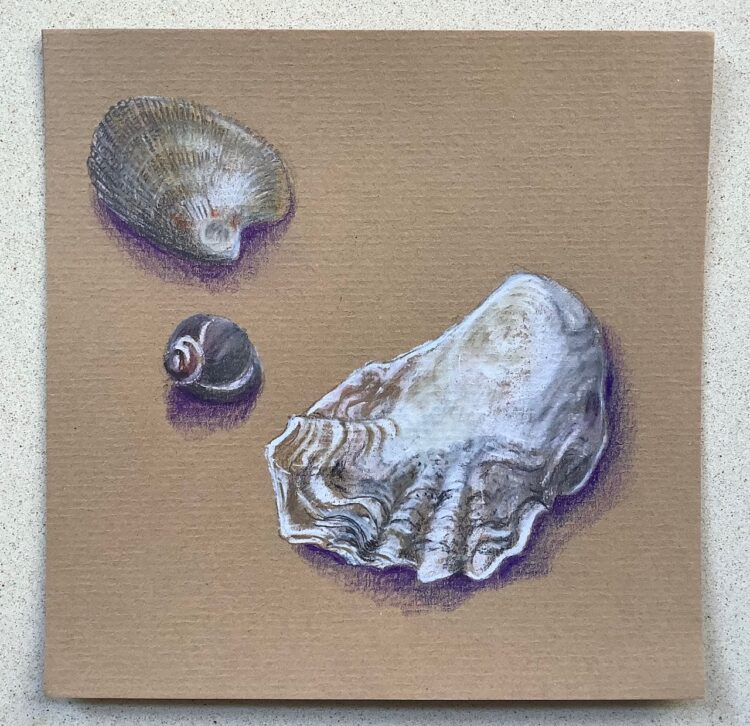 This is a very small drawing, just 15cm square. It is on my new Small Paintings and Drawings page (see the menu bar above), and the big painting, 45cm square, is on the Gallery 2022 page.
I am planning on making my second visit to Mersea Island next week, and I'm thinking of going right to the very eastern end of the island, to a place called Mersea Stone . . . .
Anglian Arts Project: Graham and I are planning on two exhibitions this year. The first will be starting on 14th May, and will run for the Saturday, Sunday, Monday and Tuesday. It will be held in Little Bentley Village Hall. Little Bentley is one of the churches that we have been singing for with the Deanery Choir, and it is a lovely small village in a very pretty rural area.
The second exhibition will be from 16th-21st September at the Sentinel Gallery in Wivenhoe. This has been completely remodelled under new ownership since we had our first AAP show there in 2019, and it is SO MUCH BETTER!
Put the dates in your diaries! More news about exhibitors in due course! 🙂