The third in my series of PAINT 7 lettering art pieces is for MAY DAY. May Day – 1st May – is that day when Spring tips over into Summer – when the Oak King of Summer takes over from the Holly King of Winter. There is a noticeable change just now, as the trees are suddenly in full leaf, and absolutely everything seems to be blossoming and flowering, and the birds are all singing. Driving over to Great Bromley a few days ago I noticed that all the big oaks are in beautiful green-gold leaf now – only a couple of weeks ago they had been almost bare still. It seems like a miracle every year!
I have chosen the quote from the American 20th century poet e. e. cummings, "everywhere a miracle occurs". The colours associated with this time of year in the Celtic tradition are green, red, white and silver. I had a bit of a problem with this when I started planning the design. I couldn't see how the red or silver could look appropriate. Then I thought about the reddish-bronze colouring of the new foliage on my roses and magnolia. And I thought about using the silver as a shiny border, befitting a miracle!
First I designed a layout for the words, working on linking the letter shapes into a cohesive whole.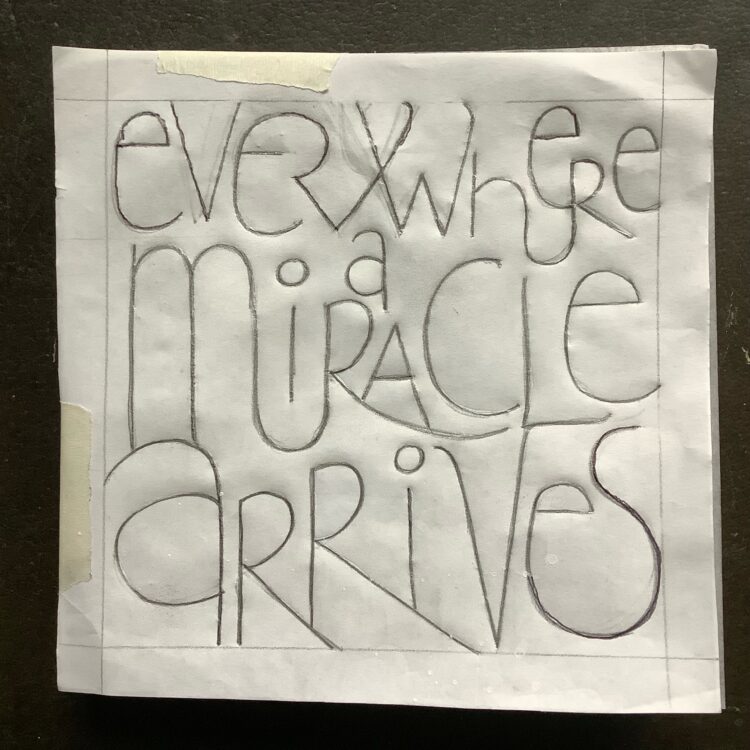 These are the paint colours I used – plus a white acrylic ink Stabilo pen. Yellow does not feature in the associated colours, but I needed the Lemon Yellow and Primrose Yellow to vary and lighten the greens, and to mix with the Light Red to make more bronze-y tones.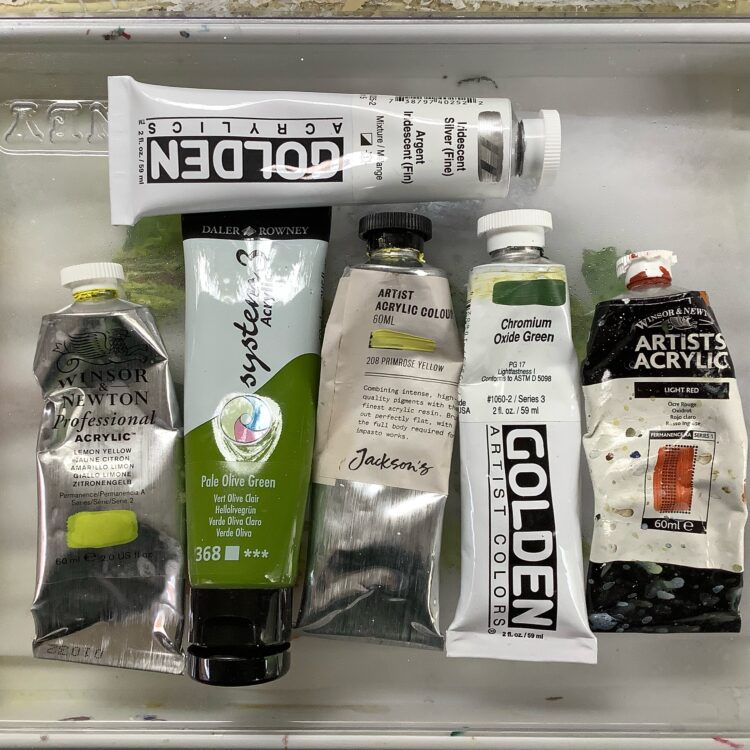 First I painted the background of each of the seven gesso boards. I used flecks and overlapping strokes to suggest leaves flickering in the breeze. I left a 1cm border all around each of the painted squares.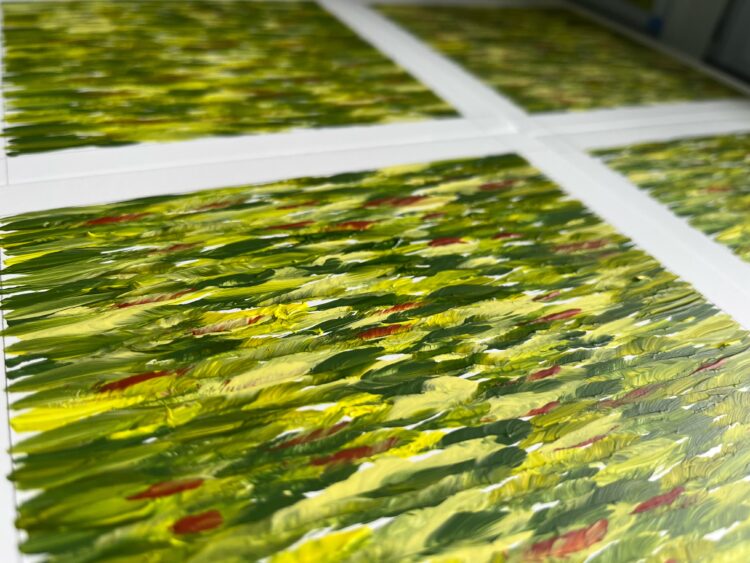 Next I traced down the lettering design and highlighted it with the white acrylic pen. Lastly I painted the borders with a flat brush and Golden Acrylic's Iridescent Silver.
I tried to make all seven as identical as possible, but they are each original paintings with slight variations.
Here is the finished result, in  a white wood tray frame.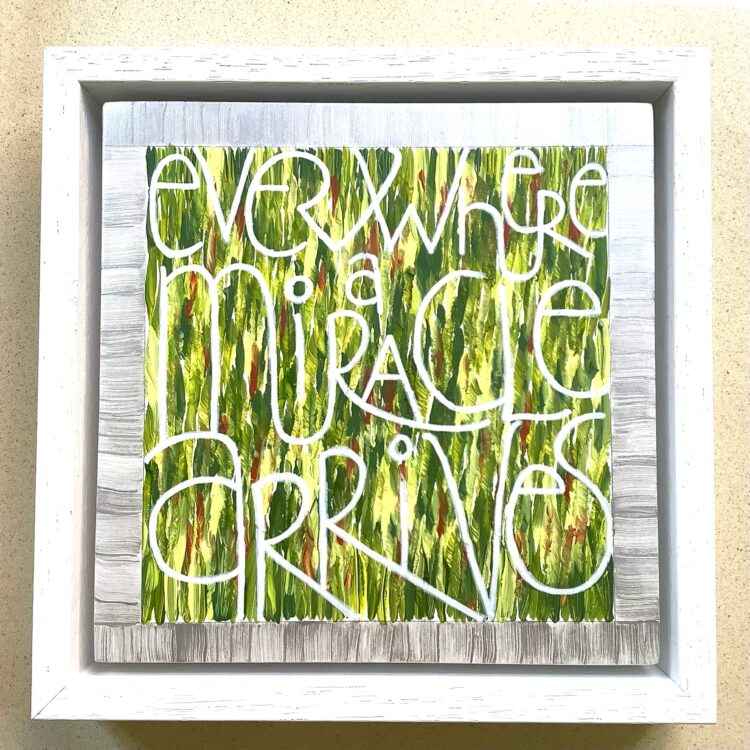 They are strung for hanging, but will also stand up by themselves on a bookshelf, or mantlepiece, or wherever you wish.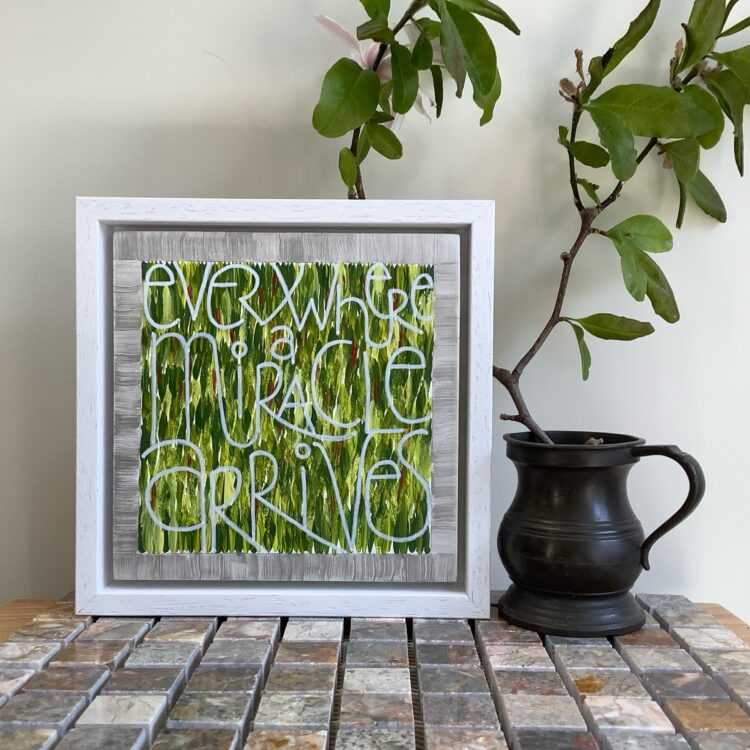 They are each £67.00 with free packing and postage to any UK mainland address. You can find them on the PAINT 7 menu above.