The last day of the month – so it's time for the next canvas print!
This month's is called 'Grey Dinghy', and is a painting from West Mersea island. As usual, it is in a limited edition of just six copies. Each one is printed onto canvas (image size 31cm wide by 21cm high), which is wrapped around a sturdy wooden frame, and signed with the edition number on the back of the frame.
As I write this, one of these prints has already sold – so only five remain. £25.00 to any mainland UK address. Look at the Canvas Prints page for all the details, and to pay by PayPal.
Happy August! – and hope you have a good weekend 🙂
---
A new painting up on the website this morning – 'Waiting for the tide'. This is one of the dinghies I found at Heybridge Basin last week when I dropped my paintings off at the Haylett's Gallery ready for the Summer Mixed Exhibition.
Hope you like it!
---
A second visit to the RA Summer Exhibition yesterday, this time with Graham.
We stopped off at EAT to have our usual hot chocolate before we went in, and then it was up the stripy staircase again – and it was so interesting to me how differently I perceive an exhibition depending on the company in which I view it.  I noticed pictures I hadn't seen at all, or had barely glanced at when I went with my niece in June. This time some of the works I particularly liked were 'Railings and Magnolia Tree' by Melissa Scott-Miller, the Svalbard intaglio prints by Emma Stibbon RA, 'Rainfall' by Ermioni Avramidou, 'Track' – a woodblock print by Rosemary Farrer. and the Brooklyn Bridge series by Anne Desmet RA.
We had a rather late delicious lunch at Fishworks, just round the corner from the RA in Swallow Street, and then walked through the Burlington Arcade to Cork Street to have a look at the British Impressionists exhibition at Messum's – well worth at visit. I was really pleased to see 'In Primrose Time' again, by Edward Wilkins Waite RBA (1854 – 1924) – an enchanting picture from 1893.
The RA Summer Exhibition closes on 16th August, so still time for a visit if you haven't been yet.
If you have been I'd love to know what you liked best out of all the hundreds of works on show. To leave a comment click on the blue title to this post which appears on the right hand side of the page in the 'recent posts' box.
Hope you've had a good weekend, and that your week gets off to a good start tomorrow. 🙂
---
Number seven in the series – here is 'From my July Garden', in acrylic and oil pastel.
This one shows two beautiful Rosa gallica officinalis, also known as the Apothecary's rose, in a little round turquoise blue pot by Rob Wheeler, a Suffolk potter. The pot was a thank you present bought for me from the Geedon Gallery by my friend, artist Martin Wenham, after a visit a couple of years ago. I chose it because I thought the colour contrasted brilliantly with the deep pink of the roses. Hope you enjoy seeing it.
It's been raining here most of the day – I'm really pleased as the garden was SO dry and the water butt was virtually empty – but I'm hoping it doesn't rain all the weekend! Hope you have a good one, whatever you have planned! 🙂
---
So – I've finished the five little paintings for my Christmas Card idea that I mentioned a few posts ago! Originally I was going to wait until it snowed last winter and paint a few snow scenes . . . . . we hardly had a flake!
Then I had the Christmas Post idea, but to start with it was only going to be the Edward VII post box in my road. And then one morning I was stuck in a traffic jam in Straight Road in Lexden, and noticed that there is a post box there dating from George V's reign. I started to get intrigued. Walking down Glen Avenue to deliver something to a friend really clinched it though – there is a very rare Edward VIII post box! Googling it, I discovered there is only one other in the whole of East Anglia from the time of this un-crowned King, before the abdication. So then I searched out a George VI box in Queens Road, and a Victorian box in Lexden Road, which made up the full set of 'Historic Post Boxes of Lexden'! They each have the monarch's cipher on the front, each one displaying a different style of lettering.
I photographed all the post boxes, painted the little pictures, photographed the paintings and added the text, and now the images are all ready to have printed in time for my Open Studios at the end of September. (In the photo above, the images have a wide white border which won't be there on the real cards.) I will be selling them in packs of five, one of each design. I don't suppose anyone outside Lexden will be interested in them, but I am really pleased with how they have turned out!
When I took my four paintings over to the Hayletts Gallery on Tuesday, I had a walk by the Blackwater at Heybridge Basin, and found quite a few good dinghies. I am just finishing painting 'From my July Garden' today (should be up here by tomorrow all being well) and then it will be on with another in the dinghy series.
In the meantime, I am trying to finish the last bit of the pieced top of a patchwork table cover I'm making. I went to a lovely shop called Fabric Rehab, just outside Dedham, a few weeks ago with a friend, and we both came out with far more than we had intended! I got some lovely 'fat quarters' to finish the centre band of the patchwork. I've completed the main part, which is four large rectangles made up of 8cm squares put together in fours.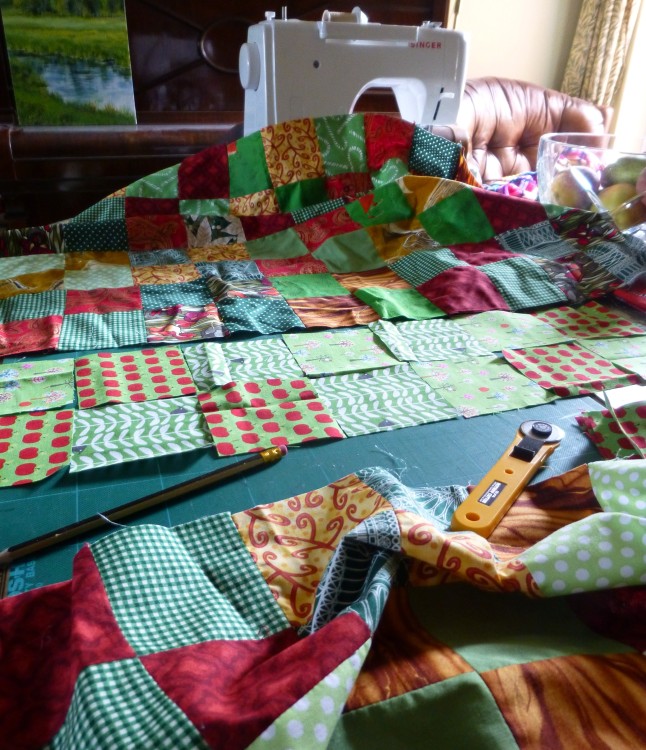 Now I just need to complete the cross shaped strip which will connect them up. Fabric Rehab have a great website, but going in person is even better. If you are local to the Colchester area, it is just up the Manningtree Road leading out of Dedham.
I am aware that there is a fault on the site at present – if you scroll down the three latest posts and then click the back button to read older posts it comes up as page not found. Don't worry, we're on the case! In the meantime, use the Archive button for July 2015 to read previous posts.
---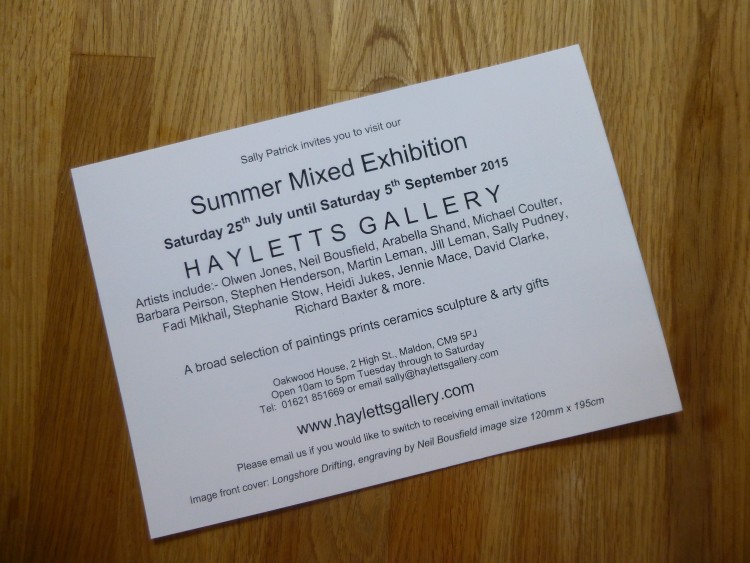 Four bubble-wrapped paintings are sitting in my hall ready to be taken over to the Hayletts Gallery at Maldon tomorrow ready for the Summer Mixed Exhibition. It opens on Saturday 25th July and runs until 5th September and is open from Tuesday to Saturday  each week, 10am till 5pm.
I'm delighted to be showing with two friends who have previously exhibited at the Lexden Arts Festival – Barbara Peirson and Richard Baxter – I hope we all do well and sell lots!
Happy Monday! – hope you all have good week planned. The schools round here break up for the summer on Wednesday, and I know all my former colleagues will be looking forward to a very well earned time of rest and recreation. 🙂
---
---
Just back from five days away having a little break in Aldeburgh on the Suffolk coast with my niece, Claire. We stayed in Neptune House, which is owned by a friend of a friend, and is only a very short distance from the beach, which was lovely.
The house was enormous for just the two of us, but very comfortable. It was lovely to be able to lie and listen to the waves at night, but in the early morning the herring gulls started calling VERY early! They were everywhere! Every chimney had it's gull . . . . .
By chance, we discovered that Steve Higton, who exhibited at this year's Lexden Arts Festival, had an exhibition on at the Aldeburgh Gallery. It was good to see him again, and look at the work he was showing.
And Thompson's Gallery, also in the High Street, had half a dozen beautiful Edward Seago paintings – what luck!
Needless to say I had taken lots of art materials, and although I didn't do as much work as I expected, I did do some drawing and took photos for future painting ideas. The weather wasn't wonderful in the first part of the week, but the effects of clouds and sea colour were striking.
We had a potter round the complex of shops and galleries at Snape Maltings. There was a very interesting textile exhibition in the Pond Gallery there, called 'Bread and Roses' by the T.A.G.S. group (www.tags.org.uk) –  just time to catch it if you are in the area – it's on until 22nd July, open 10-5 daily.
Our last day we spent up the coast a bit, in Southwold in glorious sunshine – tempting enough to have a paddle!
Oh, I do like to be beside the seaside . . . . . .
Hope you're having a good weekend, whatever you are doing. 🙂
---
I haven't yet painted 'From my July Garden', but I was having a speculative look around today, wondering what might be in bloom for August. And there is no doubt that the agapanthus will be the stars of the show as they are all just beginning to break out from their buds, and will be in full bloom in a couple of weeks.
The first one I had, which is very dark blue and quite small came from Bodnant Gardens in North Wales, and has 21 flower buds this year. Then I have a big tub full of white ones that I grew from little bulbs which I mail-ordered from somewhere.
One beautiful cornflower blue one I brought back from a garden in Cornwall.
And I have a pot with two different ones – a light violet blue with a darker stripe down the petals, and a very pale almost grey blue – both these last bought from Beth Chatto's garden.
I think I have already got a idea which it is to be . . . . . . . . . .
Hope your week gets off to a good start 🙂
---
Could it have been any hotter on Saturday for our Fete? Surely not . . . .
It was even hot at 8.00am when I went down to get set up, only to find that my gazebo had blown over in the violent thunderstorms we had had overnight. But all was quickly put to rights, and I got set up with lots of time to spare. When I took this photo some of the other stalls hadn't even go their gazebos up, while I was ready to get started – I'd allowed far too much time!
The jute bags proved popular, so I'm going to order more of these ready for my Open Studios event which is on the last weekend in September. I also sold quite a few cards, but got the impression that it was too hot for many people to even feel like looking – they just wanted to head to the bar tent, or the ice-cream, or the barbeque, or the café which was inside the cool church!
I'm busy with some small paintings at the moment, for a Christmas Card idea I've had. It involves five little pieces – I'm on number three at the moment, and I'm really pleased with how it's all coming together. It seems a bit weird to be thinking about Christmas cards in July, but I want to 'launch' the final card packs at my Open Studio weekend and obviously they take time to paint, and then get printed – I'll post some photos of them then!
I've also made a start, today, on framing the four paintings that will be going to the Haylett's Gallery in Maldon later this week, ready for their summer mixed exhibition. They are . . . . .
Lots to do!!
Hope you're having a good week, whatever you are doing. 🙂
---
So, this Saturday I'm having a little stall at St Leonard's Summer Fete, which is held at St Leonard's church, Lexden, CO3 4BL. It's being opened by our new Colchester MP, Will Quince, at 11.00 am, and will close about 2.30pm.
I've called my stall 'ART STUFF' and I'm made some 'bunting' to tie along the rail of my gazebo – it's just card which I decorated and laminated, with holes punched in, through which I shall thread picture cord.
I've stocked up on cards and have also got some completely new ones, so shall be selling 23 (!!!) different card designs, plus six designs by my niece Claire – these are the first six in her new CJB designs project, and she has some great new designs in the pipeline.
I've also got ten different designs of the limited edition Canvas Prints, including some that haven't launched on the website page yet. I'm not sure why I thought on top of the cooker was a good place to photograph them – I daresay it was just an available empty space . . . . .
Also, something completely new – I've had some Jute bags made with images from my paintings on the side. I've only ordered a few to start with, but I'm really pleased with the quality. They would be great for shopping of course, but would also make lovely beach bags – two have seascape paintings on them! – or a nice useful very reasonably priced present!
So, if you are around Lexden on Saturday, do pop in and say hello! It's a lovely old fashioned summer fete, with lots of stalls and games, and a brass band, and lunches and ice cream . . . .
Hope to see some of you there! 🙂