Here is number four in the Peddars Way series. I drew and photographed this one in September, on the second day that my sister and I walked the Peddars Way, which crosses the A148 and then ascends quite steeply up to a plateau like area called Harpley Common. But the valley – I was looking back south into the valley – is called Harpley Dams, although apparently no-one knows the derivation of the name. Harpley is the name of the nearby village. But 'Dams' is a bit of mystery, although the trail guide suggests that it may refer to sheep, as 'dam' is the name for a mother sheep, and sheep were once a regular sight on the common.
This one is just acrylic, and I particularly liked the way all the field and hedge lines swoop and curve about. I think there are two more Peddars Way paintings to come – I have started number five already!
(Edit on December 8th: I have deleted Peddars Way III: Hornbeam, from the 2015 Gallery, as I did not feel, on consideration, that it worked or fitted into the series, so this one is now Peddars Way III instead!)
Yesterday I spent the evening potting up this beautiful quince and apple jelly. Apples from my sister's garden, and quinces from Waitrose! The quinces were HUGE!! All weighed over half a pound, and one was over three quarters of a pound.
A lovely shot of colour for a November day!
Friday tomorrow! Yay! Hope your week has gone well. 🙂
---
So here are the photos I promised, of Walton on the Naze, taken on Friday afternoon. Unbelievable that it was mild with a blue sky and sunshine, when the next day we had icy gale force winds and torrential rain!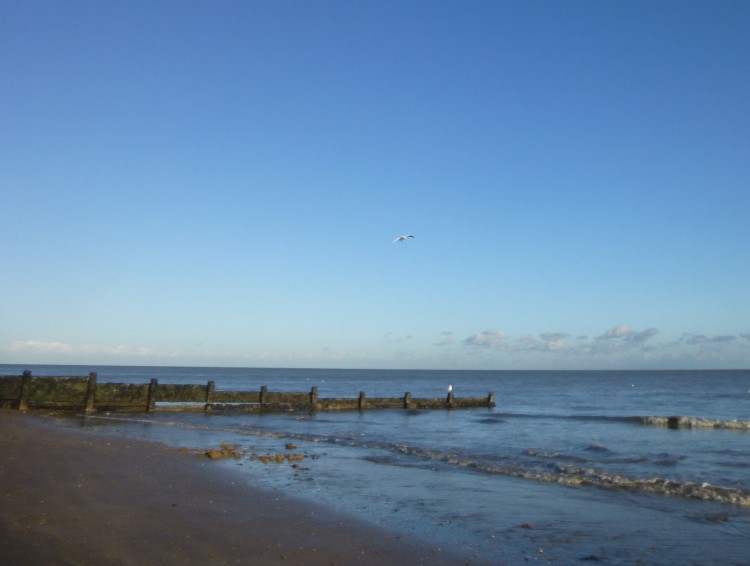 And finally, Graham is just back from a wonderful trip to India, and brought me back this beautiful shawl – not a very good photo, though – I think the little white smudges were marks on the hall mirror!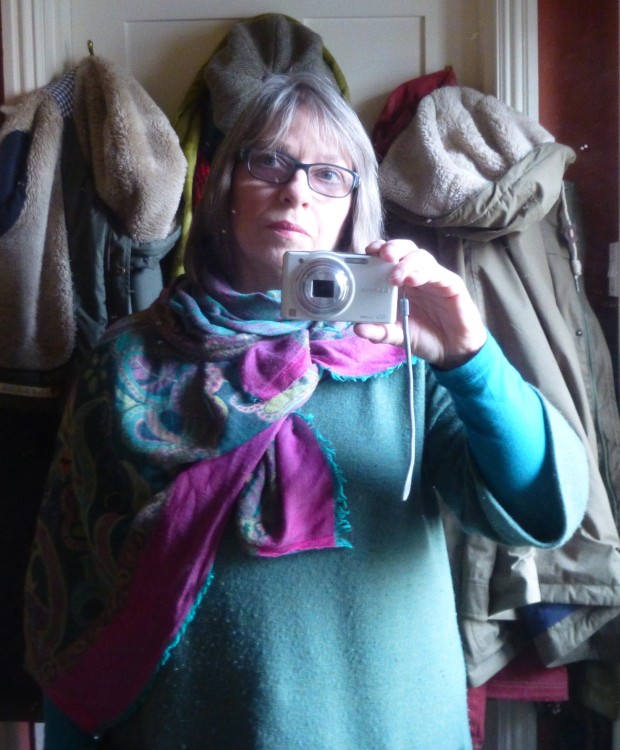 I'm busy with the next two Peddars Way paintings at the moment – yes, two – I thought I'd try to work on one while the other is drying. I've never tried this before, but it may be A Good Idea.
Hope your week gets off to a good start. 🙂
---
Just a reminder that I have a couple of paintings in this show which is on over the weekend. My friend Lisa Cockrell is also showing her photographic works – www.lisacockrellphotography.com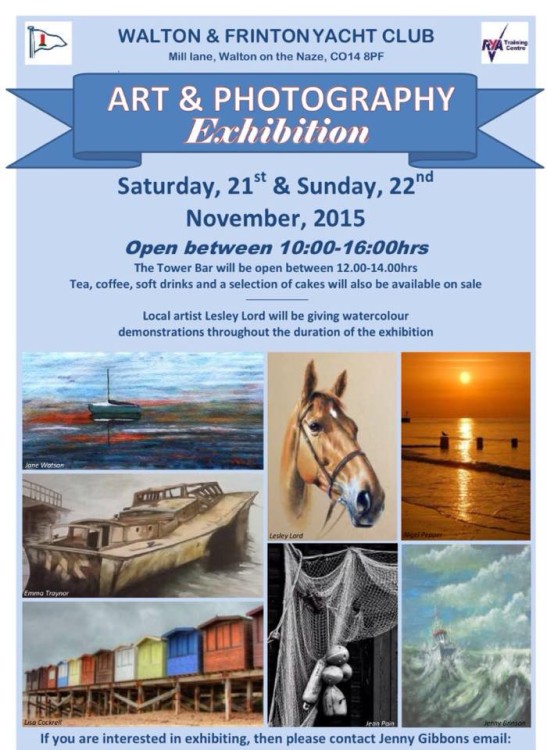 It is very easy to find – Mill Lane is just off the High Street in Walton on the Naze, and the Postcode CO14 8PF, given at the top of the poster, took me right there with the satnav with no problems when I dropped my work off there this afternoon.
And it was such a lovely bright afternoon after all the dark wet days that we've had, that I couldn't resist driving up to the Naze afterwards, and taking a breezy walk along the beach, which I had entirely to myself! Lovely cloud formations on the horizon, and clear blue sky overhead. I'll share some photos tomorrow when I've downloaded them off my camera.
Hope it's a good weekend for you! 🙂
---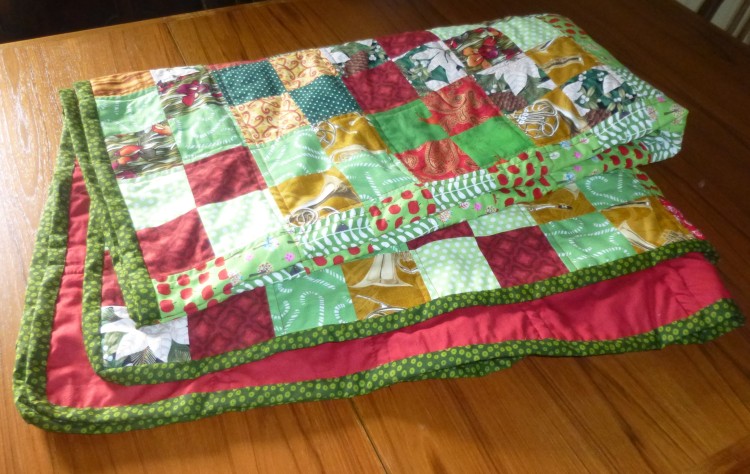 Yes, the patchwork is actually finished!
I started quilting it before I went to Aldeburgh, finished it on Monday, and – as a result of a very wet, dark and windy day yesterday – completed all the binding by yesterday evening. I have to say that as patchwork goes it is far from perfect! The corners of the squares do not match up in places, and there are a few little tucks in the fabric where I had not managed to get the three layers, top, batting and backing fabric, really smooth and flat. Also the binding did not go according to plan round the corners of the quilt – they look rather rounded as you can see! BUT it is colourful, fun and FINISHED, and I enjoyed making it, so for a first try I'm really pleased.
It has now been through the washing machine, and is drying naturally over the upstairs landing banister, but before I washed it I tried it out on the dining room table, because it is meant to be a table cover – and it looked good!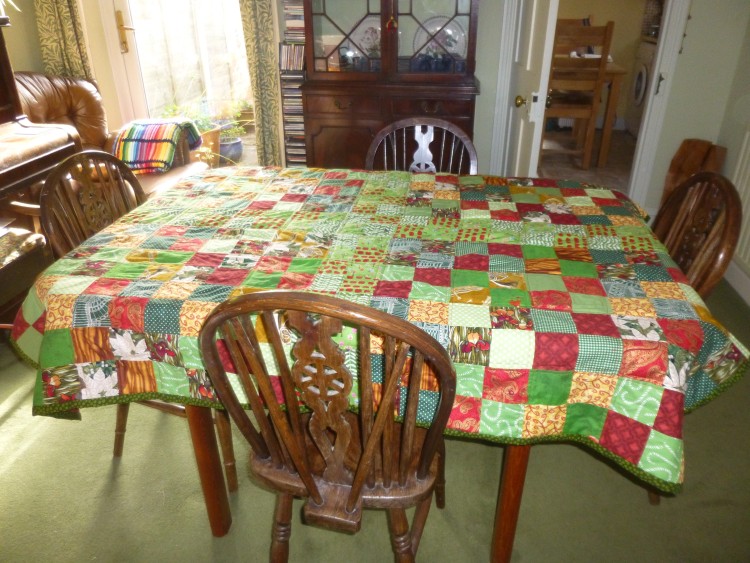 ---
So, here's the third painting from the Peddars Way walks that my sister and I undertook in September – a huge hornbeam tree by the track. We didn't actually know it was hornbeam, but took a few leaves and tried to remember the colour of the bark and form of the tree, and looked it up when we got back to her house.
This one was a bit experimental, starting with pencil crayons, then acrylic washes, then oil pastel – it was a lot of fun to do! All the details on the Gallery 2015 page as usual.
I've been making up the new batch of Christmas card packs this afternoon. I only had one pack left after my last ARTSTUFF stall – now I'm restocked ready for the next one on the first Saturday  of December.
Battening down the hatches ready for Storm Barney tonight – hope you don't get blown away 🙂
Later edit: December 8th: I have actually deleted this painting from the 2015 Gallery, as after consideration, I didn't think it worked well enough, and didn't really fit into the series.
---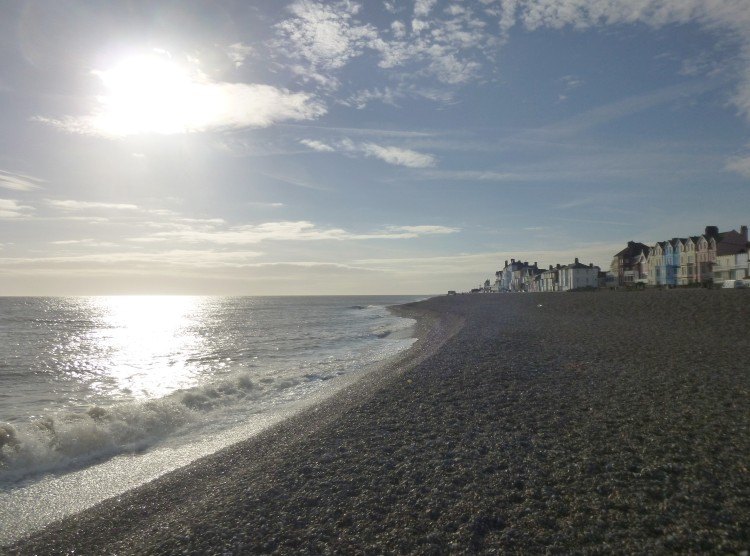 Last Monday I set off up to Aldeburgh on the Suffolk Coast again, to spend a few days with my niece at Neptune House – where we stayed in July. We were incredibly lucky with the weather, as although it was very windy, it was dry, and on Wednesday really sunny!
I did a bit of drawing, and took photos, and walked right along to the Martello tower and Slaughden.
On the beach after dark there were a surprising number of people sea fishing each night. On Wednesday night it was so clear that we lay on the shingle to get a better view of the stars – once down on the shore line there is very little light pollution, and the stars were wonderful. I could pick out Orion coming up out of the dark sea sideways, and the Seven Sisters, and Cassiopeia overhead, the bright stars showing up against a wonderful haze of more distant stars.
On Thursday I took my niece home, and went to stay with my sister in Kings Lynn, to walk a bit more of the Peddars Way. Again, we were really lucky with the weather – it was incredibly windy with a clear blue sky, but muddy underfoot due to the rain on Thursday night.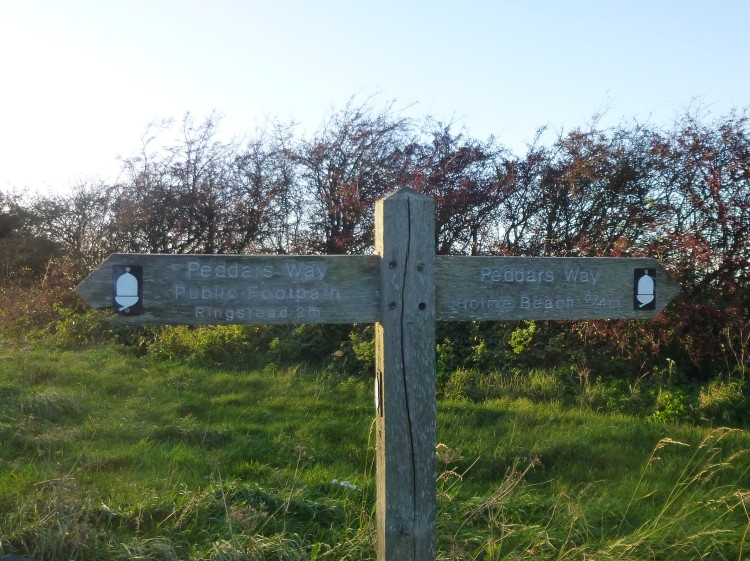 We started at Ringstead, where we left the car and walked out of the village northwards, past the tower of a former windmill.
We found the last of the standing stones, with words taken from Hugh Lupton's book, A Norfolk Songline, and carved by Tom Perkins.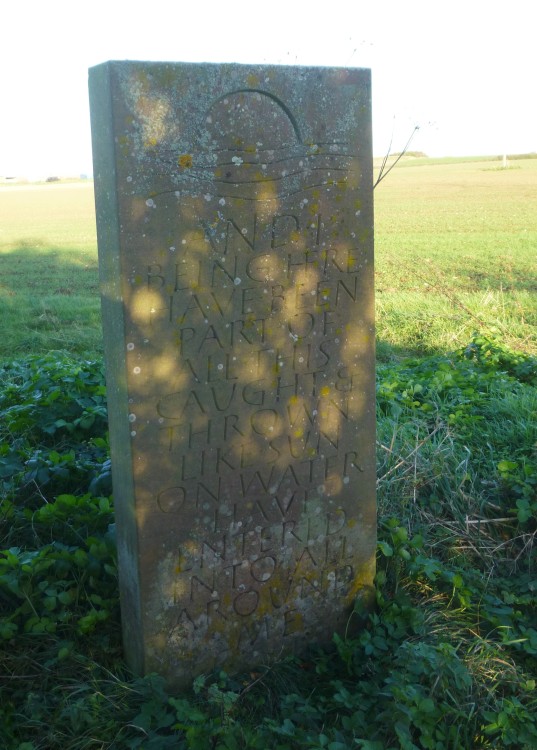 The words read ' And I, being here, have been part of all this, caught and thrown like sun on water have entered into all around me.'
We carried on walking until we reached the point where the Peddars Way intersects with the Norfolk Coast Path.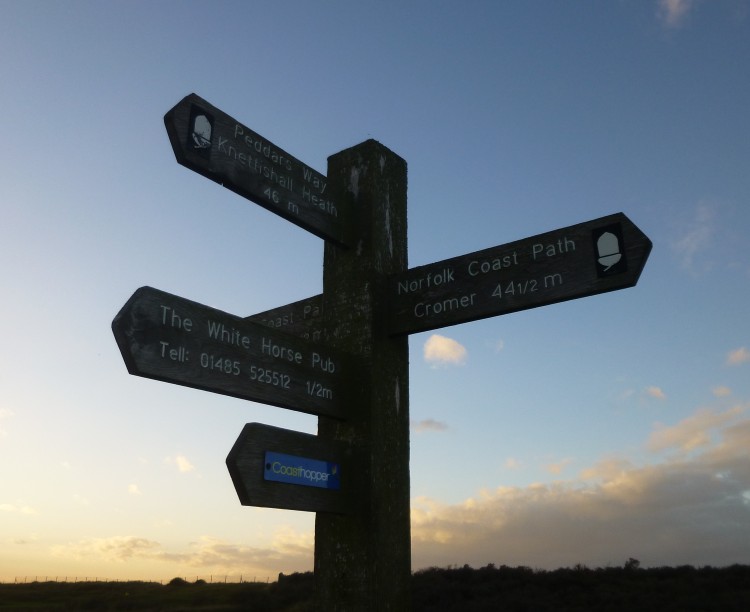 We carried on walking north, across a golf course (!), and through a gap in the downs which was thick with sea buckthorn smothered in orange berries, until, as the guide book says, the Peddars Way 'simply peters out on the beach' – at Holme next the Sea.
Walking back to the car it was starting to get dark, but there was a stunning sunset over the open fields which was a lovely end to our afternoon's walk.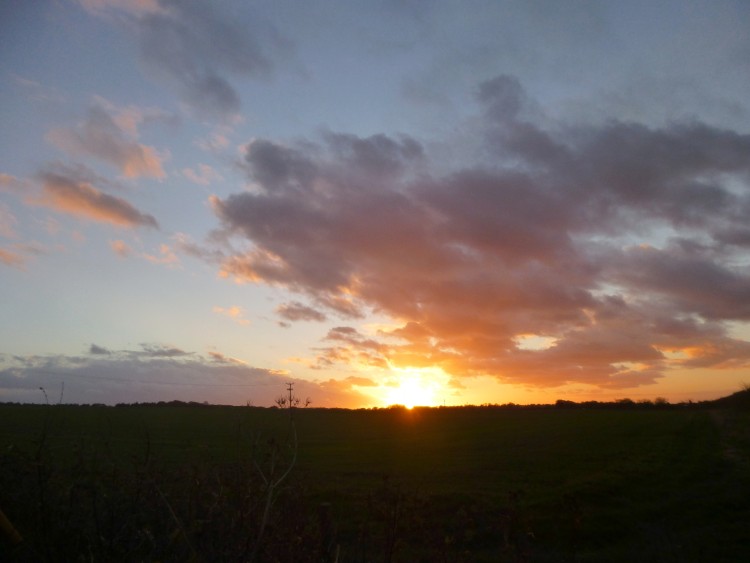 Hope you've had a good weekend.
I shall be back in my studio tomorrow starting my next painting! 🙂
---
Well, yesterday's ARTSTUFF stall at the Lepra Coffee Morning went far better than I could have hoped! And my friend Rosemary was incredulous, as well as over the moon, to have raised over £1000 for Lepra.
I met lots of lovely visitors, and was particularly pleased to meet a lady who was born and brought up at West Mersea, and whose grandfather had been an oyster fisherman; she was really taken with all the West Mersea dinghies on the greetings cards, and bought quite a lot to send to her Mersea family.
I've now sold out of 2016 Calendars, and only have one pack of Post Box Christmas cards and three Jute bags left! The Christmas cards were hurriedly re-ordered last night – and I'm thinking of making some more Calendars for my ARTSTUFF stall on the first Saturday of December. I also need to re-order  some Jute Bags, but need to have a think about which pictures to put on them this time.
A really busy week coming up – hope its a good week for you, too 🙂
---
When I looked round the garden to see what would feature this month I was a bit stuck for ideas – my garden is very much a Spring and Summer garden, and come November there is not much flowering except for the sedums in the gravel garden – which are not very paintable – and the fuchsias which I did last month. But I do have a lot of trees. So this is what I came up with . . . .
You may be able to spot hazel, hawthorn, silver birch, dogwood, wych-hazel and sumach – and a couple of others that I think must have blown over the fence! All the details on the Gallery 2015 page as usual.
Next up, I'm painting the third of my Peddars Way pictures – in rather an experimental way. So it's anyone's guess how it will turn out. And then another dinghy – an old tatty one with nice reflections that I found at West Mersea in October.
The Christmas Cake, by the way, is baked, pricked all over and a little more brandy trickled in, and it's now on the bottom shelf of the pantry wrapped in a double layer of aluminium foil inside it's tin, where it can stay until the week before Christmas. Although I may heave it out and add a little more brandy before then . . . .
Happy Bonfire night 🙂 Friday tomorrow!
---
Two shows coming up that you may be interested in – one I'm taking part in, and one I shall definitely be going to!
The Walton and Frinton Yacht Club are having an art and photography exhibition on Saturday, 21st and Sunday, 22nd November – I have a couple of paintings in, and my friend Lisa Cockrell is also exhibiting some of her photography. The Club is in Mill Lane, Walton on the Naze, CO14 8PF and the show will be open from 10.00am – 4.pm both days. Refreshments are also available.
And coming up at the Sentinel Gallery is 'Christmas Kaleidoscope',  which will have lots of great reasonably priced items from individual artists and makers, ideal for presents! Two of our lovely exhibitors from the Lexden Arts Festival are showing their work – Dale Devereux Barker, and Richard Baxter. 'Christmas Kaleidoscope' is on from 14th November – 10th January, open from 10.00am – 5.00pm Tuesday to Sunday (closed Christmas Day, Boxing Day and New Year's Day). All the details on www.thesentinelgallery.co.uk
More on Lisa's work – www.lisacockrellphotography.com
More on Richard Baxter's work – www.richardbaxter.com
More on Dale Devereux Barker's work  – www.daledevereuxbarker.co.uk
I'm been working away the last two days on 'From my November Garden' . . . . . but taking a break tomorrow to make the Christmas Cake!  Hope your week is full of lots of good busy-ness – but also time to marvel at the wonderful autumn colours outside. 🙂
---
Just finished my second Peddars Way painting this afternoon!
Number three will be a bit further along Procession Lane where we found a huge Hornbeam tree . . . .  And I also need to get on with From my November Garden, now that it is November. I have an idea for this one which is quite different from all the others so far!
Happy November 🙂