After a busy time last week I was out in my sunny studio again this morning priming up some board ready to make a start on Fingringhoe Wick: October. Yes, I know it's the last day of the month tomorrow!
Got some catching up to do here!
On another subject, if you are on Facebook or Instagram you can now link directly to my Sally Pudney Artist pages on each – just look for the symbols in the top right corner on the home page of my website. And I only need 6 more page likes on Facebook to get to 100 . . .  🙂
---
For the last week I have had my friend from North Wales, lettering artist Martin Wenham, staying with me. We spent some of the week gadding about – here are a few photos . . . .
On Wednesday we went to Fingringhoe Wick. Martin was keen to see the location of current painting project. It was a lovely morning and we had a good walk round some of my favourite bits, and lunch sitting outside the Visitors Centre – not bad for late October!
After lunch we went to the Geedon Gallery. Martin was very impressed by Margaret Glass' pastel paintings, and I was impressed with them all over again. And also the vivid but peaceful oil landscapes of Andrew King. I had taken a few of my landscape paintings to show Jacqueline, and I was delighted when she said I could exhibit some there next Autumn.
On Thursday we went to Beth Chatto's gardens at Elmstead Market. It was a perfect sunny autumn day, and the tree colour was beautiful.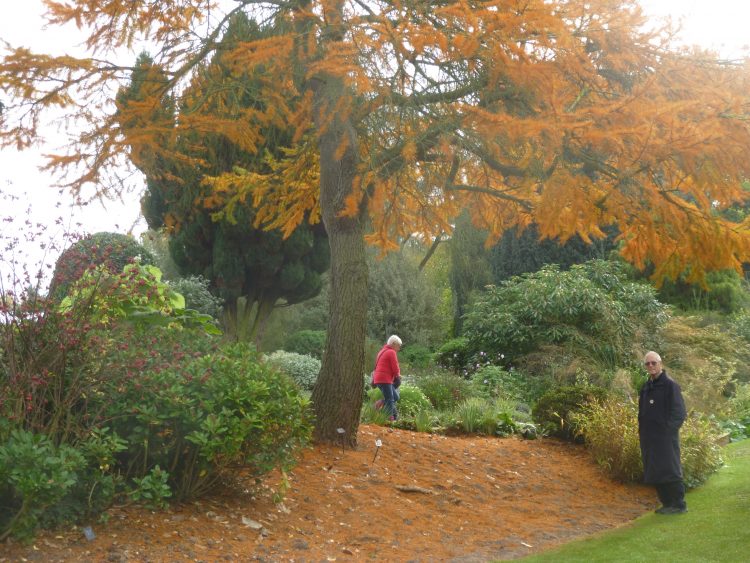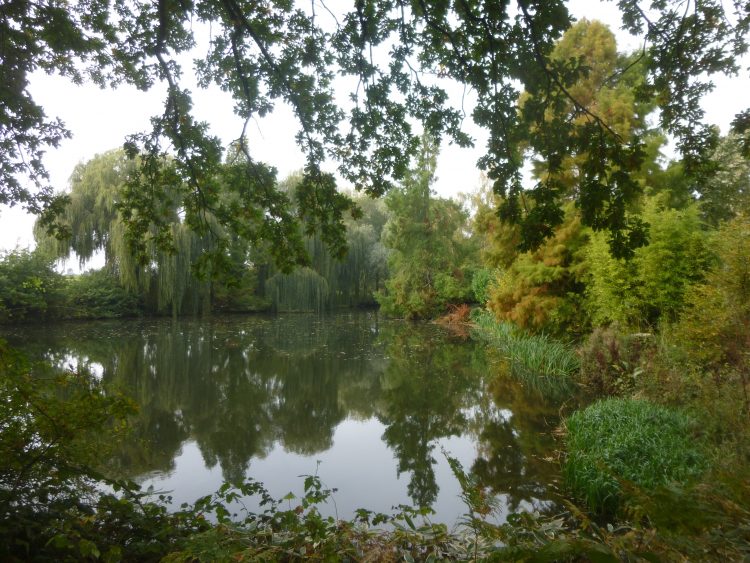 We had lunch in their café, and then went down to the coast to Graham's new house. Graham gave Martin the guided tour, and then, after a cuppa, we went for a walk along the beach.
On Friday we visited a garden that was new to me – Green Island at Ardleigh. It was beautiful – I can't think why I've never been before!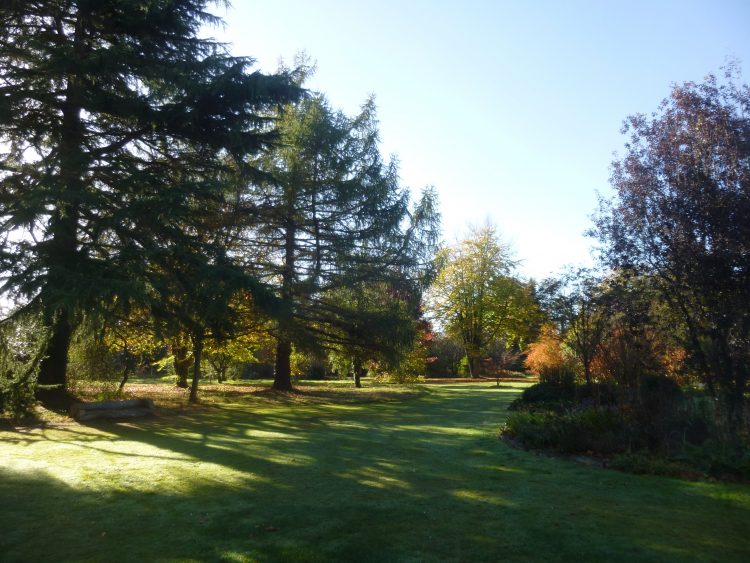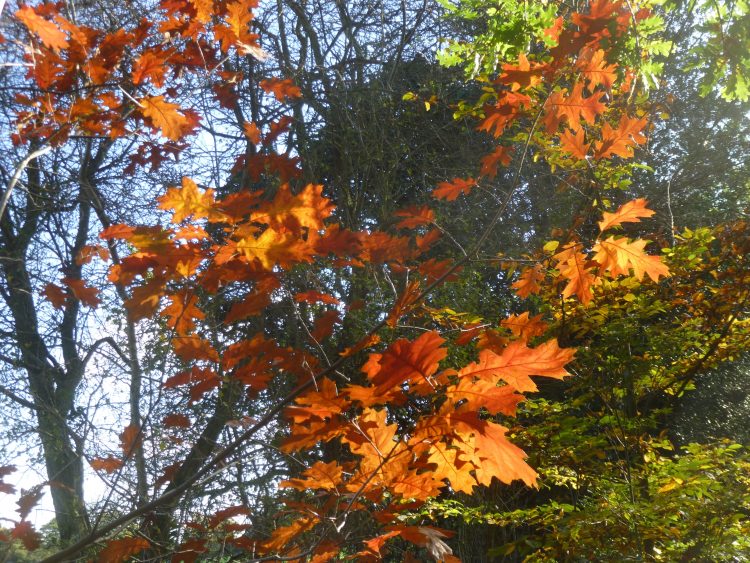 Martin has now returned to Bangor – and I must return to my studio and make a belated start on Fingringhoe Wick: October – as it will be NOVEMBER next week!! How did that happen!
Enjoy the last few days of October 🙂
---
An unexpected trip up to Great Yarmouth – Graham was going to have a look at a car there, and suggested I might go too. Forty years ago I started my teaching career at St Nicholas (Priory) Junior School in Great Yarmouth. I've never been back since!
So once we'd looked at the car (no good!) and had some lunch, we went into the town centre to find the school. It was an extraordinary building, more like a church. My class room window was the arch shaped 'church' window behind me.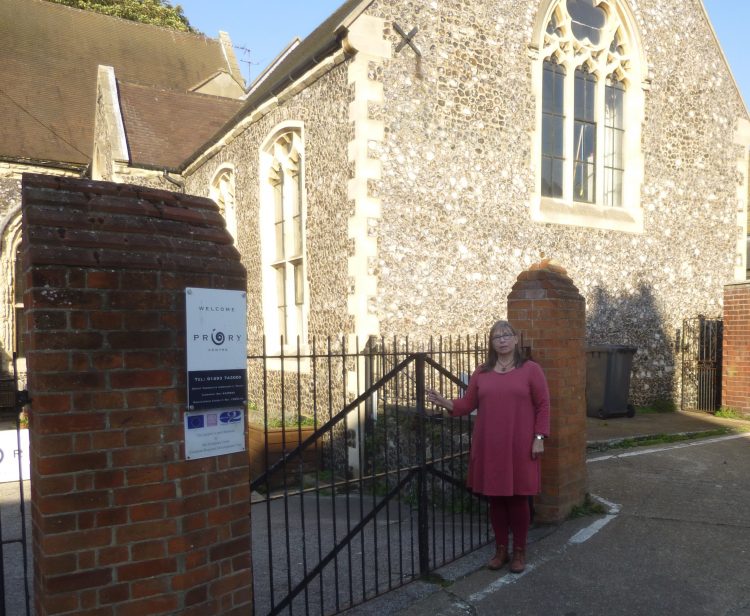 During that first summer term the stone masons turned up to repair the stone around the window. The noise and the dust . . . . ! The building is now the Priory Centre which seemed to be a sort of community centre. It is in the corner of the market place nearest to St Nicholas church, which is now called Great Yarmouth Minster.
The school has now moved further round the market place into a much more suitable building.
We had a look inside the Minster, where I went to church when I first went to Yarmouth.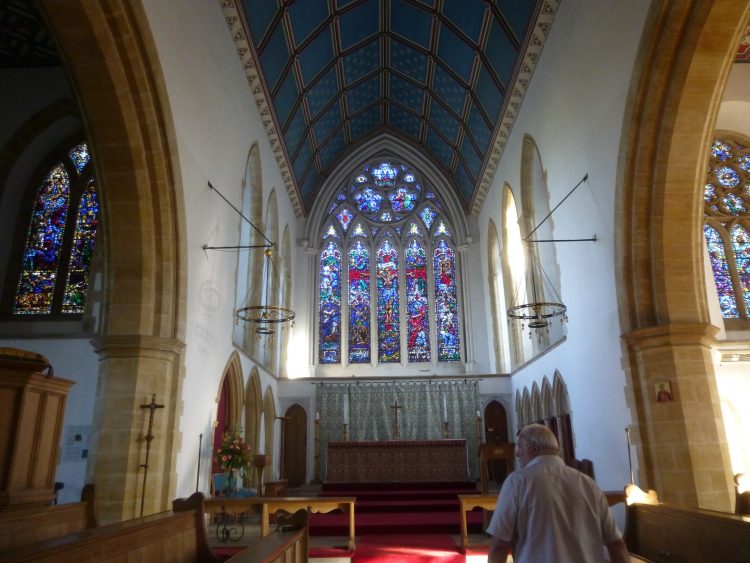 I moved to Gorleston after a while, and had a flat on Cliff Hill, which we found.
And lastly we went to St Andrew's church, Gorleston, where I sang in the choir and also went bell-ringing. This is where I used to sing –
I left Great Yarmouth at the end of 1978, after only a year and a term teaching at St Nicholas Junior School, and came back to Colchester to start teaching at Hamilton Primary School here. So this was an unplanned but very enjoyable and interesting day re-visiting the past!
Back in my studio – I've been painting a logo for our new very exciting venture, which I will be able to share in a few weeks time! 🙂
---
A beautiful morning, warm, hazy sunshine, some high cirrus cloud – so I went for my October visit to Fingringhoe Wick.
I'd never been to the Lake Hide. So I put that right first thing!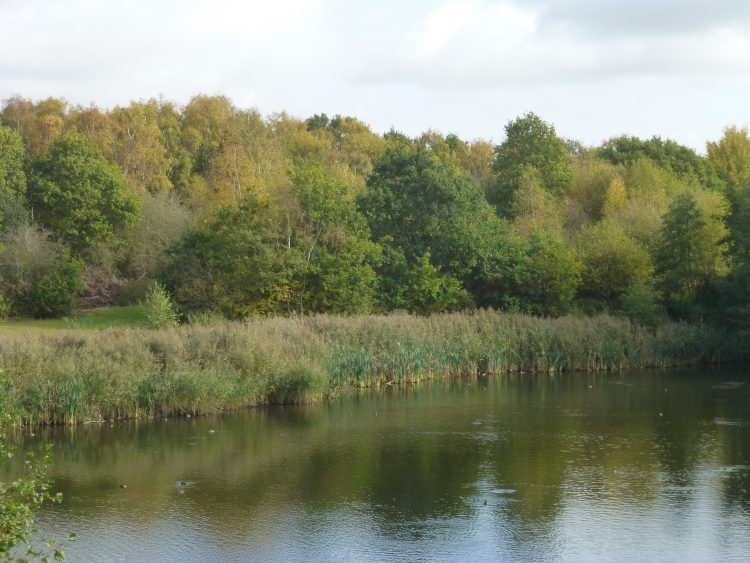 The lake had lots of Teal and Tufted duck. I was just looking at a Teal drake through my binoculars, and thinking what neat, pretty little ducks they are . . . .  when there was a turquoise flash through my field of vision. A Kingfisher! It flew the whole length of the lake and disappeared behind the trees at the left hand end.  It's the first one that I've seen at Fingringhoe, although I have seen others – including one in Cambridge Botanic Gardens, which seemed a very unlikely habitat!
The trees on the other side of the lake, mostly silver birch, are turning gold.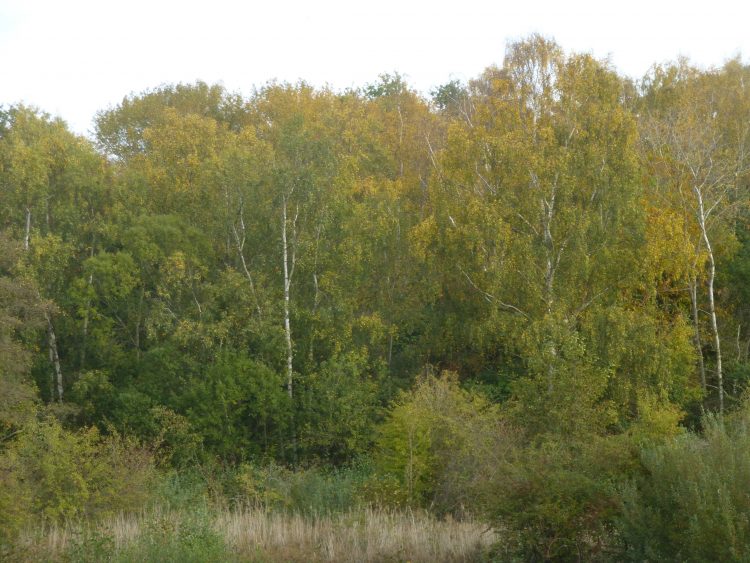 From the lake I went down to Margaret Hide.  On the rough grassy areas there were huge fungi –
And the shrubs along the edge of the inter-tidal area have turned the most amazing colour.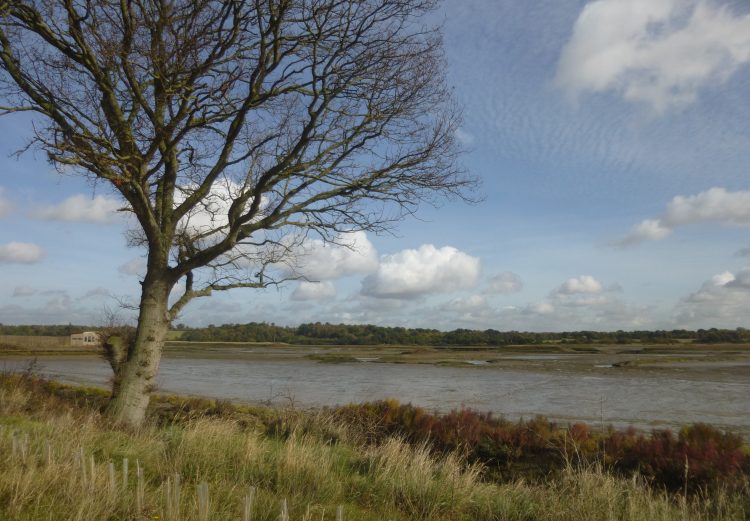 And a close up –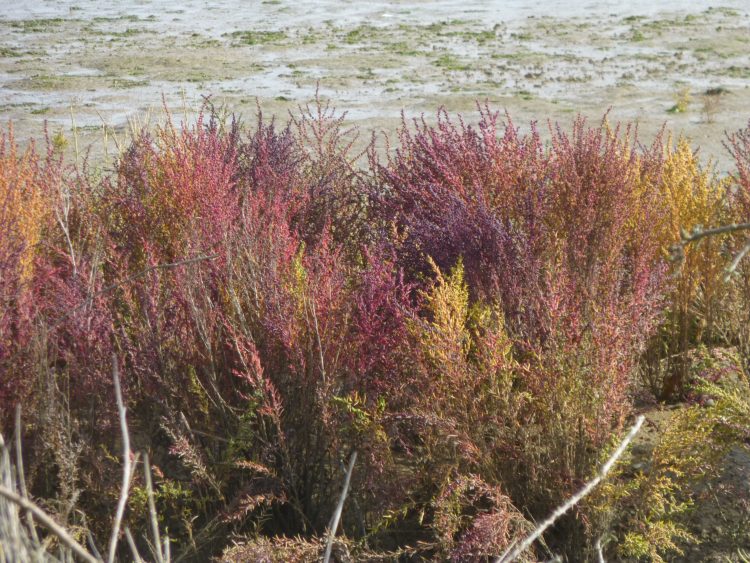 I have no idea what they are. (Martin – if you're reading this – could this be the iconic shrubby sea-blight??)
The two very bird-y men came into Margaret Hide and very kindly helped me to identify the difference between a Whimbrel and a Curlew, and also pointed out a large flock of Golden Plover, which I had a look at through one of their telescopes.  I also saw a red shank and lots of black tailed godwits – which they called 'black-wits'.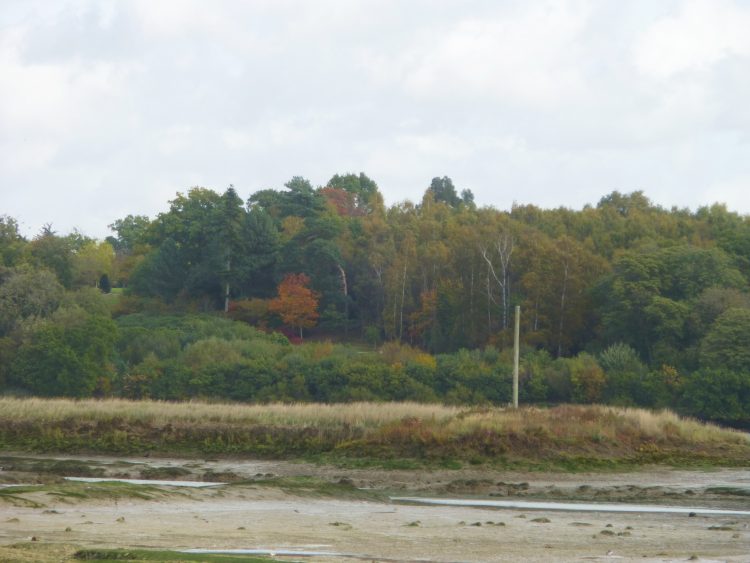 The trees on the other side of the river are just beginning to turn beautiful rich colours. I remember drawing them in February when they were just dark greys and browns. What a difference!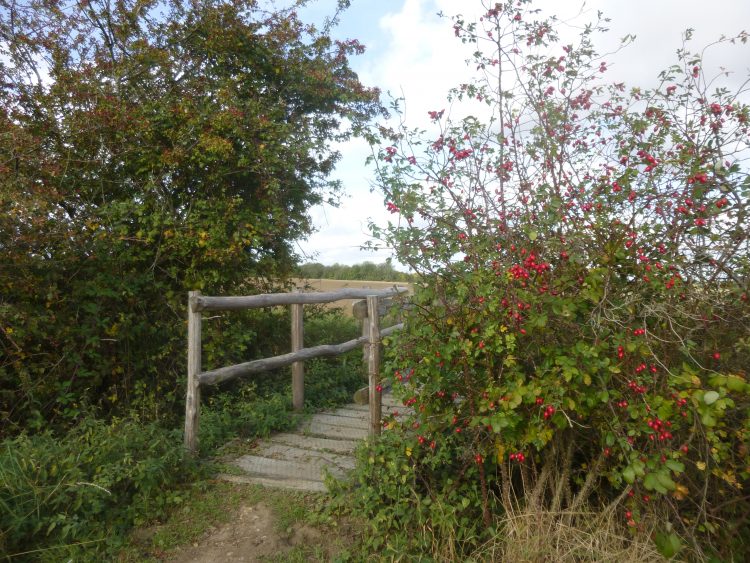 All over the reserve the wild rose hips, and the haws are thick. This bush beside the bridge above Margaret Hide was especially laden.
Then it was back to the Visitors Centre for my usual tea and cake. (Another unusual angle !)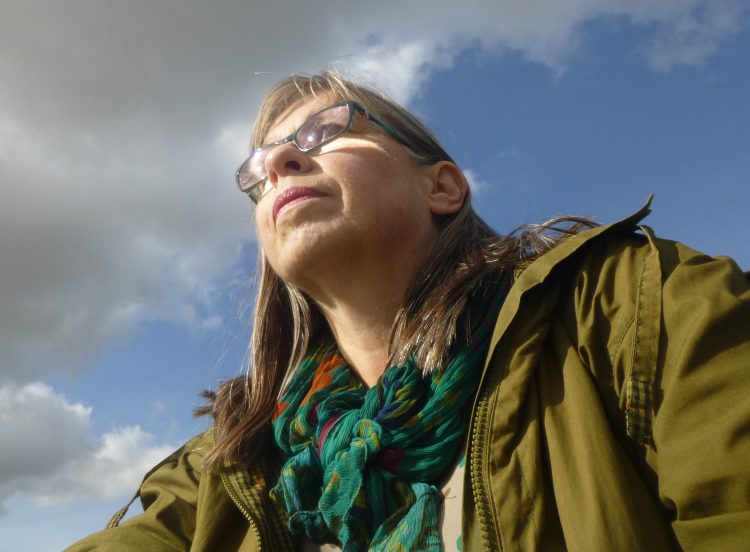 When I left the reserve I stopped off at the Geedon Gallery to have a look at their Autumn Show. It is well worth a visit. I was particularly taken with a pastel landscape of a harvest field by Margaret Glass, and a small oil by John Stillman, 'Wivenhoe' – but they have lots of other lovely work, too. The exhibition is open daily until 22nd October, and then by appointment until 15th December. Have a look at their website and take a trip over if you're in the area – www.geedongallery.co.uk 🙂
---
Just finished this morning, The Ridgeway V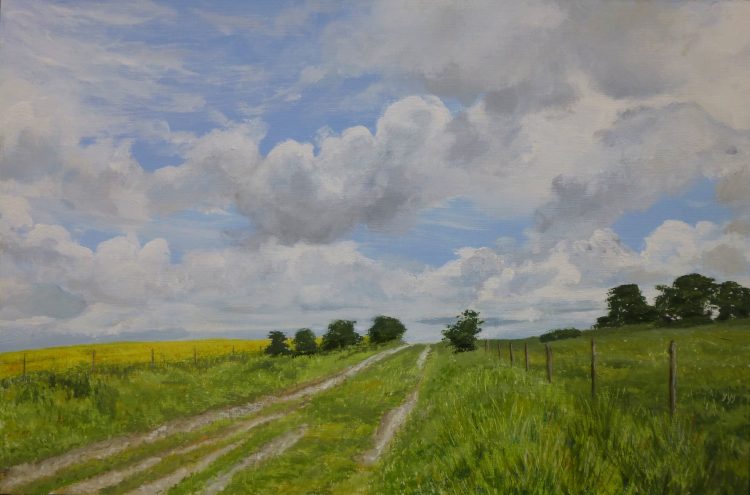 This is just above Fyfield Down, with wonderful cloud formations coming barrelling over the ridge.
Hoping to do my October visit to Fingringhoe Wick this week, if it stays fine! 🙂
---
From the time that I started painting with acrylic I have used a 'stay-wet' palette.
The paint is kept moist with the reservoir paper (a bit like blotting paper) and will stay usable for at least a week. This means that far less paint is wasted because it has dried up and gone hard. Also, if you have any particular colour mixes that are being used in different parts of the painting, they will still be there, ready and waiting when you need them, and you don't have the tricky job of mixing exactly the same colour again.
Now that I am frequently painting on a bigger scale my little old palette was feeling very small and cramped. There just wasn't enough mixing room. So last week I treated myself to a lovely new extra large Daler Rowney palette from the SAA website.
I started using it for The Ridgeway V – and I can see that it is going to be a great help.
This is as far as I'd got with The Ridgeway V this afternoon!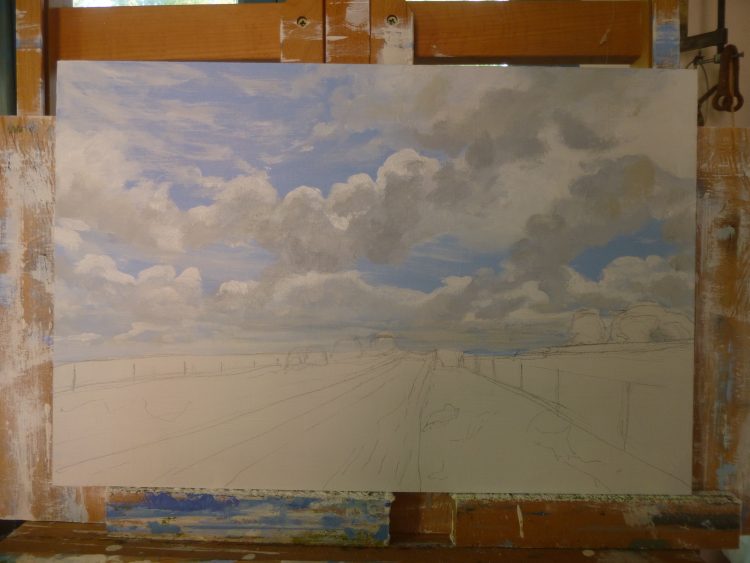 Lots to do still!
And finally, there was the most beautiful full moon tonight, when I went down to sing at Wivenhoe. Actually it might not be completely full until tomorrow – but it was certainly beautiful!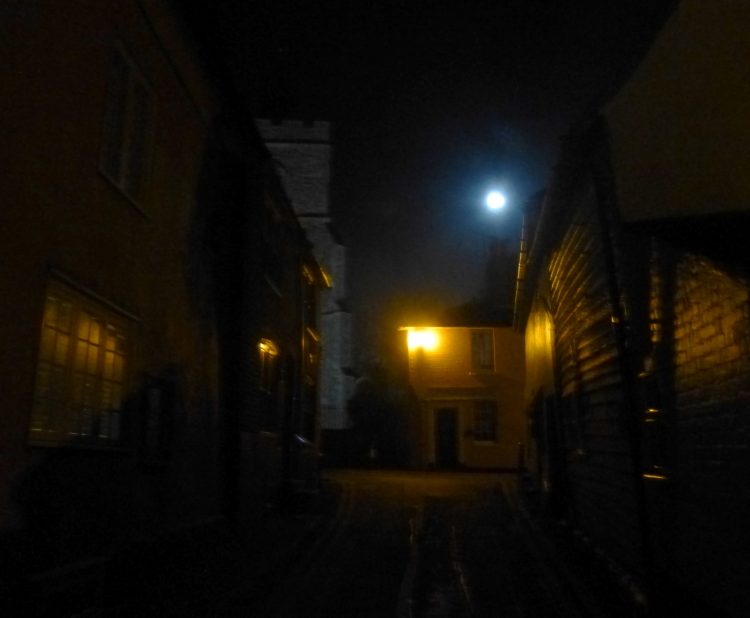 ---
A book recommendation today – Claxton by Mark Cocker. I absolutely loved this book!
The author lives in the village of Claxton, which is south east of Norwich in the Yare valley. The book is a drawing together of articles written about his encounters with nature over the twelve years he has lived there. Originally they were for a variety of newspapers and periodicals. They are arranged into twelve monthly chapters, with all the articles from one month together, irrespective of the year in which they are written. The result is a wonderful portrait of the wildlife of this parish through the year, in all its forms – birds, mammals, insects, beetles, plants, flowers, trees, fish . . .  Mark Cocker writes with a lovely mixture of scientific accuracy and lyrical description, and he has a deep feeling for the 'connected-ness' of all living things.
I read it on my Kindle, but bought the copy shown above from our lovely independent bookshop, Red Lion Books in Colchester High Street. A really enjoyable read for longer Autumn evenings!
Hope October has got off to a good start for you. 🙂