The latest painting in my On the Edge project is this one of Orford, just finished this afternoon.
There is only one more painting to go, now, in this project. It only seems five minutes since I started! I've been starting to plan my next year's painting projects over the last couple of weeks, and can't wait to share them with you – as usual – on 1st January, although there will be a few little clues in my December newsletter . . .
Other news: A big thank you to those who came to the Meet the Artists event at Caxton Books and Gallery in Frinton-on-Sea last Saturday. I have some new paintings there now, so you might like to pop in and have a look if you're in the area. I also have some new limited edition prints in the Buckenham Galleries in Southwold, including some of my dinghy pictures which would make good Christmas presents for  sailing enthusiasts! They are £60.00 each.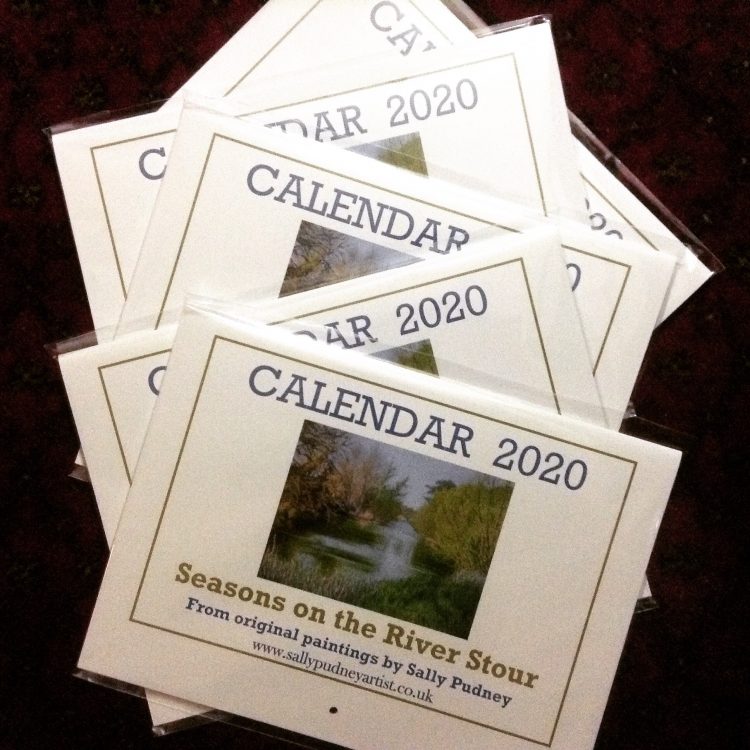 And thinking of Christmas, I only have five of my Seasons on the River Stour 2020 calendars left now. They are in my website shop priced £16.00 including packing and postage. If you've been thinking of getting one don't delay, as when these five have gone that's it!
Newsletter: My next newsletter goes out tomorrow morning! still just time to sign up if you scroll down a bit on the home page. I just sent out one a month, at 7.00am on the last day of the month, and you can unsubscribe at any time if you wish. My December newsletter going out on New Year's Eve will have some clues about my plans for next year! 🙂
---
This Saturday, 23rd November, I am taking part in a Meet the Artist event at Caxton Books & Gallery, 31 Connaught Avenue Frinton-on-Sea.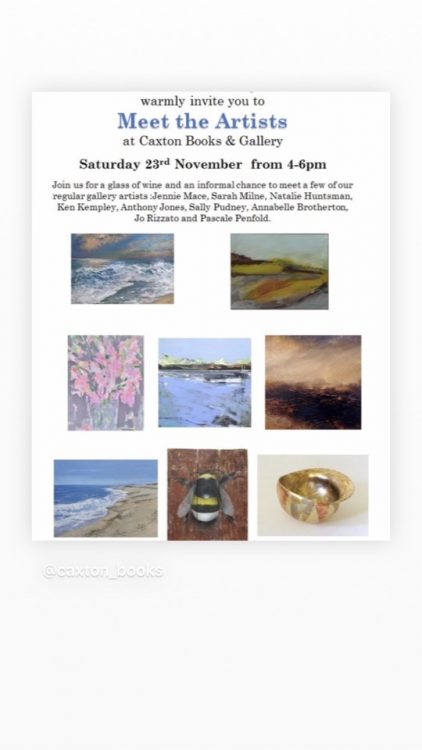 This is the invitation that the gallery put on Instagram. As you will see, eight other artists will be there as well as me! I shall be there from 4.00-6.00pm, so do call in for a glass of wine, a look at all the art work on display in the gallery, and an opportunity to talk to all these artists about their work, their techniques, their plans. I have six paintings there at present, and I will be delighted to see you! 🙂
As well as Caxton's in Frinton-on-Sea, I also have paintings and prints – including some new ones – at the Buckenham Galleries in Southwold, and paintings at Framewerks in Colchester (see last post for details) in case you find yourself in any of these places.
Other news: I made my painting project visit to a very stormy Orford last week, so that will be my next painting – I've just primed up a board for it! Graham and I are in the process of negotiating a new venue for our Anglian Arts Project 2020 exhibition. And I am in the process of sorting one of my painting projects for next year, which I'm very excited about! I will be sharing these with you, as usual, on January 1st!
Finally – Those of you who have followed along with my blog for a few years now, may remember that in 2016 I had a cancer diagnosis followed by a very scary difficult time, a big op and a long recovery? Yesterday I had my final hospital check up, and have been 'signed off' – so feeling very relieved and thankful!
---
The latest painting in my On the Edge project is of Tollesbury salt marsh, showing all the amazing colour in the marsh plants in the early Autumn.
I just have two more paintings in this series to complete, now – Dunwich and Orford.
Framewerks Features: If you receive my monthly newsletter you will already know that since last Saturday, 2nd November I have been the 'featured' local artist at Framewerks. Owner, Dave Fricker, has been my picture framer for many years. He and his wife, Sam have a thriving business which includes not just framing, but also gifts, mirrors, lighting and homewares and limited edition signed prints. Framewerks Features is a new venture for Sam aiming to feature local artists for a month at a time, and I was delighted that she asked me to be the first one.
Here are the six paintings on show –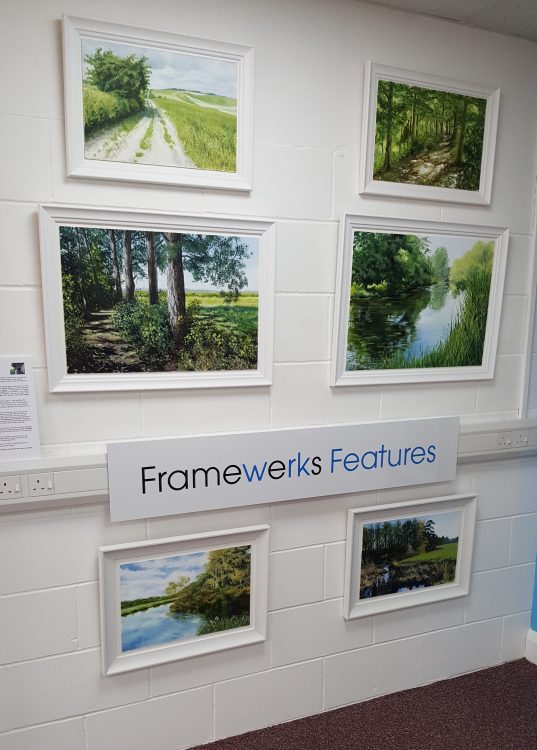 and here I am with them – with my eyes shut unfortunately! Both photos by Graham.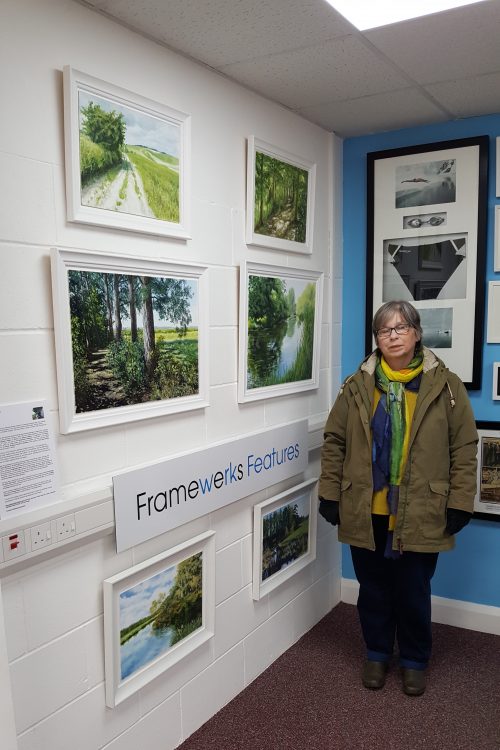 Framewerks is at Unit D4 Colchester Seedbed & Business Centre, Wyncolls Road, Colchester, CO4 9HT. My work will be there until 29th November.
Meet the Artist: Caxton Books and Gallery in Connaught Avenue, Frinton on Sea, where I have some paintings exhibited at present, are having a 'Meet the Artist' event on Saturday, 23rd November, from 4.00-6.00pm. There will be five artists there in total, although I can't tell you yet who the other four will be! Everyone is welcome – do come if you are in the area. 🙂
Don't forget, you can keep up to date with all my art-y news by signing up for my newsletter at the bottom of the Home page of my website. I only sent out one a month, on the last day of the month, and you can unsubscribe at any time if you are no longer interested.