'Meet the Artist' at Caxtons
This Saturday, 23rd November, I am taking part in a Meet the Artist event at Caxton Books & Gallery, 31 Connaught Avenue Frinton-on-Sea.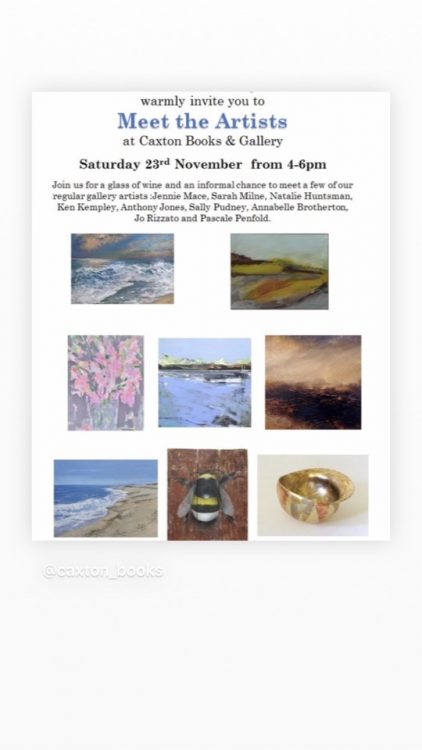 This is the invitation that the gallery put on Instagram. As you will see, eight other artists will be there as well as me! I shall be there from 4.00-6.00pm, so do call in for a glass of wine, a look at all the art work on display in the gallery, and an opportunity to talk to all these artists about their work, their techniques, their plans. I have six paintings there at present, and I will be delighted to see you! 🙂
As well as Caxton's in Frinton-on-Sea, I also have paintings and prints – including some new ones – at the Buckenham Galleries in Southwold, and paintings at Framewerks in Colchester (see last post for details) in case you find yourself in any of these places.
Other news: I made my painting project visit to a very stormy Orford last week, so that will be my next painting – I've just primed up a board for it! Graham and I are in the process of negotiating a new venue for our Anglian Arts Project 2020 exhibition. And I am in the process of sorting one of my painting projects for next year, which I'm very excited about! I will be sharing these with you, as usual, on January 1st!
Finally – Those of you who have followed along with my blog for a few years now, may remember that in 2016 I had a cancer diagnosis followed by a very scary difficult time, a big op and a long recovery? Yesterday I had my final hospital check up, and have been 'signed off' – so feeling very relieved and thankful!
---