The fifth in my series of painted lettering art pieces will be released on August 1st for Lammas. This is a time for celebrating the beginning of harvest, particularly the grain harvest. The song/story of John Barleycorn relates to this time of year, as the living Spirit of the barley which is cut down, eaten as bread, and reborn in the sowing of the seed for next year's crop.
I chose the quotation "our sweet earth puts on immortality again" – as usual from the work of e.e.cummings.
I planned a layout for the words first. I wanted to elongate the letters to resemble the stalks of wheat or barley.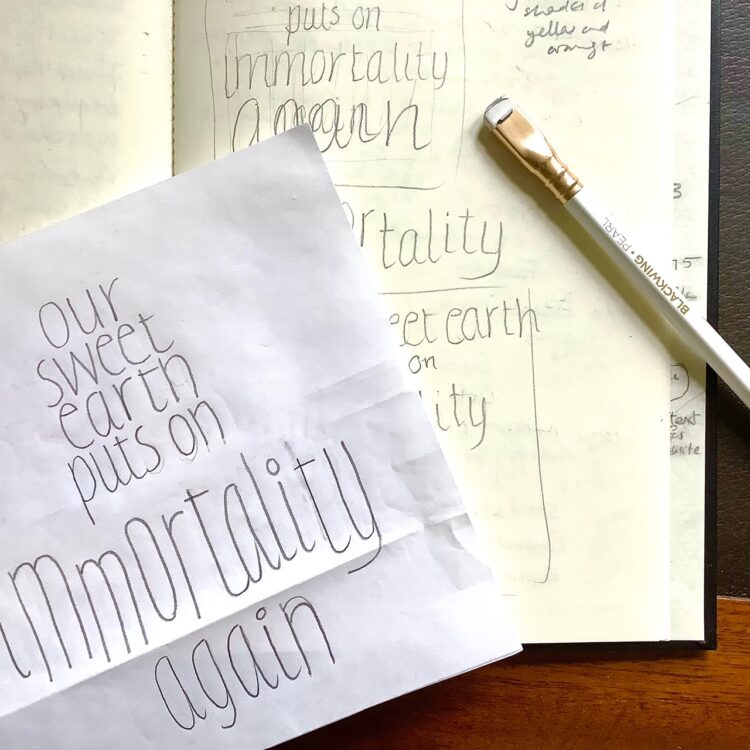 The colours traditionally associated with Lammas are all shades of yellow through to orange, and green. I chose the paints that I was going to use – Winsor & Newton's Cadmium Yellow Deep, Jackson's Primrose Yellow, and Daler Rowney's Pale Olive Green.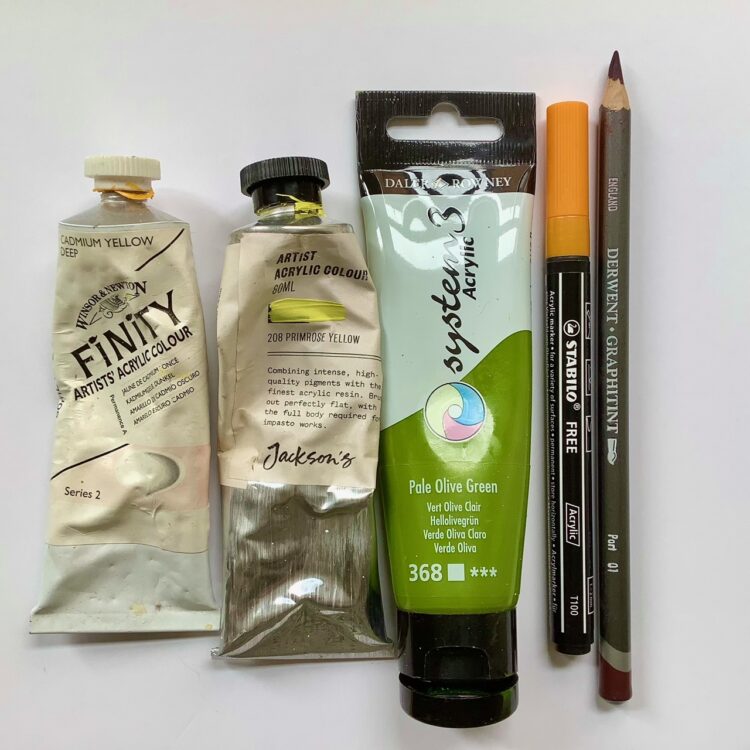 I also used a Stabilo Free Acrylic Ink pen in orange, and a Dewent Graphitint crayon in Port – a dark reddish brown.
Using a wide brush I made a stroke of Cadmium Yellow Deep across the top of each of my gesso boards. As you can see it is so deep it looks orange!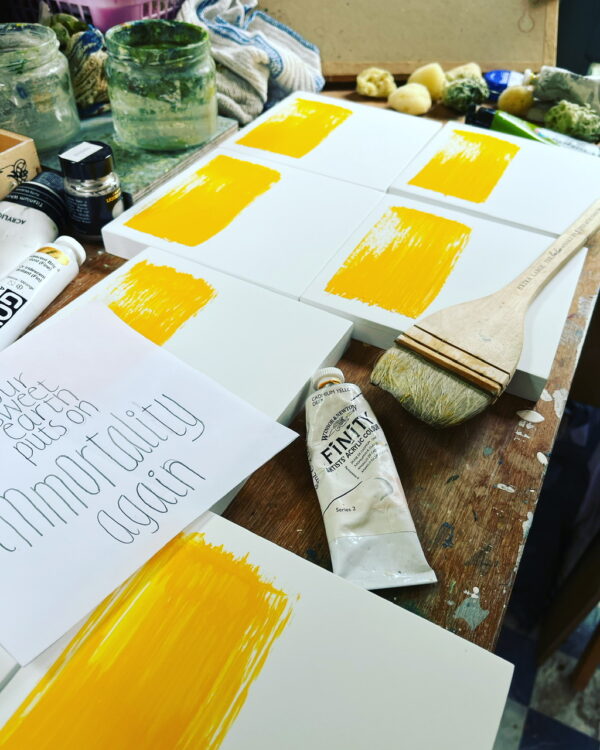 I just used one stroke, and didn't re-touch it, so each panel is slightly different. Then I added two vertical strokes of Primrose Yellow to the lower half of each board, plus a few small brush strokes of green to indicate the base of the stalks.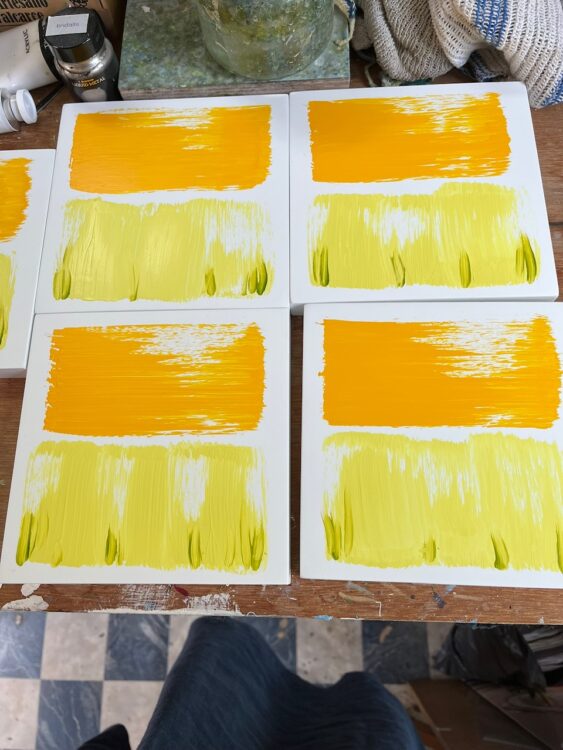 Then using the port crayon for the upper letters, and the acrylic orange ink pen for the lower letters I added the quote, and used the pen to add stylised corn ears around the letters.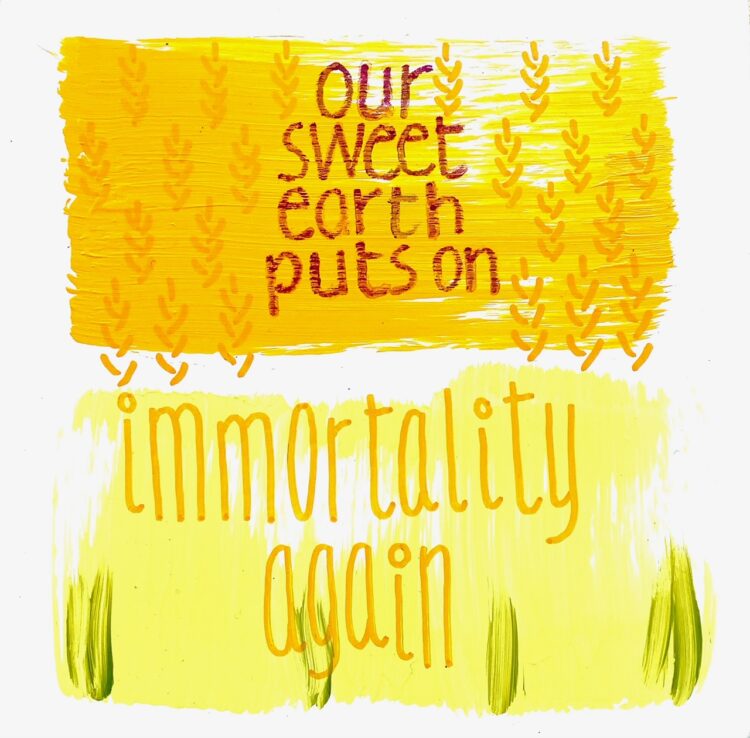 Finally, I framed them in simple white wood tray frames. As with all the others, they are strung to hang, but will also stand up on a shelf if required.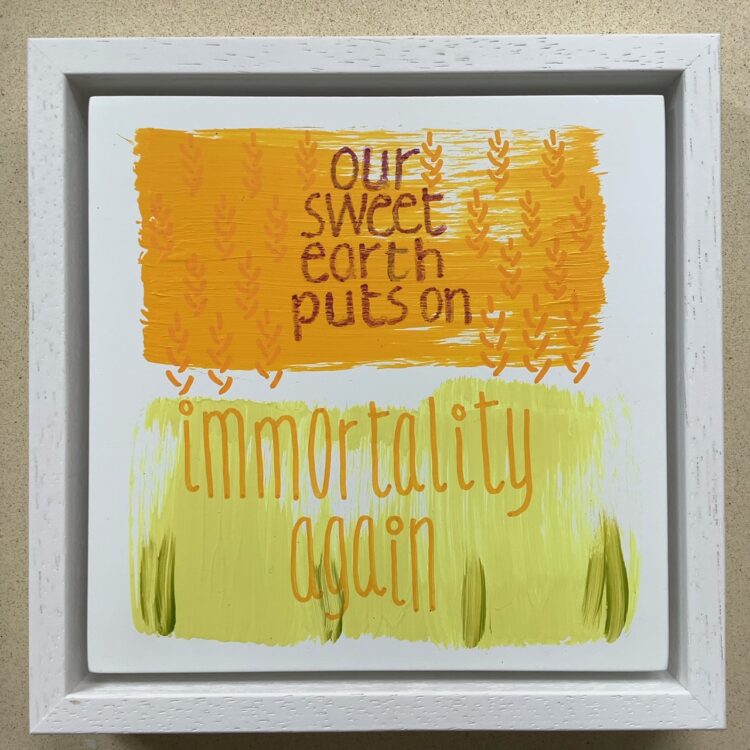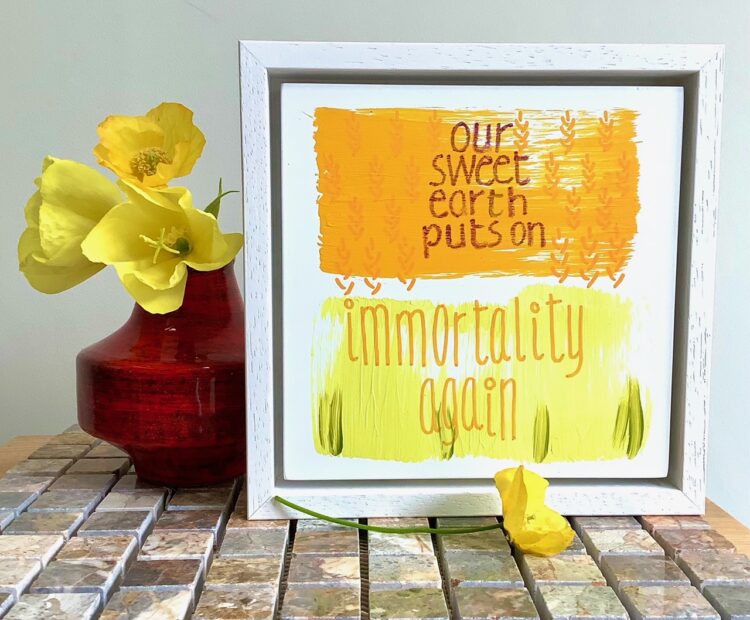 They will be available on the PAINT 7 page – see menu bar above – from 9.00am on Monday, 1st August, and will be £67.00 which includes free packing and postage to any UK mainland address.
---
Yes, I am over half way through my Twelve Months on an Essex Island painting project!
My most recent painting – Essex Island: July – was of a bit of the Mersea coast that I had never been to before. I walked down Empress Avenue until I got to the beach, and then turned left, eastwards. It was a very low tide, as near the time of the full moon, but a bright sunny morning with only a swathe of cirrus on the horizon and a few vapour trails in a blue sky.
I walked until I had passed all the beach huts and came upon an area where the land rose up quite high above the beach, which gave a good view out to sea. The tide was beginning to come in by this time, and the water was starting to cover the sand and mud below me on the shore line.
All my Mersea paintings are 45cm square, and are acrylic on board, some of them with added oil pastel and other media. This one is just acrylic. They can all be found on my Gallery 2022 page.
I picked up all sorts of bits as I walked along the beach, including a nice big hag stone.  Back home I sorted out the four things I wanted to draw, and completed my Findings drawing.
This drawing, only 15cm square, is done using Pitt Pastel pencils on Daler Rowney pastel paper. It can be found, along with the first six Findings drawings, on the Small Paintings and Drawings page – see the menu above.
I will be showing all my Mersea paintings, and all my un-sold Findings drawings at our Anglian Arts Project exhibition at the Sentinel Gallery in Chapel Road, Wivenhoe, which starts on Tuesday, 13th September and runs until Sunday, 18th September.  If you hop over to the Anglian Arts Project page – again, see the menu bar above – you can see the poster and read about the eight exhibitors. This time we have watercolour painting, fused glass, machine embroidery, ceramics, alpaca textiles, jewellery, lino prints – and of course, I will be showing my work, too!
If you haven't been to the Sentinel Gallery for a while, I can tell you that it has changed utterly since our last show there in September 2019! Under new ownership, the whole of the downstairs has been turned round, building work done, walls knocked down. It is a much larger, lighter, more airy and welcoming venue now. Graham and I will be there all day every day – except for Saturday afternoon, 17th, when I will be there, with another friend helping, as Graham is off to sing for a wedding! I look forward to welcoming you.