'From my March garden'
A new painting on the website this afternoon – this is the third in the 'From my __  Garden' series. This one shows a selection of narcissi, tall to tiny, and two dusky dark Lenten Hellebores.
The two mugs have exactly the same coloured deep blue glaze, but in every other respect couldn't be more different. The right hand mug is a standard mass manufactured one, but the one on the left is one of a pair of hand thrown mugs. They were given to me by a little girl called Elena who was in my class many years ago when I was a primary school teacher. Her family were moving away, I think to Wales, and so she was leaving the school, and these mugs were a leaving present, made by her mother who was a potter.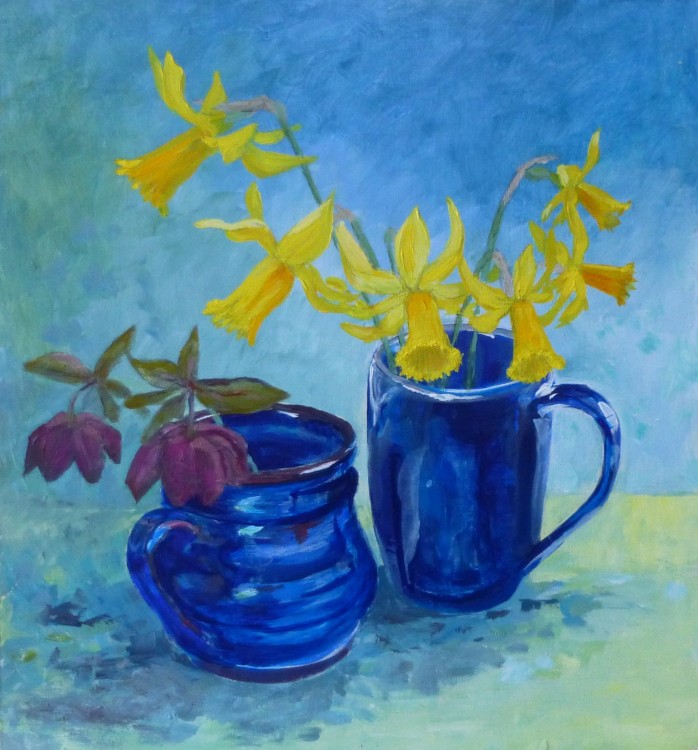 This painting has turned out very differently from the February garden painting, with much stronger colours, but I think that is going to be one of the characteristics of this series; as the months change so the 'mood' of the flowers will change, too.
I'm already eyeing up my Magnolia Stellata 'Leonard Messel' (I think that is it's correct name!) as it has just begun to open its beautiful pink petals in the last three days, and I think it will be the star of the show next month!
---