Leigh Art Trail
On Friday Graham and I went down to Leigh on Sea  to catch the 20th Leigh Art Trail. Jonathan Trim and Richard Baxter, both exhibitors at this year's Lexden Arts Festival, were both participating. Jonathan takes over Moylans Design in Broadway, and turns it into a gallery for the week, and of course Richard has his own gallery anyway so they had both had a really good week. We visited them, and then had a wander round some of the other venues.. They were very mixed! In some of the shops it was really difficult to see where the art work was, even!
Julie O'Sullivan's venue, miss annabel dee's gallery and studios, at 153 Leigh Road SS9 1JF, was really good though. It is Julie's normal studio space and she had her beautiful hand-built stoneware displayed in the front gallery and in her studio. And she was also there to talk to visitors about her work, which makes such a difference. In my opinion, that is what Open Studio events are really all about – not just sales, but meeting people and talking about what you do. That's what I love about doing Open Studios myself in September.
I was fascinated with the way Julie's organic looking pots incorporate things she has found along the Thames estuary. They really are rooted in the landscape.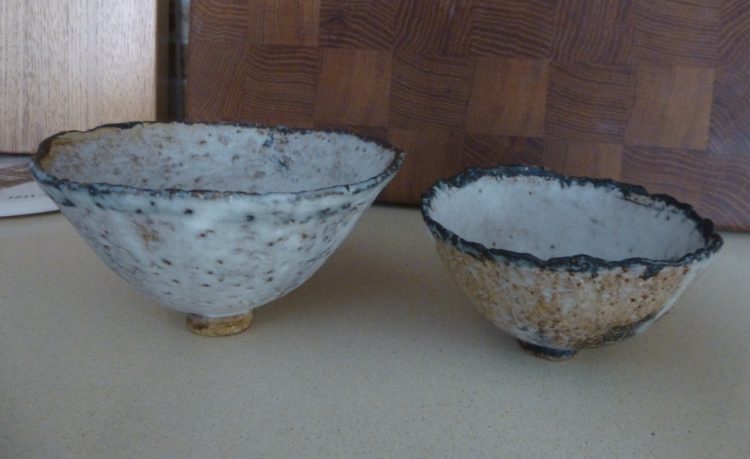 The two little pots I bought both had sea glass in the bottom, which, during the firing melts, and makes a little glassy coloured pool.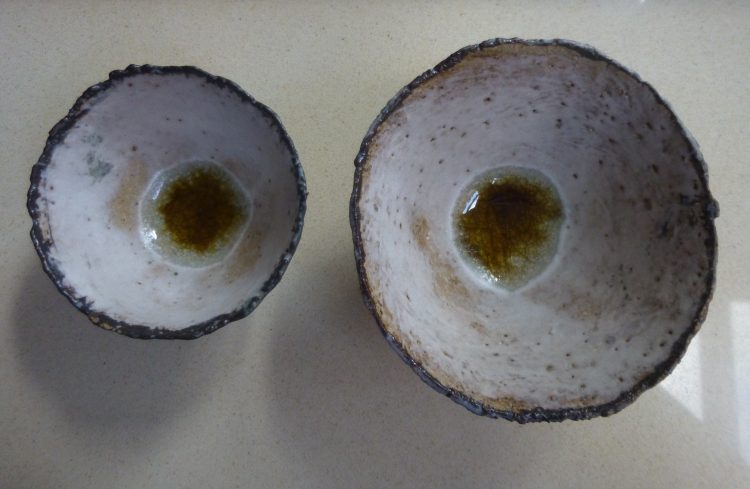 She had a huge variety of these – it took me ages to choose! Her large pots also have an acoustic element as we found out when talking while looking inside them!
To find out more about Julie's beautiful work go to www.julieosullivan.co.uk
---