New Cards, canvas prints and bags
Just in time for Open Studios, five new card designs have come back from the printers (www.moo.com) and I'm really pleased with them – I think they're the best batch I've done!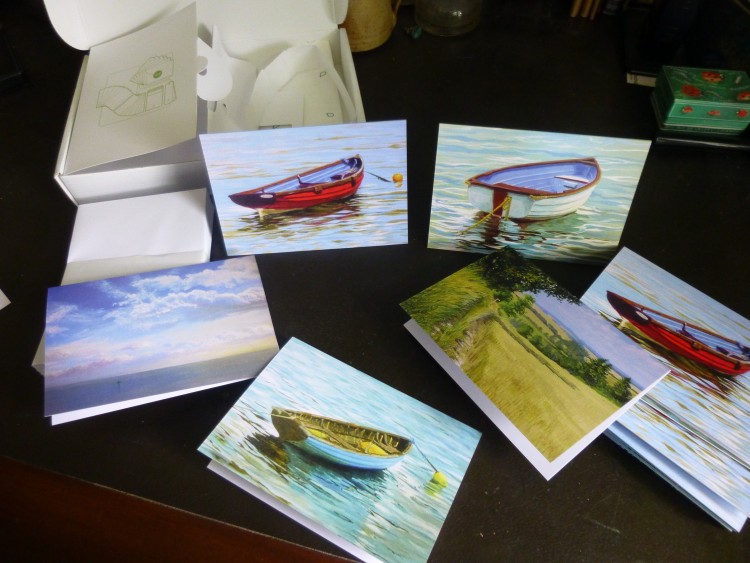 There are three dinghies, Dinghy on the yellow rope, Poppy on the Blackwater and Dinghy on the yellow buoy; a seascape, Afternoon Light, West Mersea; and a landscape, Essex Field Path II. They are now all bagged up and priced ready for Saturday.
I've also just received three lovely new canvas prints of the three dinghies mentioned above, which have also come out really well.
Yesterday I finished framing my last two new paintings, and today I've been clearing the decks in the dining room ready to put everything out – and I've even started to hang some of the paintings! I've used a completely new frame for Essex Field Path II – usually I use natural oak for landscapes, and a deep white frame for dinghies and seascapes, both with a plain white mount. But when I put the oak frame against Essex Field Path II at the framers  it looked awful as the colour was much too warm and brown. So after trying a few different frames I have gone for a slightly greenish-cream frame, with a dark charcoal mount – and it sets the painting off beautifully.
On Monday I delivered a jute bag printed with Before the Harvest to the winner of the free give away that I ran on the blog earlier in August. Shirley, who only lives on the other side of Colchester to me, was delighted with her bag, and said it was even nicer than she had imagined! I have lots more designs of jute bag, too, all hanging up ready for the weekend!
Only three more days to Open Studios! All the details on www.colchesteropenstudios.org.uk
Happy Autumn Equinox!! 🙂
---