A new painting and a winter sunset
A new painting up on the website this afternoon – called 'Afternoon Light, West Mersea' – this is from drawings and photos from the Autumn, and is, of course, in the 2015 gallery. (I'm so pleased that my 'Gallery' pages are sorted out by time, now.)  For those of you who know West Mersea, this view was looking out to sea from the Monkey Beach, between the 'boat-y' end near the floating pontoon, and the 'hut-end' where all the beach huts are. It was such a beautiful big sky, with different cloud forms, and the sinking sun just tinting the sea and lighting the lower clouds with a golden afternoon up-light.
This is a wonderful time of the year for skies here in East Anglia, especially for spectacular frosty sunsets, and I photographed this one from my back door a couple of nights ago – I thought you might like to see it.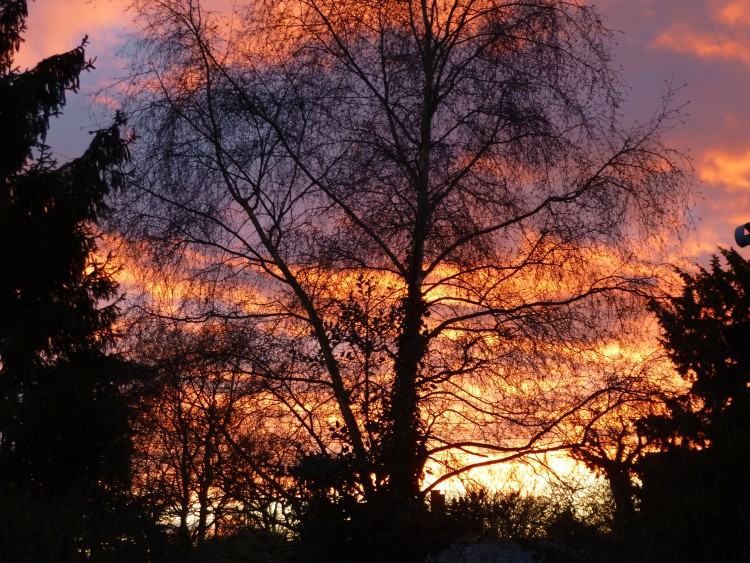 I'm contacting all the exhibiting artists for the Lexden Arts Festival tomorrow, to start making appointments to visit them to discuss what they would like to show with us in May. I love doing this – seeing other artists' studios, and talking to them about their work is fascinating. This is the real start of the build up towards the festival!! – so exciting. Check out all the Festival events at www.lexdenartsfestival.org.uk  and you'll also see there a list of the artists that we have invited to show.
Hope you've had a good weekend, and that the new week gets off to a good start. 🙂
---