Open Studios : over for another year . . .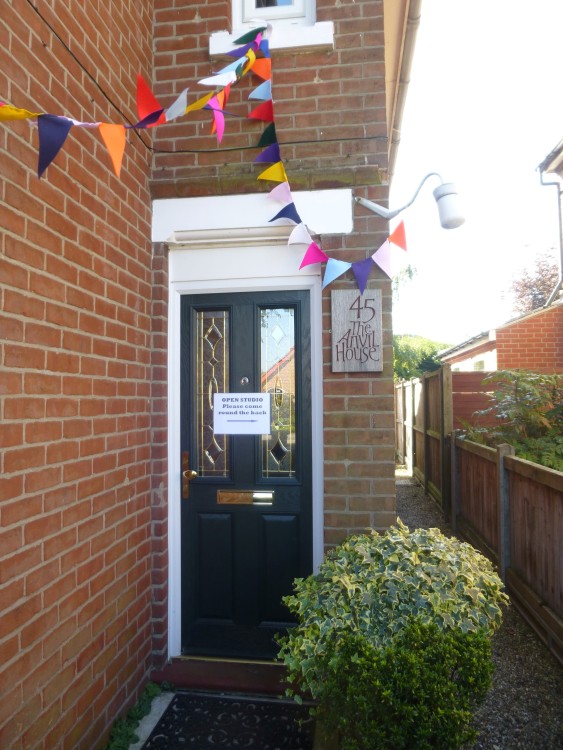 Well, what a weekend it's been!
I've had such a fun time – there have been lots of interesting visitors, lots of good chats, LOTS of sales (far more than I could possibly have hoped for), lots of tea and coffee drunk, and biscuits consumed – a really busy happy couple of days.
Of course, I couldn't do it without some help, and on Saturday my friends Lisa Cockrell (check out www.lisacockrellphotography.com) and Hilary Cowie helped, and on Sunday Graham helped all day, and then took me out for a lovely meal at The Crown at Stoke by Nayland afterwards – which was such a great way to finish off a special weekend – and then to come home and watch Downton Abbey! I am really grateful to all three of them for giving up so much time!
Today I've  been doing all the clearing up!!!
I've also been doing an audit of what is left, and what, in the way of cards especially, needs reordering, as I have been invited by Rosemary Elden to have an ARTSTUFF stall at her coffee morning in aid of the charity Lepra, and will have cards, canvas prints, jute bags, calendars and Christmas cards there.  It will be held at St Leonard's Church at Lexden, on Saturday, 7th November, starting (I think) at 10.30am – I'll give you more details nearer the time.
Although my Open Studio event is over for the year, some artists in the Colchester area are opening next weekend as well, so do check out www.colchesteropenstudios.org.uk to find out. I'm toying with the idea of opening for two weekends next year . . . .
Hope your week has got off to a good start 🙂
---