Open Studios: Questions that people asked: Part 3
'Do you ever use a painting knife to put the paint on?'
'What sort of brushes do you like to use?'
'Who frames your work?'
The last three questions that several different people asked me. Here goes with some answers!
Yes, I do use painting knives of various kinds, mostly when I am painting sea, or massed foliage, or long grass. I've got a number of different shaped knives that are good for different things.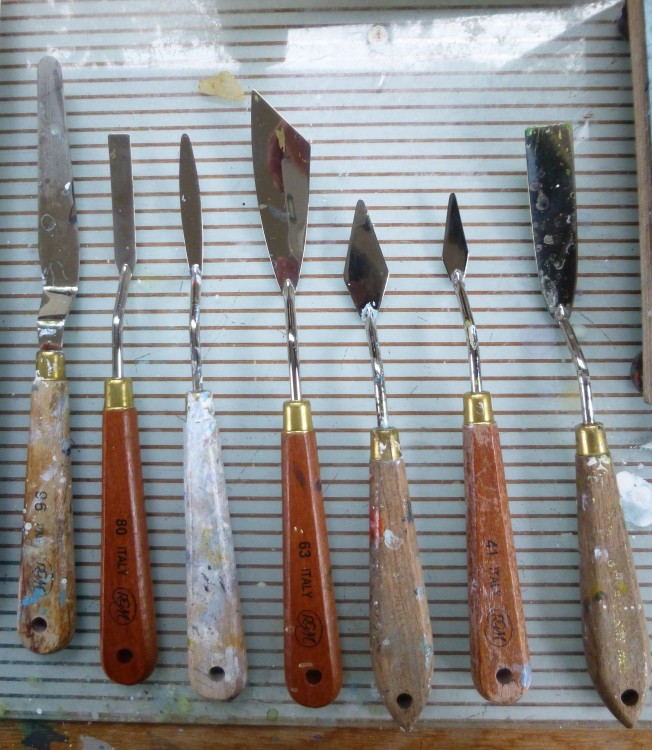 You can't really see in the photo, but the knife on the extreme right has a serrated edge which is rather useful for scraping a narrow parallel line pattern into paint – have a look at the field in 'Suffolk Lane in May' (Gallery 2014) which is a good example of the effect. The ones I use most are the two diamond shaped ones. The knife on the far left is for mixing paint on the palette – I always use a stay wet palette, as it really makes the paint last and stops you wasting so much at the end of each painting session. Provided you keep the absorbent paper damp, in the base of the palette, paint will last for about a week without hardening or drying out.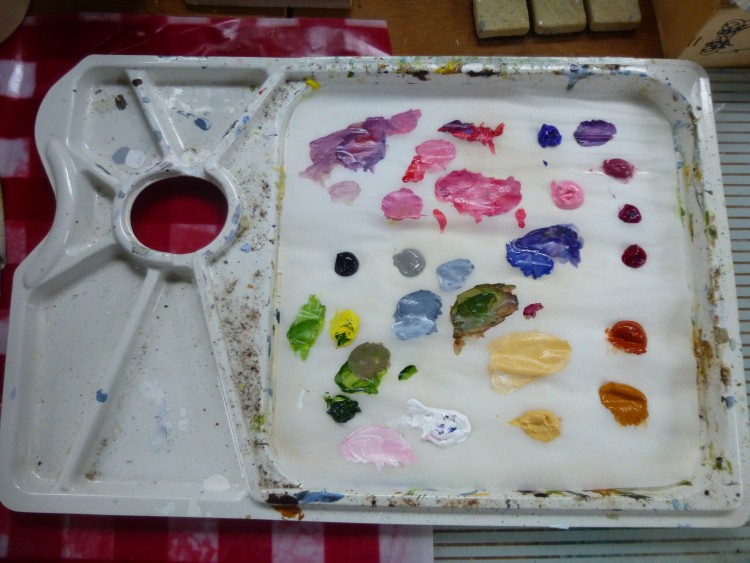 I usually use Windsor and Newton's Galleria brushes, but do have a few others. Filbert brushes (flat, with a rounded end) are very useful, I find, for painting clouds. I use a large filbert or a bright (flat with a straight end) for blocking in background colour. Details call for smaller filberts, and I have a few small round brushes for very small details. They are all from brush ranges designed for acrylic and oil painting. except for the very small ones which are sable watercolour brushes – I usually only use these for the little details on the dinghies. (These very small brushes, and my small filberts are not shown in the photo.)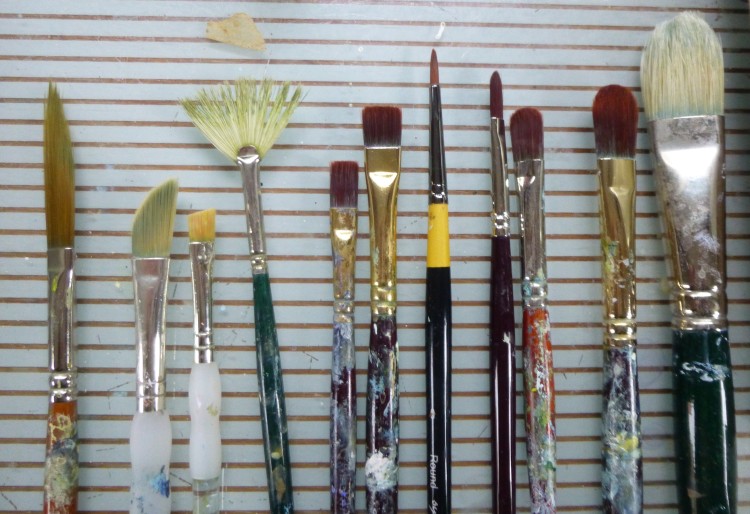 As you can see, I do have a few quirky brushes for specific jobs! The two sword shaped brushes on the far left are great for painting water, and the fan shaped brush is very helpful for grass and foliage. I have a larger sized one of these as well. This photo just shows a selection of brushes – I have a lot more, but most of the others are in various states of decrepitude!
So, last question, who frames my work. I get all my frames made up by Dave and Dan at 'Framewerks' – I have been going to them for years, and would highly recommend them.  Their website is www.framewerks.co.uk
I spent a happy afternoon in the studio today making a start on the first of my 'Peddars Way' paintings. Hope your week has got off to a good start, too! 🙂
---