A Week in Wiltshire: Walking The Ridgeway
Just back from a week in Wiltshire, partly spent walking some sections of The Ridgeway, an ancient track-way which is now a National Trail, drawing and taking LOTS of photographs, as I intend to do a series of Ridgeway paintings!
It was wonderfully peaceful – the white chalk track stretching up the slopes, the vast skies, the wind, the bright fields of oilseed rape, the cowslips thick on the slopes, blue birds eye and red campions, and billowing waves of cow parsley everywhere.
I saw five Red Kites in different places on my walks, and rooks in huge masses – the beech hangers which particularly featured in the stretch between Hackpen Hill and Barbury Castle (an Iron Age hill fort) where raucous with rooks!
The hedges were heavy and white with may blossom and the sky full of skylarks singing. There were long stretches when I could hear nothing but my own footsteps and the song of the skylarks.
. . . and when I climbed up to the top, I could see that the ditches were thick with cowslips!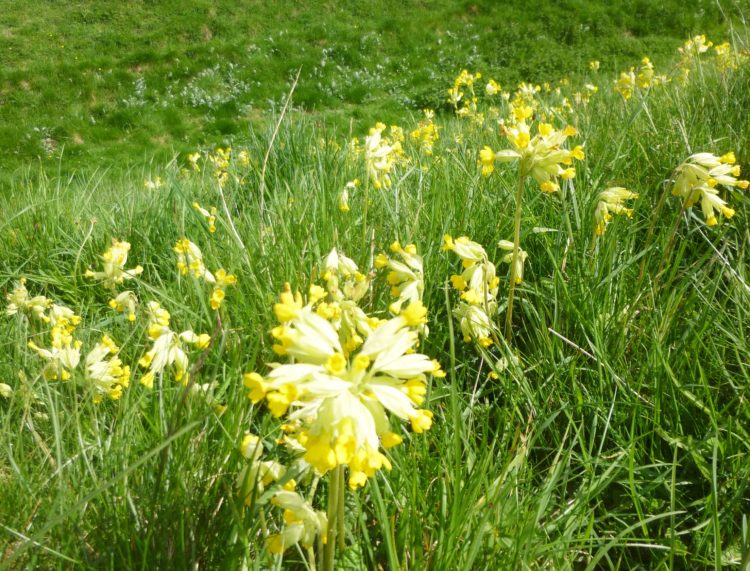 The last stretch that I walked, Smeathe's Ridge, between Barbury Castle and Ogbourne St George, really brought home why the Ridgeway is called the Ridgeway. It is just that – high ridge of ground, totally exposed with no trees, and the land falling quite steeply away on either side. And the wind!
I fitted in lots of other things during my week in Wiltshire – second instalment tomorrow! 🙂
---