So, my final artist visit for this year's Lexden Arts Festival!
It was a cold start to the day, yesterday, but by the time I had driven up to Stradbroke the sun had come out and the countryside in north Suffolk was looking beautiful, the hedges billowing with blackthorn blossom, the trees in new leaf, and the occasional field just showing yellow with oil seed rape.
Steve and his wife, Mita, welcomed me to their beautiful double fronted Victorian house where they have lived since returning to England from Utah in the US in 2008. Steve, who is originally from Nottingham, has painted all his life, but only after taking voluntary redundancy at 55 after a business career climbing the corporate ladder in the Paper Industry, did he have the opportunity to paint full time.
He originally used pastels, but he described to me the difficulties in framing them, which prompted his very successful switch to oils. Steve now exhibits and sells his work in many galleries, is a professional member of the SAA, and has been accepted as a candidate member of The East Anglian group of Marine Artists. His work has been featured in several publications, and he has shown with the Institute of East Anglian Artists. He told me that his proudest achievement so far has been the purchase of two of his paintings to be part of the House of Lords Permanent Art Collection.
Steve and Mita – who is a watercolour artist – share a studio upstairs at the back of the house. They each have a designated 'end' of the room, and Mita said they had certain unwritten rules about sharing the space!
Steve's paintings, which were all around his end of the room, and hung on the landing outside, show his love for the East Anglian landscape and coast, with many showing scenes of rural Suffolk, and of the North Norfolk Coast, and the Suffolk coast around Aldeburgh and Snape. Although he was doubtful whether he had enough work to show with us, we had no difficulty in selecting twelve paintings, and I shall enjoying hanging them next week – I know they are going to be really popular with the Festival go-ers!
The unfinished painting on Steve's easel can now be seen, finished, on his Facebook page – he must have worked hard yesterday afternoon after I left! To see other paintings of Steve's go to www.shigtonart.co.uk
The Festival is getting very close now – it opens to the public a week tomorrow, on 2nd May. The art exhibition is open every day from then until Saturday 9th May from 10.30am-4.30pm, except for Sunday 3rd (1.00pm – 4.30pm) and Wednesday ( 12noon – 4.30pm). Refreshments are available at all opening hours, and light lunches are available on 2nd, 4th, 5th, 7th and 9th between 12.30-2.30pm. If you are near Colchester, do call in to see the exhibition, and do come and say hello – I shall be at the Reception desk all week, so I'll be easy to find. 🙂
Details of all the Festival evening events are on the website, too – www.lexdenartsfestival.org.uk – where you can buy tickets on line. If you are interested in having a go at something creative yourself, details of the two textile workshops are also available on the Festival website, and tickets for these may be purchased there, too.
Only one more week! Get excited!! 🙂
---
It's been a beautiful warm sunny day here, and I drove down to Wivenhoe this morning to do – not artist visiting – but artist work collecting. Yes, the Lexden Arts Festival is really that close!
First I met up with Annie Bielecka and we loaded my car up with twelve of her beautiful textile pieces. She had packed them so well that I couldn't actually see the work, but they have wonderfully evocative titles such as 'Harlech Castle Arrowslot', 'Oban from Iona', and more locally, 'Sunrise at Fingringhoe', and 'Colne Morning'. I am really looking forward to unpacking them all to see what Annie has given us, but that won't be until I start to hang the work next Wednesday.
Annie has had a very varied and interesting life, starting in a London Fashion house, and including making costumes for pop musicians, being secretary to a senior British woman politician and minister, and designing and making theatre costumes. After a serious illness over 20 years ago, design and art became her therapy and passion. She had always loved fabrics, and in her work she tries to combine silks and natural materials with artificial man-made materials and sometimes uses hand-made felt or wool she has spun and dyed on a traditional spinning wheel using fleece from her cousin's sheep farm in Snowdonia.
Pru's ceramics need no introduction to Lexden Festival go-ers, as they have proved extremely popular in the past. Last year I had to ring her up half way through the week and ask her to bring more work, as we had almost sold out.
This year, Pru is showing a striking new design, called Angela, and an unusual mug shape, which she told me she didn't often make, as well as a whole range of variants on some of her popular patterns and shapes.
When I got to the Sentinel gallery Pru and Rosie were busy tying up the loose ends after the first big Opening Exhibition which finished last Saturday, and getting ready for the next show, which is called Dodds & Co., featuring paintings, prints, film, pottery, poetry, photographs and sculpture by the very talented extended Dodds family – James Dodds, his wife Catherine, their children Dougie and Mary, and also Wendy and Bryan Thomas – I'm not quite sure where the latter two fit into the family tree! For more details check out the Sentinel's website, www.thesentinelgallery.co.uk where images of Pru's work can also be seen.
For a preview of Annie's textile work, go to www.anniebielecka.co.uk
Don't forget that all the details about the Lexden Arts Festival are on the website, where tickets for the evening events and textile workshops can also be purchased. www.lexdenartsfestival.org.uk
---
A new painting on the website this afternoon – Essex Field Path is from a drawing I did in May last year, near Maldon. I liked the contrast between the new lush grass and cow parsley, and the trees which were not all yet in leaf. This painting is my usual acrylic but has a lot of oil pastel, too, so I have labelled it mixed media.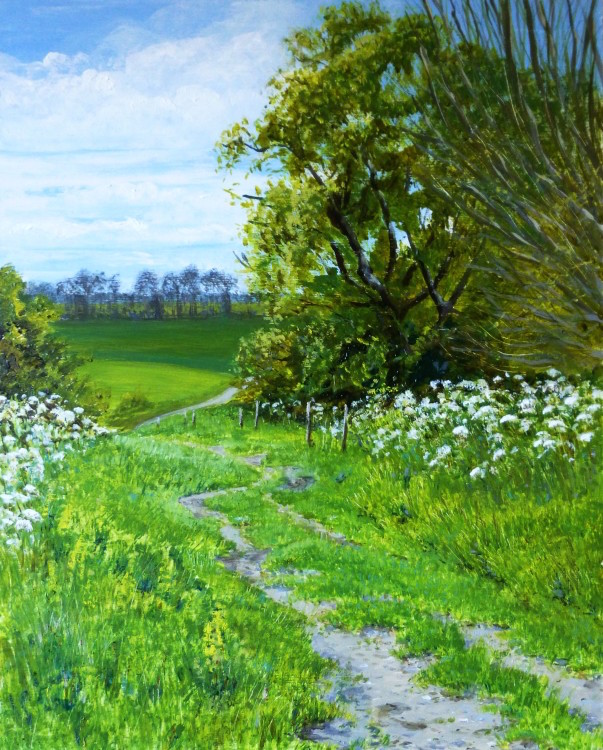 I must get on with 'From my April Garden' next, as April is flying past! I know exactly what I'm going to do for this one, and it features my Magnolia Stellata 'Leonard Messell'. It is in spectacular full bloom at present right outside my studio window, but it has been so warm today that it will soon start dropping it's petals if I don't get it done very soon.
Nat Young's paintings will be familiar to many from previous Lexden Arts Festivals, where his mixed media paintings have had some keen collectors. We are delighted that he's showing with us again this year. He came over to my house this afternoon with a pile of paintings and we went through them one by one to choose the selection. The paintings told a tale of Nat's journeys to the North of England, Scotland and the Welsh coast, and  I'm sure they are going to meet with more admirers at the beginning of May.
---
Another 'artist visit' today, this time to Richard Baxter's ceramic studio. Richard will be exhibiting with us for the first time this year, and I was so pleased when he agreed to do so, having admired his work in the past at the Haylett's Gallery in Maldon.
I first met Richard last summer when I went to buy a beautiful large yellow and black bowl from him for Graham's birthday. Richard's studio is in Old Leigh, on the banks of the Thames. Old Leigh Studios has a gallery on the street side of the building, which Richard shares with other artists. His large workshop is at the back, full of work in all stages of completion. And also two canoes, for use on the Thames, when the tide is in. Today the tide was as far out as one could imagine, with nothing to see but mud!
We had a good chat, and sorted out all the details about the exhibition, and heard about Richard's new kiln – arriving on Monday! – and his eight piece band, the Famous Potatoes, which has played together for over thirty years. When I asked, in astonishment, whether the line-up had remained the same for all that time, Richard said they had had a new member who had only been with them for twenty-three years – and they were still having a few teething problems with him . . . .
I know Richard's work is going to make a stunning display at this year's Lexden Arts Festival, and shall look forward to unpacking it all at the end of the month, to see exactly what he has brought us! If you would like to see what to expect go to www.richardbaxter.co.uk
Can I remind you that tickets for the evening events at the Festival are now on sale on the website www.lexdenartsfestival.org.uk and also from Red Lion Books in Colchester. They are already starting to go, so don't wait too long!
This week the spring really seems to have arrived! The hedges, driving down to Old Leigh, were noticeably green, and we finished off our visit to Old Leigh with fish and chips – what else! – eaten outside at the pub opposite Richard's studio, in the sunshine! Actual warm sunshine! Hope you are enjoying it too. 🙂
---
On Tuesday I went to visit another of the artists exhibiting at this year's Lexden Arts Festival. I was delighted when Glynn Thomas agreed to exhibit with us, as I have admired his work for years and have quite a number of his etchings around my house.
After quite a few wrong turnings, and a very confused satnav I found Lodge Cottage at Capel St Mary. Glynn led me in to a room hung on all sides with his work, like a small gallery. More etchings, framed and unframed were in drawers and boxes all around. It was really difficult to make a choice, but I think we have ended up with a lovely selection of pieces from Suffolk, Essex, London – including a wonderful, huge etching of Tower Bridge – and Cambridge.
Glynn's upstairs studio runs the complete depth of the house, looking out onto the lane at the front, and at the back onto the garden and open fields. It is dominated, of course, by the big etching press, with its huge metal wheel. Glynn showed me some of his sketchbooks, full of detailed ink drawings which he uses to piece together his idiosyncratic fish-eye – or sometimes bird's-eye – views  which magically capture the essence of the place.
The view from the studio is very far reaching, and I could just make out the rhythmic glint of the turning wind turbines out to sea, which Glynn said are 27 miles away! Glynn is a keen birdwatcher – though not a 'twitcher' he told me! – and he has a wooden bird watching 'tower' built on the boundary of the garden. Often, he said, a barn owl will fly right past him, again and again, as it quarters the field, hunting, while he is on his tower, watching.
I am really looking forward to hanging Glynn's work in our exhibition. To get a preview go to www.glynnthomas.com
Tickets for all the Festival events are now on sale on the website www.lexdenartsfestival.org.uk or are available to purchase from Red Lion Books in Colchester High Street. Tickets for the two textile workshops, (which are available from the website only) – Hand made felting, and Rag-Rug making- are very limited, only 10 and 12 places available respectively, so if you are interested don't wait too long!