My fifth canvas print will be going up on the designated page of the website sometime today.  This month's print is called 'Dinghy on the Red Buoy' and is a dinghy from Mersea Island. All the details of size, price, etc., can be found on the Canvas Prints page.
I was really pleased that these Canvas Prints proved popular at the Lexden Arts Festival – in fact two people each bought a pair of them! For those of you who are local to the Colchester area, I shall be having a little stall again this year, called 'Art Stuff', at the St. Leonard's, Lexden, Summer Fete. I shall be selling a selection of Canvas Prints, plus all my cards (including a couple of new designs – Essex Field Path and Two Thames Barges), and a new venture, Jute Bags, which have one of my paintings printed on the side. I shall also be selling a range of cards produced by my niece, Claire Beckett, under her new venture 'CJB designs'. It is a lovely old fashioned summer fete, and will be on 4th July. I'll give you more details nearer the time.
The 1st of the month tomorrow – Happy June! 🙂
---
Two new paintings have gone up on the Gallery page of the website today. First – in the nick of time – 'From my May garden'. This one shows honeysuckle in an old black mug, with a shiny glaze. The mug has been knocking around since I was a child, and I have no memory of where it came from – did some relative bring it back from a holiday? I know my mother would never have bought it as she thought the black shape was very ugly! When I was in St Ives last September, and read up about the history of the Leach Pottery, I did wonder if it came from there in the late 1950s or early '60s. The glaze is right, and it has a rather indistinct mark on the base of the handle which could be the circular Leach mark. What do you think? This one, like the April picture, is acrylic and graphite.
Last Sunday I went up to Aldeburgh to visit a friend who was staying in the town in a house close to the beach for the weekend. I arrived much earlier than we had arranged to meet, so having had a browse round Thompson's art gallery and a quick trip round the shops, I went onto the beach and walked north – with difficulty on all those pebbles! There was a strong breeze and the gulls were swooping and screaming. A few families had made encampments in the shelter of the beach boats . I sat on one of the pebbly ridges and drew the view looking south. So here is 'Breezy day at Aldeburgh'.
It's cold and windy here today, after a few lovely sunny days, but I hope it will be better tomorrow. Friday already! Hope you enjoy your weekend 🙂
---
I worked really hard yesterday afternoon, and have, very belatedly, finished 'From my April Garden'. I'm experimenting with some mixed media work at the moment. My last painting was acrylic and oil pastel, and this one is acrylic and graphite. The beautiful yellow and black mug was made by Richard Baxter of Old Leigh Studios – one of our Lexden Arts Festival exhibitors this year. Hope you like it! 🙂
---
Getting back to normal here, after the Festival.
Visiting friends, gardening, making bread, lots of painting, of course! I'm also trying to catch up on my 'From my garden' series. I have a little more to do on my April picture, which features the magnolia outside my studio.
Then I shall need to swiftly get on with the May garden picture, which I think may show the beautiful double pale mauve lilac near the bottom of the garden, as it is looking and smelling wonderful at the moment.
On Tuesday I went to the Munnings Art Museum, at Castle House at Dedham for a talk on Sir Alfred Munnings' paintings. As we all arrived the heavens opened with a tremendous storm of heavy rain and huge hailstones – not much like May! Fortunately, it didn't last long, and we were able to get into the house, which is lovely, and enjoy the very interesting talk.
This year the curators have completely re-hung the whole house, so that the paintings are in chronological order, starting with Munnings' boyhood works in the library, wending through the dining room and drawing room, upstairs to later war-time, and racing works, and late commissions. I much preferred his earlier work, with its looser, impressionistic style, and my two favourites were 'Charlotte's Pony', and 'Suffolk Mare and Foal', both in the dining room. We had a delicious tea in the Garden Café, and when I came out there were two horses in the neighbouring field who rather looked as if they could be posing for Munnings!
If you are interested in visiting Castle House, which I really recommend if you are in the area, the address is The Munnings Art Museum, Castle House, Castle Hill, Dedham, Colchester, Essex, CO7 6AZ. It's open from April to the end of October, Wednesday to Sunday and Bank Holiday Mondays, 2 – 5pm and costs £6.50 for adults. All the details on their website www.munningsmuseum.org.uk.
Hope you have some nice plans for the Bank Holiday weekend – and that the weather improves for it! 🙂
---
I had a trip down to Leigh on Sea on Tuesday to return the unsold work of Richard Baxter to Old Leigh Studios, following the close of the Lexden Arts Festival last Saturday.
Having had a cup of tea and ginger biscuits with Richard and his wife at the studio, I walked along to look at the Thames estuary, just the other side of Old Leigh High Street. Now this is the third time I've been there. And so far there has never been any water in the estuary, just vast acres of mud! How very disappointing.
Today I returned the unsold work of Pru Green and Annie Bielecka to Wivenhoe, and took the opportunity to have a look at the Sentinel Gallery's 'Dodds & Co' exhibition, which is on until Sunday, 17th. If features work by all members of the Dodds family – James, his wife Catherine, who is showing some wonderful portraits as well as her ceramics, their son and daughter, James' mother, Wendy Thomas and her husband, and James' late father, Andrew Dodds. What an amazingly talented family. The show is on till Sunday, open till 5.00pm, so just time to catch it if you are local to Colchester. Shipyard Studios have also started their exhibition in Wivenhoe today – also a lovely varied show, well worth a visit – and their Wivenhoe Open Gardens is on over the weekend, so lots of reasons to have a trip down there. I thought I'd have a walk along the river as I was so near – and the Colne was also showing very little water and a great deal of mud!
I had two nice surprises in the post this week. My new greetings cards arrived back from the printers – moo.com – and I was really pleased with how they turned out. 'Two Thames Barges' and 'Essex Field Path' are both portrait format paintings, which I don't do very often, so they were a good pair to have printed together using moo's wonderful Printfinity.
On the same day I received a package from Hugh Lupton, our Festival Storyteller, who sent me a copy of his book 'A Norfolk Songline: Walking the Peddars Way' which looks fascinating, and immediately made me want to go and walk some of it myself!
Hoping to have a walk in the bluebell woods this weekend . . . . .
Hope you have some nice plans too! Happy weekend!:)
---
So, the Lexden Arts Festival 2015 finished on Saturday night with a great jazz evening from Sam Bullard's People and Places Jazz Quartet. Sam – now an acclaimed jazz musician who plays with the Pasadena Roof Orchestra, the London Jazz Orchestra, the Heritage Orchestra, as well as smaller groups – started playing his saxophone many years ago in my instrumental group when I was teaching at Hamilton Primary School in Colchester;  there was a lovely moment on Saturday evening when I told this story, and a large section of the audience cheered! Looking round I realised that lots of Sam's old class mates, and ex-Hamilton parents had come along to hear him play!
What a week we've had . . . . . . . Lots of art sales, lots of lovely visitors, a wonderfully friendly and efficient café that was so popular, a magical story-telling evening on Friday with Hugh Lupton, a happy evening on Wednesday listening to Bethany Appleton's brilliant songs, and Ashley Blasse's guitar music, watching the dramatic film Exodus on Monday evening and being transported back to a medieval spring by Blondel's renaissance wind band on the first evening . . . . It's been exhausting, but such fun.
Here are some more photos of some of the art work I didn't show in my last post, and of the performers.
We spent all day yesterday clearing up, and there's still loads to do, as well as unsold work to be delivered to artists, and bought work to be delivered to customers who were unable to collect, and the raffle prizes to be delivered to the lucky winners . . . . . . . And then there's the accounts to do . . . .
Hope your week has got off to a happy start. 🙂
---
So here they are – photos of the Lexden Arts Festivals art exhibition, taken just before the Private View on Friday,  when everything was tidy and ready and waiting!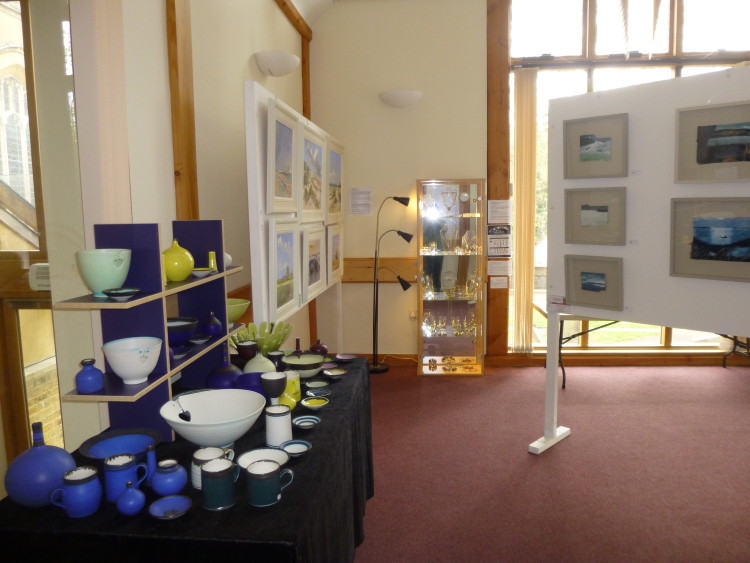 This one shows Richard Baxter's ceramics, with a glimpse of Steve Higton's paintings on the left, and Barbara Peirson's paintings on the right.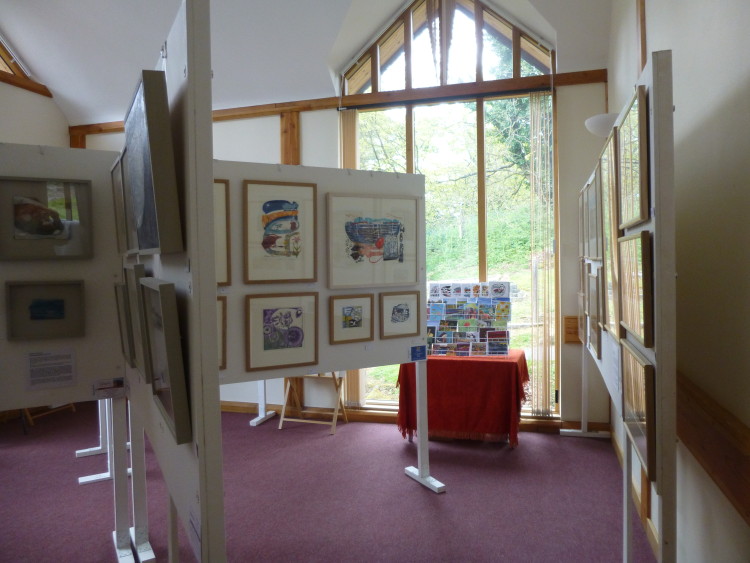 Barbara Peirson's paintings on the extreme left, Penny Bhadresa's lino prints, and Glynn Thomas' etchings on the right. In front of the window is the card stand, full of greetings cards and post cards by Penny, Jean Constantine, Lisa Cockrell (photography), Claire Beckett, Annie Bielecka, and me.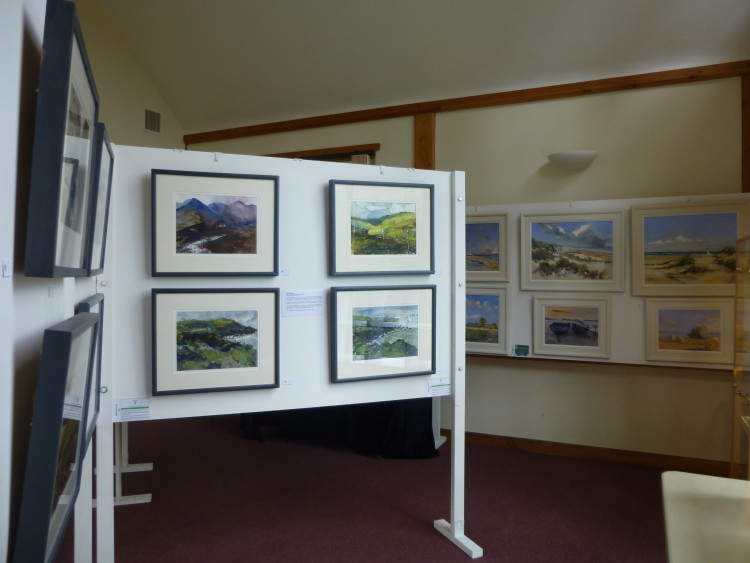 Nat Young's paintings on the left, Steve Higton on the right.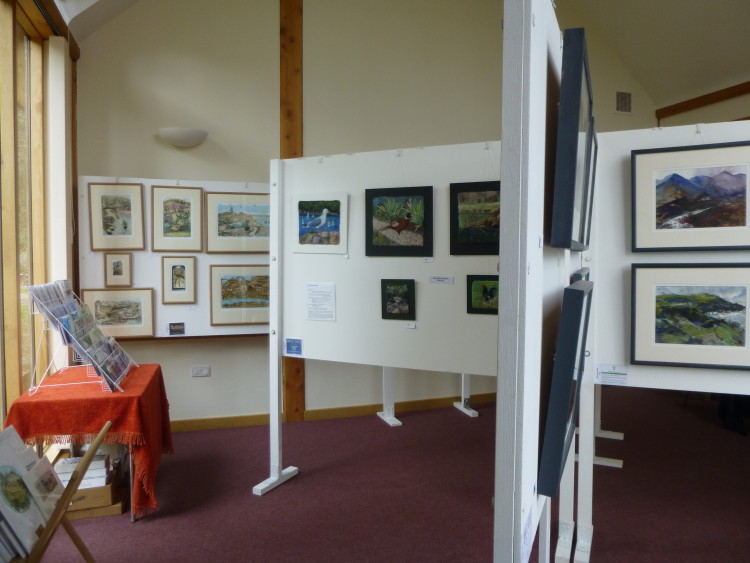 From left to right, Glynn Thomas' etchings, Jean Constantine's hand made felt pictures, and Nat Young's paintings.
Jean Constantine's felt pictures, and my paintings.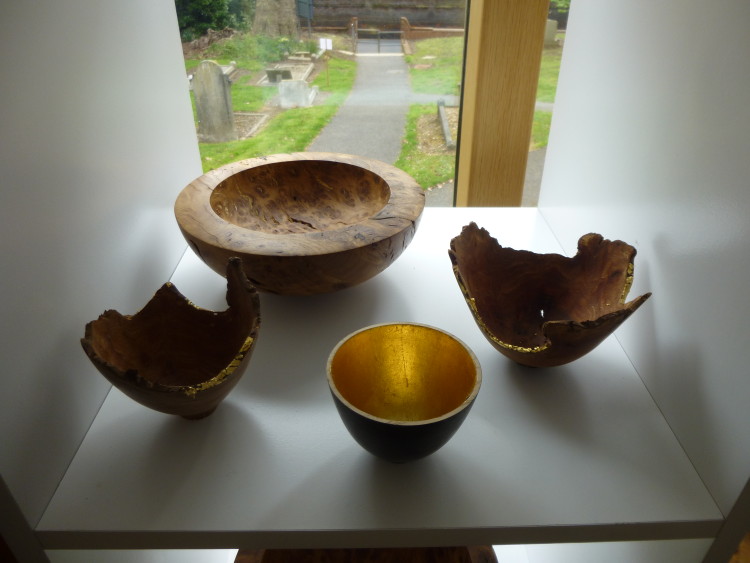 And a few of Tom Pockley's turned wooden vessels.
Lots more to show you, but that's enough for now!
---
Just a quick post today, before I dash off to the first full day of the Lexden Arts Festival, to say that Canvas Print 4, entitled 'Maldon Dinghy, Caught by the Wash', went up on the site yesterday.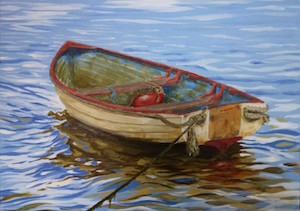 Last night was the Private View of the Art Exhibition of the Festival – a really good evening – there will be lots of photos to show you in due course, when I've had time to process them! Lots of friends old and new came along, and lots of works sold.
You may be wondering what has happened to 'From my April Garden' – it will be appearing, but a little late as I've been so busy with the Festival preparations that I haven't had time to finish it.
That's all for now! Hope May has got of to a good start for you! 🙂