Canvas Print 4 and Private View
Just a quick post today, before I dash off to the first full day of the Lexden Arts Festival, to say that Canvas Print 4, entitled 'Maldon Dinghy, Caught by the Wash', went up on the site yesterday.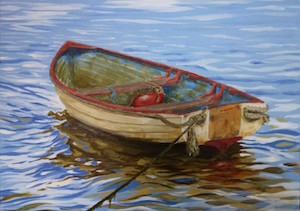 Last night was the Private View of the Art Exhibition of the Festival – a really good evening – there will be lots of photos to show you in due course, when I've had time to process them! Lots of friends old and new came along, and lots of works sold.
You may be wondering what has happened to 'From my April Garden' – it will be appearing, but a little late as I've been so busy with the Festival preparations that I haven't had time to finish it.
That's all for now! Hope May has got of to a good start for you! 🙂
---