The last day of March, so time for the next Canvas Print. This one, 'Waiting for the Tide', is a painting of a Heybridge Basin dinghy, caught when the Blackwater was far out! As usual, it is in a limited edition of just six canvases, each one signed, with its edition number on the reverse, and mounted onto a sturdy wooden frame, ready to hang. They are available to purchase on the 'Canvas Prints' page, £25.00 including postage and packing to any UK mainland address.
The original painting from which this canvas print is produced was sold last week at the Geedon Gallery's Spring Show – which is still on! Look a few posts back for all the details.
So, April tomorrow, and Friday! Happy April! Hope you enjoy your weekend 🙂
---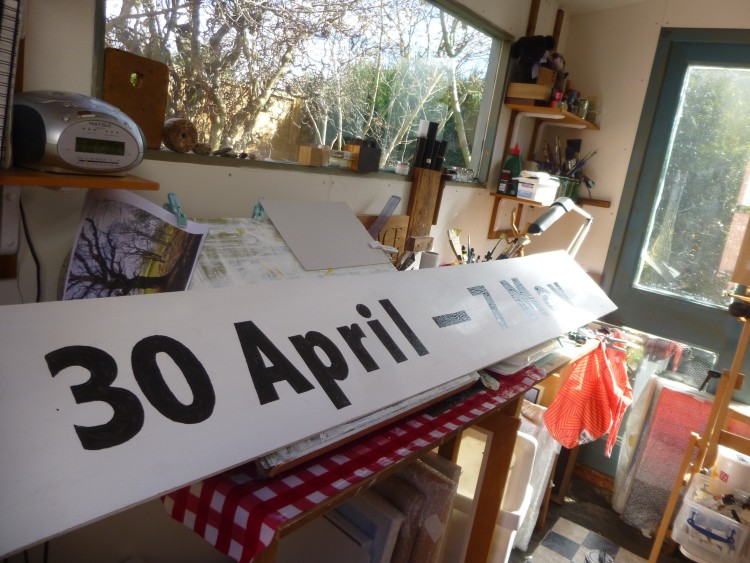 Yes, it's only a month to go before the start of the 2016 Lexden Arts Festival!
I've been making a start on painting the 'date boards' which will be going up under our banners outside St Leonard's Church in Lexden, on Monday.
I'm really excited about this year's Festival – I think we've got a great group of artists and makers exhibiting, and four wonderful evening events during the week. Read all the details on the website – www.lexdenartsfestival.org.uk – where you can book tickets for the events. Tickets are also available from Red Lion Books in Colchester High Street.
Our great 'Len's Cafe' will be running all the week, too, with lunches every day except Sunday, and light refreshments available at all exhibition open hours.
Lots to look forward to! Counting the days! 🙂
---
And this is just a quick post to wish all you lovely blog readers a very happy Easter!
It was a beautiful sunny morning when I got up and walked to church, but shortly after Graham had brought me home after the service it started throwing it down with rain – then more sun – then torrential rain – and it is now sunny again! Fairly typical Easter weather, then . . .
And this –
– is the 'alternative' Easter egg that Graham gave me. Yes, it is. A chocolate teapot!! Happy Easter 🙂
---
This week saw the last two visits to the artists who will be exhibiting at the Lexden Arts Festival this year.
On Monday I had a trip up to Martlesham Heath, north of Ipswich, to see Caroline Sullivan. Caroline designs and makes her own knitwear range, using luxury yarns sourced in Scotland. I love her sense of colour – she is so clever at putting together complex patterns that are really attractive, and all her garments are beautifully finished off – for example, she was wearing one of her own waistcoats, as you can see in the photo below, and even the button band had a really intricate pattern running down it!
Caroline showed me the room on the side of her house where she has her studio – with tall shelves full of colourful spools of yarn, and her knitting machine, surrounded by sketchbooks and samples. She explained that she uses a very basic knitting machine, as it allows one to be much more creative.
Caroline will be showing jackets and waistcoats, neck warmers (circular scarves), fingerless gloves and a range of hat styles, and I know the ladies of Lexden – and further afield! – are going to love them! Caroline's website is being updated at present, but information about her can be found on the Suffolk Craft Society's website.
The following day I set off with Graham in the opposite direction, this time down to Burnham on Crouch to visit watercolour artist and graphic designer, Tracey Saunders. Tracey uses vibrant colours in her paintings, and often focusses on the boatyards, and old allotment sheds near where she lives by the river. She told us that she usually sticks to a palette of colours derived from her knowledge of printing inks acquired through her work in graphic design.  Tracey showed me the little upstairs room that she uses as a studio – it is very well organised and uses every available space! She organises the Burnham Art Trail, which takes place in June each year, and has an online presence on that website, www.burnhamarttrail.co.uk
Although I have now completed all the visits, there is one other artist who will be exhibiting with us this year, and that is the jeweller, Penny Williams. Penny lives in Hockley, Birmingham, and makes brooches, necklaces and ear-rings in silver and other metals such as brass and copper. They feature delightful quirky designs of tigers, lions, cats, dogs and chickens, and she also makes really charming little clocks with tick-tock pendulums (although they are really battery operated) which each have little creatures sitting on the roof or swinging from the pendulum below. To find out more about Penny and have a preview of her work, go to www.pennywilliams.co.uk
Just getting the simnel cake out of the oven now – it smells delicious! 🙂
---
So, here is the third BIG painting in my 2016 Essex Wood project – this is Essex Wood: March, and shows one of the ponds which is not far into the wood, on the right of the main entrance path.
I liked the way the old pale dry grass was lining the edges of the path, but some new green grass was growing around the pond, and the deep reflections of the trees in the water.
I've noticed as I've been driving around this last week that the blackthorn blossom is out, and some of the hawthorn is beginning to show a haze of new green leaves, so I think when I make my April visit to the wood there should be quite a big change!
For those of you in the Colchester area: I'd like to draw your attention to the fact that tickets for all the evening events at the Lexden Arts Festival are now available on our website – www.lexdenartsfestival.org.uk. Perhaps of particular interest to art lovers, James Russell is coming from Bristol on Wednesday, 4th May, to give a light-hearted informative illustrated lecture entitled 'Eric Ravilious and Edward Bawden: an Artistic Friendship'. Many of you will know that James Russell curated last year's 'Ravilious' exhibition at the Dulwich Picture Gallery, and wrote the accompanying book. He also wrote the Mainstone Press series, 'Ravilious in Pictures', and has a new title out just before the Festival called 'The Lost Watercolours of Edward Bawden'. Tim Mainstone, who runs the Mainstone Press, is also coming to the evening with a display of Russell's books (including this new one) which will be available to purchase.
All the details for this, and all evening events, plus the art exhibition by fourteen invited professional artists and makers are on the website in the Next Festival drop down menu. And tickets have already started selling . . . ! 🙂
---
Just a quick note – Graham and I went to the Private View of the Geedon Gallery's Spring Exhibition today, and to my astonishment, I had already sold three of the four paintings that I have in the show – and they'd only been open three hours!! What a lovely surprise! And Jacqueline said it was almost four – so someone is obviously interested in the only unsold one, Poppy on the Blackwater, as well.
It is a very good show this time, with lots of lovely things. We especially liked Margaret Glass's stunning pastels – I really wished for a spare £750 to buy her February Snow – the way she had captured the light effect on the snow was magical. We also liked Colin Hayes' pastels, Ian Hay's oil landscapes and Emsie Sharp's glass works.
A pretty good start to the weekend! Hope your weekend has got off to a good start, too. 🙂
---
On Thursday, a lovely sunny spring day, I drove up to the very pretty village of Walsham le Willows, in North West Suffolk to visit the potter, Rob Wheeler.
This will be Rob's first time exhibiting at Lexden Arts Festival, but I have been familiar with his work for some time as he often exhibits at the Geedon Gallery. I have a small turquoise glazed pot of his, bought for me as a thank you present when a friend was staying.
Rob has a large purpose built studio in his garden, with two throwing wheels, and shelves piled high all around with pots in various stages of completion. He told me that he is particularly busy at the moment with teaching – the interest generated by the Great British Throw Down pottery programme resulted in people wanting to have a go themselves. In fact Rob says he is having to limit it, in order to still have time for his own work!
He told me he is very interested in fossils, and sea shells, anemones and natural forms, and this is very evident in the lovely forms his work takes. I was particularly interested to see some with an unusual  matt finish. I am looking forward to displaying Rob's work, and I'm sure it will be popular with our Festival goers.
To find out more about Rob and his work go to www.robwheelerpotter.com
---
This coming weekend, 19th March, sees the opening of the Geedon Gallery's Spring Exhibition, and I'm so pleased that I have four paintings showing. They are all dinghies – Poppy on the Blackwater, Dinghy on the Falling Tide, Poppy on the Blackwater II and Waiting for the Tide.
The show is on until Sunday 3rd April, and is open daily from 11.00am – 5.30pm. After the 3rd it is open by appointment until 15th May. The Gallery address is Geedon Gallery, Jaggers, Fingringhoe, Colchester, CO5 7DN, and the number to ring if you need an appointment later is 01206 728587/729151.
Former Lexden Arts Festival exhibitors that are showing include James Dodds and Nat Young, and an artist who is exhibiting at this year's Festival and also showing at the Geedon is Richard Allen!
It is always a good show, and well worth a drive out to Fingringhoe if you find yourself in the Colchester area in the next few weeks.
I've been making lots of progress with Essex Wood: March this afternoon – very nice to be painting in my warm studio, as although the sun has been lovely, the wind is bitterly cold!
Hope your week is going well – keep warm wherever you are! 🙂
---
Yesterday I went on my longest artist visit – up to Stalham on the Norfolk Broads to see wood turner Dennis Hales. Actually, use the term 'wood turner' doesn't really seem adequate to describe his work! He uses water based dye pigments and metal leaf – gold, silver, copper and bronze – to enhance the natural features of the wood, and achieves the most amazing rich results.
After a very welcome cappuccino had revived me after my two hour drive, Dennis took me out into the garden where he has a whole series of workshops – the first for drying the timber, the second for storing the finished work in a very controlled environment, and the third for doing the actual turning and decorating. In this last workshop he has a number of different lathes for different purposes, and everything seemed to be covered in a fine layer of dust! It very much reminded me of my Dad's woodwork shop, with his lathes and tools, though on a much larger scale.
Dennis told me that he uses sycamore, holly, ash and maple in his work, which he acquires locally. These are all very pale coloured woods, which offer a natural canvas for the wide variety of finishing techniques he uses. I am really looking forward to displaying this lovely work!
To find out more about Dennis and what he does, go to www.d.hales.clara.net
After I left Dennis' house I initially planned on going to Horning, but then I realised how close Horsey Wind Pump was, and changed my mind. Many years ago ( 1977!!!) when I first started teaching, I taught for four terms in Great Yarmouth, and on my walk to the school in the mornings I used to pass an art shop/gallery. For a few weeks that spring, they showed in the window a large watercolour of a sailing dinghy on the Broads. I used to stop and admire this painting, and started to think I could do that! So I got kitted out with watercolour tubes, and a pad of watercolour paper, and set off one Saturday in my little blue 2CV to find something to paint. And the very first thing I tried was a painting of Horsey Wind Pump – and the painting was terrible!
It had sails in those days, and, as far as I can remember, there was no car park – and no National Trust involvement. Lots has happened since then!!
In between rushing all around East Anglia, I have been making a start on Essex Wood: March, but it still needs a lot more work . . . . 🙂
---
Two visits again this week!
On Thursday, a lovely sunny spring morning, I drove out to Wissington, near Nayland, to visit printmaker, Anne Townshend. Anne's linocuts show fields, hedges,  man-made marks on the natural landscape. Her home, at 1, Blacksmith's Cottages, is in a lovely rural area, and faces south over the water meadows of the River Stour on the Essex/Suffolk border. It was easy to see where her inspiration comes from! Anne told me she often goes out into the neighbouring fields, and sits drawing for hours – and having discovered this lovely area, to which I had never been before, I intend to do the same when the weather is a bit warmer!
Anne uses a room at the front of her house as a studio, and there was her big press, and lots of prints hung up to dry with clothes pegs. I am sure her work is going to be very popular with Festival goers. In the photo below, taken in her studio, Anne is wearing a cardigan by another artist-maker whose work we are showing this year – knitwear designer and maker, Caroline Sullivan! What a coincidence!
To find out more about Anne, and have a preview of her work, go to www.annetownshendart.weebly.com
Yesterday I was off to the Suffolk/Norfolk border – this time to visit Helen Howes at her studio/gallery/shop at the Raveningham Centre. Helen is a textile artist who uses an enormous variety of techniques to produce wonderful hangings, and numerous smaller items. Huge colourful quilts hung from the rafters of her unit – and she showed me small exquisite pieces made from tiny pieces of silk with textured, hand-dyed stitching – and zipped silk purses, and screen printed, and collaged items . . . . her work disply at the Festival is going to be so colourful and interesting!
To find out more about Helen and her work, go to www.helenhowestextiles.co.uk
I also had a second visit to the Royal Academy's 'Painting the Modern Garden' exhibition this week, this time with my niece. It was so good to see my favourites again, and we spent a long time just looking at Monet's water-lily triptych, in the last room. What an awesome work!
Hope you're having a good weekend! 🙂
---
So, the latest dinghy, just finished this afternoon, is 'Dinghy on Still Water'. This is one of the dinghies I found at Heybridge Basin a week or so ago.
The Blackwater estuary really was like a mill pond, which resulted in lovely reflections. Hope you like it! 🙂
---
Well, March in an Essex Wood was muddy! I should have expected this as we've had lots of rain this week, but it was so mild and sunny on Friday that I just decided to go on an impulse! Memo to self: Remember – do not visit after heavy rain!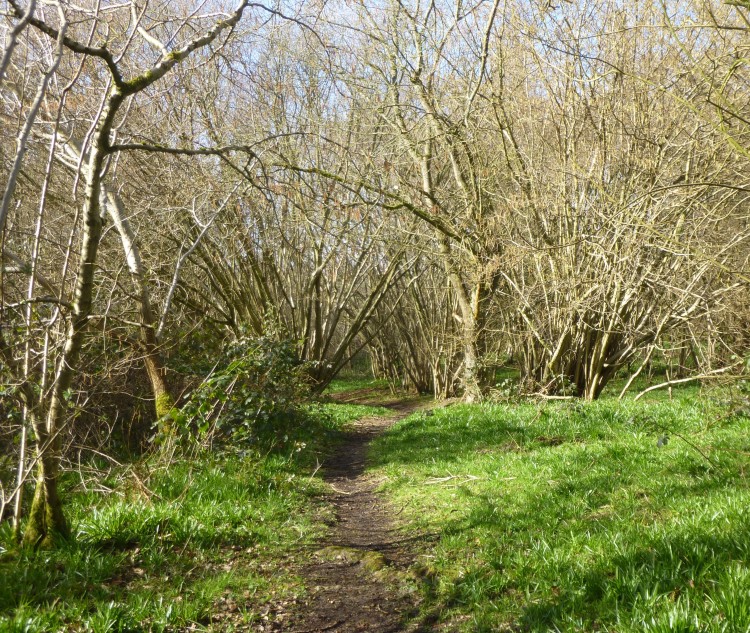 But I was able to walk about a bit, and the big pond on the right as I walked in was looking lovely with reflections of the trees and the blue sky, and the bluebell leaves were so thick they looked like lush grass. Lots of twittering of small birds, and cawing of rooks, and, repeatedly, the harsh barking call of a cock pheasant.
For the first time I was not the only person in the wood. A black and white welsh sheepdog rushed up to inspect me, and then rushed back to his owner; a small group of women and young children passed me on a parallel path, all calling  excitedly; a dog-walker strode past talking loudly into her mobile phone.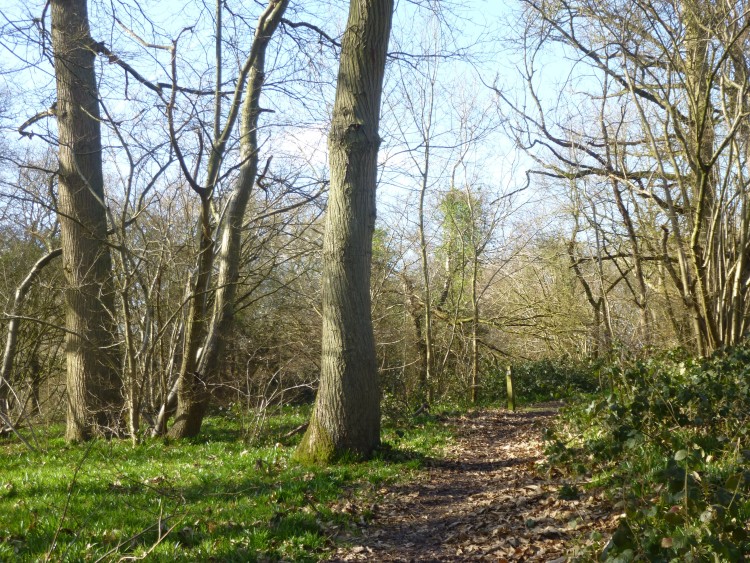 I drew a pair of mature sweet chestnut trees, with the grooves in the bark swirling round the trunk like a helter-skelter, and a place where the path winds through a group of coppiced hazel. The hazel catkins are brown now, and finished, but edging the path there were a few celandines already out.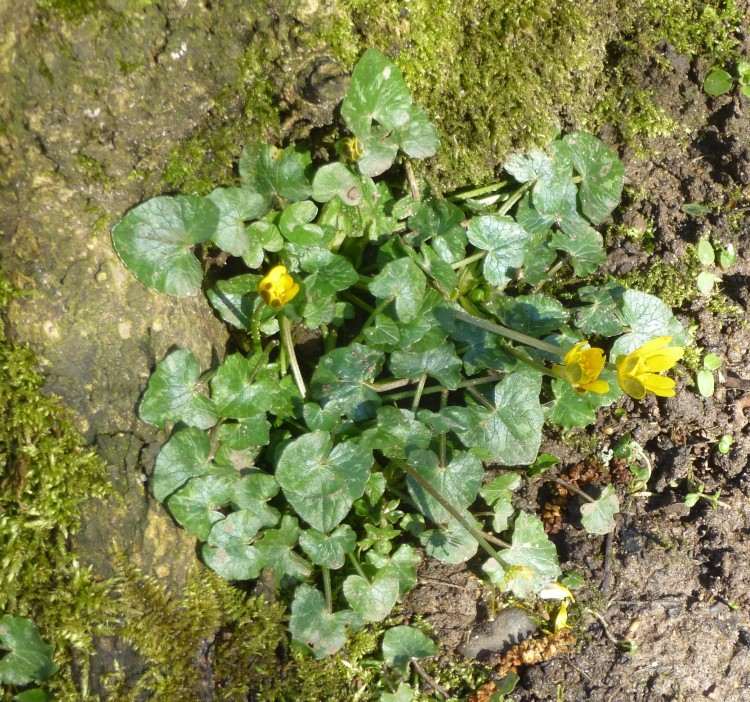 I had wondering what I might find to make a small painting this month, when I saw by the side of the field path leading into the wood, a skull!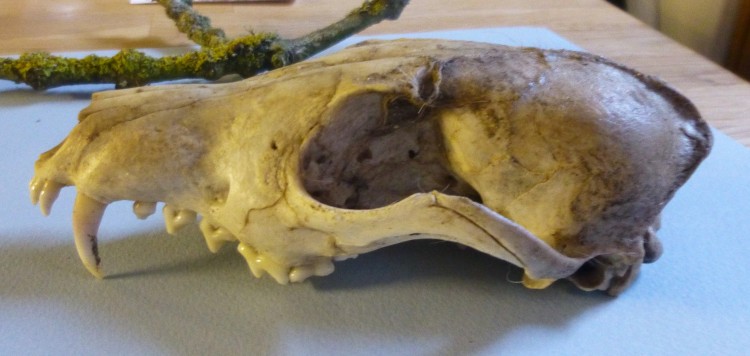 At first I thought it was a badger skull, but a bit of internet research when I got home revealed that it actually belonged to a fox. A fox has six teeth behind the canines, while a badger only has four. The join between the two sides of the skull are still clearly visible on a fox's skull, but an adult badger's skull fuses completely, and makes a much stronger heavier bone. What a find! I collected it on my way out of the wood – hoping it would still be there! – and I'm looking forward to drawing and painting it
Late this afternoon I put a few final touches to 'Dinghy on Still Water', but the light was not good enough to photograph it, so it will be on the website in a day or two! 🙂
---
Down to Walton on the Naze yesterday, to visit Dawn Hall, whose paintings focus on her coastal surroundings – boats, waves, and beach and marina views.
Dawn works in acrylic, oils and pastel, and often works on a large scale. For our exhibition, though, she has painted a number of smaller pieces, as we do not have the space to accommodate very large pieces. Dawn told me she has other small paintings planned, which she intends to get finished in time! She showed me some of the paintings she is working on in her lovely spacious garden studio. I was interested to see that Dawn is trying out the new Ampersand boards, which I was looking at the other day in our local art supplies shop, Tindalls. She has found them a useful surface for acrylic painting, so I think I will give them a try! Like me, Dawn also paints on mdf and hardboard, though unlike me, she also paints on stretched canvas, which I find too 'bouncy'!
To find out more about Dawn and her work, check out her website www.dawnhallartist.com
When I left Dawn's house I couldn't resist going down to the Naze and onto the beach as it was such a lovely day. The tide was quite a long way out, but I still got a few useful sketches and photographs. The Naze Tower, which has been having a lot of restoration work done over the winter, is now free from its net of scaffolding and looking very fine, and I was interested to see the new Essex Wildlife Centre which has been built next to it, and is due to open – I think –  in April!
Another week has whizzed by! – how can it be Friday again! Well, hope you enjoy your weekend 🙂
---
So – the beginning of March, which I think is officially the start of Spring!
The weather here was a bit slow on the uptake – it poured with rain all the morning while I was having my violin lesson – but cleared up and was mild and sunny and light really late! I had time to do the shopping, have lunch, spend an hour or so tidying up the front garden, and still have time to make a start on 'Dinghy on Still Water' –  in daylight. This photo was taken at 5.10pm – just to prove it.  So lovely to have longer afternoons again! 🙂