Since I finished my 2016 project, '12 Months in an Essex Wood', I haven't been back to 'my' Wood. Until this morning. Do you remember, I said I would definitely go back for the bluebells and nightingale? This morning seemed a good time to go.
It was sunny, but with a cold wind. The car thermometer said only 9 degrees as I parked by the church. Out of the wind, though, and in the sun, inside the wood, it was quite warm.
The field across which I used to walk diagonally to the wood entrance, has now been ploughed. The lane was very dry, with lots of red campions flowering on the verge. And the wood was full of bluebells.
And in exactly the same place that I stood and listened to the nightingales last year – I stood and heard two singing this year.
So here are a few bluebell photos for you to enjoy!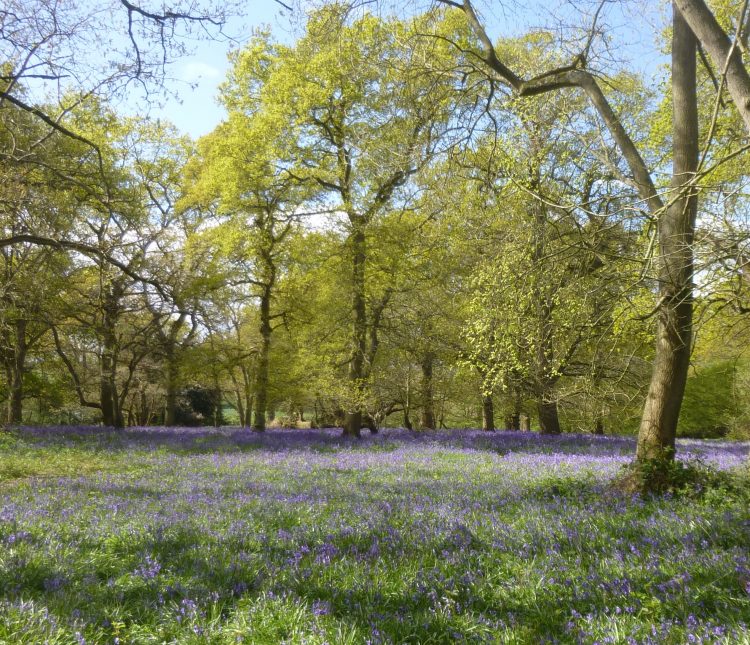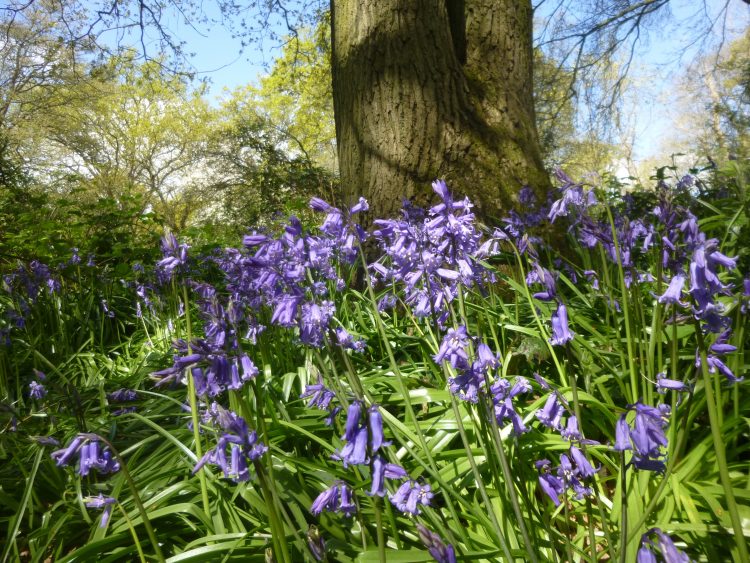 The oak trees were at that perfect bronze-gold stage . . .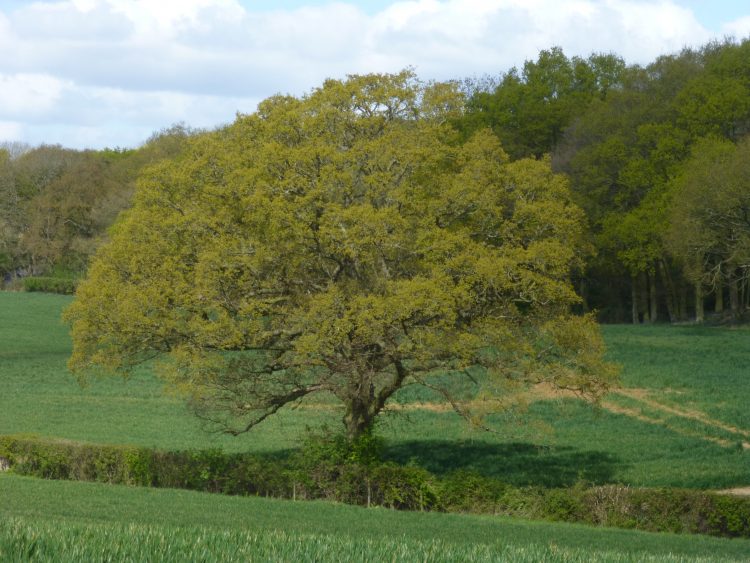 This is pretty much what I painted for the April picture last year  . . .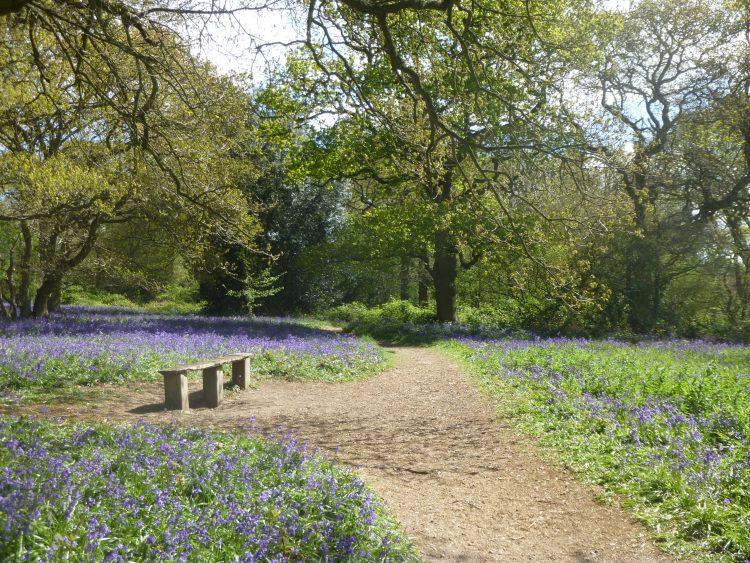 . . . and I sat on the bench surrounded by bluebells.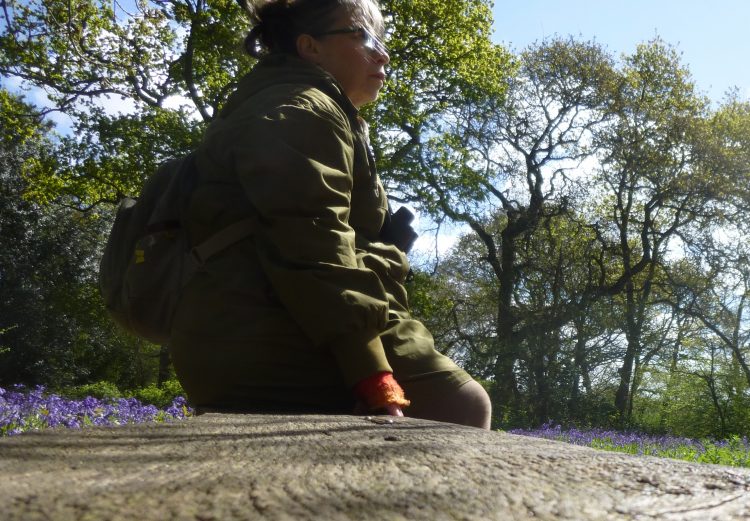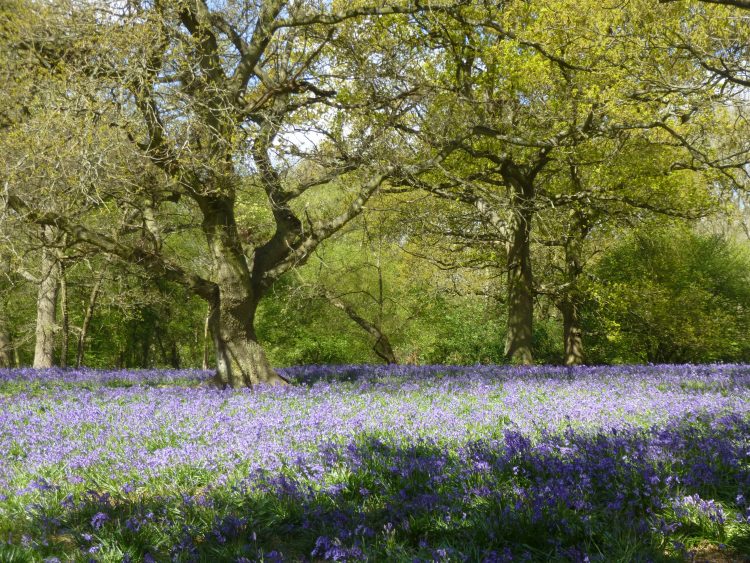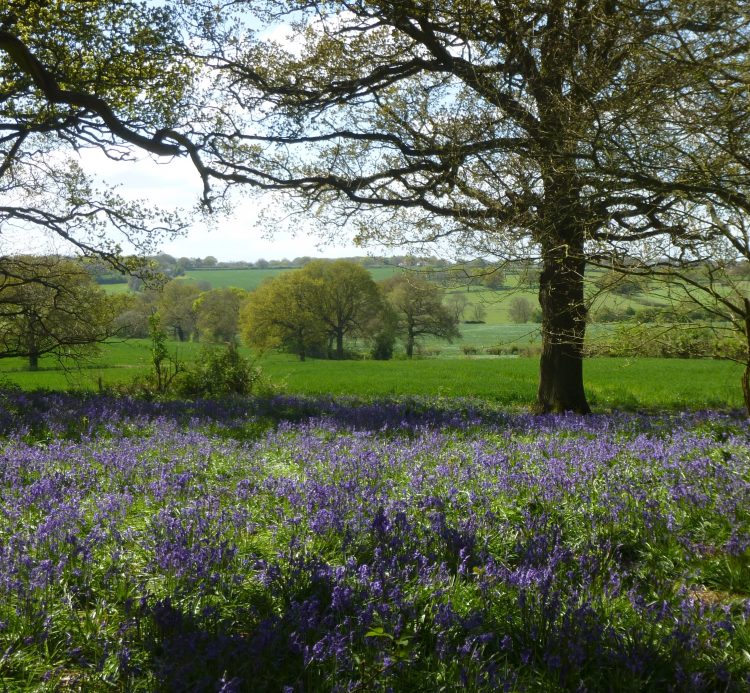 And this is almost the exact view that I painted for December. What a difference four months makes!! 🙂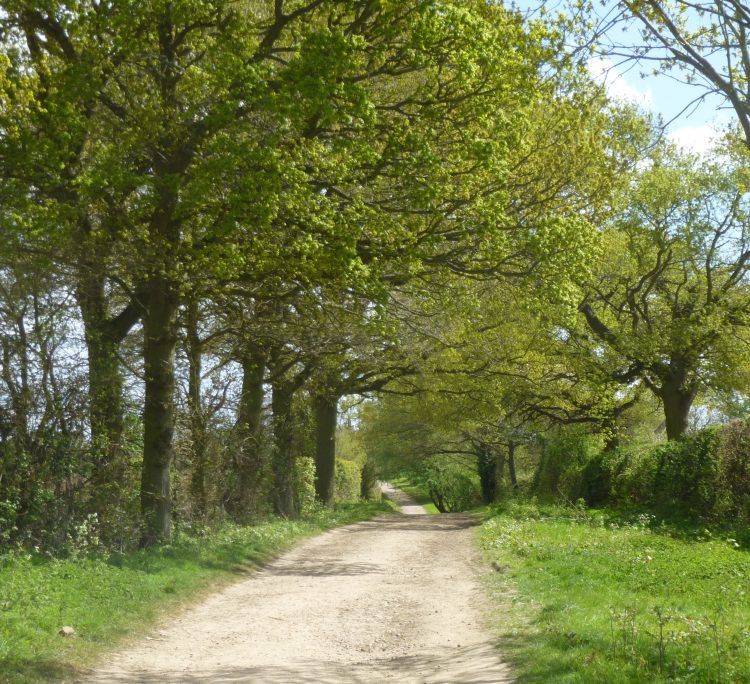 Finally, a quick reminder that tickets and information for all the evening events at Lexden Arts Festival are available from our website, www.lexdenartsfestival.org.uk or from Red Lion Books in Colchester High Street. Not long now – we start on 29th April!! 🙂
---
Last May, as some of you lovely blog readers may remember, I walked some of The Ridgeway in Wiltshire. I planned to do a series of paintings, and did lots of drawing along the way, and took loads of photos. But The Ridgeway I, which I sold at my Open Studios in September, was the only one I got done last year.
But now! – here is The Ridgeway II
This was a particularly lovely part of the walk, quite close to White Horse Hill, heading north east towards Barbury Castle. I remember the weather was perfect, with bright sunshine, and huge dramatic white cumulus clouds. The chalk ridge is really high at this point and as I walked I could see for miles off towards the west.
I am planning to get the rest of the series gradually done, in between my 2017 project 'A Year on Fingringhoe Wick'.
And Happy Easter to you all! 🙂
---
Last week, on a beautiful warm sunny morning, I made my April visit to Fingringhoe Wick, as part of my 2017 painting project A Year on Fingringhoe Wick.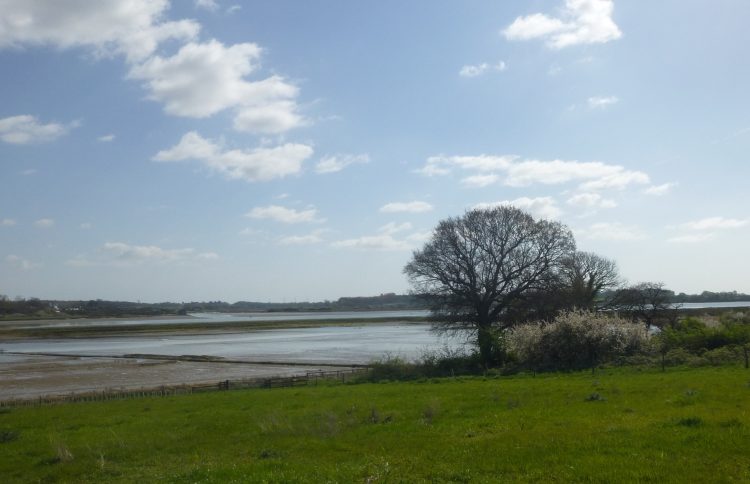 There was a big change this month, as the smaller trees – the hawthorn, elder and hazel – are all beginning to green up, and the blackthorn blossom is out in white clouds everywhere.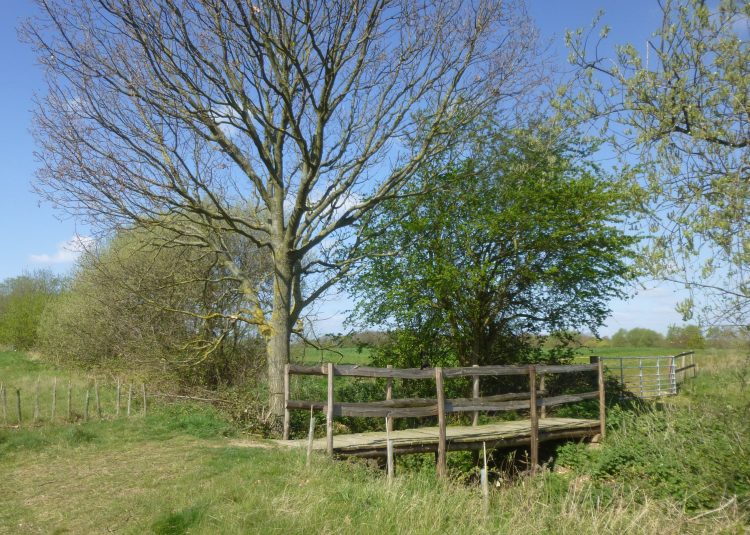 The Brent geese have all gone now, but their place has been taken by Greylag geese, and a few very noisy Canada geese. I saw a beautiful buzzard soaring above the track up from the intertidal area, and a male blackcap singing beautifully in a hawthorn a few moments later.
This month I started off going to a new hide – Kingfisher Hide. The reeds were reflecting in the still mirror-like water. Mallard, tufted duck, shelduck and greylag geese, fed or just dozed in the sunshine.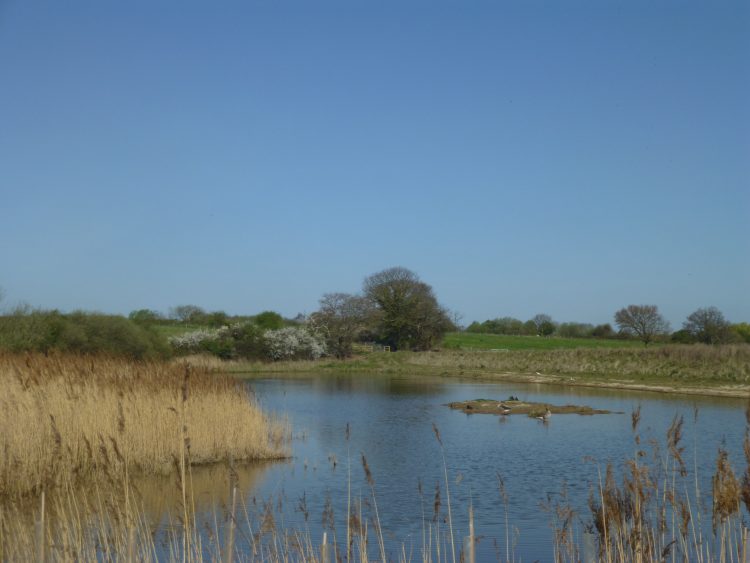 More Greylag kept flying over honking, and a single cormorant flew across high above the reserve.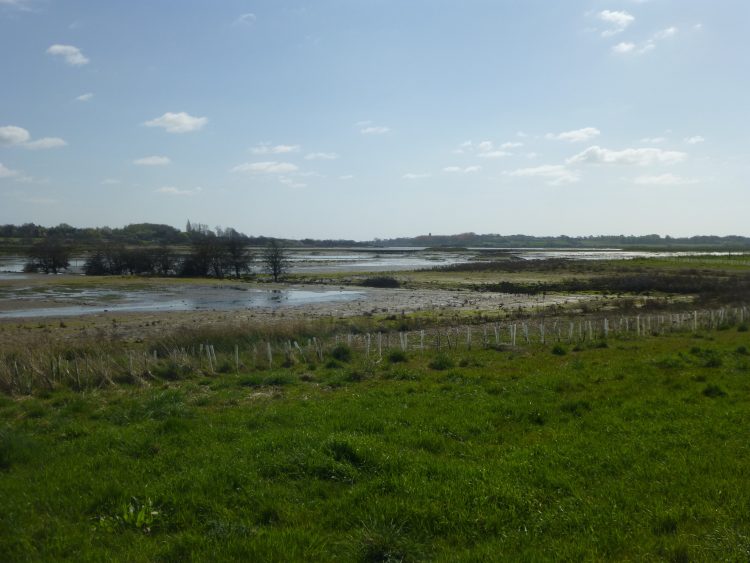 I walked down to the intertidal area along paths that are now green and wooded.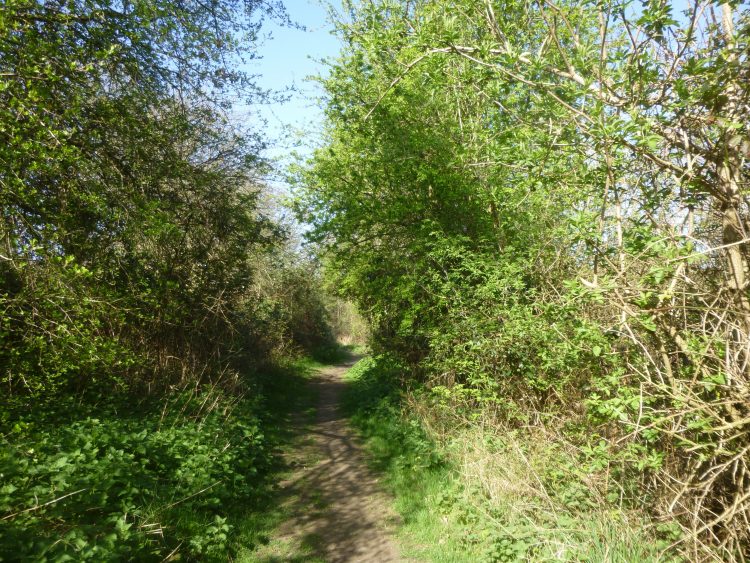 There were a stately pair of white egrets quite close to the hide, and lots of redshank and godwit. The shelduck were everywhere, going through what I presume is their courtship ritual, with lots of strange head movements.
There was so much to see and draw and photograph this month that it is going to be quite tricky to decide what I'm going to paint!
At the moment in my studio I am close to finishing The Ridgeway II – news on this soon!
Hope you've been able to enjoy the glorious spring weather we've been having. 🙂