The second of my 2018 painting project – Four Seasons on the Stour – is this one.
This is the view looking up-river from The White Bridge, which is the road bridge leading into Manningtree on the River Stour. I just finished the last little touches this afternoon – the light in my studio being so good with the snow all around!
It has been snowing on and off all day long, sometimes really heavily, and so quiet – hardly a car past for the last few hours.  We were going to take a trip down to Leigh on Sea today to visit Jonathan Trim! How glad I am that we re-arranged it. Jonathan is showing with us at All Saint's Arts Festival at the end of May. Yes, I'm starting my 'exhibiting artist' visits already . . . .
I have just started a new Facebook page for the festival, so if you do Facebook and are interested you might like to search for All Saint's Arts Festival. There isn't much on it yet, but give me time!
Last week Graham and I had a trip to Tate Britain to visit the Impressionists in London exhibition.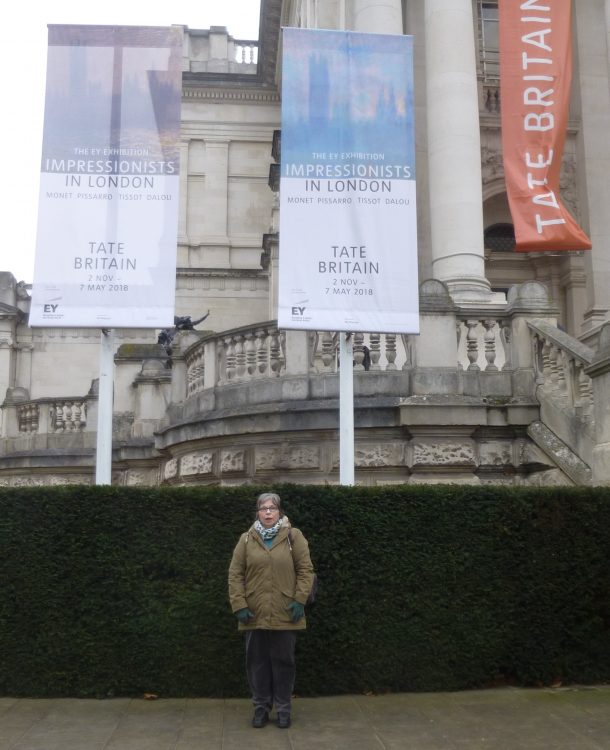 (This is a very odd photo as I was still talking – no surprise there! – when Graham took it!)
It is on until 7th May and is very well worth a visit. There is a mesmerising room of Monet's Houses of Parliament with fog effects series. But as well as the 'big' names, I was very interested in some artists who were completely new to me. The terracotta sculptures of Jules Dalou were breathtaking! And I'd never heard of him! And two of my favourite paintings were by Giuseppe de Nittis – Piccadilly: Wintry Walk in London 1875, and Westminster 1878. And, again, he was completely new to me. How lovely to discover these wonderful artists! I'm hoping to go again with my Norfolk Niece, and maybe my sister, too, before it closes, and will be delighted to re-visit these works.
Keep warm and stay safe if you have to go out in the snow! 🙂
---
Here I was yesterday afternoon, in my studio putting a second coat of primer on the board for Cattawade: Winter . . .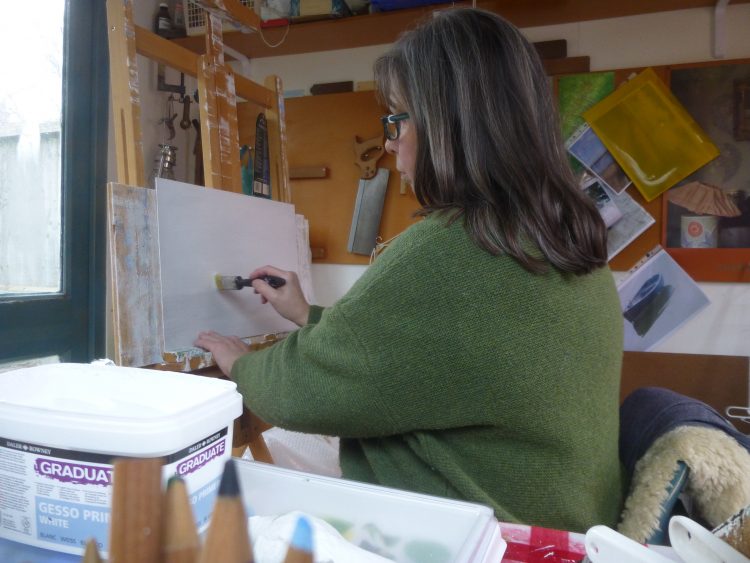 . . . and here I am this afternoon, having just put a third coat of primer on . . .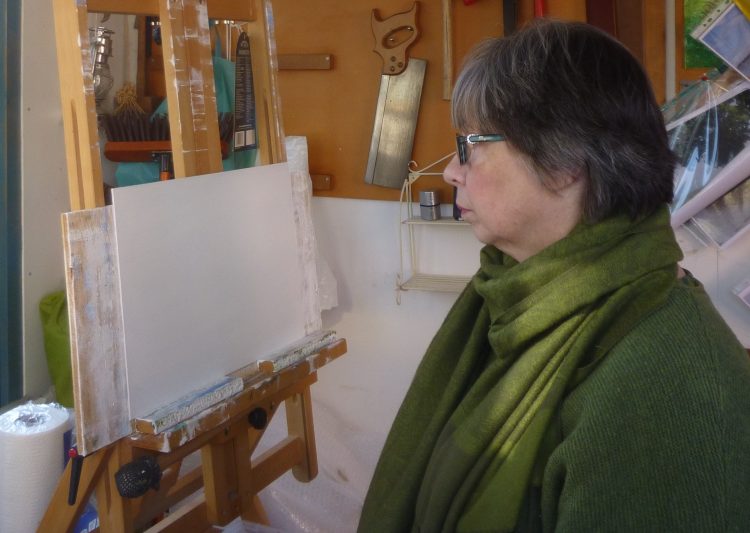 And the difference is . . . . . . . . . . . . . .!!!
Yes! I've had my hair cut short again! Yay!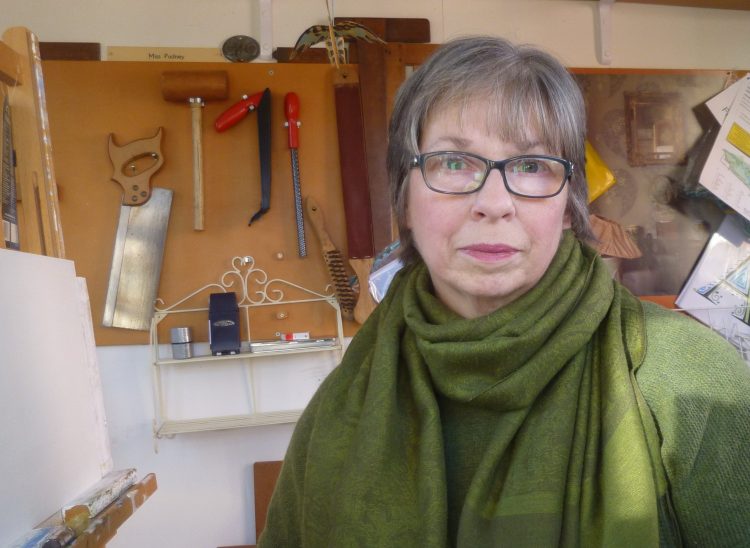 ---
Just finished this afternoon, this is the third in my new Landlines series.
This is the track that leads past the entrance to Hillhouse Wood at West Bergholt – the wood I painted in my 2016 painting project Twelve Months in an Essex Wood.
This week I've begun contacting the artists who will be exhibiting at All Saint's Arts Festival at the end of May. I'm really looking forward to seeing some friends from previous Festivals again, and also meeting some new artists. I will be doing a blog about each one after my visit, but in the meantime you might like to have a look at our new website, which just went live yesterday. http://www.allsaintsartsfestival.org.uk
Next on the easel will be the second of the River Stour paintings – Cattawade: Winter. The promise of Spring last weekend seems to have retreated again, and it's been cold and wet for the last couple of days, so it's good to be getting lots of work done in my cosy studio. 🙂
---
What beautiful weather we've had this weekend – it has really seemed like Spring is a possibility!
Graham and I went up to Saxmundham yesterday to check out a fairly new gallery in the High Street there. The George Farnham gallery is tiny, though, so after a quick chat with one of the owners, and exchanging cards, we had a wander round the little town.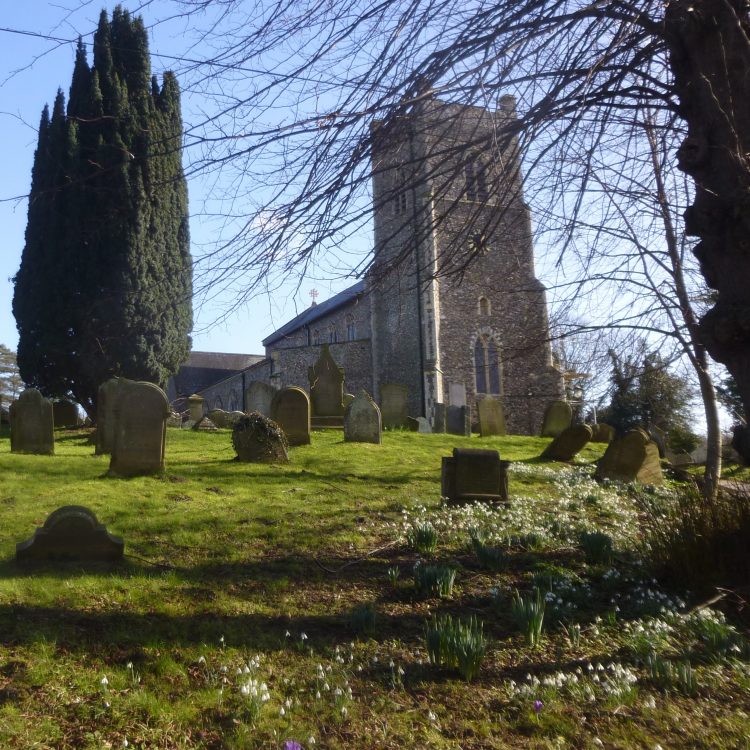 The church yard was full of snowdrops and crocuses, and the church was very well cared for, and modernised within its medieval structure.
Lunch in Aldeburgh seemed like a good idea, so we drove out to the coast, and had a nice fish pie and a half of Adnam's Broadside at 'Ye Olde Cross Keys'. And then down to the beach.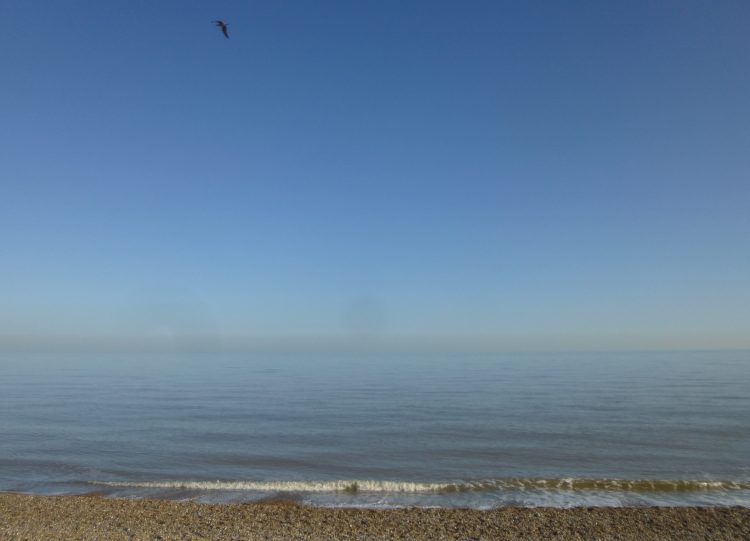 I have never seen the sea at Aldeburgh so calm – the waves were not much more than ripples, and the surface of the water was a beautiful shining pale blue. There were lots of people enjoying the sunshine – the last weekend of the half term holiday, and – maybe – the first weekend of spring!
Then, a bit further down the coast, to Woodbridge. We found two lovely pieces in an Antique shop in the Thoroughfare, which will be two of our five special raffle prizes for our new May festival in Maldon. We bought five antiques for Raffle prizes at each of our Festivals in Lexden, and people seemed to really like the possibility of winning something really nice, rather than the usual raffle items. So we have just three more to find for our new Festival.
Back in the studio today I've been making progress on Landlines 3: Track. This is where it's got to so far . . .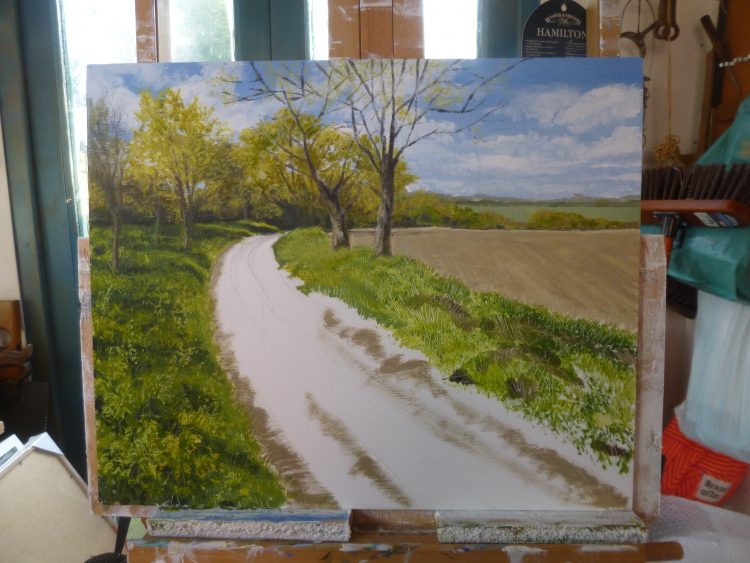 Hope you've been enjoying the sunshine! 🙂
---
This has been a funny sort of week. Lots of gadding about and very little studio time.
Last Sunday I went up to Kings Lynn to visit my sister and my Norfolk Niece, and to collect the bulk of the hand crochet textiles from one of our exhibitors for All Saint's Arts Festival.
I spent a lot of Wednesday with Graham at my seaside outpost, making a start on his new India book on Blurb's Book Wright.
Yesterday I had a shopping day in London with my friend, Christina, which mainly consisted of a LONG visit to the Gudrun Sjoden shop in Monmouth Street. I had lovely Christmas and Birthday vouchers to spend, and came away with a large bag of purchases. (photo tomorrow, maybe)
Add into the mix a violin lesson, working on the new festival website and finishing four overseas Faculties, and today turned out to be the first day I had time to get out in my studio!
I'm painting the third of my Landlines series at the moment, and this is as far as I'd got by the end of the afternoon.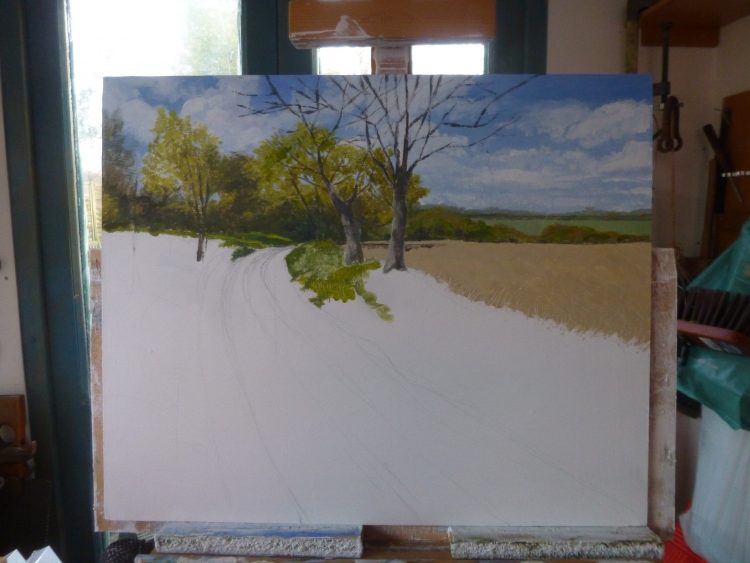 Friday again! Enjoy your weekend! 🙂
---
It was a lovely bright – though freezing cold! – morning today so I drove up to Cattawade on the Stour estuary. Just over the Suffolk side of the river there is a handy gateway. I pulled in and left the car there, then walked back over the White Bridge.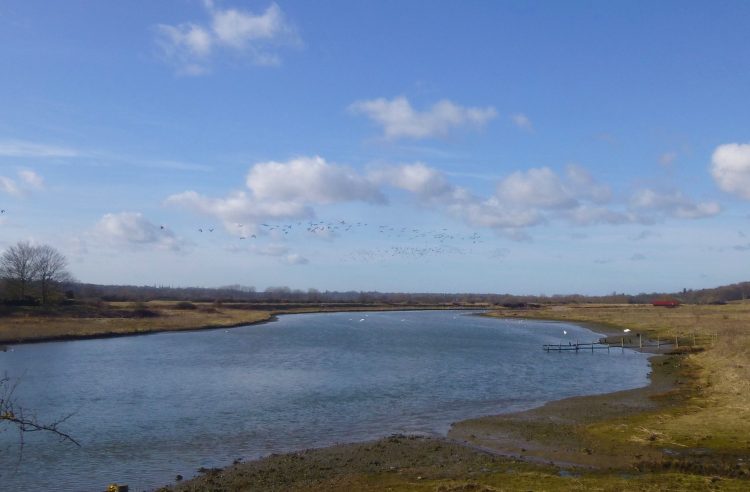 This is the view from the bridge looking upstream. Compared to the estuary at Wrabness, the Stour is much more 'river-y' here, much narrower, no waves and no sand! After a bit of walking around I stood on the White Bridge and drew the view from there. This is what I shall be painting for my next Winter picture for my Four Seasons on the Stour project.
There was a lot of bird life to be seen. A row of cormorants sitting on the jetty that can be seen in the right middle distance of the photo above. A pair of mute swans. A big mixed flock of pochard and mallard. A small group of Brent geese flew down the estuary. And a large swirling flock of lapwing lifted off the river bank and flew around for a while, landed, took off, and did it all again. If you look carefully you can see them above the river. At one point they flew overhead and I got a really close up view.
On the other side of the White Bridge there is a huge sluice, with danger signs all over it, and on the other side of that is the railway bridge.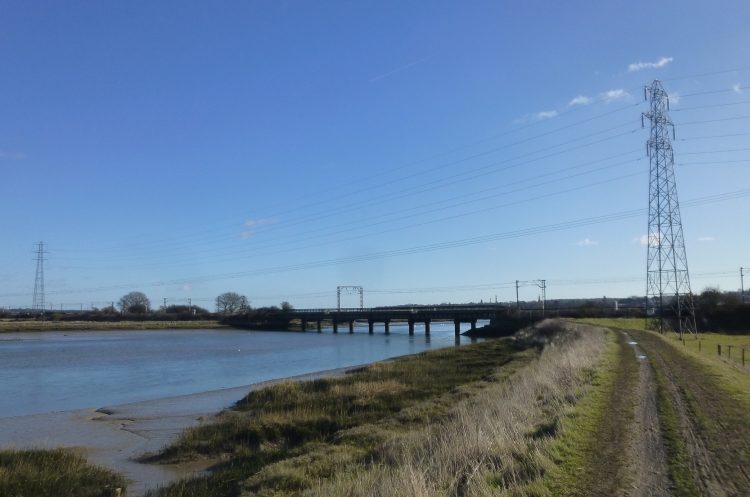 This takes the mainline trains from London to Norwich. Periodically one rumbled across while I was there.
I can remember a very, very long time ago travelling by train backwards and forwards to Norwich when I was at college there. On the trip I always watched out for the estuary and all the birds on the tideline, especially the beautiful shelducks. And they were still there today . . .
When I went round the other side of the railway bridge, into Manningtree, there were a lot more waders here. Redshank, greenshank, black tailed godwits, knot, oyster-catchers.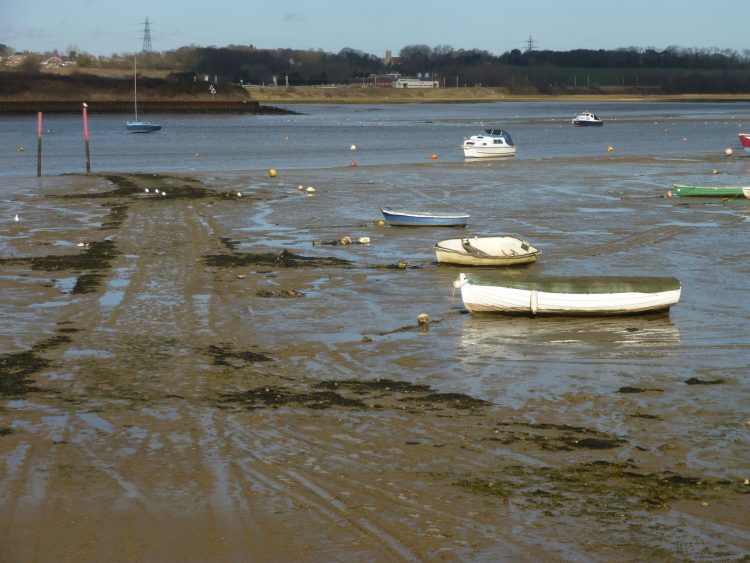 And lots of shelduck! 🙂
---
When I went to Woodbridge the other day I stopped off on my way at Martlesham Heath to collect a beautiful turquoise and sterling silver bracelet that Caroline Sullivan has been making for me. Caroline has shown for the last two years at the Lexden Arts Festival, and will be exhibiting again at our new Festival at All Saint's Church in Maldon at the end of May. Her knitwear and Viking knit jewellery (made with silver, copper and bronze wire and gem stones) has been very popular with our punters. If you'd like a preview Caroline has an Etsy shop which you can find at www.etsy.com/shop/bycarolinesullivan
Here I am in the studio this afternoon. Can you see the bracelet on my right wrist?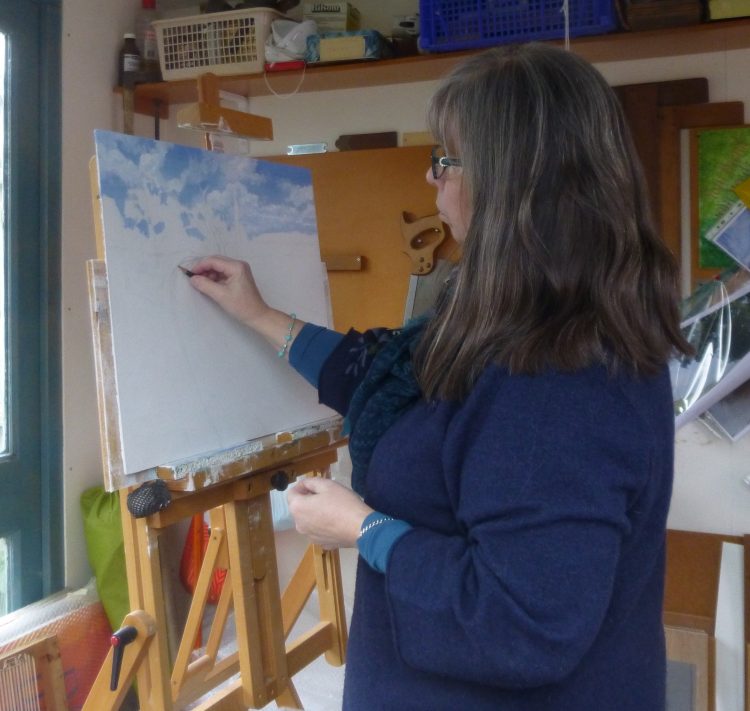 I'm making a start on a new painting in my Landlines series. This one is a view I found by Hillhouse Wood at West Bergholt in the late spring of last year. The lane down from the church curves away past the entrance to the wood.  The picture will be Landlines 3: Lane. This is a lovely warm spring-like scene to be painting while I wait for some brighter weather to make my next visit to the River Stour.
Friday again! Enjoy your weekend! 🙂
---
A day in Woodbridge today, and this time I remembered to take a photo of Art Space in the Thoroughfare.
So excited to be exhibiting here in October, with Naomi Brangwyn.
We have invited three other artists to show with us. They are Dennis Hales, who does amazing wood turning which is dyed in vivid colours and often has silver or gold leaf as part of the design; Mandy Walden, who is a print maker, and Deborah Baynes, a potter. I have not seen Mandy's work except on her website, but it looks very colourful and fun, and focusses on the Suffolk coast. Deborah's pots I have seen often at Suffolk Craft Society exhibitions in Aldeburgh. They are beautiful and stylish, but also functional and lovely colours – a great combination!
Between us I think we should put on a lovely show!
I did a bit of shopping – lured into Seasalt, where I bought a jumper, a sweatshirt and a scarf! – and then walked along the river. The tide was right out. Woodbridge was looking rather picturesque lit up by the sun, but with the heavy snow clouds as a background.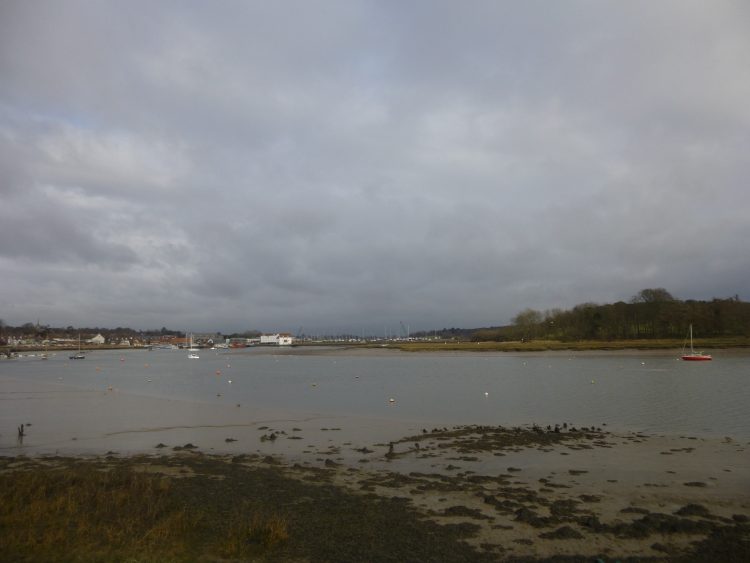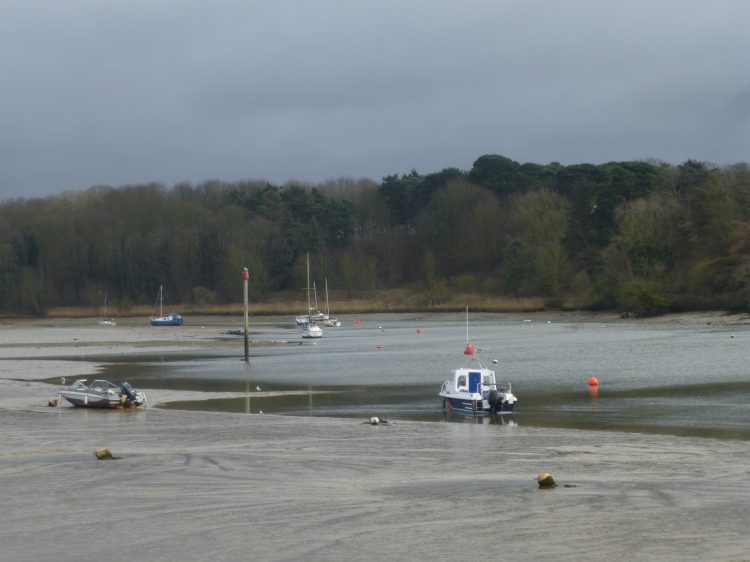 And look at the subtle beauty of the colours on the marsh –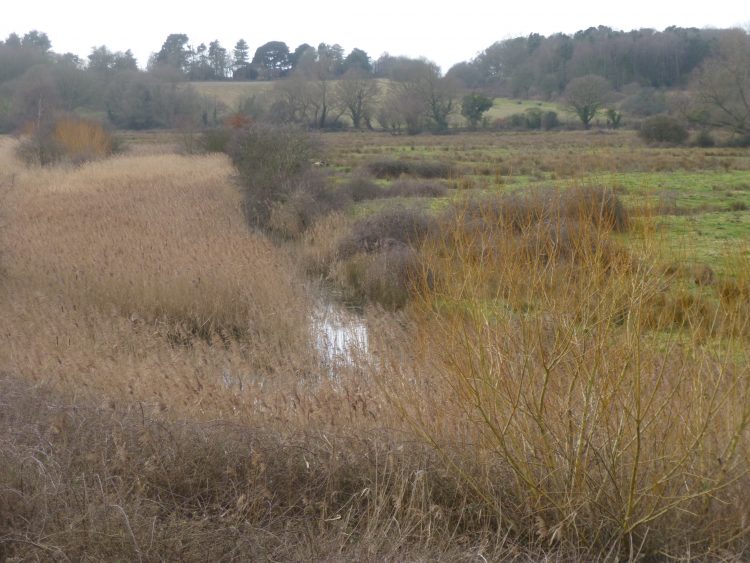 I can see I shall be taking more trips up to Woodbridge with a sketch book!
Hope your week is going well – and that you're keeping warm! 🙂
---
I finished the first painting in my 2018 painting project – Four Seasons on the Stour – after church this morning.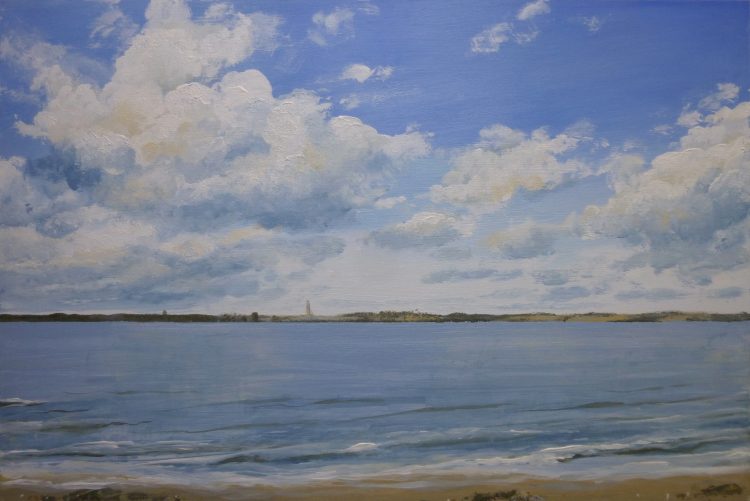 This is the Stour estuary at Wrabness, looking across to the Royal Hospital School at Holbrook. And it's called Wrabness: Winter.
My next painting destination for this project is a bit further up the river, somewhere around Cattawade/ Manningtree, but I need to do a recce and work out exactly where I want to paint! I may wait until it is a little warmer, too, as it is VERY cold here today.
Hope you've been having a good weekend. 🙂
---
This morning copies of the book arrived! The book of my 2017 painting project, A Year on Fingringhoe Wick, which I made using Blurb, the online publishing site.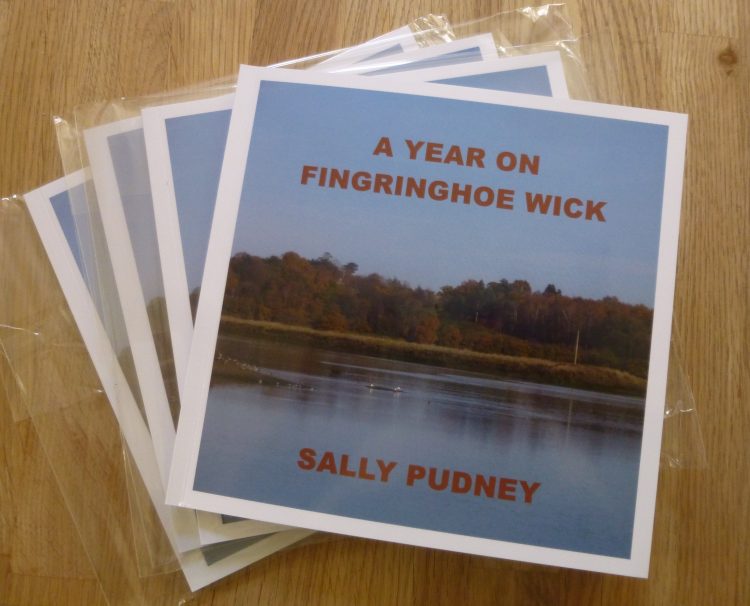 I've only bought four copies to begin with – having learned from my last book, Twelve Months in an Essex Wood, that however many times you check there will always be an odd mistake that creeps in and needs editing . . .
Here are a few pages to give you a little peep inside.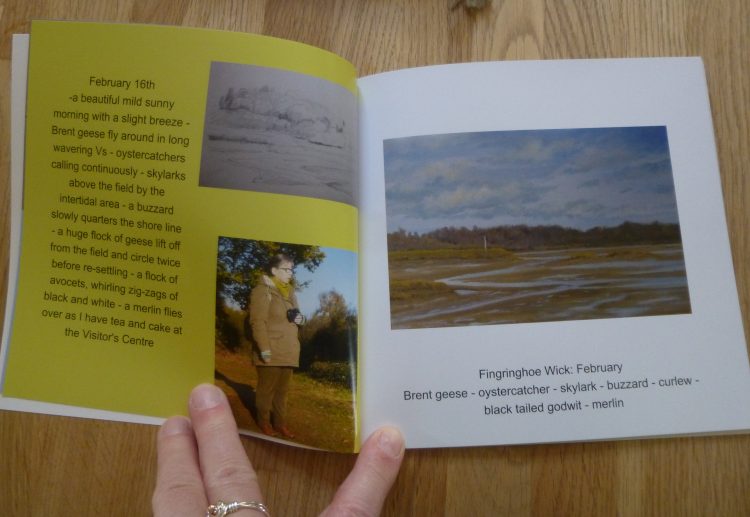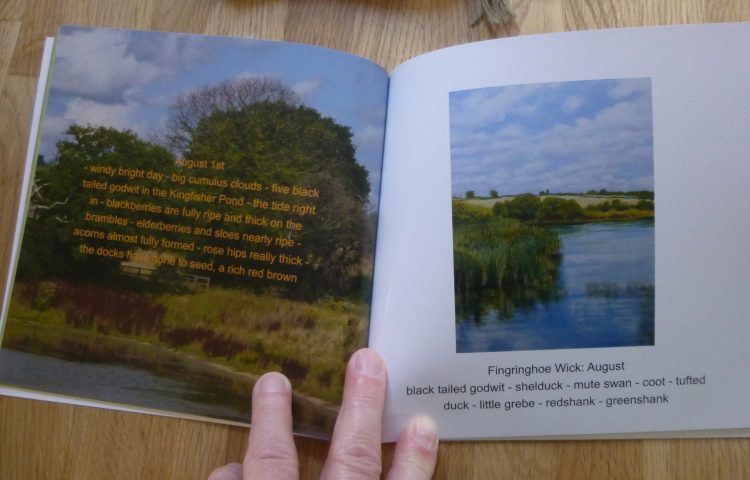 Each opening is concerned with one month. On the left hand page I've put the notes I made on that monthly visit, along with either a drawing I made that month, or a photo that I took, or both. On the right hand page is an image of the month's painting, with a list underneath of the birds that I saw. I also played around with some background colours, and different layouts on the left hand pages. The whole book is more varied that the Essex Wood books were. They will 'launch' at the All Saint's Arts Festival at the end of May, selling for £15.00.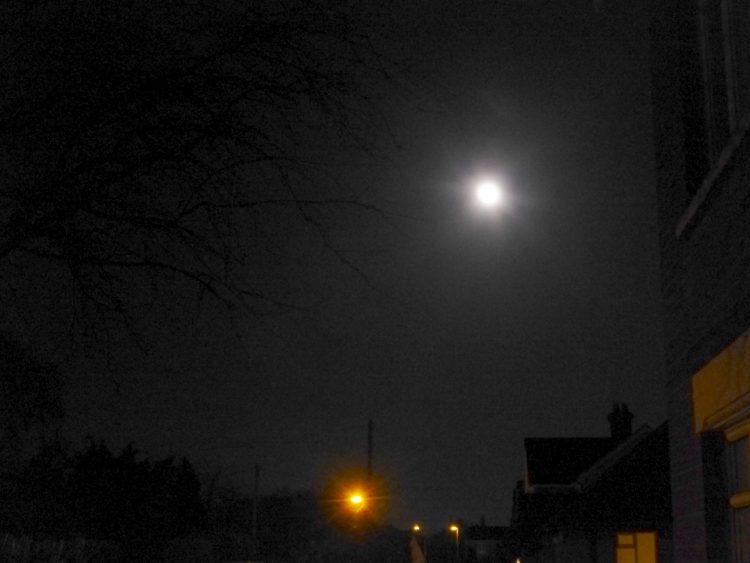 Did you see last night's super moon? How spectacular it was. This is a rather blurry photo of it from my front garden. I first saw it across the fields as I drove home from my seaside outpost at about 5 o'clock, looking so huge and so bright.
Back in my studio this afternoon, I've been cracking on with the first painting in my 'Four Seasons on the Stour' project. This one is of the Stour estuary at Wrabness, looking across to the Royal Hospital School at Holbrook on the Suffolk side of the estuary.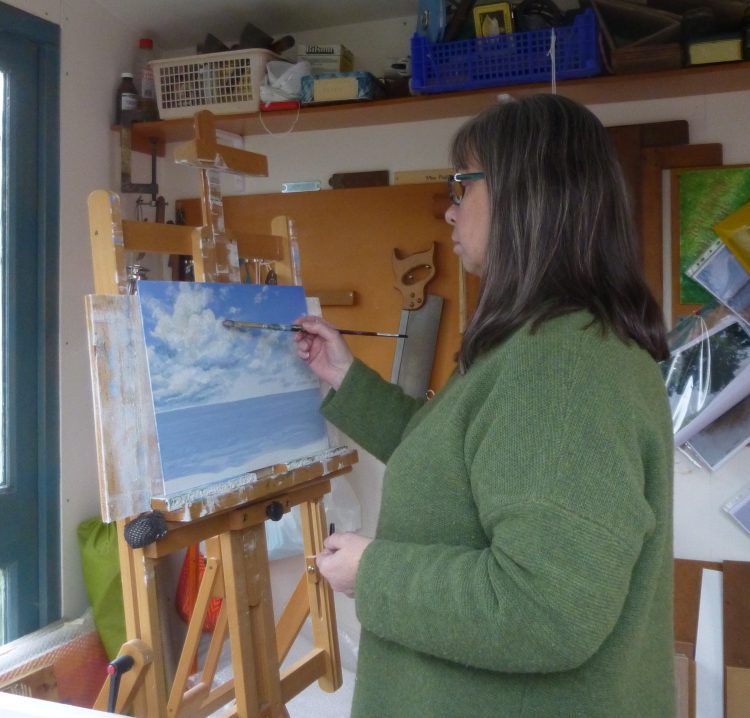 At the moment I have almost finished the sky, put some background colour on to the estuary, but the actual far bank is not there at all yet!
Hope your week is going well! 🙂