Back to Hillhouse Wood this morning! If you've been following my story for a while you will remember this was the wood I visited every month in 2016 for my painting project 'Twelve Months in an Essex Wood'.
Sally Patrick, at the Haylett's Gallery, has asked for eight paintings for their summer show  – including a couple of bluebell woods. So off I went this morning to West Bergholt. The woods did not disappoint.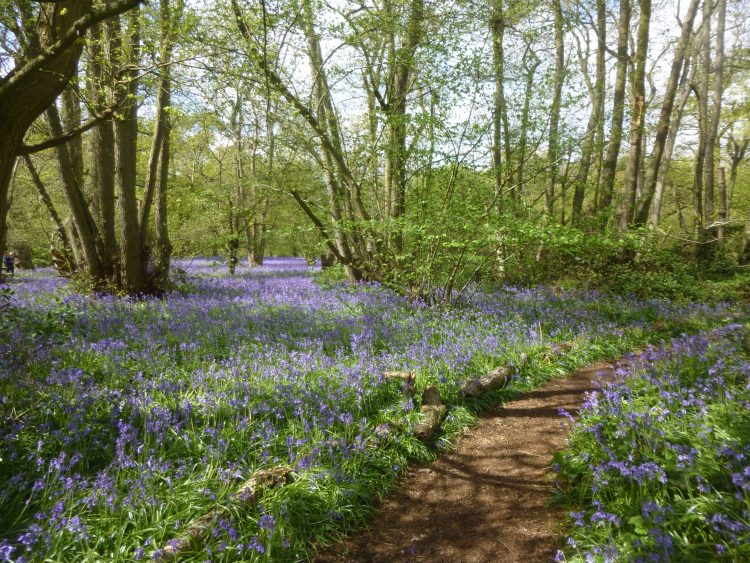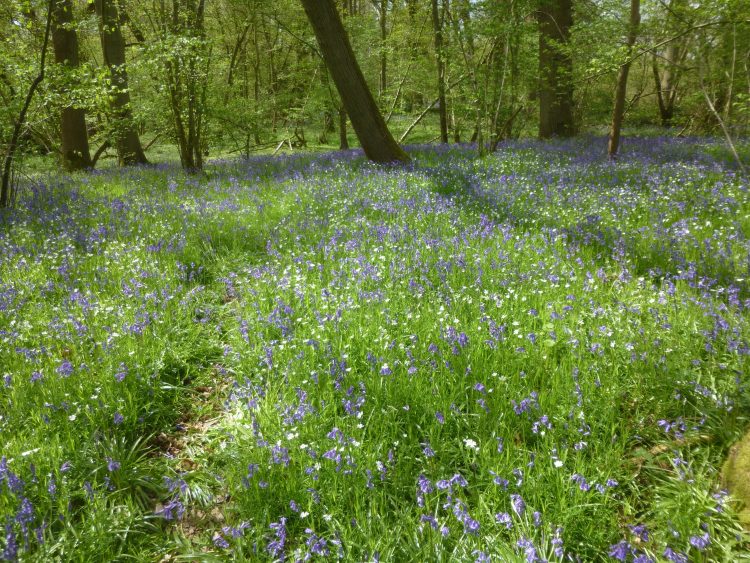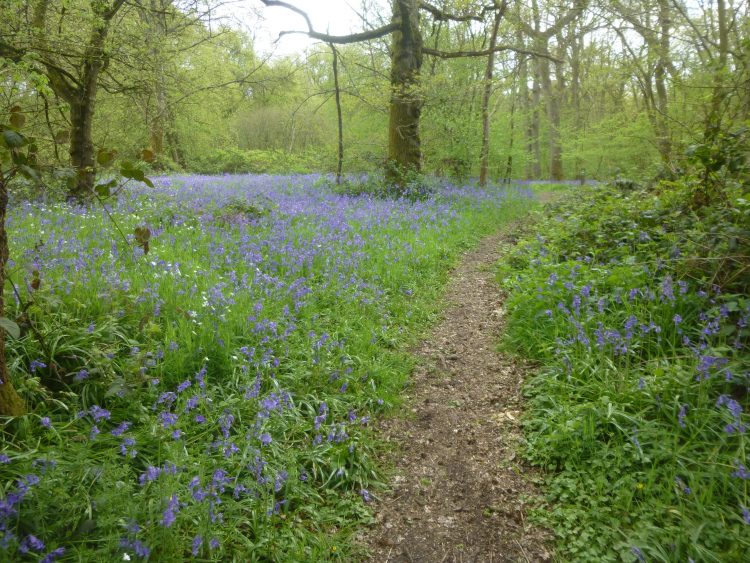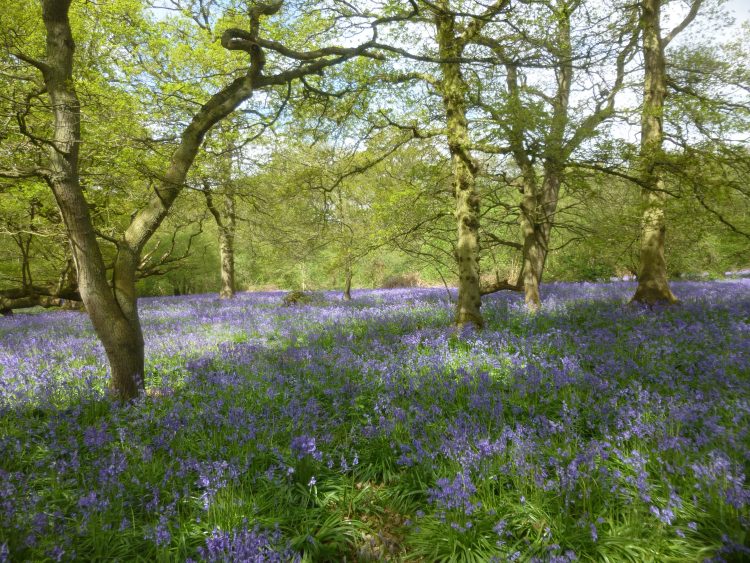 I sat on a couple of benches and did some drawing. Lots of ideas for paintings.
And I heard a nightingale – just one, but I think it's still quite early for them. And I saw a great spotted woodpecker, really clearly, working its way rather ponderously round and round an oak tree. What a lovely morning! Hope your morning was good, too – and it's Friday again tomorrow! Yay! 🙂
---
So, this is the Walton Backwaters, from the top of the Naze Tower on a summer evening a couple of years ago. It's a painting I intended to paint in 2016, but then I got ill and painting stopped for a while . . . . but I remembered about it a few days ago!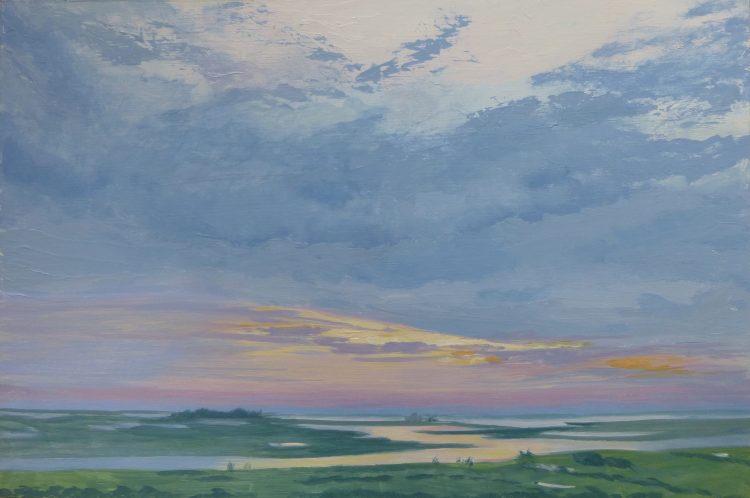 There had been tremendous storms all that evening, and then just as the sun was setting the heavy cloud broke and the water channels were lit up by the golden light. I came out onto the roof of the Naze Tower, with my friend Christina, at just the right moment! (Strangely, as I type this, there is a tremendous storm going on, with hailstones rattling against the kitchen window!)
Festival News: Yesterday I made my last artists visit for the Festival to Clare Kiely at Great Waldringfield. Clare keeps three alpacas and felts and weaves beautiful things from their undyed fleece – black Fergus, white Clement and gingery-brown Norman. Clare also runs workshops at her home. She has recently started a lovely new collection of felted vessels, inspired by the cave paintings of South America. She has 'drawn' alpacas using different colours of fleece felted into the background felt, using the same graphic style as the cave paintings.  Check out her work at www.suffolkalpaca.co.uk
There are just two more artists whom I haven't mentioned – more on them next time.
Don't forget to check out the Festival website www.allsaintsartsfestival.org.uk  for tickets for our evening events, as well as details of the exhibition and café opening times.
---
Yesterday the weather was perfect for a visit to Dedham. Gradually travelling up the Stour Valley, month by month . . . .
I walked down the path that runs off the end of the High Street, going down to the right of Dedham Hall. Part of it is across meadows, and part through a green tunnel of mostly hawthorn and elder.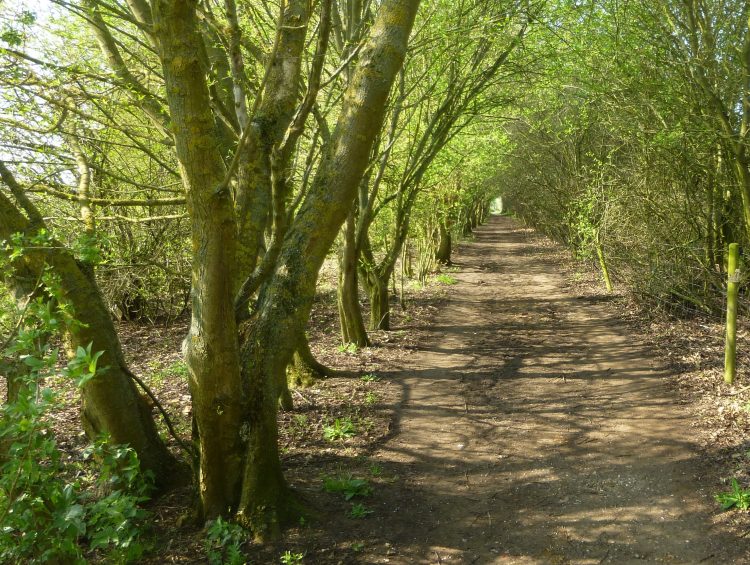 At the field edge were two blossoming trees, which looked like a cherry and an apple – this is the cherry!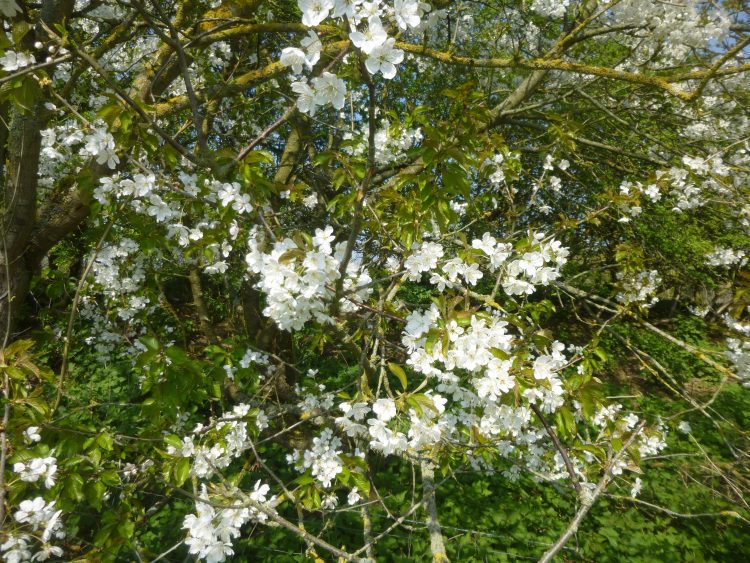 Everywhere there was blackthorn flowering, celandines on the path edge, the fields yellow with dandelions.
After  a ten minute walk I came out on the river bank.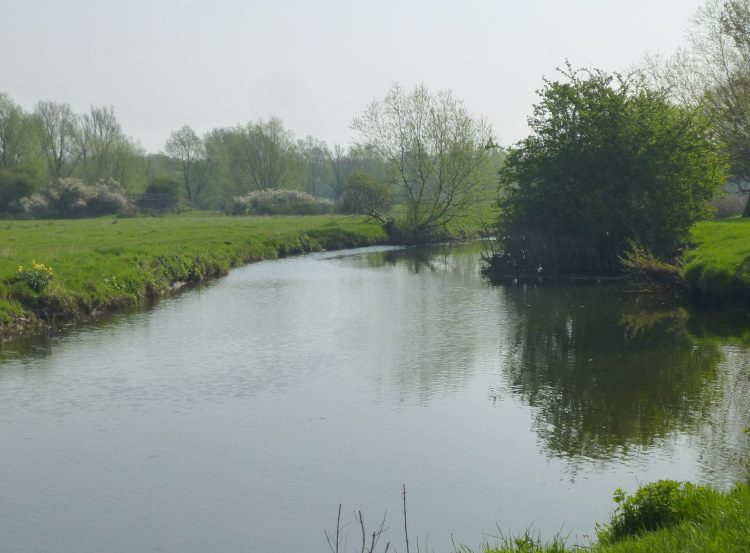 You can see how lush the new spring grass is, and the white of the blackthorn blossom on the far bank. This photo is looking down river towards Flatford, and this –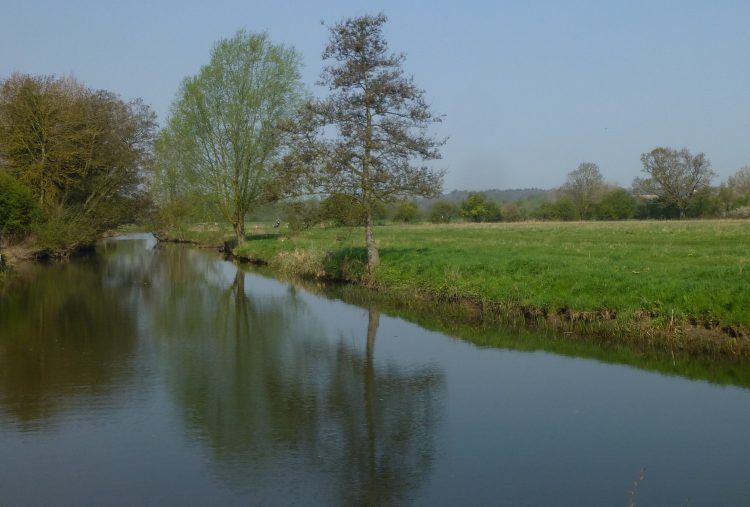 was looking up river towards Dedham Mill. The water surface was very calm, with sharp clear reflections.
After doing a bit of drawing from that spot, I walked back to the High Street, down Mill Lane, took the little side path by the mill, over the lock gates with the deafening torrent of water pouring through, and came out on the other side of the river. I walked upstream a bit, to where there are lovely tree-lined views of the river –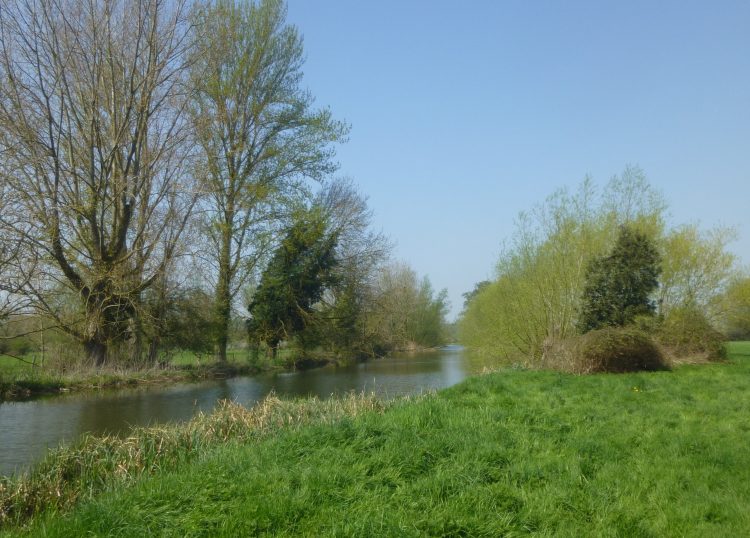 and the church tower can also be seen on the far bank.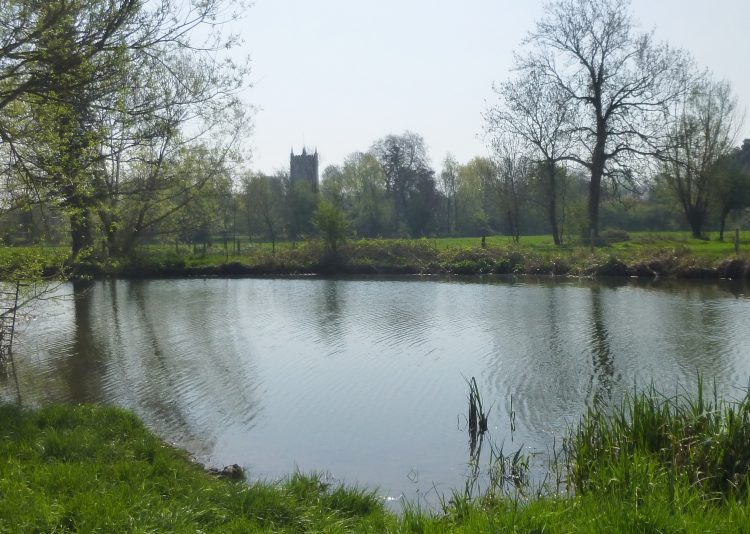 The willow trees were all coming into leaf, even the huge ancient pollard willows, and there was a haze of green over everything.  So many lovely scenes – my only problem is deciding which one to paint first!
Festival News: The previous day I had been up to Stowmarket to visit another of the exhibiting artists for All Saint's Arts Festival in Maldon in May. Greta Hansen is a print maker, who works with wood block printing and lino printing, focusing on the landscape, especially woodland and views with wildflowers. She showed me one particularly lovely print of the bluebell woods with silver birch trees in Lexden! She drew it while she was down here delivering her work to last year's Lexden Arts Festival! Greta does not have her own website, but has an online presence on the site of the Suffolk Craft Society www.suffolkcraftsociety.org.uk  and then search under Printmakers. Only one more visit to go, and then two more exhibitors who don't need visiting – I will explain in due course!
Hope you are enjoying your weekend! 🙂
---
Well, I couldn't resist giving it a go!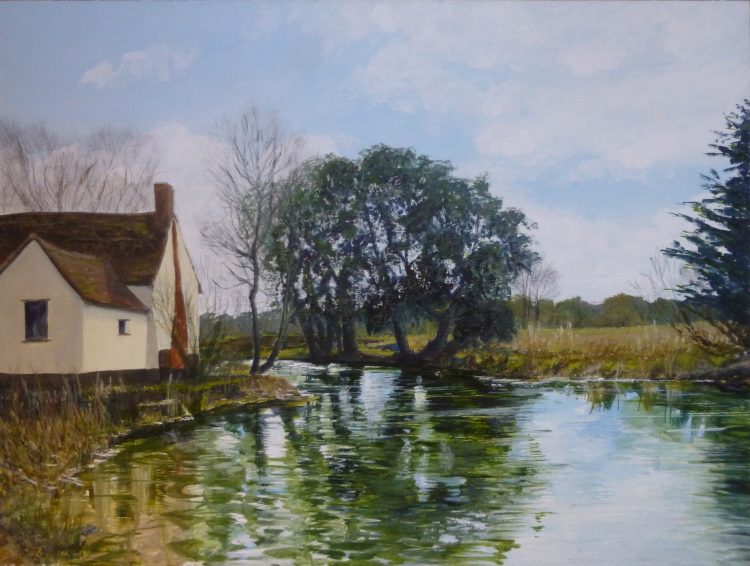 When I was walking around at Flatford a few weeks ago I thought, yes, you can quite see why John Constable painted this view so many times, of the cottage and the river. The view is not really the same now, though. None of the trees that grew in his day are there any more. The level of the river is about two feet higher. And a flood bank has been built on the other side of the river. But the National Trust do their best to keep it as similar as possible given these constraints.
Next up in my 'Four Seasons on the Stour' project will be a visit to Dedham. I have been poring over the footpath map to find an angle on the river which I have not yet painted. And I think I've found a good one!.
Festival news: I've done three more visits to exhibiting artists since I last posted. Catherine Allen, a jeweller living at Leavenheath www.paintboxcrafts.co.uk, Caroline Sullivan, from Martlesham Heath,  with her designer knitwear and Viking jewellery who has an etsy shop www.etsy.com/shop/bycarolinesullivan and Moira Goodall, a potter from St Lawrence Bay www.moiragoodall.com . I only have two more to do now!
A beautiful warm sunny morning today – breakfast outside for the first time this year! Yay! 🙂
---
So, here is the third painting of my 2018 painting project, Four Seasons on the Stour.
This huge old pollard willow is on the bank of the river just as the path goes off across the fields from Flatford to Dedham. How narrow the river is here compared to Cattawade, my last painting location!
I'm going to do a second Flatford painting, but I'm also looking forward to making my next visit to the river, which will be at Dedham. I've already painted several views of the Stour at Dedham, so the challenge will be to find a completely different view. Which I don't think will be very difficult!
Festival news: I have two more artist visits coming up this next week, so more news on them in due course. There are links to all the artist's websites on our Festival site, so you can always get a little preview. Go to www.allsaintsartsfestival.org.uk
It's been a beautiful Spring day here, warm sunshine, all the birds singing, lots of primroses, daffodils, magnolia and camellias opening in my garden. AND for the first time this year – painting with the studio door open! Hope you've had a good day wherever you are, too. 🙂
---
At last – I had time this afternoon to make a start on the third painting in my Four Seasons on the Stour project!
It has been a very busy Easter. Graham and I were involved with singing for All Saint's Maldon's mystery play – Shoreline 5 by Revd Canon Dr Graham Blyth – which was brilliant, and very moving. Then I sang for all the Easter services there – Maundy Thursday, Good Friday, Easter Saturday evening and Easter Sunday morning. I think my Land Rover knows it's own way to Maldon now!
One day while I was over there I popped into the Haylett's Gallery in Maldon High Street – and received the good news that Sally Patrick would like 8 paintings for the Summer Exhibition! Great!!
Then, back to Violin lessons this morning after my Easter break. But THEN some time in my studio this afternoon . . .
This is as far as I've got –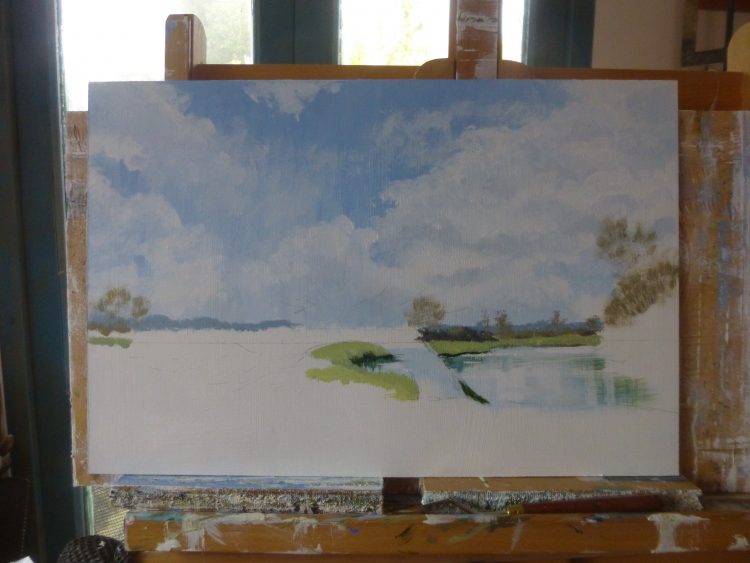 A long way to go still!
The magnolia outside my studio is, at last, opening its flowers after endless rainy days – could Spring really be here . . . ? 🙂