Just finished yesterday!
The latest in my 'Four Seasons on the Stour' project.
Next up with this one will be Sudbury Water meadows, but it probably won't get started this week as I'm busy preparing for my ARTSTUFF stall at St Leonard's church bazaar this Saturday. All the details in my last post. It would be good to see some of you lovely readers if you're in the area! 🙂
---
On a rather grey, chilly day yesterday Graham and I went up to Rougham near Bury St Edmunds to the third in Blackthorpe Barn's British Craft weekends. We've only been once before, and we really enjoyed it – it was a very good quality show. Several people who we know were showing there. Dennis Hales was showing his amazing and colourful wood-turning –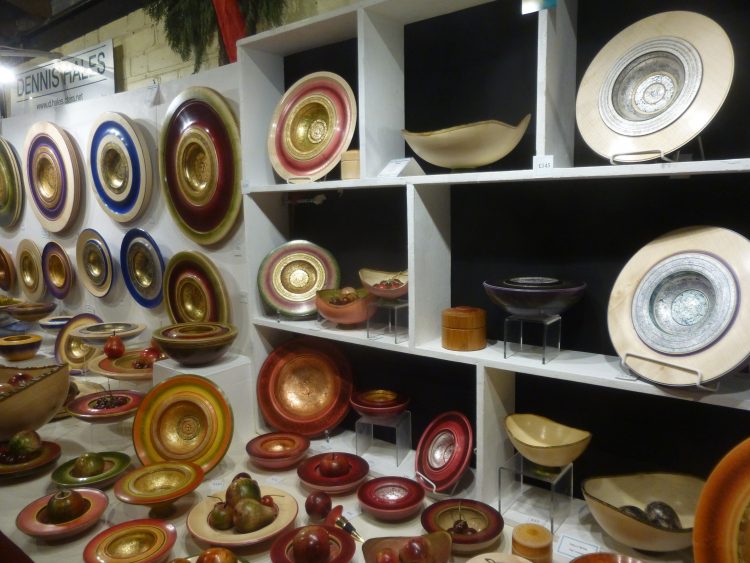 Katie Green, who showed at Lexden Arts Festival with us several years ago, was showing a greatly expanded range of her beautiful, subtle-coloured weaving.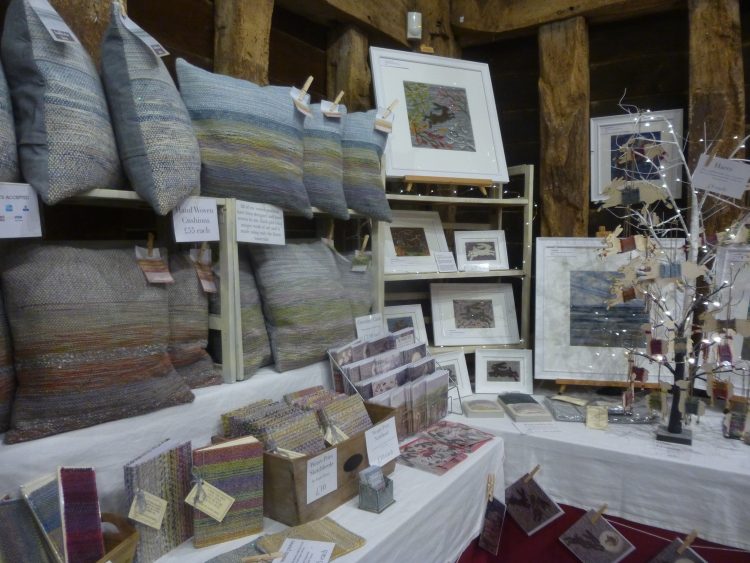 And it was lovely to catch up with Penny Bhadresa again, hear about her new studio and see her new work.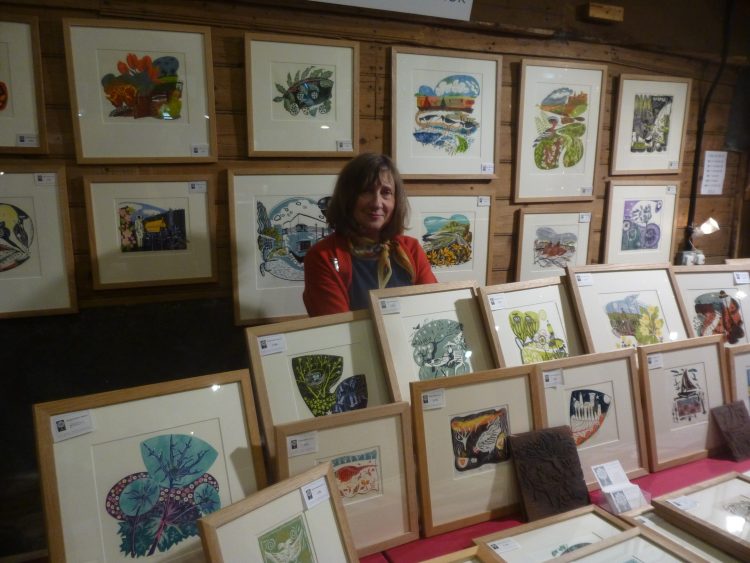 I was delighted that Penny has agreed to show at the Sentinel Gallery with us next October. She showed at Lexden Arts Festival two years running, and each time was one of the most popular artists.
Dennis and Katie will both be there again next weekend, and Penny is coming back for 15th/16th December.
If you are anywhere near Bury St Edmunds do go! They also have a café, a lovely Christmas decorations shop, they will be selling Christmas trees, parking is free and – (I think this is so important) – they have really nice loos! Clean, really hot water, really nice hand wash and hand lotion, and state of the art hand dryers. So often places are let down be really gross toilets. It's such a nice surprise to find a venue which bucks the trend.
In my studio: I've been making good progress with Henny Street: Autumn. I'm also preparing for my Artstuff stall next Saturday at St Leonard's church Christmas Bazaar. (Lexden CO3 4BL) I sold out of my Jute Bags at Open Studios so I ordered another batch.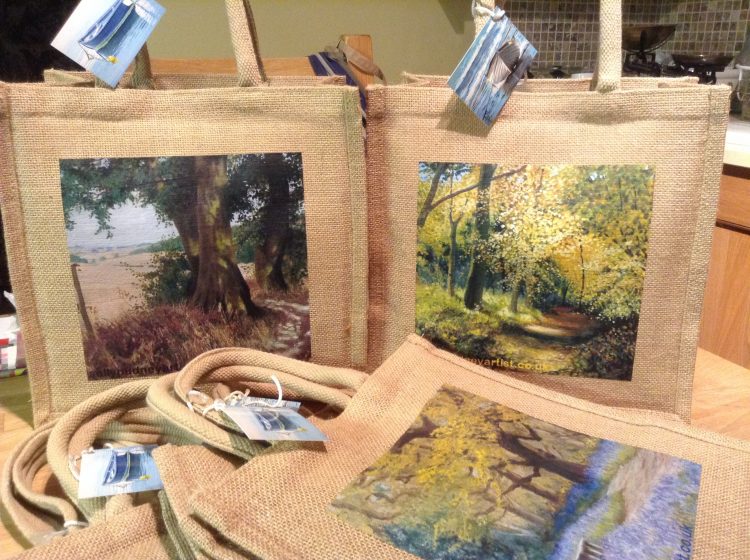 I've also been making more Useful Little Notebooks, as they were also very popular at Open Studios.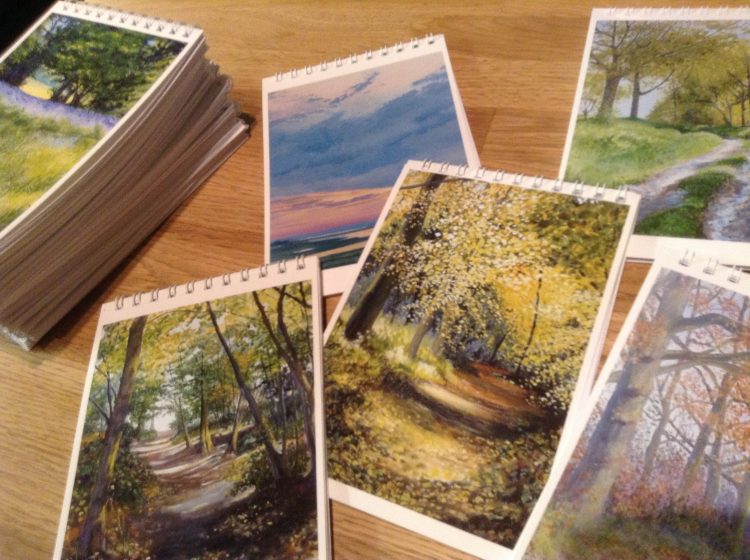 There is lots else going on in Colchester on that day. The Minories, the Arts Centre and Trinity Street all have Christmas craft sales of one sort or another, and at Lexden the Bazaar is open from 11 – 2.30. Parking is in the surrounding streets, and is free, and refreshments and lunches are available. So if you're in the area why not make a day of it?
Only a month till Christmas! I'm looking forward to singing for the Advent Carol Service next Sunday at All Saint's Maldon – that magical service, begun in the darkness, feels to me like the beginning of the Christmas season. 🙂
---
The latest painting in my Four Seasons on the Stour project! Just finished yesterday afternoon.
Next up in my studio will be Henny Street: Autumn. And I'm planning on my Long Melford visit in the next few days.
An exciting parcel came in the post this week from Intaglio Printmakers – more will be revealed about this in my Art Goals for next year! But for now, here's a tantalising picture . . .
I also got the Christmas cake made this week. Here is the fruit, having been soaking overnight in apricot brandy.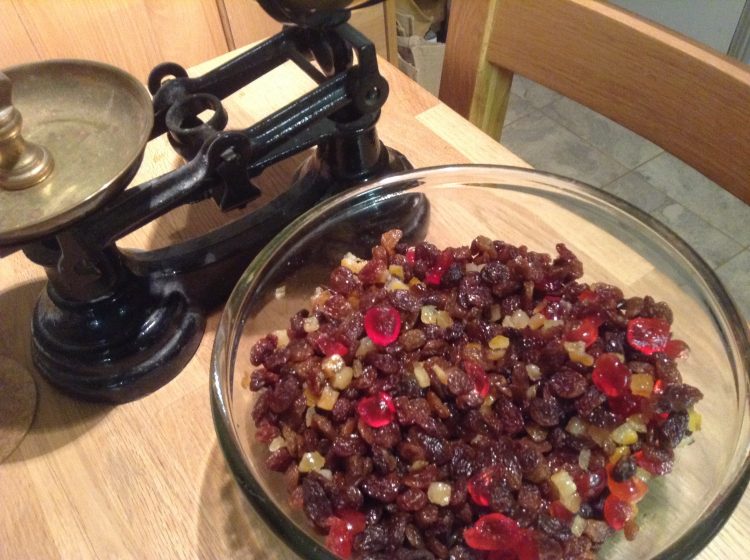 And here is the cake, cooling in its tin, before being pricked all over and fed with quite a lot more apricot brandy!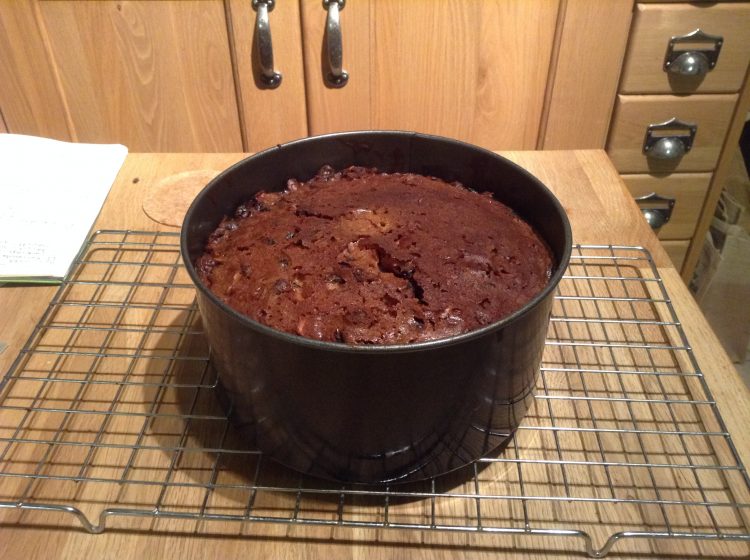 Thinking of Christmas, here is some advance warning – if you are in the Colchester area I am having my usual ArtStuff stall at St Leonard's Christmas Bazaar, in the Church Hall of St Leonard's Church, Lexden CO3 4BL. I will have Christmas cards, greetings cards (including Essex Wood and Fingringhoe Wick cards), mugs, jute bags, postcards, useful little notebooks and my little books about my previous two years painting projects for sale. It is on Saturday, 1st December, from 10.30 – 1.30. There are all sorts of stalls, including an excellent cake stall,  and refreshments and light lunches will be available. Do pop in and say hello if you are in the area – and maybe pick up a little stocking filler.
A beautiful, sunny autumn day here in Lexden – hope the sun is shining where you are! 🙂
---
Well, I must say, I haven't got much work done this week! But I have had some good days out – Woodbridge with Graham on Tuesday, Walton with my friend Christina on Thursday, and Cambridge with my sister and niece yesterday, and this morning Graham and I went to sing for Remembrance Sunday in Maldon.
My last calendar went to an Instagram friend in Lower Holbrook, so we dropped that in on our way to Woodbridge on Tuesday. I was in two minds about whether to order some more calendars, as it is only November, but on the other hand I don't want to be left with any in January. . . . ? So I decided that was it for this year. Make a note to self – order more next year!
We visited the Ipswich Art Society's show at Artspace in Woodbridge, and then had a walk by the River Deben.
Christina and I went down to Walton on the Naze on a beautiful sunny day on Thursday. Before I picked her in Wivenhoe I took the opportunity to pop into the Sentinel Gallery where some of the artists from Cuckoo Farm Studios are showing their work. They have really filled the gallery with all sorts of interesting things – lots of paintings and prints, wood turning, ceramics, glass and sculpture. Lots to look at and very well arranged I thought. It continues until 13th November, so a couple more days to catch it if you're in the area. (The Sentinel Gallery is open for this exhibition from 11.00am – 5.00pm.) And then down to Walton –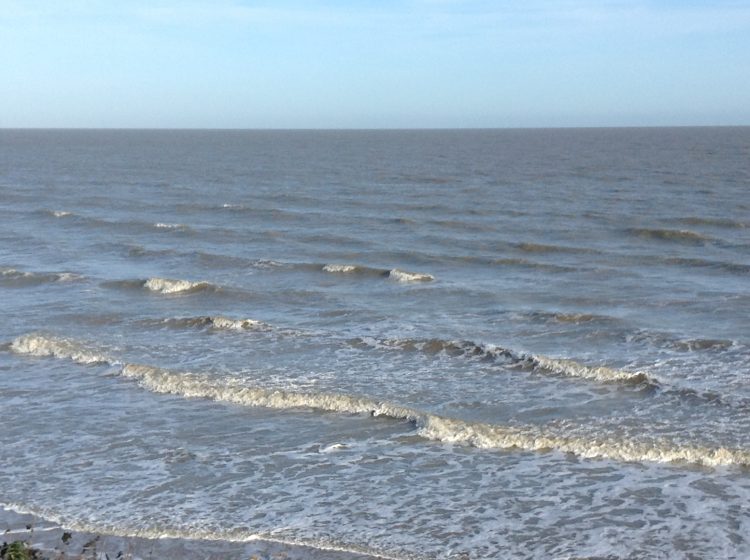 Amazing weather for November!
Yesterday I met up with my sister and my niece in Cambridge where we visited the Fitzwilliam Museum to see the Virginia Woolf exhibition and the printmakers exhibition. The Virginia Woolf exhibition showed art work inspired by her writings, especially focussing on women in interiors, and as creative artists and writers. I particularly liked Dame Laura Knight's painting A Green Sea. The Printmakers show was celebrating the Royal Society of Painter Printmakers, and had work by contemporary printmakers like Norman Ackroyd and Anne Desmet, and also from those of times past like Samuel Palmer. These are a couple I liked from the room of Haden's drypoints and etchings –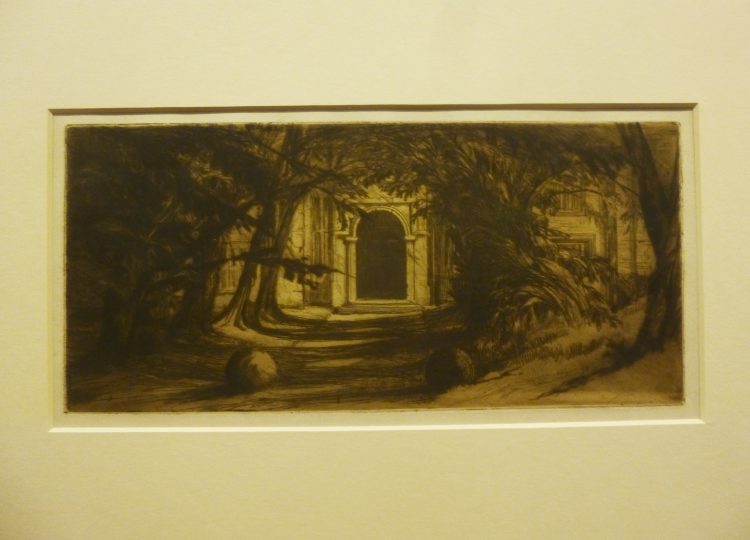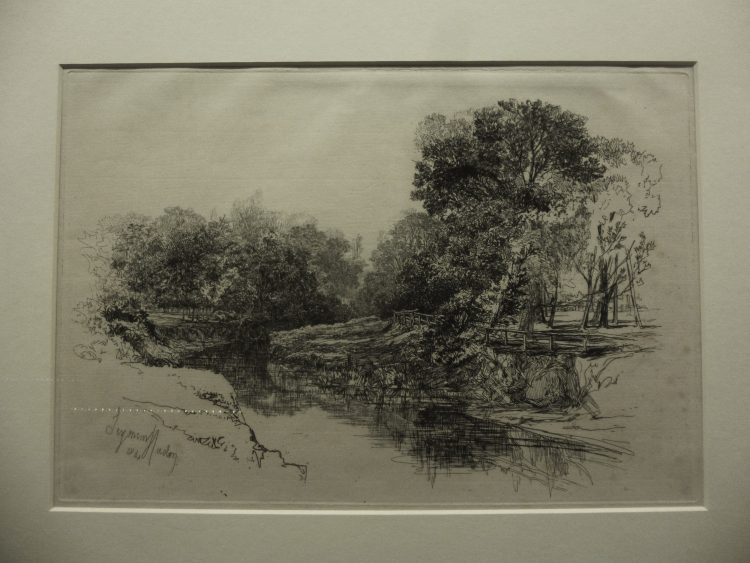 This morning Graham and I sang for the Remembrance day  service at Maldon, firstly outside by the War Memorial and then inside All Saint's church. I took these photos afterwards.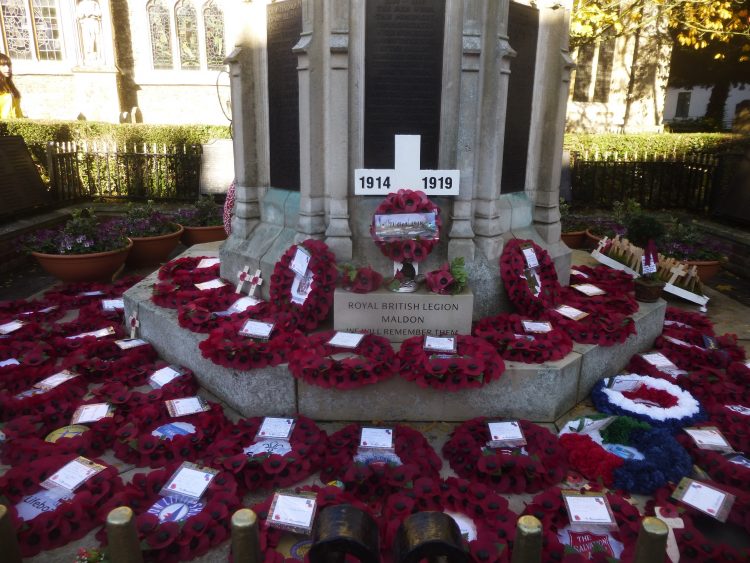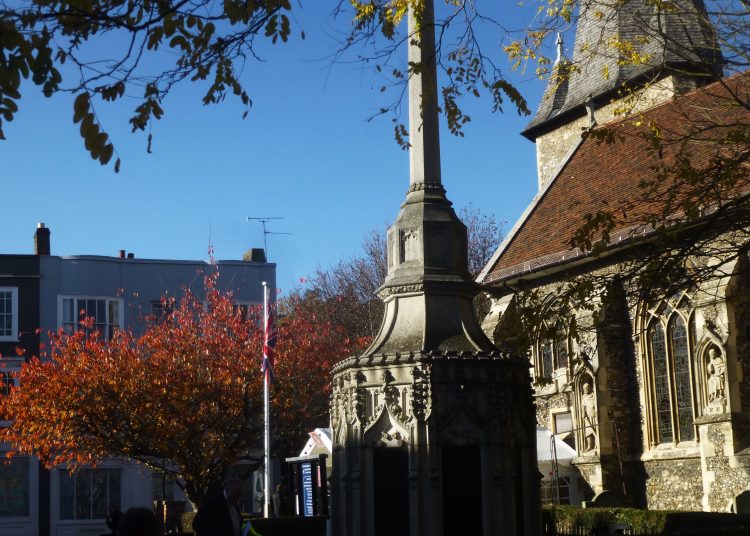 Amongst the names of the fallen from Maldon in the Great War was the name of George William Pudney. My next job is to discover how he is related to me! AND get down to some work this week! 🙂
---
November! Already! October was a busy month –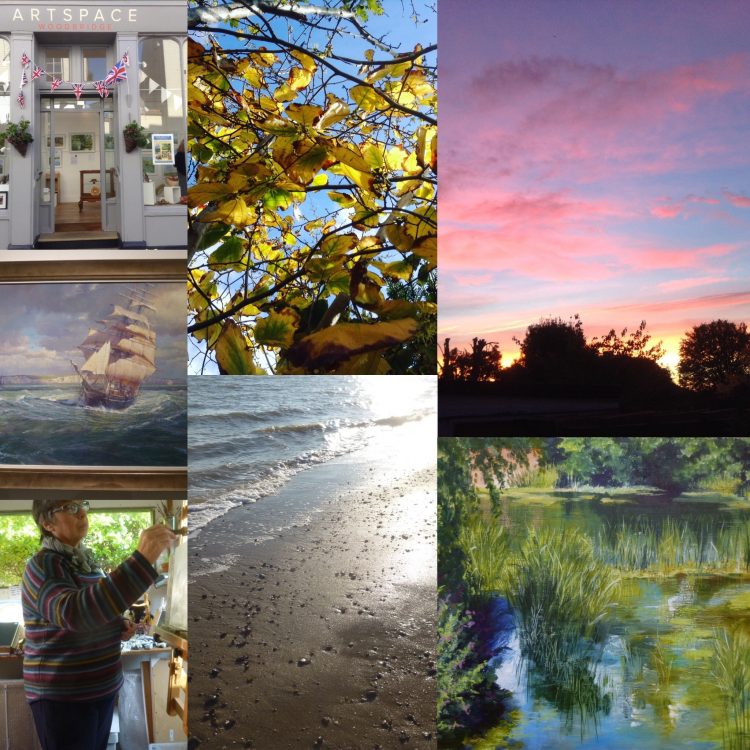 and this month promises to be the same . . .
I am still working away decorating the hall, stairs and landing of my house. There does seem an awful lot of wall, but I'm getting there. The walls are in Farrow & Ball's Dorset Cream, and the woodwork will partly be in F&B's Sudbury Yellow, and partly, I think, Wimborne White. I'll share a photo when it's done!
In my Studio: I've made a start on Bures: Early Autumn, the next painting in my River Stour project. And I've also been mulling over a completely new way of making paintings of some of the ancient stones and landmarks in Wiltshire. I am planning a series of little paintings 30cm square. This is the drawing of what will become Silbury Hill.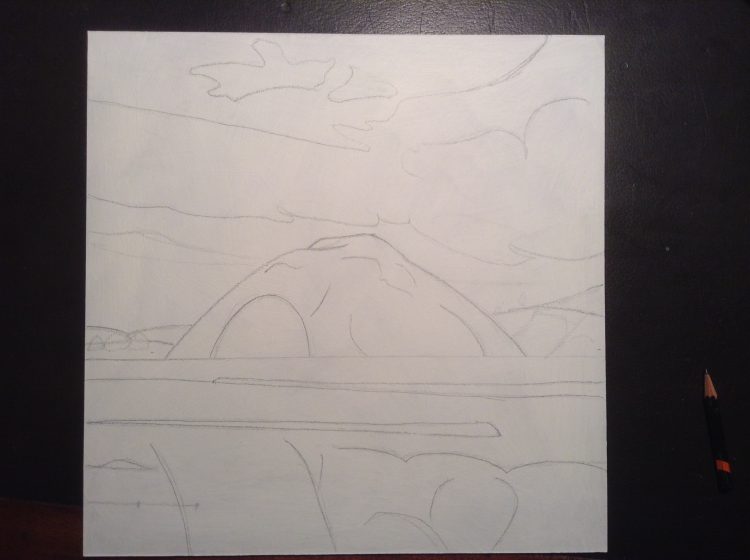 It doesn't look very exciting yet, does it? – but I have plans for it . . . .
A little plug for a magical CD I've just got – Sam Sweeney's 'The Unfinished Violin'. In 2014 Graham and I went to his show Made in the Great War at Colchester Arts Centre when he and his fellow performers were doing their first tour of it round the country. Hugh Lupton, a long time friend of mine, was doing the story telling and there were other instrumentalists/singers involved too. It told the story of a violin, carved but not made up, by Richard Howard, which was left unfinished in his workshop in Leeds when he was called up in 1915. He was killed at the Battle of Messines in June 1917. The pieces of the unfinished violin were found many years later by Roger Claridge, a violin maker in Oxford, who completed the violin. When Sam Sweeney bought it he found a tiny label inside what appeared to be a new violin. It said 'Richard S Howard. Made in the Great War'. Sam's father began researching – and pieced together the story of Richard Howard, and the violin. The show 'Made in the Great War' was one of the most magical and moving performances ever! And now, Sam, with the same violin, has made another CD in which he has collected and arranged traditional tunes popular at the time of the Great War, along with Regimental Marches – many basically folk dance tunes – used at the time, and arrangements for tunes composed by some of the Pipe Majors of that period.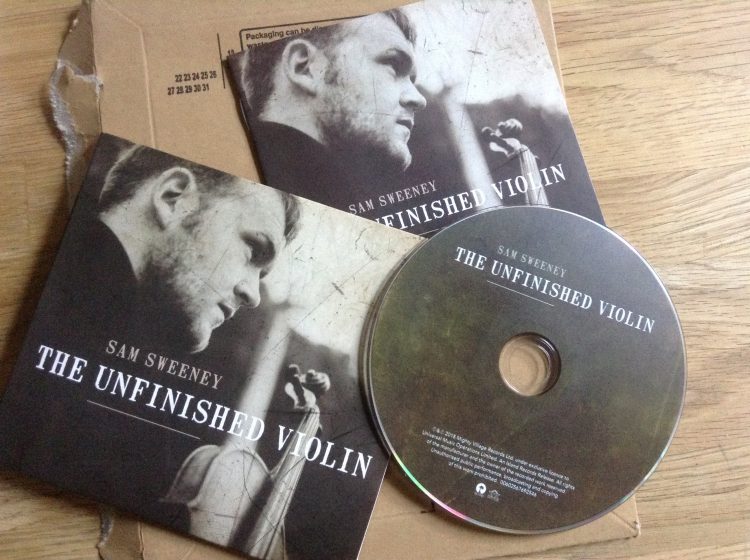 The resulting CD is beautiful!  And the CD of 'Made in the Great War' is also available still and is a dramatic and poignant story told in music and song as well as words. Both are highly recommended, especially at this time of the centenary of the Armistice.
We've had some beautiful cloud patterns over the last few days – this was last Friday's sunset.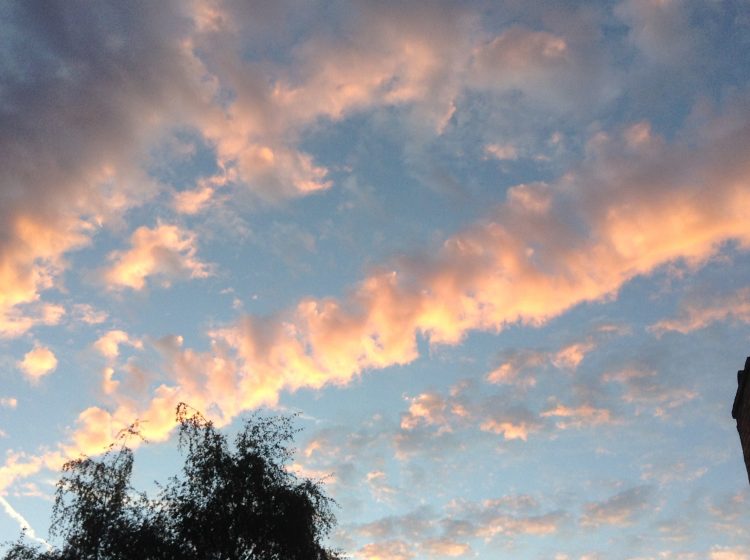 I went down to Graham's on Saturday and we walked along the seafront to watch the fireworks from the end of the pier. And then we walked right out to the end of the pier in the dark – the sea was really high and rough. Unfortunately my firework photos were rubbish – not good enough to share! But as tonight is the actual 5th you might be going to a fireworks display yourself tonight – if so, have fun and stay safe! 🙂