Just in time – the last painting of my 2018 painting project finished yesterday afternoon.
And as it is the last day of the year today it is a good time to reflect back on my art story through 2018. It seems a very long time since I wrote about my plans for the year in a blog post on January 1st. Some of them came to fruition,  some didn't, and some are still in progress.
Big Painting Project: Four Seasons on the Stour This was a great project to do! I really enjoyed following the Stour upriver from the estuary, and I discovered some lovely places which I had never been to before. The paintings were almost all difficult – but that was good because it really stretched me. By the time I got to Stratford St Mary and Higham I felt I was painting pictures which involved a complexity which even a few months before I would not have attempted. At present Wrabness, Cattawade and Stratford St Mary have sold, and Flatford I is spoken for, and from Boxted Mill to Long Melford have not been exhibited anywhere yet.
Landlines: This idea has resulted in seven paintings so far, and some of them have been my most successful I think. So far Landlines 3: Track and Landlines 5: Channels have both sold.
The Ridgeway: I spent another wonderful week this year walking The Ridgeway, staying in Ashampstead in West Berkshire this time. I have a heap of drawings and photos which still need to be turned into paintings – come back tomorrow for news on this one!
Fingringhoe Wick Books: I had these published with Blurb online publishers in January and have so far sold 18 copies. I also had cards printed of Fingringhoe Wick April, June, August, July, October and November from Point Graphic printers in Maldon which have been selling well.
All Saint's Arts Festival: We had a lovely time organising and running this, and it was very successful for most of the artists involved, and much enjoyed by all the visitors. I personally was well pleased as I sold well over a thousand pounds worth of paintings, cards and books.
Drypoint: I was planning on trying this during the year. I got as far as buying a starter kit with everything I need from Intaglio Printmakers in London – but have not yet got started! This is a definite for next year!
Exhibitions: These were all enjoyable – and variable in success. The Haylett's Gallery and All Saint's Arts Festival were very successful, Geedon Gallery was – for the first time ever – a complete wash-out (but my paintings were hung on the stairs and I really don't think anyone looks at the pictures on the stairs which are so steep and narrow), Artspace in Woodbridge was not very successful in sales for me, but was a good learning experience and I made a lot of good contacts. Taking part in the this exhibition and sharing the organisation has also resulted in me hiring The Sentinel Gallery in Wivenhoe for a week in 2019 which I'm not sure I would have thought to doing without that experience. My Open Studios weekends in September were fun and successful with lots of lovely visitors – more than ever! – and interesting conversations and sales.
So altogether, a very good and enjoyable year.  Call back tomorrow to read all about my plans for 2019 – and I've got LOTS!
And now it only remains for me to thank all you lovely blog-readers for following along with my art story through this year, and to wish you a happy and healthy year in 2019 – may it be a year filled with peace and excitement and creativity and joy! 🙂
---
This is nothing to do with painting!
But if, like me, you find more time to read in the winter, I thought you might like a few ideas from books that I have read or re-read this year. I love it when I really enjoy a book and then discover that there are more books available by the same author. So most of these ten recommendations are for not just one but a group of books, some an actual series, others just linked by their being written by the same person.
So here goes! Five fiction first!
Catherine Fox: A trilogy – Angels and Men, Unseen things above, and Realms of Glory. They are set in a cathedral close, and the various vicarages and rectories of the diocese, they are both very funny and moving, although you have to ignore an awful lot of bad language! It helps probably if you have some idea of how the Church of England works. If you enjoy them her three previous novels give the backstory of some of the characters – Acts and Omissions, Love for the Lost and The Benefits of Passion.
Ali Smith: Autumn and Winter. The first two in a quartet of books, I think Spring will be out  . . . . in the Spring? Brilliantly written and intriguing.
Jill Paton Walsh:  Thrones, Dominions,   The Attenbury Emeralds, A Presumption of Death and The Late Scholar. If you like Dorothy L. Sayers Lord Peter Wimsey novels, then these are for you. Jill Paton Walsh carries on the story of Lord Peter and Harriet into their married life, through the second World War, children, changes and chances of fortune . . .  She captures the character and mood of the original books with real flair.
Hugh Lupton: The Ballad of John Clare and The Assembly of the Severed Head. The first tells the story of the poet John Clare's early life, based in fact, but vividly fictionalised and brought to life. The second tells the story of the making of the Mabinogion. Hugh is an internationally acclaimed story teller, and is as gripping on the page as he is in person.
Terry Pratchett: The Tiffany Aching series – The Wee Free Men, A Hat full of Sky, Wintersmith, I Shall Wear Midnight, and The Shepherd's Crown. These are not really intended as adult books! – but they were recommended to me by my sister who said they had 'real magic in them' and she's quite right – I loved them!
And now five non-fiction:
Mark Cocker: Claxton and Crow Country. Mark Cocker lives in the village of Claxton just south east of Norwich, and the first book is a series of short articles/diary entries about the wildlife in and around his village. He writes with a wonderful mixture of scientific accuracy and lyrical descriptiveness and a deep understanding of the inter-relatedness of the natural world. Bite-sized chunks, easy to dip into! Crow Country is about his obsession with and study of the crow family, particularly rooks, and is absolutely fascinating. He draws you into his own fascination.
Robert Macfarlane: The Wild Places, The Old Ways, Holloway and Landmarks. All encompassing books about the natural world – geology, history, landscape, literature, people, travel, cultures, language, wildlife, botany, trees . . . and written with such style and elegance. If you enjoy them, look out for his next book Underworld coming out in the spring of 2019.
Alexandra Harris: Weatherlands and Romantic Moderns. The first starts from the English preoccupation with weather, and traces 'weather-worlds of English culture and history'. The subtitle is Writers and Artists under English Skies. I found it fascinating, and Alexandra Harris' breadth of knowledge is awe-inspiring – and it is shown again in her earlier book, Romantic Moderns, which is subtitled, English Writers, Artists and the Imagination from Virginia Woolf to John Piper. As both Woolf and Piper are of particular interest to me, and I've read very widely about both, the subtitle drew me in – and there is a lot here about both, and many others besides!
John Lewis Stempel: The Wood, Meadowlands and The Running Hare. Lewis Stempel writes as an unusually hands-on naturalist, using a wood that he owns, and a meadow that he manages as the subject of these books. All three books are evocative and thought-provoking, demonstrating how land can be managed with the welfare of wildlife in mind, and what a positive impact this can have even in the space of a year.
Bill Goldstein: The World Broke in Two. Subtitled Virginia Woolf, T S Eliot, D H Lawrence, E M Forster and the year that changed literature. A very readable account of the birth of modernist literature.
So that's it, lovely blog readers, I hope you find something there to enjoy and some quiet time for reading once the business of Christmas is over. Any recommendations of your own? – do share in the comments which you can open by clicking on the post title.
Happy reading! 🙂
---
Winter Solstice greetings! It's all about candles here . . .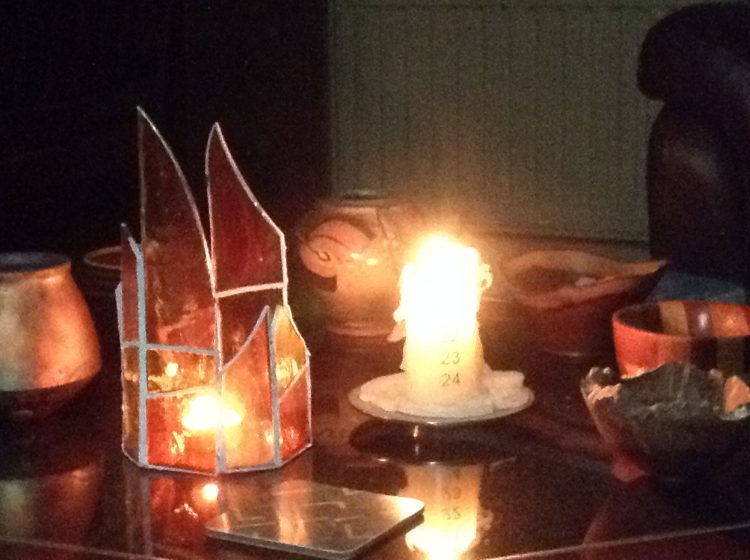 This week I have finished the last calligraphy job of the year, which was updating the Book of Remembrance for St James' Church, Little Clacton.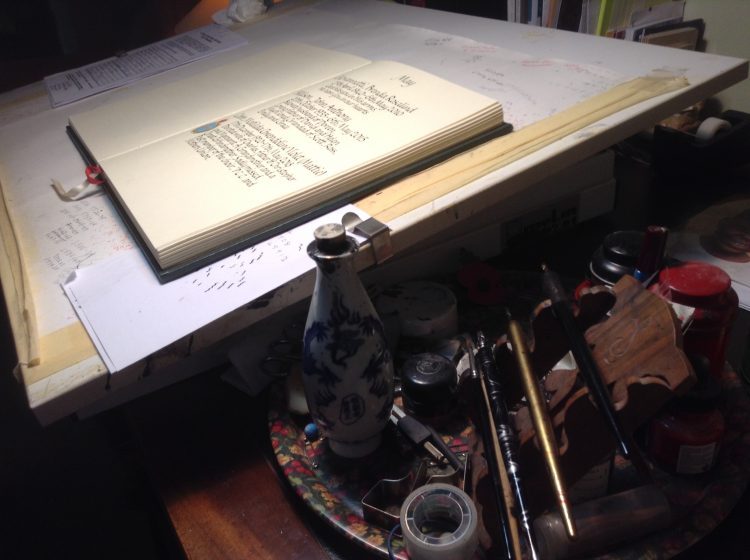 One of the entries was rather interesting because it was for an lady in her late nineties who had been in the Women's Air Auxiliary Force during the Second World War. Her family asked for the WAAF crest by her entry so I had to source that and work out how to represent it in paint. When I returned the book to Little Clacton on Wednesday, I carried on down to Graham's house. We had a lovely lunch at The Oakwood, followed by a chilly but enjoyable walk by the sea.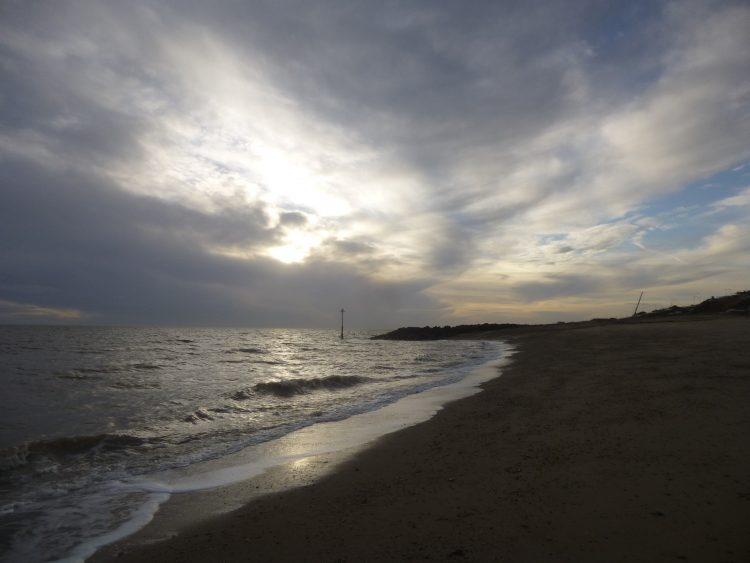 I've got the board all primed up for the last painting of my Four Seasons on the Stour project – a good job to do on these dark afternoons, as it doesn't need natural light like painting would. Here is my studio on one of those dark afternoons recently, with a crescent moon!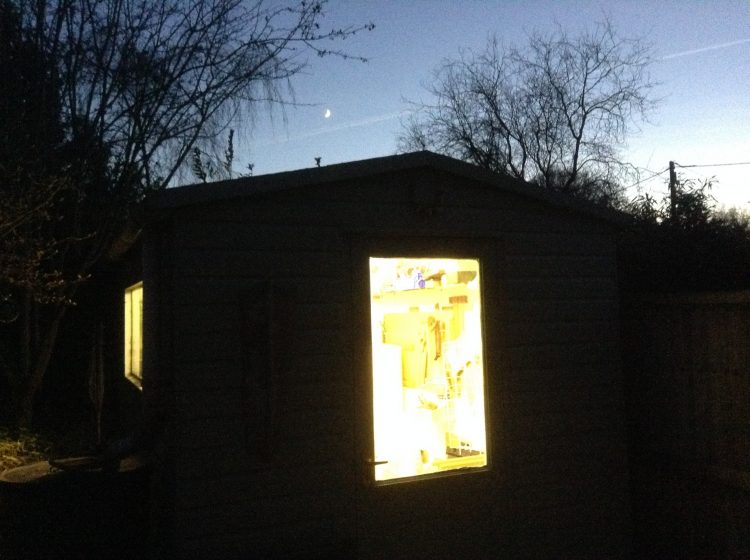 Having finished my last 'jobs' I started decorating the house for Christmas. I decided against a tree this year, but the garden yielded enough winter greenery –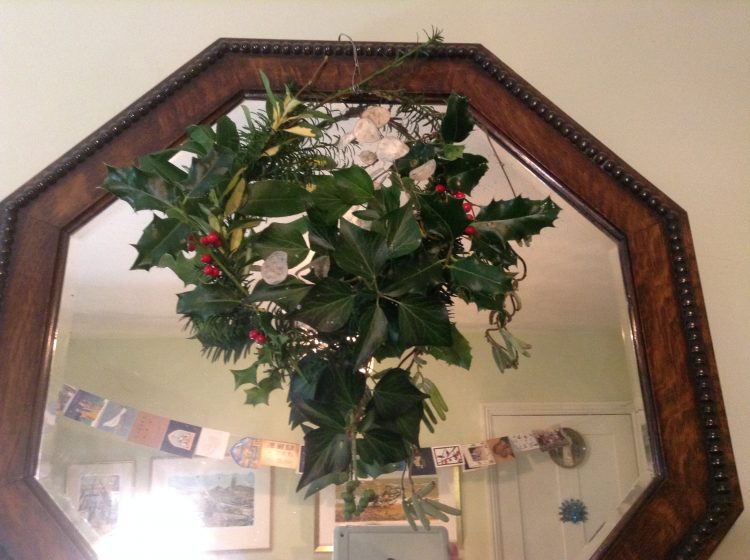 and my Twelve days of Christmas Fairies are cavorting on some large twigs of corkscrew hazel!
Yesterday my copy of Ness by Robert Macfarlane and Stanley Donwood arrived.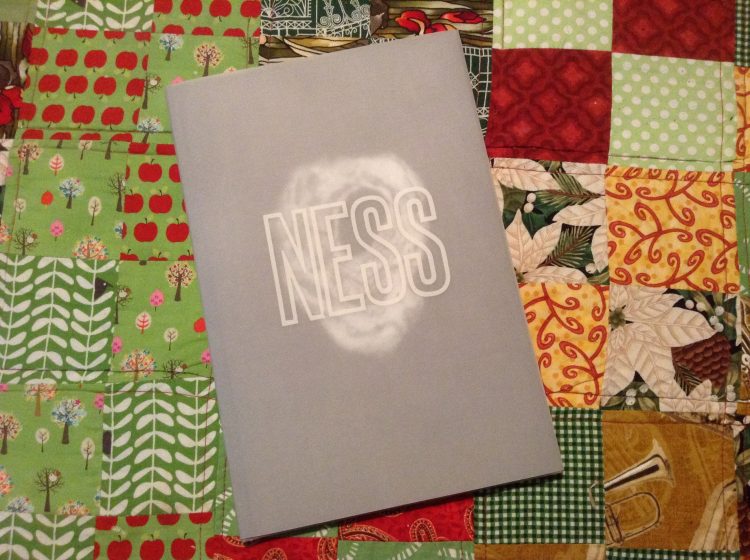 I was lucky enough to get one of only 525 copies which were printed by hand, with stunning prints by Stanley Donwood –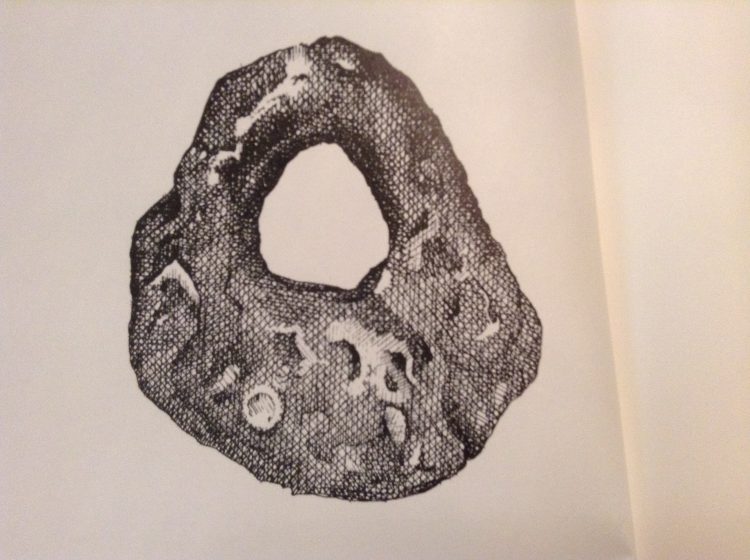 and a 'story/poem/mystery play' which is deeply strange and dark but ultimately I think optimistic. It is based around the locality and former use of Orford Ness off the Suffolk coast – which is a strange and eerie place.  I need to read it again, probably several times, to digest it properly. If you haven't come across Robert Macfarlane's writing I would strongly recommend that you seek out The Old Ways and The Wild Places. To say they are nature writing at its best doesn't seem an adequate description as they have so much in them and they are beautifully written.
So – its nearly Christmas and nearly the end of the year. I'll be back here next week, with a round up of book recommendations, and then a reflection back on the year that was 2018.
For now, I hope you have a peaceful and very happy Christmas! 🙂
---
Finished yesterday afternoon!
The next one will be Long Melford – nearly at the end of this project now! I have on my list to do the last visit to Clare or Stoke by Clare, but with Long Melford I will actually have completed the twelve that I set out to do, so I may stop there. Although if we get a really nice day between now and the end of December I might be tempted to go, and do an extra painting. At the moment, though, it is very cold, and cloudy, so the opposite of tempting.
I have been working out my art plans for next year, which, excitingly, will be quite different from the last few years! Different painting projects, different exhibitions, and some quite big changes to my website. I will share all about it on January 1st.
And now I must sit down and do some serious Christmas card writing, as so far I have written just one . . .
Hope your Christmas preparations are going well! 🙂
---
So – after lunch we headed to the Mall Galleries where the Royal Institute of Oil Painters were exhibiting. This was excellent too! Here are a few that I specially liked.
This one reminded me of my Dad's wood workshop – with curious things suspended from the ceiling and wood shavings on the floor, which Mum was always complaining that he brought into the house in the turn-ups of his trousers!  And it looks like the identical lathe, too!
Apologies for the wonky photos! The show is on until the 9th December and is well worth a visit!
Back in my studio I've been priming up some more painting boards – a useful job to get done on these dark afternoons when it's too dark to paint!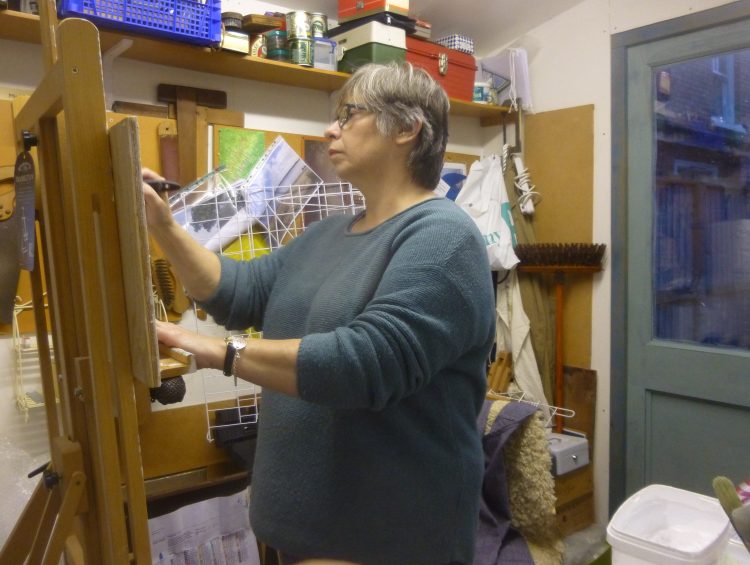 Many thanks to those who came to the Christmas Bazaar last weekend – I had some interesting conversations and sold lots of Artstuff! Don't forget you can follow me on Instagram @sallypudney
Hope your week is going well – Friday tomorrow! 🙂
---
A day out in London yesterday with Graham. We went to an area of London to which I have never been – Bermondsey Street, SE1 to visit Peter Layton's London Glassblowing workshop. A friend recommended a visit, and I'm very glad she did as it was fascinating and the work was breathtakingly beautiful.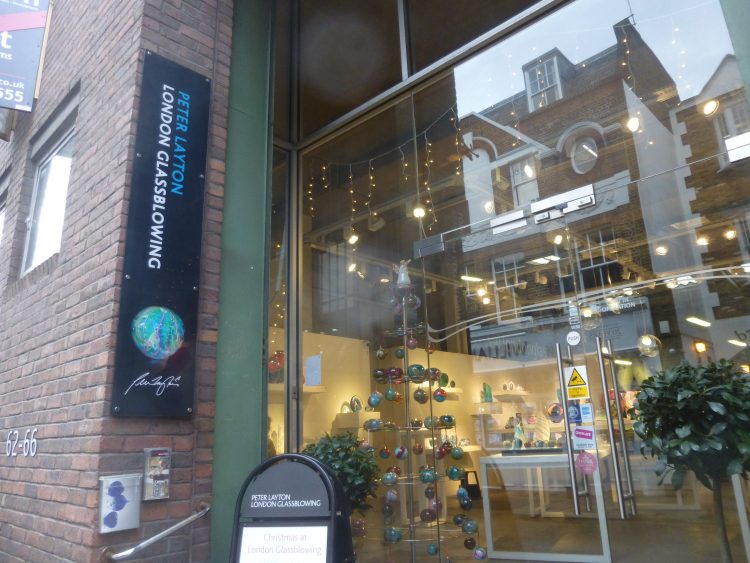 At the back of the 'shop' is the actual glassblowing workshop where four men were working blowing and shaping the glass. There were two big kilns, into which they sometimes put glass for a few moments, and two smaller open kilns into which the glass on its long blowing pole could be inserted to make it molten and workable again. The men used what looked like a big fire proof 'mitt' to shape the glass with their right hand while rotating the pole in their left hand. A fire proof 'sleeve' protected their right forearm from the heat and sparks which frequently flew off the glass.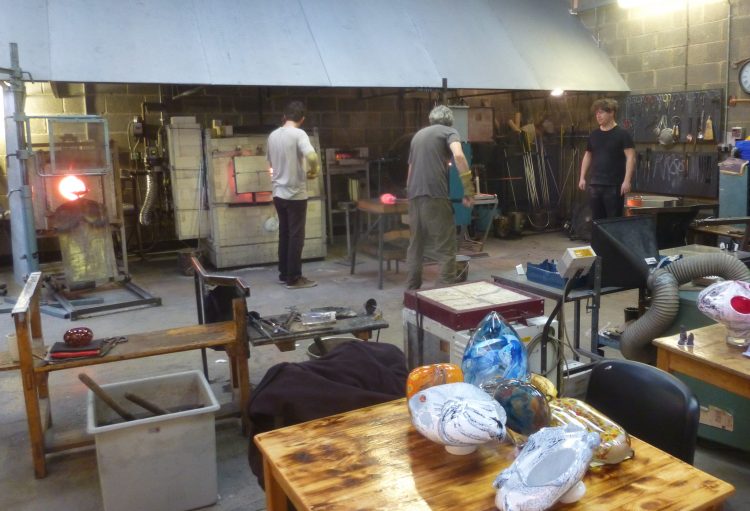 The front of the shop was taken up by beautiful displays of finished work. Here are a few pieces which caught my eye.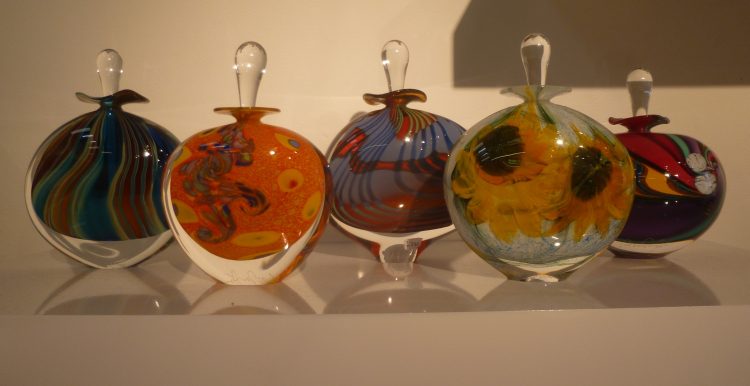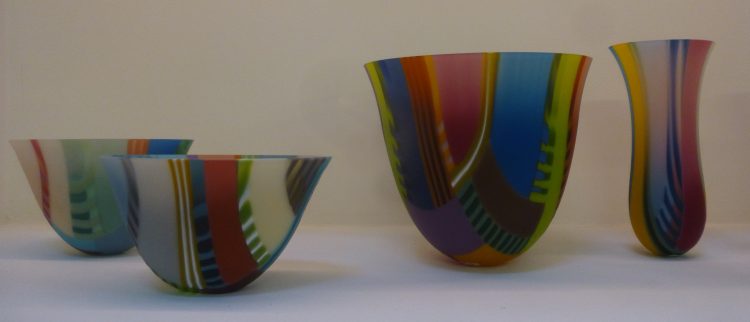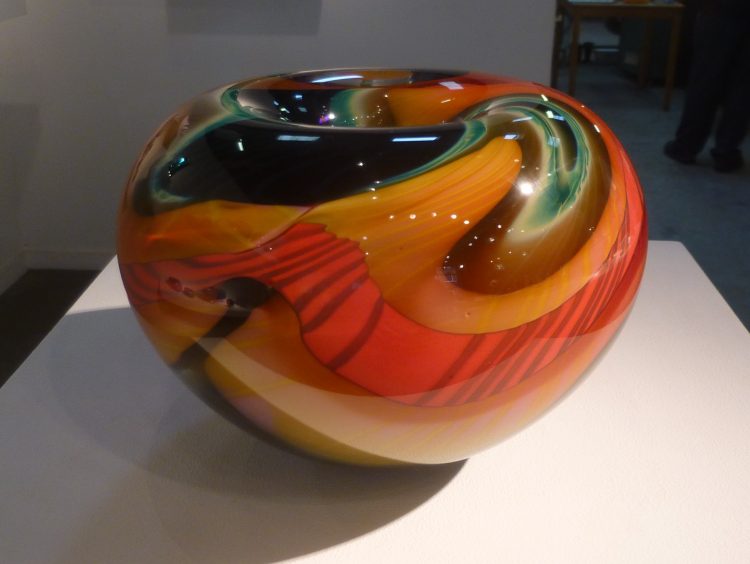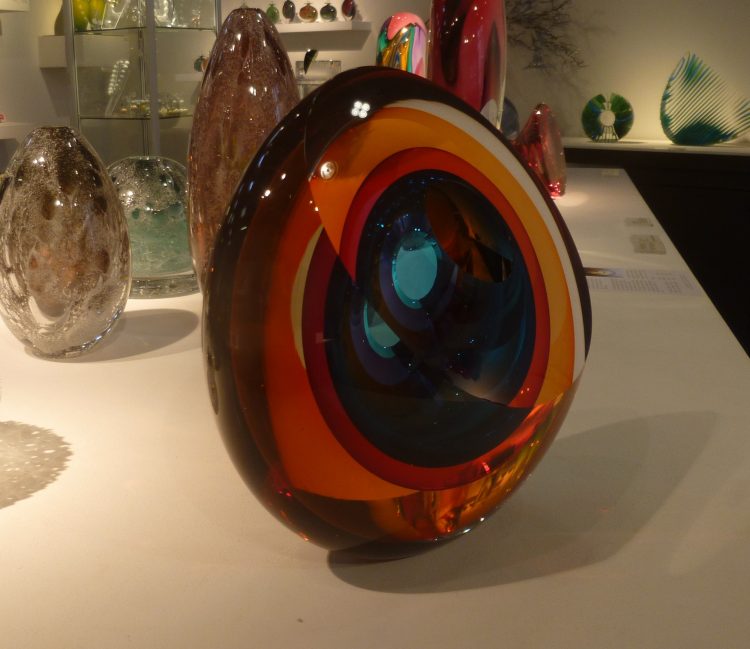 It is open from 11 – 6 Monday to Saturday and 11-5 on Sundays (with a late night opening on Thursdays until 8pm) until Christmas Eve. Do go if you get the chance!
After we left the glassblowing we made our way via Waterloo up to Charing Cross, and had a delicious lunch at Caffe Concerto in Northumberland Avenue (which always makes me think of the original Monopoly board . . . ) and then – see the next post! 🙂