Finished yesterday – this is the next in the Ridgeway series, The Ridgeway VII.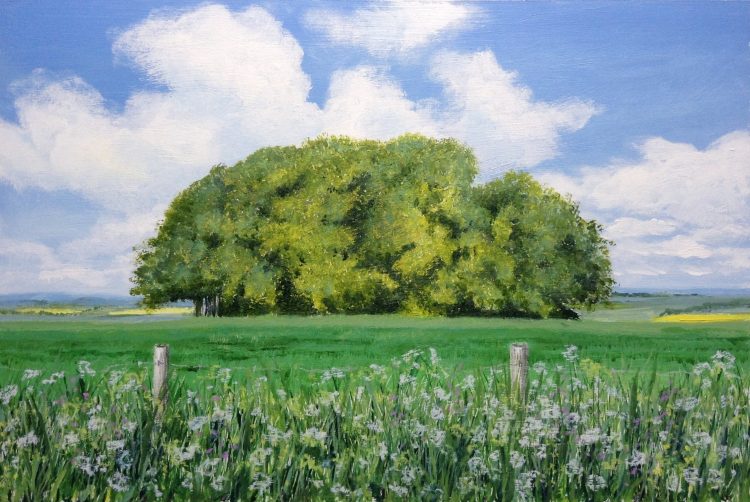 This beech hanger – a very characteristic feature of the Wiltshire part of the track – is on the left of the track as I walked north east from Hackpen Hill. This was one of the most beautiful parts of the trail. I walked this section in 2016, so this picture really belongs with the first group of these paintings!
Next up on my easel will be another view near the Uffington White Horse – back in the section that I walked last year!
On Friday Graham and I had a lovely day at his home on the coast. First, a lovely lunch at The Oakwood Inn, Holland on Sea, followed by a good long walk along the beach. This was the view just before we decided it was time to retreat to Graham's house for tea and cake.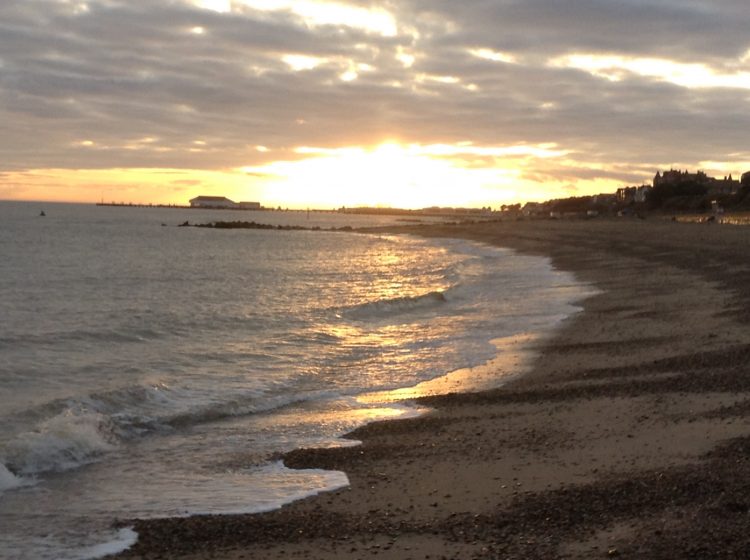 We tried for some photos –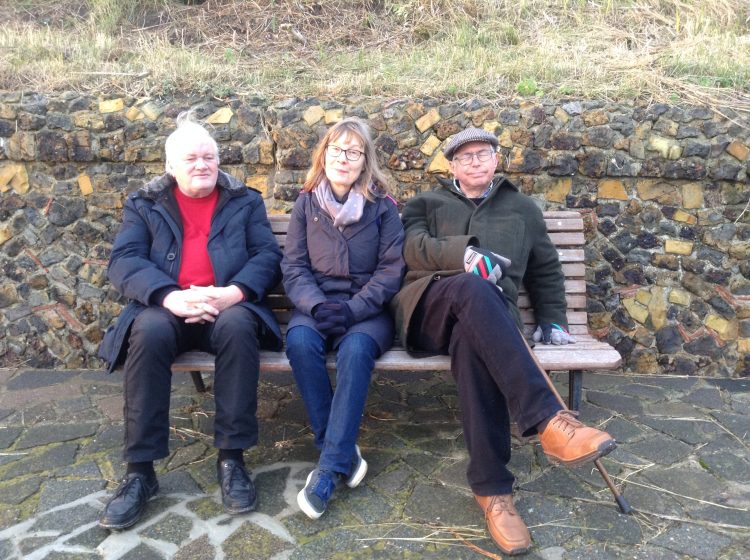 and –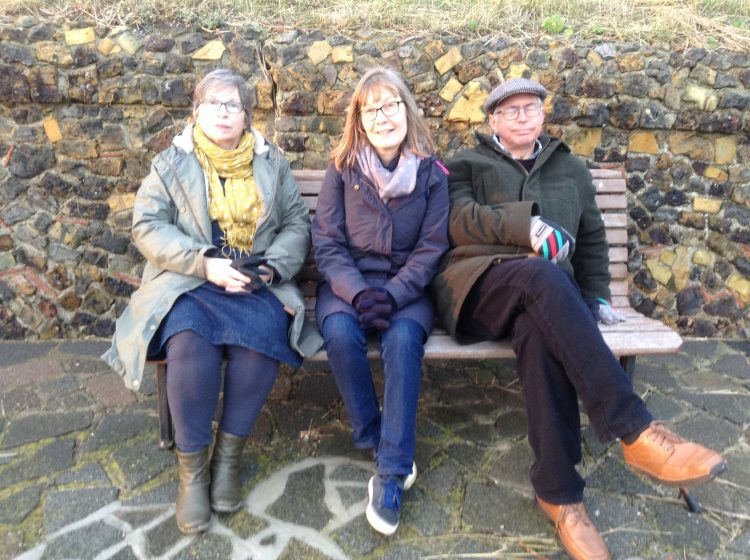 – but Graham wasn't looking at the camera and Stephen has his eyes shut in both photos . . . .  Oh, well. We had a happy day, anyway. This morning we've been singing for the Civic Service at All Saint's Maldon (Stephen's church) and the chain gang were out in force!
This week, as well as starting the eighth Ridgeway painting, I intend to research the mounts, cellophane bags, and embossing stamps for my new limited edition prints prior to talking to my printer about them.
Hope you've had a good weekend, and that the week gets off to a happy start for you, 🙂
---
I've been working at the next Ridgeway painting over the last few days. This one will be The Ridgeway VII and depicts one of the beautiful beech hangers which grow alongside the track in many places. This one is near Hackpen Hill, and this is the progress so far.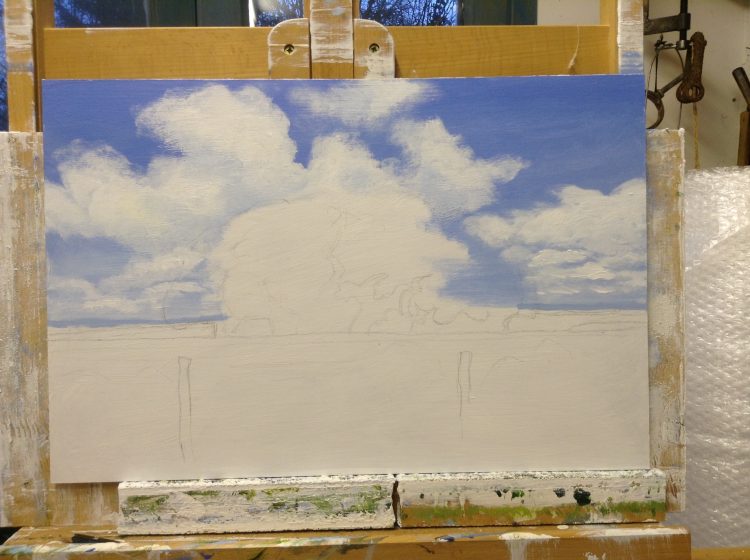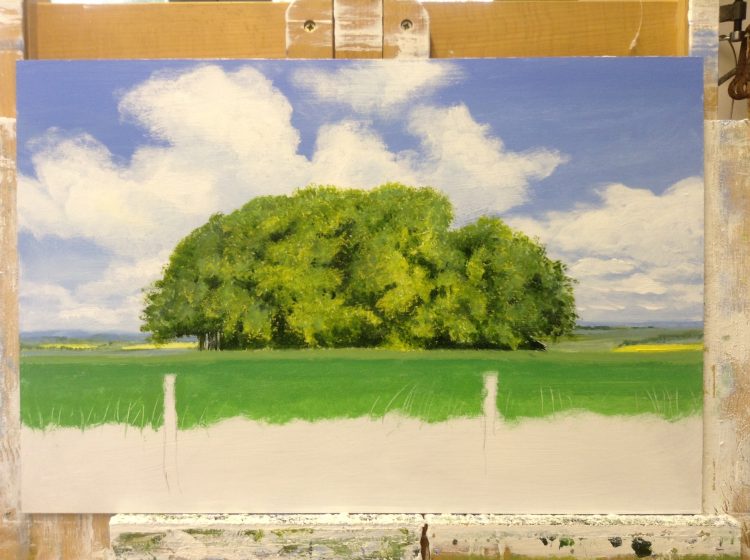 Still a lot to do, but it's a start. I've had the first batch of Faculties for 2019 to do this week, too, so not bad progress considering. I am well on track to complete my goal of seven new Ridgeway paintings completed by the end of March, when I will be starting my 2019 big project On the Edge: the North Sea project.
You may remember another goal was to make a book from the images of my River Stour paintings completed last year. I finished assembling it a few days ago, using the online publisher Blurb.  I've ordered just a few copies to start with, to check whether everything is as it should be! Here is a little preview of the cover.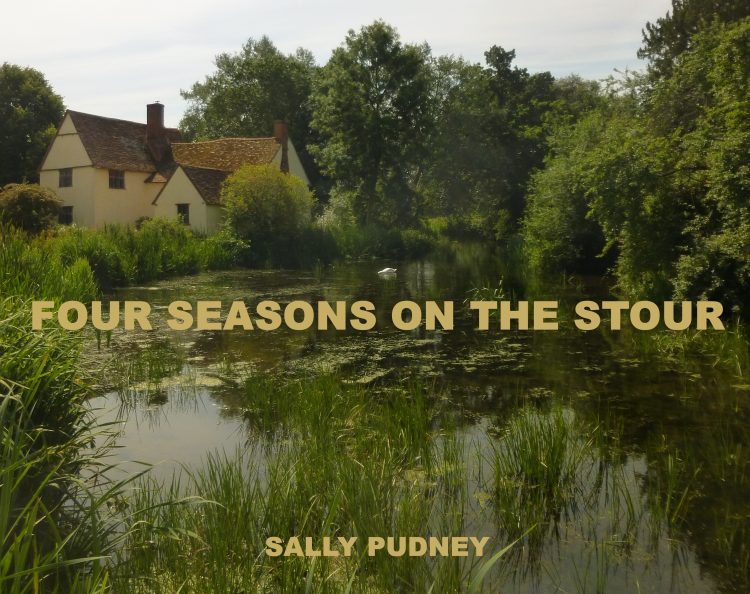 I can't wait for them to come!
It has been really cold here the last couple of days, and this morning we had a couple of snow flurries. But there are signs of Spring already if you look. Hazel catkins in my garden!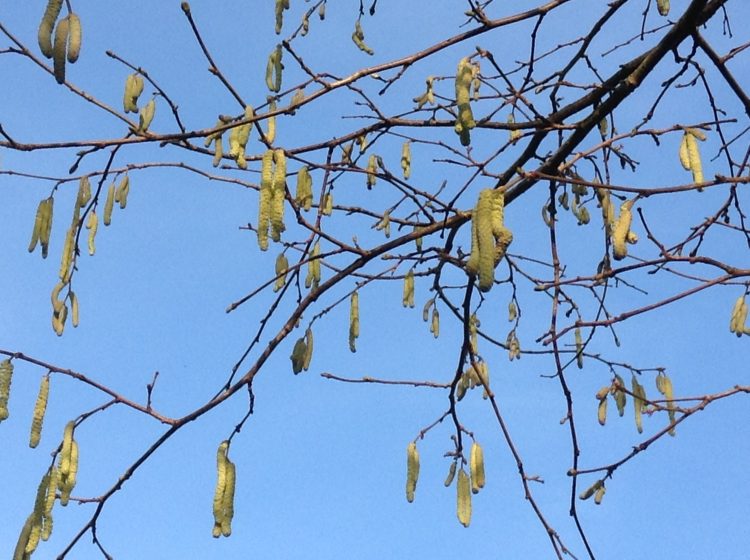 Last Saturday I had a lovely day down at Graham's house – the sea was really rough, and really noisy. Here's a late afternoon shot to finish with.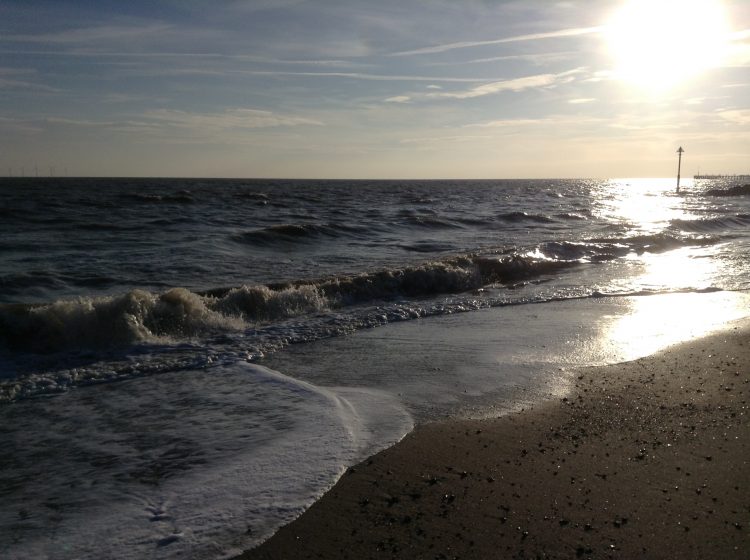 Friday tomorrow – enjoy your weekend, and keep warm! 🙂
---
The first painting of 2019 off the easel – this is The Ridgeway VI.
The drawing and photographs which were the source material for this painting were done in June last year when I had a wonderful week walking the Ridgeway. I chose sections between White Horse Hill at Uffington and the Buckinghamshire end of the trail at Ivinghoe Beacon.
On this particular day I had left the car in the White Horse Hill car park, and had done a detour to Wayland's Smithy, which is back in a westerly direction, not very far from where I had finished my weeks walking in 2016. Then I retraced my steps and walked back until I got to the high ground above the slope into which the Uffington White Horse is carved. This view is approaching White Horse Hill walking eastwards. It was a windy cloudy day, and not long after I got to the trig point on the top of the hill there was a brief shower of rain – but then it blew over and the sun came out. The chalk track is relatively smooth at this point – basically pure chalk beaten down by the passage of many feet over so many years . . . . .
In my studio: Next up is another Ridgeway painting, of one of the beautiful beech hangers that are seen along the sides of the chalk ridge.
In the shop: A few days ago I added another card pack – the Autumn and Winter images of the Essex Wood. And I'm working on my Four Seasons on the Stour book, which I'm hoping will be in the shop by the end of the month!
Friday again tomorrow – hope you have a lovely weekend! We had snow for about ten minutes this morning – big whirling flakes! Keep warm! 🙂
---
You may have already found your way to my new online shop!
If not, simply go back to the Home page and click on 'Shop' in the menu bar. I'm slowly getting things added to it – so far there are some jute bags, my two painting project books, and two packs of greetings cards. I have been working away at my Four Seasons on the Stour book, and that will be going into the shop in the next couple of weeks I imagine.
In case you are wondering, the payment system used is PayPal, but you do not have to have a PayPal account in order to make a purchase. You can select to pay by debit or credit card, and PayPal will still handle the transaction.
In my Studio: I've been making a start on The Ridgeway VI.  As I explained in my plans for the year I am not starting On the Edge: The North Sea Project until about April, but I'm going to spend some time catching up on these paintings. This is as far as I've got!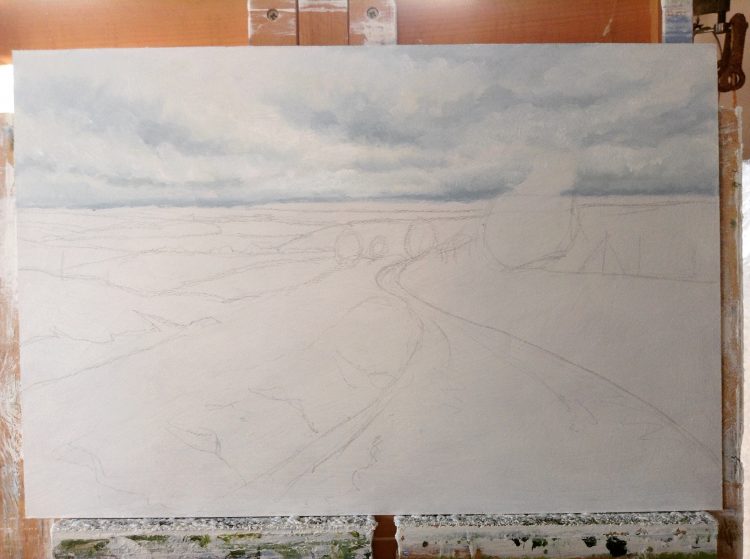 As you can see, a long way to go . . . . .!
Drypoint: Well, I actually got the things out of the starter box –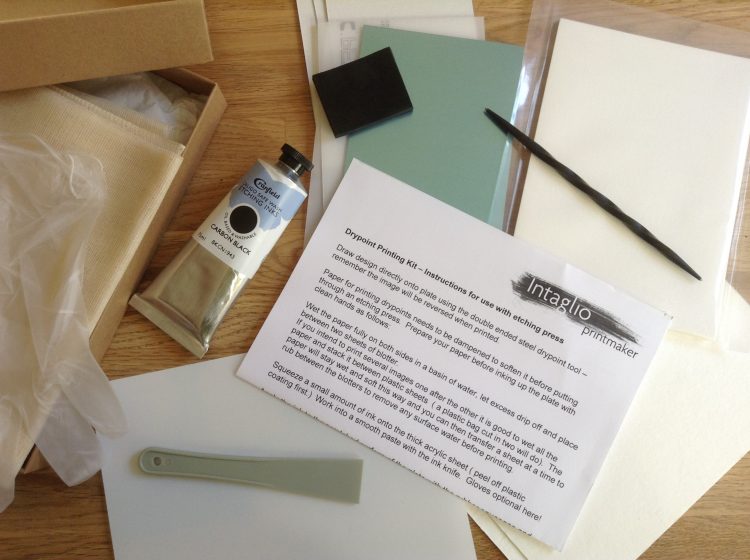 and prepared a first little plate. The plates are very small, and the kit provides some that are laminated card, some acetate and one copper. I started with an acetate one, and drew into it a tiny landscape taken from a drawing I did of the Gosbecks fields near where I live.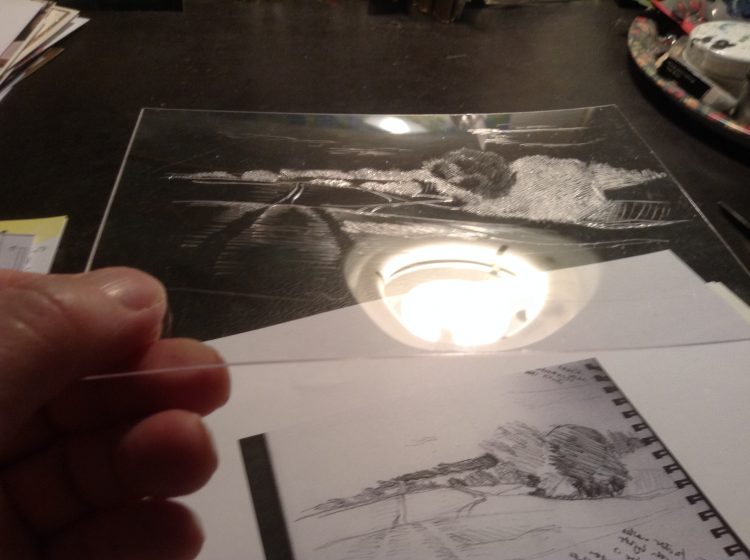 That is as far as I've got at present! I need to re-watch the YouTube videos showing how to print a drypoint without a press again before I continue.
It's been a funny week as I started it in the Day Unit of our local hospital having a laryngoscopy to investigate a problem I've been having with my voice – which thankfully turned out to be nothing like as serious as was first suggested. Graham collected me from hospital as I'd had a general anaesthetic, and I stayed with him for a couple of nights to recover. This was the beach just down from his house on Wednesday morning – the sun was quite warm but the sea was roaring after the very high tides and strong winds at the weekend.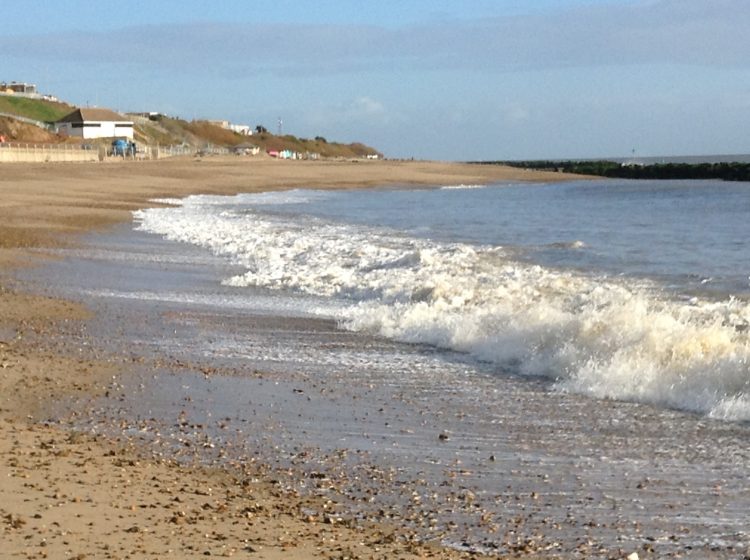 Apart from a sore throat, where all the instruments were shoved down it, and feeling very tired and dopey still from the anaesthetic, I'm now pretty much back to normal and looking forward to getting back to singing! I haven't had a lot of energy – or time! – for making painting or printmaking progress this week, though, and I've mostly just been doing little bits and pieces!
Hope you're having a good weekend! 🙂
---
So – 2019! We get to have another fresh new start – how exciting!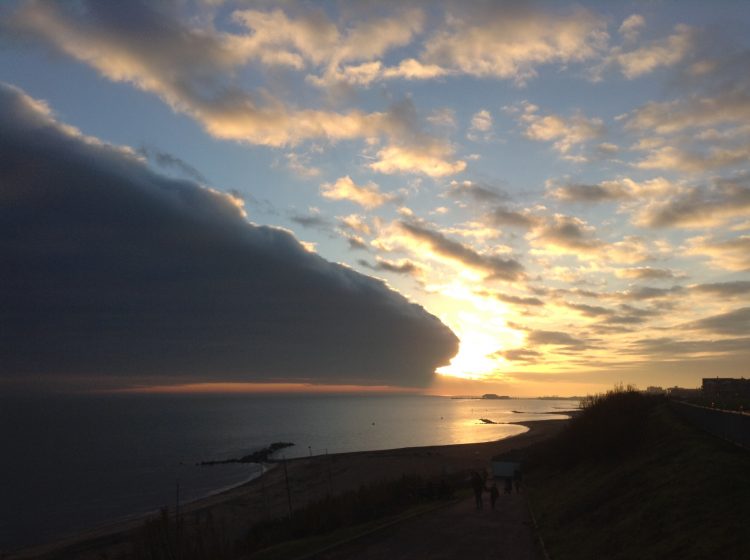 I've been enjoying making my art plans for the year during the last few days, and now I can share them with you! Here goes!
Big Painting Project: This year it is going to be 'On the Edge: the North Sea Project: from Southwold to Southend'. I have recently been feeling more and more drawn to doing some sea and sky paintings, and the jetties and beach huts and associated buildings. Maybe walking by the sea with Graham at his new seaside home has made me focus on the endless variation of sea and sky formation and colour. The photo above taken last Friday is a good example! The paintings will be various sizes but all square. I'm not going to visit places in any particular order, but will visit as many as I can between those two named towns – so it is basically the Suffolk and Essex coast. The big difference this year, though, is that I am not tying this to months or seasons. In fact, I'm not going to start it until April, because I have other plans for the first three months of the year . . . .
The Ridgeway: When I walked more sections of the Ridgeway in June 2018 I collected lots of drawings and photos as material for paintings. During the first three months of this year I intend to get those paintings completed, and then turn all my Ridgeway paintings, plus all the notes I made while walking, into a little book. This will be similar to my existing books on the Essex Wood and Fingringhoe Wick painting projects, using Blurb.com, an online publishing site.
Another Book, Calendars and Cards: Having just completed the final painting in my 'Four Seasons on the Stour', I am now ready to start assembling the images, notes and maps to form a little book of that name, again, using Blurb.com. I will also select some of the images to have printed as greetings cards by Dan, my printer at Point Graphics in Maldon. During the summer I will also have calendars printed using the images from the series of paintings ready to launch at my Open Studios weekends during September
Prints: I have been repeatedly asked over the last year whether I ever have the images from my paintings made into prints. Well, I never have up to now, but I feel the time has come! Jonathan Trim has very kindly given me useful information about suppliers for mounts, cellophane covers, metal embossing stamps, and paper. In the next couple of months I shall source all the items I will need, talk to the ever-helpful Dan, and get this off the ground!
Exhibitions: I expect to be showing as usual at the Haylett's Gallery and the Geedon Gallery during the year, but have not confirmed this yet with either. I will also be doing my usual two weekends of Open Studios in September. The exciting new one is the Sentinel Gallery in Wivenhoe, which I have hired for a week in October, from 19th – 26th. Graham and I will be running a mixed exhibition there a little like we have run arts festival weeks in the past. Some of those artists already signed up are Penny Bhadresa (printmaker), Greta Hansen (printmaker), and Caroline Sullivan (knitwear and silver Viking knit jewellery). I will be showing my own work, and I have four more people in mind who I will be asking this month.
!!!SHOP!!! Yes, I'm going to have a Shop page on my website where you will be able to buy items of merchandise. featuring images of my paintings, directly via PayPal. The page is all ready to launch as I write. What prompted this? – well I kept getting enquires, particularly on Instagram, from people wanting to buy calendars or jute bags or cards and asking where they could get them from.  And it was really difficult, because unless they lived locally I had no way of doing the transaction in a way that was safe for both parties, buyer and seller. Now this new page will solve that problem. I will be able to show items on Instagram and here on my blog, and my lovely followers will be able to buy things they fancy. I plan to have all my little books, some of the jute bag designs, packs of greetings cards, and calendars (from September) for sale, plus limited editions of mounted prints for sale. I'm really excited about this new venture and can't wait to get it up and running.
Lots of plans, lots of work to do! Hope you've got some exciting plans for the year, too! 🙂