I've been working hard all week setting up for this! Turning my dining room and kitchen into a gallery/shop!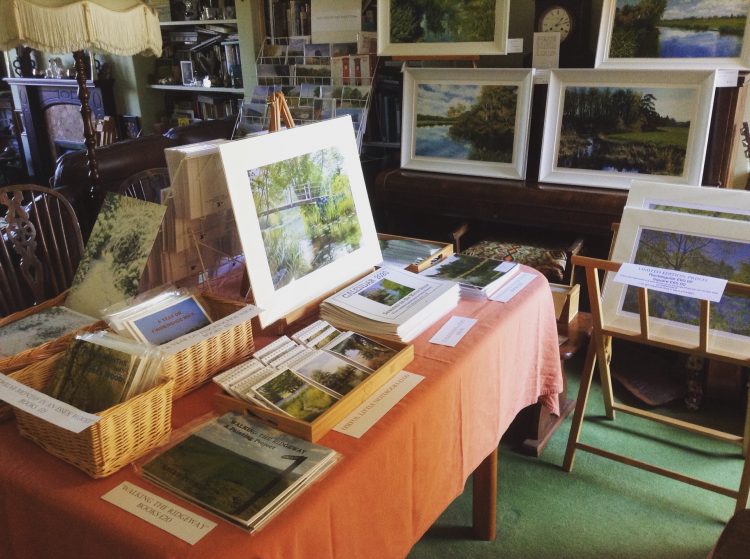 Graham commented that I seem to have far more Stuff this year – and I think he's right!
Twenty one paintings, calendars for 2020, Christmas cards, notebooks, painting project books, postcard packs, limited edition prints, mugs, jute bags . . . there is certainly plenty to look at! And I've been busy today making some bakes to go with your teas and coffees over the weekend! So do call in if you are in the Colchester area. My address and opening times are shown above.
Caxton Books & Gallery: In other news, I now have three paintings in this lovely bookshop and gallery in Connaught Avenue in Frinton on Sea. Thanks to owner, Judith, for the photo below!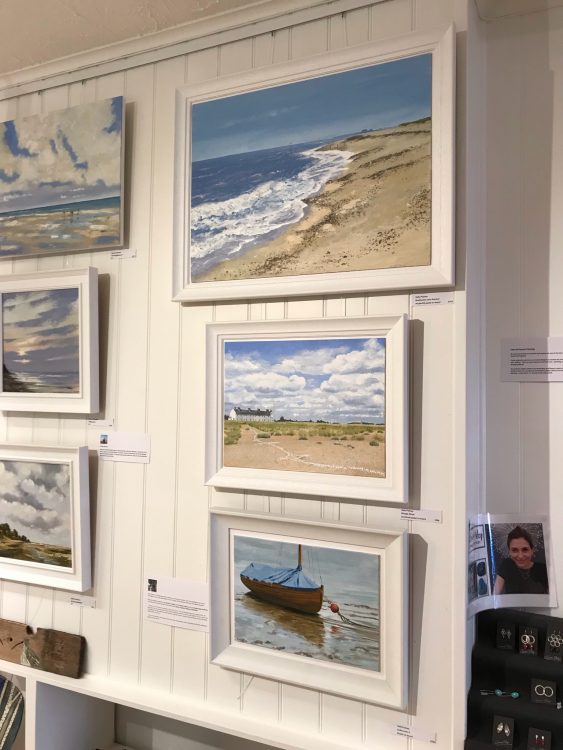 She has asked me to bring in a few more after Open Studios and our Anglian Arts Project exhibitions are over, and then I will have a larger group of paintings exhibited there from mid-March to mid-May next year. Do call in if you are in the Frinton area, or are visiting this lovely part of the Essex coast.
The weather has been wonderful here for the last few days, and is supposed to continue like this tomorrow! Yay! Hope to see some of you over the weekend! 🙂
---
I finished the fourth painting in my little Summer mini-series yesterday.
This is the view looking out to sea from the beach that we walk to from Graham's house. It is on the edge of East Clacton and Holland on Sea, and because it lies between the two places it is usually very quiet, even in the summer.
I've thought of lots more Summer painting possibilities – but I think they will have to wait for next year now, as summer is really over for this year.
Open Studios: This is rapidly approaching! I am opening my house and studio for two weekends as usual. On 21st/22nd September and on the 28th/29th September. The opening times will be 2.00- 6.00pm on each Saturday  and 11.00am-6.00pm on each Sunday.
I will be showing recent paintings and unframed limited edition prints. There will also be 2020 calendars with images from my Four Seasons on the Stour painting project, and also new postcard packs featuring some of the River Stour paintings. I have new Christmas cards for this year (I showed an image of these a couple of posts back), and I have lots of greetings cards, cute jute bags, some new useful little notebooks, plus my painting project books including Painting the Ridgeway and Four Seasons on the Stour, both new this year.
Refreshments will be available – tea, coffee and homemade cake! Do come and bring your friends if you are able.  There is absolutely no obligation to buy – come for a browse, a cuppa and a chat.
My address is The Anvil House, 45 Heath Road, Lexden, Colchester CO3 4DJ. There is unrestricted parking in Heath Road, and in Christine Chase which is a cul-de-sac off the road very near my house, so no problem parking.
Anglian Arts Project: There is information on the AAP page about all the artists now – except me! – and I will be adding mine soon. Do hop over to that page to read all about them and see images of their work, plus all the details of our October exhibition at the Open Art Space at the Sentinel Gallery in Wivenhoe. I have also started an Instagram page for the project – go to @anglianarts to follow us. I'm amazed that we've reached 100 followers in four weeks!
I hope September has got off to a good start for you! 🙂