Over the last few days I have completed two new paintings.
Firstly, the next painting in my flower still-life series. This is the Magnolia Stellata Leonard Messel which grows just outside my studio.
Like the other paintings in the series, this is quite small, just 30cm square. My next flower picture is going to be bluebells and forget-me-nots, I think, both flowering down the garden at the moment.
The second recent painting is Footpath along the Ramparts. This path runs along the holloway of an Iron Age 'ditch and bank' type earth work, which runs southwards from Stanway Green, where I lived as a teenager. The painting is 45cm square, and is in acrylic and oil pastel.
I went for a long walk around this area a couple of weeks ago which resulted in a decision about my painting focus for the rest of this year.
You may remember that my big painting project this year was to have been A Year Round Abberton Reservoir.  And then the third lockdown started in January and I had to put it on hold.
Now that everything is easing up I thought I would go back to it, only to realise that I have completely lost interest in the whole idea! What I am interested in painting right now are the tracks and paths that I have been walking over the last year. My visits to Great Bromley and Little Bentley (where our quartet have been singing in the churches) have also shown me all sorts of interesting footpaths and lanes in that area to explore!
So my new, post-lockdown project is going to be Essex Paths and Bridleways. Although it may include a few country lanes, too! I finished the first painting, above, on Tuesday afternoon, posted it on Instagram on Tuesday evening and sold it on Wednesday morning – a good omen, I think!
---
If you hop over to my SHOP page you will see that there is a new pack of greetings cards available.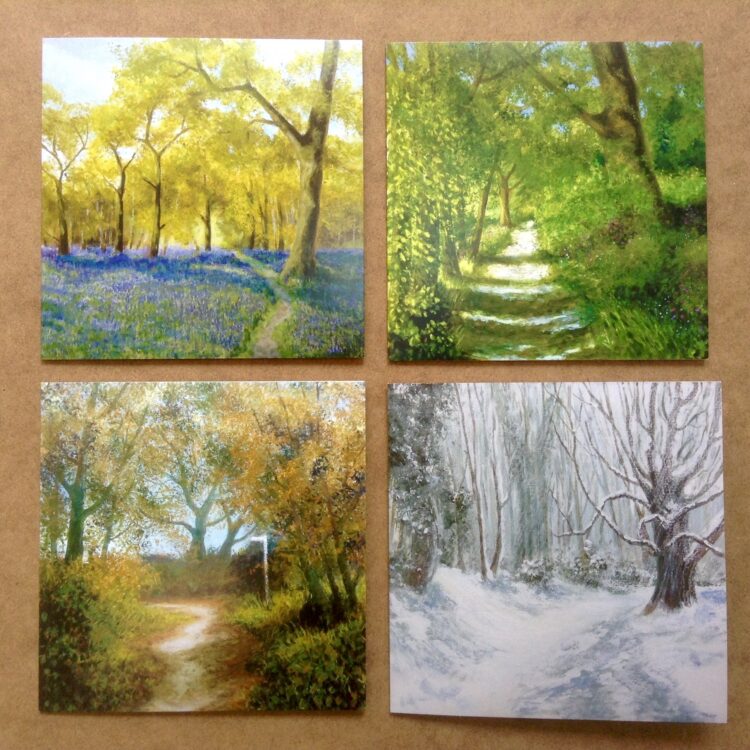 This pack of four cards shows the images from my recent Woodland Walks series of paintings. They are £10.00 for a pack of four cards, and the price includes postage and packing to any UK mainland address.
I have also restocked the Bluebell Woods card pack, and the Essex Wood Spring & Summer pack, both of which have been out of stock for quite a while now. These packs, with their Springtime scenes, are particularly useful for birthday cards around this time of the year! 🙂
---
A few days ago I finished the third of my flower paintings – hellebores this time!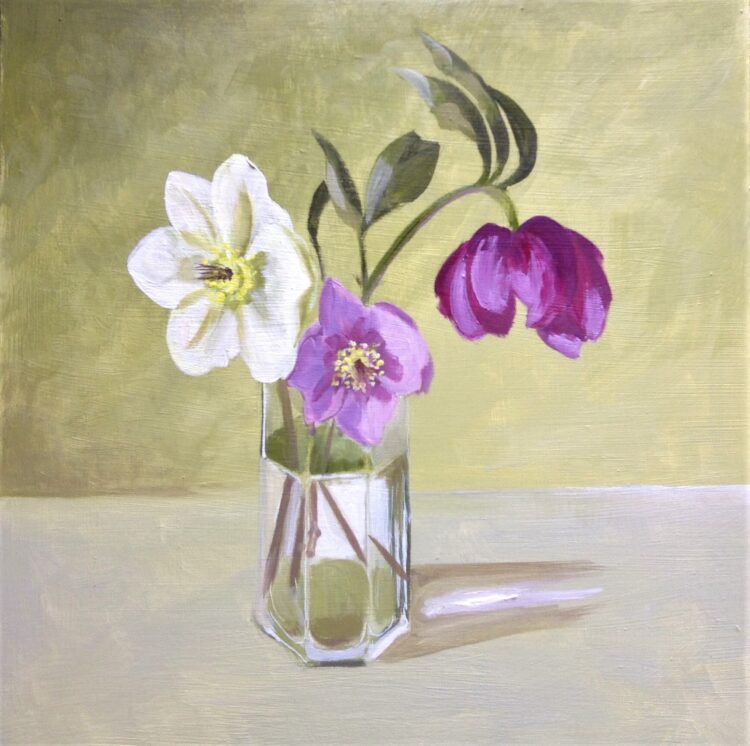 Flowers of March II is small – 30cm square like the other flower paintings have been, and is just in acrylic this time. My next one, which I started this morning, is of my Magnolia Stellata, and then I think it will be bluebells, or maybe forget-me-nots!
Twelve Months in an Essex Field – the Exhibition: Yesterday morning Graham and I went over to the farm at Aldham where 'The Field' is situated, to talk to farmers Adam and Catherine about planning the exhibition.
Before I even met them in December 2019 they had started converting an old milking parlour into a gallery, and part of their beautiful old complex of barns into a large well equipped kitchen and café area. Over the last year we have talked on and off about the possibility of showing all the paintings and associated work of my Essex Field project in their gallery. We had hoped for Spring time this year, but with Covid restrictions not being fully lifted until June 21st, we have finally settled on a Summer date. The exhibition will not be just of my work – they are inviting about five other artists to take part –  but it will be an opportunity to see everything connected with the Essex Field project all together in the same room before any of the work is sold and dispersed. So there will be the twelve large paintings, five small paintings, the 'snippings' drawings – some framed, some just mounted – greetings cards, postcards, unframed mounted limited edition prints, books, coasters, possibly bags, possibly other things I may come up with!
Alongside the Essex Field work I will also be showing a number of other paintings of the local area.
The exhibition will be held on 15th – 18th July, open each day from 10.30 – 4.30. Teas, coffees and cakes will be available. There is plenty of car parking space, and a toilet block just outside the gallery door. And various farm walks will be available, including around the field that I painted.
I will give you more details nearer the time.
Anglian Arts Project Exhibition:  I am also finalising plans for our show at the Naze Centre in Walton-on-the-Naze in September. We have two alterations from our original list of exhibitors. When I have final confirmation from everyone involved I will be updating our Anglian Arts page – click on the link on the menu bar at the top of the page.
It is so nice to be getting a few dates in the diary again, isn't it! 🙂