Hellebores – and an update on The Field
A few days ago I finished the third of my flower paintings – hellebores this time!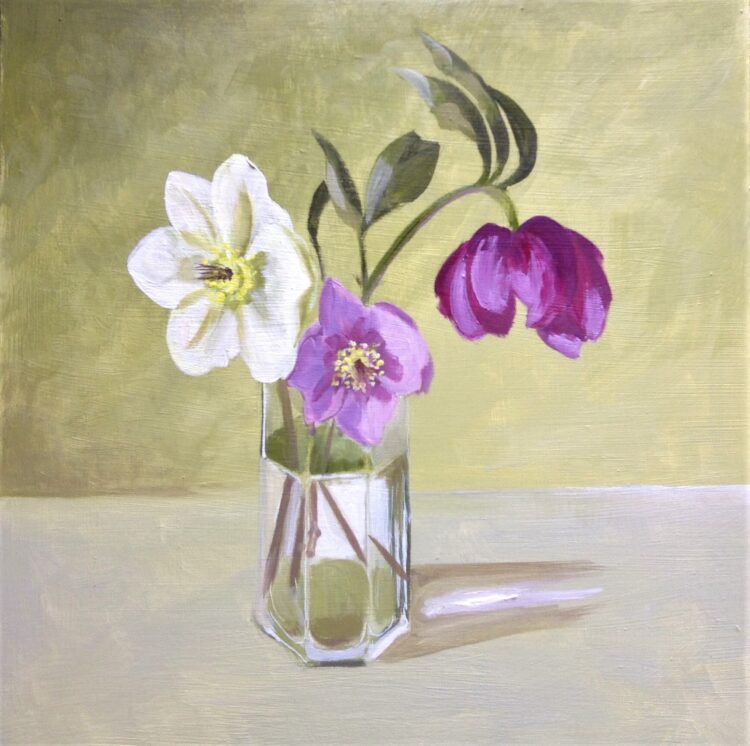 Flowers of March II is small – 30cm square like the other flower paintings have been, and is just in acrylic this time. My next one, which I started this morning, is of my Magnolia Stellata, and then I think it will be bluebells, or maybe forget-me-nots!
Twelve Months in an Essex Field – the Exhibition: Yesterday morning Graham and I went over to the farm at Aldham where 'The Field' is situated, to talk to farmers Adam and Catherine about planning the exhibition.
Before I even met them in December 2019 they had started converting an old milking parlour into a gallery, and part of their beautiful old complex of barns into a large well equipped kitchen and café area. Over the last year we have talked on and off about the possibility of showing all the paintings and associated work of my Essex Field project in their gallery. We had hoped for Spring time this year, but with Covid restrictions not being fully lifted until June 21st, we have finally settled on a Summer date. The exhibition will not be just of my work – they are inviting about five other artists to take part –  but it will be an opportunity to see everything connected with the Essex Field project all together in the same room before any of the work is sold and dispersed. So there will be the twelve large paintings, five small paintings, the 'snippings' drawings – some framed, some just mounted – greetings cards, postcards, unframed mounted limited edition prints, books, coasters, possibly bags, possibly other things I may come up with!
Alongside the Essex Field work I will also be showing a number of other paintings of the local area.
The exhibition will be held on 15th – 18th July, open each day from 10.30 – 4.30. Teas, coffees and cakes will be available. There is plenty of car parking space, and a toilet block just outside the gallery door. And various farm walks will be available, including around the field that I painted.
I will give you more details nearer the time.
Anglian Arts Project Exhibition:  I am also finalising plans for our show at the Naze Centre in Walton-on-the-Naze in September. We have two alterations from our original list of exhibitors. When I have final confirmation from everyone involved I will be updating our Anglian Arts page – click on the link on the menu bar at the top of the page.
It is so nice to be getting a few dates in the diary again, isn't it! 🙂
---