Charlotte Bernays at the Sentinel Gallery
I'm so pleased that Graham and I caught Charlotte Bernays' show at the Sentinel Gallery in Wivenhoe. We saw some of her work at Open Studios last September – enough to be intrigued –  and we weren't disappointed when we saw more yesterday!
Charlotte is showing some fascinating pieces, many constructed from metal in various ways, and with beautiful use of Chinese ink, and ground lapis lazuli.
We were both mesmerised by her large installation, 'River', in which loose coils of wire mesh rotate to music by Arvo Part,  representing the inflowing and out-washing of the tide in the river Colne near Charlotte's home. The constantly moving shadows cast on the wall were beautiful.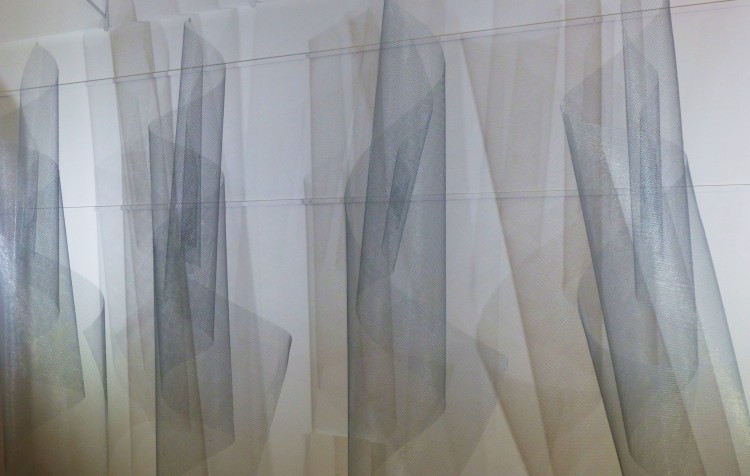 I  also particularly liked the small paintings of flocks of birds with Chinese ink on a gold metallic ground – they were really atmospheric, and very reasonably priced. I wasn't a bit surprised that they had all sold and that Charlotte is taking commissions!
The show continues until September 13th, and is open Wednesday – Sunday. Do go if you get the chance!
Lots of interesting things happening this week, which I will be posting about next weekend! Hope your week gets off to a good start tomorrow. 🙂
---