A collection of 7 Artists
This afternoon Graham and I went to the Private View of the Sentinel Gallery's first show of 2016 – 'A Collection of 7 Artists'. It is just what it says – seven artists from Wivenhoe, all women, working in very different media.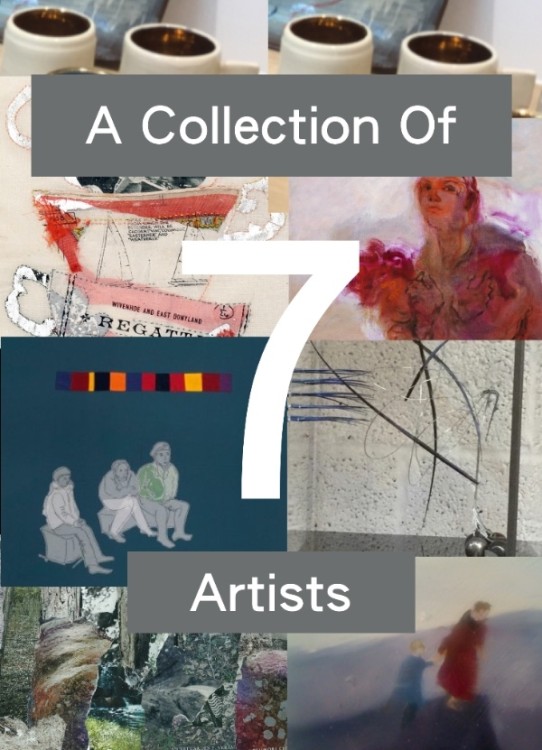 One of our previous Lexden Arts Festival exhibitors, Barbara Peirson is one of the seven, and I saw two red dots on her paintings already, so I'm sure she'll be pleased!
We both liked Catherine Dodds' ceramic pieces – in fact I bought one of her little ceramic boats decorated inside with two gold lustre fishes! She also had some beautiful swan mugs that were causing a lot of interest, and two sold while we were there. It was nice to have a chat with Catherine, who told me that the gold lustre glaze goes on as a brownish sticky gunk – and then when you open the kiln after firing, it has transformed itself into gold – although she said it smelt terrible in the process!
I also liked Olivia Browne's intriguing collage prints, which looked like mysterious landscapes and forests. I was curious to know how she does them, as they seem to have parts of photographs meshed into the images.
In the jewellery cabinet I loved Alison Dane's coloured necklaces – very adaptable as they could be worn long, or in several strands, and very reasonably priced, too.
Lots of lovely things – well worth a visit if you are in the Colchester area. The gallery is open tomorrow from 10am – 5.pm, and then from Wednesday. All the details are on their website www.the sentinelgallery.co.uk – and don't be put off by the road works on the way into Wivenhoe, the diversion is very easy to follow! 🙂
---