East Sussex Part 3: Charleston Farmhouse, Berwick Church and Firle
In the middle of my week in East Sussex, I spent a day following up Vanessa Bell's story – Virginia Woolf's older sister, an artist, took a lease on Charleston Farmhouse, near Firle, in 1916, and moved in with her two sons, Julian and Quentin, fellow artist Duncan Grant and his friend, the writer, David Garnett. The latter two were conscientious objectors, and life at Charleston allowed them work on the farm as was required of them.
Charleston became Vanessa's country home for the rest of her life, and she and Duncan decorated the rooms, the furniture and the garden in their own characteristic way.
As Charleston does not open until 1.00pm, I went first to Berwick Church, where Vanessa, Duncan, and Vanessa's younger son, Quentin, painted a series of murals which were mounted onto the walls, depicting the Annunciation, The Nativity, The Crucifixion, and Christ in Glory. What is magical about them is that they used each other, and other family members and neighbours as models for the people, and set each scene firmly in this area of Sussex. The Nativity takes place in a Sussex barn at Tilton, and through the open doorway is a view of Mount Caburn. Angelica Bell, Vanessa and Duncan's daughter, modelled for the Virgin Mary, and in Christ in Glory, the largest mural, a portrait of Bishop Bell (who commission the works), and the then Rector of Berwick, can be seen on the right hand side.
From Berwick, I went west to Firle Church, and found the graves of Vanessa and Duncan side by side in the church yard there, with Quentin Bell's grave only a few yards away.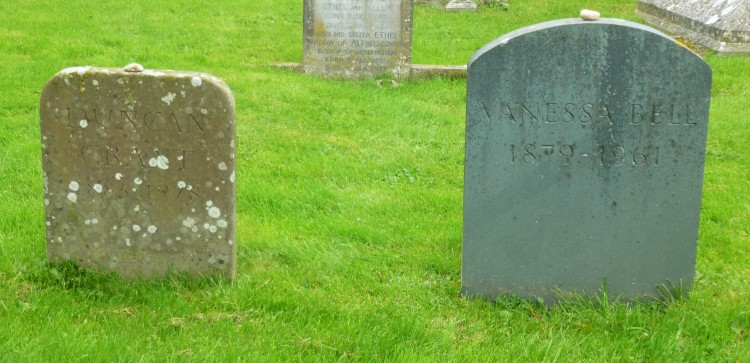 Firle itself is a very picturesque village, and I was particularly taken with the Village Stores, established in 1780!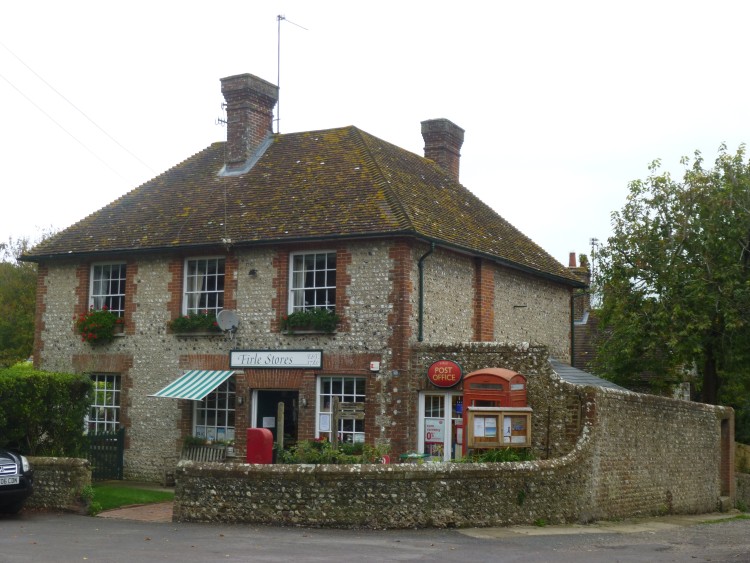 Then it was time for my visit to Charleston Farmhouse itself. Entry is by guided tour, and my group's guide, Meg, was a real star – a great enthusiast for her subject.
It was lovely to see the wall and furniture decorations in reality that I have only seen before in photos. I especially liked the black paint with silver squares and gold arrows in the dining room, and the 'paisley' white on pale grey with white flowers in the 'Garden Room', or sitting room. The house has a lovely atmosphere, although Meg explained that it was the early years at Charleston which were the really happy ones, and that after Julian Bell, Vanessa's older son, was killed in the Spanish Civil War, and then her sister, Virginia Woolf, committed suicide, there was a kind of gloom cast over the house.
The garden is lovely, too, with a number of curious pieces of sculpture!
The Studio, which is the last room that one sees, was an extension built onto the original house, and is a fascinating and very up-beat end to the tour, which I really enjoyed.
Tomorrow, Part 4: The Towner and the Cuckmere Valley
---