Essex Field: April
I made my monthly visit to The Field on 7th April. I am fortunate that it is only 10 minutes from my home, and I never see anyone there, so no problems with social isolating!
The oil seed rape was in nearly full bloom, and looking spectacularly yellow under a blue sky, with only the slightest wisps of cloud. I walked all round the field before walking along the bare paths made by the tractor tracks right across the centre of the field. I wanted a painting that would really show the full yellow of  the crop, but the plants around the edge were much more straggly and not flowering much. So I figured the only thing to do was to get right in amongst them where the flowers were thicker!
While I was at the field I saw a reed bunting in the same section of hedge where I saw the yellowhammers last month – a new bird for my bird list! A very distinctively marked male. Also a lovely long view of a beautiful buzzard slowly soaring the length of the field in lazy circles before sliding off over the big oak trees along the railway cutting. I saw several partridges, including one which I almost ran over in the lane approaching the farm! I had to stop the car and wait while it thought whether it really was going to cross the road. The sky larks sang continuously during my walk, at one point I thought I could hear three of them.
For the first time there was no mud! In fact in places the soil was so dry that it had cracked. Imprinted into the dry mud were the large deer tracks that I saw last month, and the arrow like marks of pheasant's feet.
I brought home a little bundle of twigs as usual, and did a little drawing of them.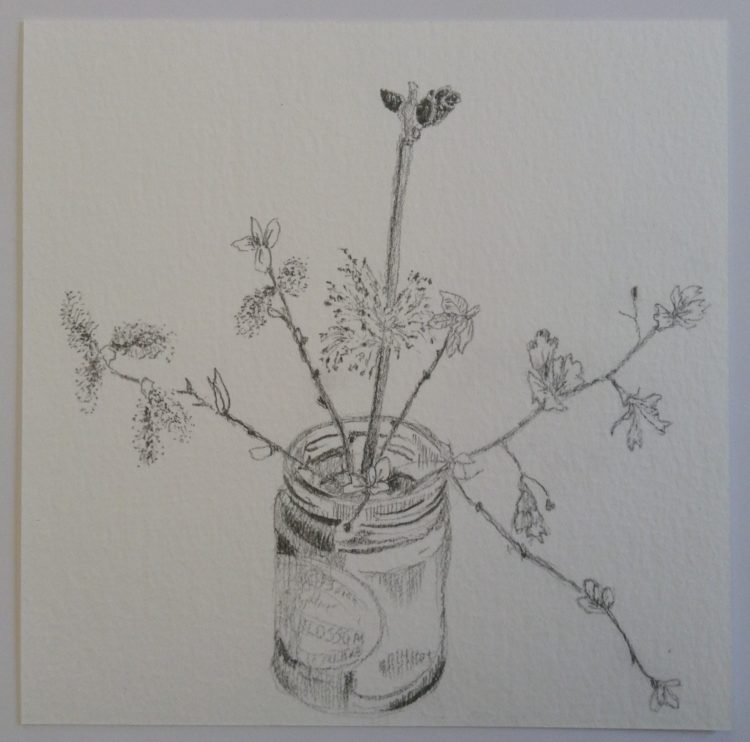 This month there was ash, goat willow, hazel and hawthorn. The oak trees at the top of the field were beginning to show that mist of green-gold where the buds are breaking into the oak blossom. The elder was in full leaf, and all the hawthorn was green over. The blackthorn was thickly out in the hedge along How Hill field, which I walk along on the way to 'my field'.
On the headlands wild carrot was beginning to spout, and primroses, eye-bright and red dead nettle were all flowering.
I hope you're all getting on alright in these strange times, and keeping well! 🙂
---