Essex Field: September and Snippings
Just finished this morning – here's the ninth painting in my Twelve Months in an Essex Field series.
I went through the metal kissing gate in the corner of the field by the railway bridge, and walked down the edge of the neighbouring field for a few yards. I really liked the view looking through the field boundary towards my field, with this wonderful old oak tree marking the boundary.
I actually took a series of photos of this painting while I was painting it, showing the different stages as it developed. I haven't done that for a while! I'll post them soon in my next post when I've got them off my camera . . . in case you are interested.
The snippings this month were all rosehips from dog roses and field roses growing in the hedge alongside the railway cutting. This was a really nice one to do with all the shiny clusters of hips.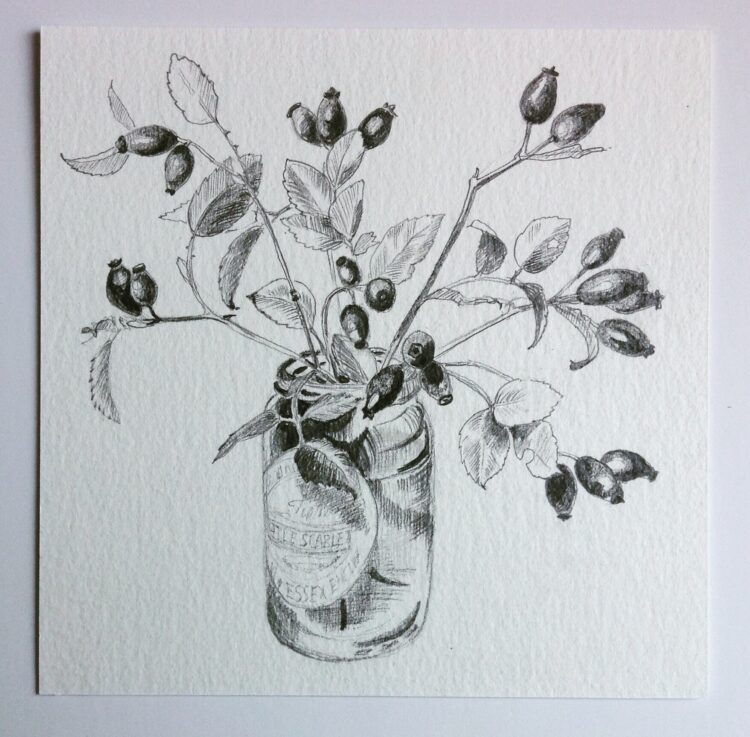 They are in a jam-jar from Wilkins & Sons at Tiptree – as all the snippings drawings are.  Little Scarlet this time, which seemed particularly appropriate . . . .
Someone asked the other day whether these drawings are charcoal – no, I actually do them with a propelling (mechanical) pencil with 2B leads in it, onto Bockingford watercolour paper, and they are all 18cm (7 inches) square. When I've finished them all in December I shall re-photograph them all in the same light, and have a set of cards printed. The images will also probably be used for a set of coasters. The original drawings – or some of them, anyway! – will be mounted and framed.
It has been a beautiful sunny day here for the Autumn Equinox. I went down to the Sentinel Gallery this afternoon to a show of wildlife art. Richard Allen, whom some of you will remember from the Lexden Arts Festival days, was exhibiting his work, and I was delighted to have the chance of buying the first in the edition of his new badger print. It will hang in my new extension – if it is ever finished . . .
Also exhibiting was Brin Edwards, who I was so pleased to meet! Brin is showing with us at our (postponed) Anglian Arts Project exhibition at the Naze centre, and although we have exchanged emails I had never actually met him. The show is on until Thursday, open 11-5, and is well worth seeing if you are in the area.
And on the subject of AAP –
Anglian Arts Project news: I have been liaising with the Naze Centre and they have agreed for us to hire their education room in September 2021, for the corresponding week to that which we would have had this year. So Saturday, 4th September to Saturday, 11th September. In the next few days I will be contacting all the artists that we had booked, and hoping they will all be able and willing to show their work with us next year.
Happy Autumn Equinoctial Wishes to you all! 🙂
---