Essex Wood: September – getting started!
Yes, that is 'Essex Wood: September' . . . and I am only just starting!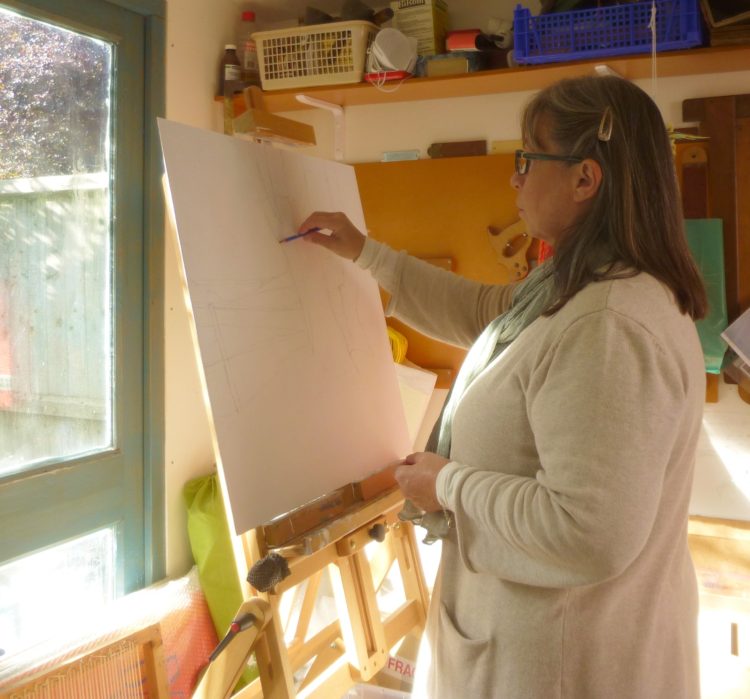 Following the two great weekends of Open Studios there was a swift change of tack. Hospital visits, scans and tests – and I've spent the last week trying to get going again after a general anaesthetic . . .
So it was really nice to get out in my studio on this lovely sunny morning, and make a very late start on this painting, even if it was only for half an hour! I'm just really glad I actually made my September visit to the wood during the week between my two Open Studio weekends, so I have the drawings and photos that I need.
A few lovely exhibitions on locally at the moment, which I am hoping to get to see, and which I recommend if you are in the area.
The Geedon Gallery's Autumn Exhibition is on until Sunday 16th October, (then by appointment until 15th December), open daily from 11 – 5.30. Margaret Glass PS MP is amongst the artists showing, and I always really admire her beautiful pastels. www.geedongallery.co.uk
James Dodds is showing paintings, linocuts and oak panels at the Haylett's Gallery in Maldon until Saturday, 15th October. It is open from Tuesday – Saturday, 10 – 5. www.haylettsgallery.com
And Dale Devereux Barker is amongst four printmakers exhibiting at The Sentinel Gallery in Wivenhoe until 30th October, open Wednesday – Sunday 10 – 5. www.thesentinelgallery.co.uk
I don't think I've wished all you lovely readers a happy October yet! So. . .  Happy October! 🙂
---